Weekend Round Up 3rd 4th June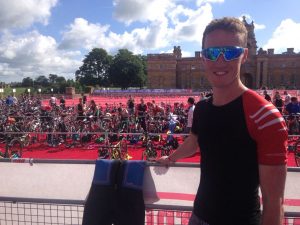 BLOODWISE BLENHEIM TRIATHLON
The Ancestral home of the Churchill family and a UNESCO World Heritage site, Blenheim Palace is a great location for a sprint Triathlon. But wait, this is Tom Goddard we are talking about, so it wouldn't be just a sprint tri, It was The Weekend Warrior;  a completely unique type of triathlon.  A Weekend Warrior aims to complete as many triathlons as physically possible during racing hours, over the event weekend. Whoever goes the furthest, wins the weekend. Not just a challenge of endurance, strength, and speed – but also one of tactics.
Tom reported in:-
The Numbers
"8 triathlons, 6000m swimming, 8 ascents of Church-Hill from the swim to T1, 160km and 24 laps biking, 1 broken derailleur, 5 changes between the front chainrings by hand, 1 sliced open finger, 7 laps of the bike ridden in the big ring to save any more cut fingers, 44km and 16 laps running, 6km running back to the swim start, 16 transitions running barefoot across cobbles and gravel, 1 brilliant and very supportive wife setting up transitions (including run to swim!), 1 interview with channel 4, 1 escaped dog captured and removed from the course, 6 pints of beer to recover.
So where did I come? I came 9th out of the 72 Weekend Warriors and was one of only 12 who managed to squeeze in 4 races each day."
Tom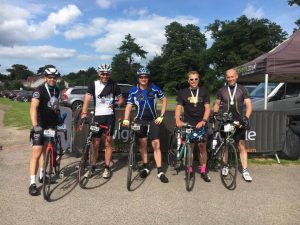 WIGGLE SUSSEX FRAN FRONDO
Wiggle Sportives are very well organised and the Grand Frondo covering a range of distances would take in West Sussex & Hampshire as well as the South & North Downs. The premier event was The Long One Distance: 122 Miles, Elev. Gain: 4963 ft, with a difficulty rating: 10/10 due to the nine major climbs and five other significant ascents.  Five Tuffs undertook this event as part of their build up to Ironman competitions. Well done to them all
Chris Robinson : 8:48:42
Gavin Sewell : 8:48:40
Andy Ward : 8:48:39
Matt Whittaker 8:48:40
Ade Willard 8:48:40
No less daunting three club members took on the Epic Distance which still covered an impressive 98 Miles, Elev. Gain: 4455 ft, with a difficulty rating of 8/10. A trio of Tuffs undertook this distance which took them almost out to the A31 in Hampshire
Paul Atkinson – 7:12:05
Ian Bayley : 6:47:19
James Brock : 7:13:08
The third distance was billed as a Standard: Distance, but this was still a highly credible 65 Miles, Elev. Gain: 3454 ft, with a difficulty rating: 6/10. Great to see Gary back on the  campaign trail, and Leanne took the time to report in with her take on the Sportive; shown below.
Gary Locker – 4:26:03
Leanne Levitt : 6:07:05
Last but certainly not least there was a short distance course. This comprised 27 Miles, Elev. Gain: 1328 ft, with a difficult rating of 5/10. Congratulations to Pete Littleboy who completed his sportive in 1:45:35. Like all the riders he collected his Wiggle medal and for Pete this completed his second medal of the weekend having earnt another one for coming 5th at Friday nights Club Lido race.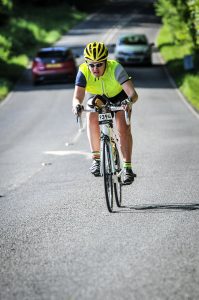 Leanne flying down Singleton Hill
Leanne Levitts take on the event:-
I set off with the intention of getting a good long ride in as part of my training so had no taper, carbo loading etc and it was advertised as 6/10 so I was expecting a good day out!! How wrong was I and everyone else.  Basically it was more like a 7 or 8…….WOW was it tough!! I enjoyed the first 5 hours but found the last hour was, the only word I can think of to describe it is…..horrendous!  Despite all that I was just pleased to finish, so proud of myself and have booked in for the next one.
Tip for anyone doing this in the future – make sure you have bike lights as despite it being a really hot day about 50% of it was undercover and very dark and pitch black at 1 point…
Leanne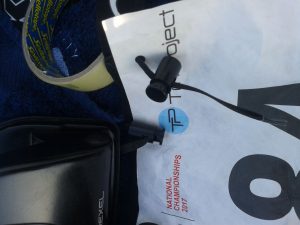 NATIONAL CHAMPIONSHIPS THORPE PARK
The weekend was the date for Triathlon England's National Sprint Distance Championship, which comprised a 750m swim, bike 20k and 5k run.  With Club Captain Joe Pascoe supporting our Lido Club race (and winning it) on Friday he then travelled up to Surrey, but we will let him take up the story:-
"Today was a day of no excuses. The day before,  however,  I drove 50 miles to stay over at my sister's, near Thorpe Park, only to realise I had left my running shoes at home. Another 100 miles and  I was back with my running shoes, after briefly contemplating running in flipflops – Then I reminded myself I wasn't a Tarahumara tribe member.
Back to today, Thorpe Park offered warm weather, no wind and a fast and flat course, so as I said no excuses.
Top Tip: Sellotape and hole punch your race number so it doesn't rip when you take your wetsuit off in T1".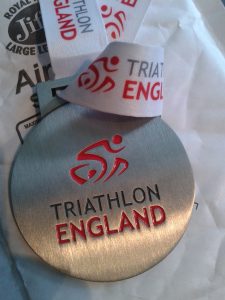 There was strong competition, but the race went very smoothly.  Managed a top 50 and crossed the line as second in my age group, earning a nice silver medal. David Risebrow put in a top 20 finish.
Joe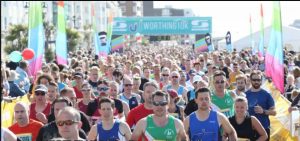 WORTHING 10K
Stuart Harvey reports in from Sunday's 10k and with a nod towards  a certain election asks:-
How many political references can you find?
"With blue skies, warm temperatures and a bit of wind for good measure, this year's edition of the Worthing 10k played host to a bumper field of over 2400 runners last Sunday, proving that the event is for the many, not just the few.
Starting along the prom almost adjacent to Heene Road the route takes in the coastal road west through Goring before turning at Goring Gap and heading back for a long slog to the finish line.
This year's race featured no less than 11 Tuff's. Faced with a fast and flat course a fair number weren't looking to run conservatively, secretly hoping to smash a few PB's. Lining up at the start line the race got under way at 9:30. With the wind in the faces of the competing runners, gauging early pace was hard to judge for the first couple of K's whilst labouring in the blustery conditions. Turning away from the seafront and out of the wind the pace was easier to manage and at half distance a strong and stable rhythm was found.
Looking to sustain that new found rhythm, heading back towards the finish after a U-turn was made, you realise just how warm it was now that the wind was behind you.
With Team Tuff having strong race pace and strong finishes a new PB seemed to be a common policy. Most notable of all was Ollie McDonald who clocked in at an eye catching 38:42, smashing his previous best by several minutes!
Further down the field, and battling to the line in close proximity were James Oram and Stuart Harvey, who both scored new PB's respectively, with James coming home in 44:02 and then Stuart a further 7 seconds behind. A close finish for which looks like battle lines may well have been set for the rest of the year between those two!
Further great efforts from Paul Martin, Tim McGrath, Jane Custance and Graham Liddell,  saw Tuff runners have a productive Sunday morning whilst picking up another chunky medal for the collection. Something that would leave non participants green with envy.  The liberal smattering of pb's continued with our regular track runner Malcolm Brown also improving his time.
Stu
Congratulations to James Oram, who appears on the front cover of this weeks Worthing Herald  where the picture above shows him in full flight.
| | |
| --- | --- |
| Ollie McDonald | 38:47:00 |
| James Oram | 44:02:00 |
| Stuart Harvey | 44:10:00 |
| Paul Martin | 45:04:00 |
| Tim McGrath | 46:07:00 |
| Jane Custance | 48:12:00 |
| Graham Liddell | 49:24:00 |
| Grant Smalley | 54:19:00 |
| Tim Kenney | 62:38:00 |
| Maynard Floyd | 65:51:00 |
| Rachel Brunning | 65:52:00 |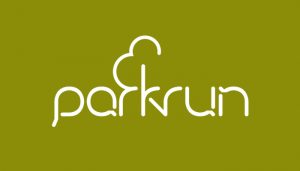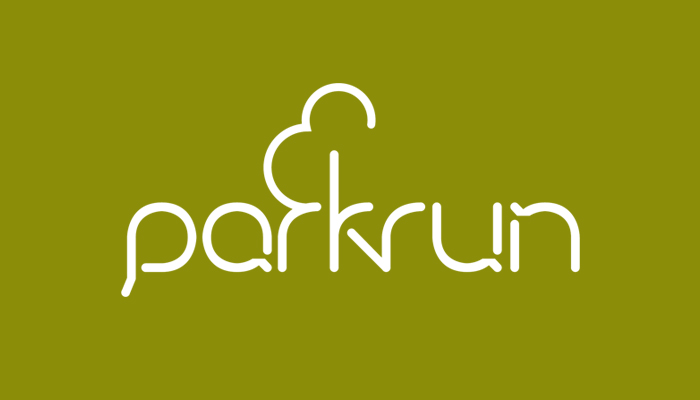 PARK RUN 
Hard to believe it is a year ago this coming weekend when Worthing Park Run commenced – 11th June 2016. For the first time in many, many weeks there weren't any Tuff's present, probably because of the Worthing 10k.  This coming weekend there are apparently going to be some celebratory things to encourage people to wait around once they cross the line,  However across at Bognor,  there was a Tuff presence as Bob Thomas rode over to race the Park Run at Hotham Park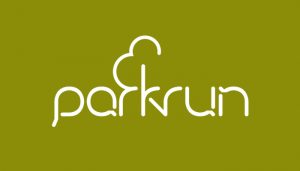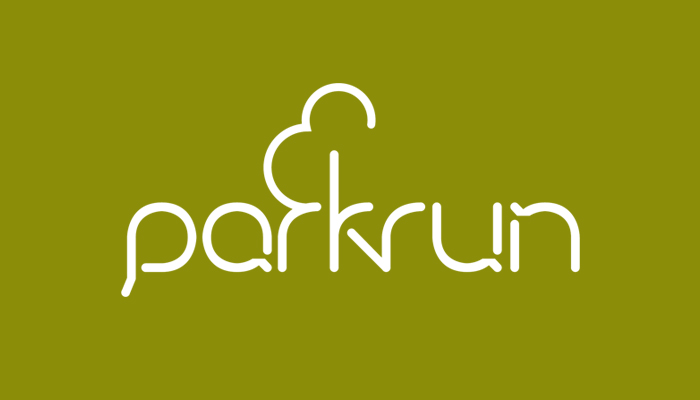 PARK RUN 
Perhaps the Worthing 10k kept runners away but for the first time in weeks, there were no Tuff runners at Worthing Park Run. This coming Saturday will be the 1st anniversary of this local Park Run and the organisers are planning some extra features to encourage people to stay behind once they have crossed the finish line.  Balloons and Cake have been mentioned; yes you heard correctly; cake!
Across at Hotham Park, Bob Thomas had ridden over to take part in the Bognor Park Run to keep the Tuff flag flying,  good work Bob