Weekend Round Up 15th 16th July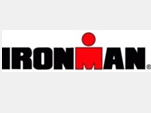 IRONMAN UK – BOLTON
Ironman UK was first staged in Sherborne Dorset from 2005, where several current Tuff's cut their teeth on Ironman races.  In 2009 the event moved to Bolton continuing a Tuff presence virtually every year since.  With the event now confirmed in Bolton until 2022, this year four Tuffs travelled 'Oop North' for the event. It was particularly pleasing to see more first time Tuff Ironmen, over what is one of the more undulating Ironman courses.
Ian Bayley & James Brock
Pete Littleboy was the first club member to hear those immortal words "You are an Ironman" crossing in a swift 12:44:24, with a particularly good marathon leg. ( S=1:22:34, B=6:651:43, R=4:13:56). Pete has kindly collated his thoughts below. Next home was Ian Bayley. Ian joined hoping to take advantage of Tuffs highly regarded swim sessions. This plan did not work out as anticipated although he has raced under the Tuff banner a few times this year. Ian recorded S=1:57:04, B=7:20:21, R=4:56:14 for a total 14:35:39.   James Brock finished his first Ironman in 16:25:30. Jimbo was tracked closely on his progress across the day and he was a very popular sight to see cross the line. His achievement was made all the more noteworthy as he was also raising money to help 13 year old Nathan, in achieving his dream of competing for Team GB in wheelchair racing. Clearly we will all need to shake everyone's  hand in congratulations, but if you are able to spare some money towards Jimbo's worthy cause it is known he will be pleased to accept. Unfortunately it was with dismay for Chris Robinson and many club members following him on tracker to see Chris's race had ended after a good 1:09:26 swim only to slide off his bike in the wet and picked up a damaged rear mech. "Don't worry" said a marshal push the bike to the top of Sheephouse Lane where a mechanic will come and sort you out. However after two hours in the rain and cold, this help never arrived as promised ending his race.  Often it is not in achievement, but how adversity is dealt with, and it is a mark of the man that Chris quickly rebounded stating that as the promised mechanic never arrived they should let him compete at Ironman Wales on September 10th.  Even more people will be having everything crossed for you in September Chris.  Good luck for Wales and congratulations to three more Tuff Ironman.  Further reports as they come in, but for now, Pete reports:-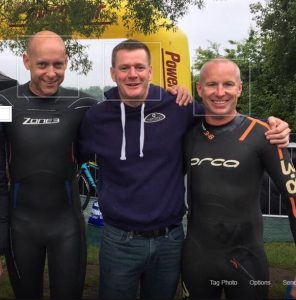 Chris, Jimbo & Pete
Having only signed up to Bolton IRONMAN UK with 12weeks to go after a heavy night out, I set about finding a training plan and in doing so I found other club members only to happy to help/piss take and train with. This proved amazing and the biggest help in me finishing in a time of 12h44min and becoming an Ironman. I'm told special handshakes are given and favours are done with a nod and a wink!  I travelled up on the Thursday ready to experience all that was on offer & registered on the Friday when I was joined by fellow Tuff, Chris Robinson who very kindly had offered me a place to stay. We then met James Brock's sister Natasha as James wouldn't be arriving till later.  On the Saturday morning Chris & I went to a pre lake swim at Pennington flash where we finally met James.  He had only just arrived  and as Tash awoke with flu like symptoms it was just Chris & myself who went to 'The Flash' as locals call it; the scene of the start & T1. However this event is a split transition. so T2 was being held at Bolton FC Macron stadium and the finish line was in Victoria Square so all a bit confusing, and I bet a nightmare to arrange, but well organised with busses and clear easy instructions as explained at the pasta party on the Friday evening. These were explained again on the race briefing which we attended on the Saturday at the Macron after racking our bikes at the Flash. This was except for Tash who's bike was broken and was being fixed & racked by a bike Mechanic.  Race morning & a 3am alarm call meaning we had to be at the flash at 5, the  race began at 6am with a rolling start and a two lap course exiting on lap 1. They referred to this as Australian style and all this while it was raining so didn't feel very Aussie. Leaving the 2.4mile swim, we set about the 112mile bike with 5387ft of elevation & a 2loop course which was wet for the 1st lap making it dangerous. It was here that about 17 miles in that I passed Chris doing something to his bike; It wasn't until afterwards that I found out he had crashed & his broken bike meant it was race over. This was unbelievably sad although thankfully  by the 2nd lap it had dried out and the sun was making an appearance. As I approached T2, all that was required was 26.2 mile run with 380m elevation. This would feel a lot further as it was a 3 loop course and with the sun now blazing it played with your mind.  This meant I had to earn my honour of going down the red carpet & after that, there was a recovery area to feed & have a massage, which was amazing and did me the power of good. I was able to stay at the finish line cheering on the other competitors till the end which had a 17hr cut off & was a joy to be part of and plan to do again just as soon as stairs become my friend again
Pete
ARUNDEL TRIATHLON
In the short time that Arundel Castle Tri has been running it has already built up an iconic status and being run by Raw Energy Pursuits it was selected as an ITU qualifier this year for the European championships to be held in Rotterdam. With a capacity 650 entrants transition area was huge with the race HQ taking up the whole of the field behind Mill Road Car Park. Race briefing was at 5:20 followed by a walk up stream to a pontoon ready for the river swim to commence at 6pm.  (the banner photo above is wave one on the pontoon). All the waves got set off in time for the mile swim back to the exit before the Town bridge. The bike route is an easy to navigate left turning course but is a cheeky route with the sweeping climb over Long Furlong and the climb up from Houghton.  On arrival back into Arundel it was on with the running shoes before a tough lap course taking in the climb from Swanbourne Lake, up Target Valley and then doubling back up to Hiorne Tower -Twice!  As a qualifier there were some very speedy Triathletes on show but there were some good results from Tuff Fitty. First Tuff home was Tom Frith with the 15th fastest bike split on the challenging course, finishing in 2:09:38. Ollie McDonald was the next Tuff home in 2:16 with a strong 43:31 run split over the undulating course. Local man Andy Crawford was next having a rapid 41:42 run split in 2:26.  Andy was followed home by Stephen O'Donnell, Huw Williams,  Dana Robertson, Jason Rae and our sole Tuff lady, Nicole Ewer.  There was also a Relay event and on the evening before Glenn Parisi was urgently asked to stand in for the swim leg. He accomplished this well exiting the swim a long way up the field.  As a Raw Energy event there was plenty of help on site with the following Tuffs on duty, Tiff Orton, Trev Harvey, Jon Roper, Matt Whittaker, Clive Harvey, Grant Smalley & Steve Feest. Also worth a shout out to Catharine Western, Wendy Frost, Kev Pearson & Meg Gritton who went along to support.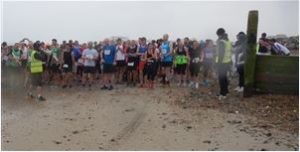 BEAT THE TIDE
You can't help feeling sorry for the organisers from Sussex Trail Events, our very own Chris , Danny & Jay as the long spell of very warm sunny summers evenings came to a halt, just for one night only, on the occasion of the Beat The Tide 10k. With a capacity 400 already entered, several hardy Tuffs turned up early to ensure they nabbed the small quantity of on the day entries. As it transpired they needn't have rushed as many others stayed away as the evening gloom  descended early and persistent rain swept across Worthing Beach.  It would turn out that just 330 runners finished, so kudos to the six Tuffs who braved the conditions.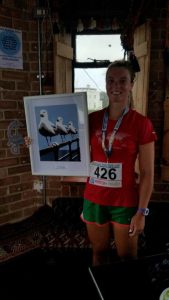 Nikki Gatland
Once the race got underway the conditions were almost fun in a sadistic sort of way helped by running across the outlet of a storm drain from the prom, shooting out a big stream where there was no option than to stride or try a mixture of jump and wade to get across. One blessing was that the gale force winds from last years event did not materialise. The out and back route would see runners come up the beach to receive a splendid medal and Tuffs were led home by Stuart Harvey in 23rd position in 44:07 (who was pleased with another PB) Nikki Gatland crossed in 46:56 and was delighted to receive a print as fastest female. Another  of our coaches, Paul Howie, demonstrated how he practices what he preaches third Tuff home.  Clive Harvey was next up the shingle and then Ellie Williams and Rachel Brunning who ran the course together – great character building in the rain and it transpired all the Tuffs were pleased they had ventured out.  Debbie Gatland & Jason Rae did well standing in the rain helping to marshal, but it was preferable to run!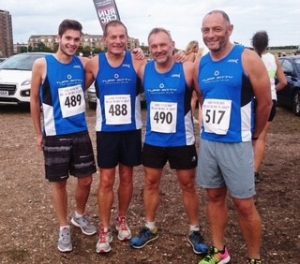 LITTLEHAMPTON BEACH RUN 
Stuart Harvey reported in from LA:-
Another day another beach run. For any runner who is a fan of running on the beaches of costa del Sussex then the first week of July was the stuff of dreams with Arunners beach run in Littlehampton completing a coastal back to back falling the following evening from Beat The Tide.
What a difference a day makes. After the lashings of wind and rain that hit Beat The Tide, the Littlehampton beach run was a much more summery affair.
With the sun out, warm temperatures and light winds the course was a 5 mile run from Littlehamptons coast guard tower, down the shingle to the waters edge and a straight out and back along the sand and pebbles, turning back at the border of East Preston. Arriving back to Littlehampton a brief climb up the shingle and coastguard ramp greeted runners before a rewarding down hill chase to the finish line.
Taking on the event was a brace of Tuff Fitties, Clive & Stuart Harvey who ran the night before, plus Jason Rae, now dry from marshalling. Glenn Parisi had contemplated running on Tuesday but decided against, so Clive had playfully stated was he afraid of getting beaten again?. So when Glenn asked if Clive was running the next day and he replied 'no' the response was a quite justified reply was he afraid of getting beaten. Therefore both Clive (reluctantly) & Stu had their second night of consecutive beach races. Debra & Matthieu Cauchy-Duval completed the Tuff six after their family had completed the junior run.  Matthieu  would find himself hotly competing for 1st Tuff home honours.
Overtaking Stuart just after the start the pair paced each other almost exactly holding station though the mid part of the 5 miles. Nearing the end Stuart made a last minute break in his bid to be first Tuff home making a sprint for the line. Joined by Matt and a Lewes AC runner there was a dramatic high speed sprint for the line. It didn't look as though Stu had done enough however as on the line Matthieu pulled out sufficient to come home one place ahead with Lewes man just behind them. However when the results were published all three were credited with an identical 34:48 time!
A proper photo finish and a great evening of racing enjoyed by all. Full Tuff results below, with Glenn getting the upper hand over Clive. Also present, Tony Pearce & Steve Feest wearing their running club vests; Nicole Ewer marshalling, with Claire & Bob cheering.
Stu
| | |
| --- | --- |
| Matthieu Cauchy-Duval | 34.48 |
| Stuart Harvey | 34.48 |
| Jason Rae | 38.48 |
| Glenn Parisi | 39.23 |
| Tony Pearce | 39.12 |
| Debra Cauchy-Duval | 40.23 |
| Clive Harvey | 42.01 |
| Steve Feest | 57.32 |
On the same evening Trevor Harvey took part in one of the Yateley 10 K's, a midweek series of three events each year which have been organised since 1987 – and he has done quite a few of those.  Quite a big event with 1200 spaces for a Wednesday evening!  The info says is it flat or hilly – yes both!
A good run out, once again on an extremely hot evening, being rewarded with a medal and a bag of Haribo.
l to r: Matthieu Cauchy-Duval, Stuart Harvey, Debra Cauchy-Duval, Glenn Parisi, Clive Harvey & Jason Rae.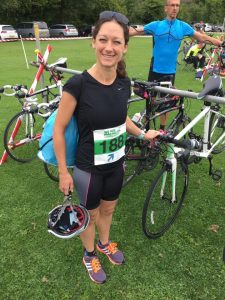 PADDLE PEDAL PACE
Becky Sutton followed up last weeks result with a further visit to Winchester for the Paddle Pedal Pace Triathlon in aid of MacMillan Cancer Support. The event started with a 20k road bike ride around the Hampshire Countryside. Then it was on with the running shoes for a 5k run out along the restored Hockley Viaduct. For the third leg Kayaks had been laid on where competitors had to paddle 2km down the Itchen Navigational Canal.  Becky's combined time was 1:15:34 which placed her as 5th female overall. Whilst recognised for her running, Becky stormed the 5k run course and her time of 19:53 earnt her a separate prize as the winner of the quickest run leg – excellent work Becky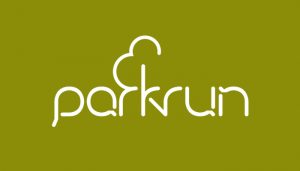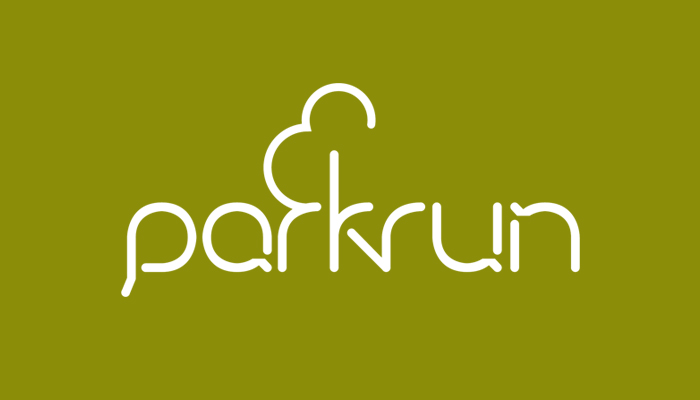 PARK RUN 
Just Tuffs running at the Worthing Park Run this week although it was a case of quality over quantity. Andy Ruffer ran home in 19:28 and Danny Cunnett was close behind in 20:24.  Wearing his running club vest, James Oram hit another PB on his third consecutive week shaving a further  40 seconds off for a 20:24 pb