Weekend Round Up 8th 9th July
Another international race in this round up and two great Iron Distance events to report:- read on:-
l to R:- Gareth Piggott & Adrian Willard, Matt Whittaker, Andy Ward & Richard Hobbs
Challenge Roth is stated to be a fast course, but this year it was quite windy and very hot, so it was terrific to see all five Tuff's who entered, complete the course in some style. The 3.86 km swim event, took place in the Rhine–Main–Danube Canal.  The subsequent 180.25 km bike course used a two-lap course in the countryside.  The course is mostly relatively flat with a tougher hill once per lap. The final marathon run goes once around a course with several turning points. Gareth Piggott crossed the line in a sensational 10:37. Matt Whittaker was next in 11:16 and it is worth pointing out his achievement had added kudos in that this was his first ever Iron distance event.  Adrian Willard 11:27, then Richard Hobbs, 11:41 and Andy Ward 12:17. Wardy has quite a story to tell as his luggage with his trisuit went missing. It is sufficient to congratulate all five on their superb performances here, and leave all the stories and tales of their daring deeds for a full race report which we hope they will compile for us soon.  Huge respect to our "Rapid Roth Racers" of Ade, Gareth, Hobbsie, Matt & Wardy on their achievements.

THE BASTION
Whilst five were racing at Roth Danny Cunnett was notching up another Iron Distance, a bit closer to home.  This one was part of a weekend of Events at Hever Castle. Called 'The Bastion' after the final stronghold of a medieval castle, competitors had to be tough for this one as it featured a 3.8km river and lake swim, a true toughie of a 180km bike course with 2,000m of climbing and a 42.2km run course that was largely off-road including the grounds of Chiddingstone Castle.
As those out racing/training on Sunday will testify, the weather was very hot, but Danny was unsure he would make the start as getting into the water, every Triathletes nightmare occurred – his goggles snapped! Quickly getting out the water "does anyone have any spare goggles" someone rushed forward with a pair of pink kiddies one! Thankfully someone else had a tinted adults pair, so rushing back into the water in time for the start it was game on. Far from just coping he was out the water third male in 1hr 13.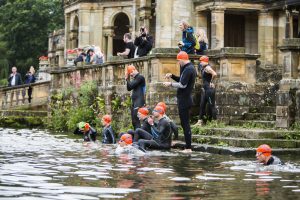 Where's my goggles!
Onto the bike Danny stated he didn't realise Kent had so many hills but still crossed into T2 in 7 hours 34.  Then it was out onto the run course where the heat was beginning to take its toll on all the competitors on the lapped course. Danny felt he was in trouble as he started to struggle, but in adopting a positive approach he told himself he would do just one more lap and reassess. He was pleased to find that as each lap passed he got quicker and quicker.  Looking at the marathon results a great 4 hours 45 marathon;  for a combined time of 13 hours 45 minutes.   14% of the field did not finish and Danny came second in his ten year age group. A great achievement over a tough course – well done Danny.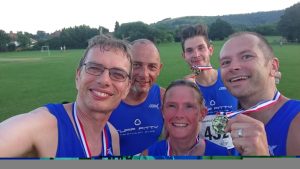 ROUND HILL ROMP
Stuart Harvey reported in from a tropical Steyning:-
Round 8 of the West Sussex Fun Run League saw Steyning take its turn on the calendar. A 10k (ish) trail run featuring a tough, uneven and hilly course with a climb that lasted for near enough 3 miles proved a real test for all runners. With the great British summer pulling out all the stops, the event took place on an blazing hot evening which must have been near enough 30 degrees, just for added pain.
6 hardy Tuff's were up for the challenge however. Excitedly, (debateable), lining up at the start line in Steyning high street, it was time for the off. With a large field heading out of the town and up the tight Mouse Lane things were pretty crowded.
As the course went on it became ever steeper as runners ascended up the side of the Downs. Completely under tree cover the top was nowhere to be seen until we burst through into the sunlight on to the top of the downs. Stunning views in every direction, it would have been great to have soaked them up but with half the course yet to come it was time to crack on, on the flat.
Following a length of the South Downs Way the course then winded back down towards the finish, which featured a VERY steep decent made even trickier with some nasty tree roots just waiting to trip you up.
Bottom of the hill it was a fast blast back on to the playing field to where we were relaxing in the sun pondering our decision to run just earlier!
Crossing the line, Stuart Harvey was first Tuff home followed by Mark & Bec Day completing the first trio. Jason Rae came home in 4th place, Graham Liddell in 5th after being talked into running earlier on in the day and Bob Thomas rounding off the Tuff team effort. The latter of which we think was going for some extra style points with a hat trick of tumbles! Tony Pearce also ran under his running club colours.
A great effort by all!
Stu
| | |
| --- | --- |
| Stuart Harvey | 48:26:00 |
| Mark Day | 50:43:00 |
| Bec Day | 50:48:00 |
| Graham Liddell | 54:30:00 |
| Jason Rae | 54:49:00 |
| Tony Pearce | 55:28:00 |
| Bob Thomas | 69:37:00 |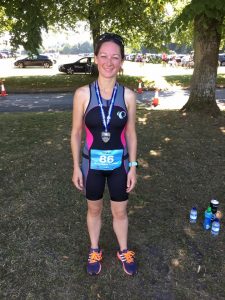 ST SWITHUN'S TRIATHLON
Excellent news to be able to inform everyone about Becky Sutton's latest achievement as she completed her first full sprint Triathlon. Her report follows although we think she is being too modest. With her fantastic running pedigree she neglects to mention she recorded the third fastest run split of the day- impressive tacked onto the back of the swim and run. Becky advised:-
"Sunday saw me complete my first swim-bike-run sprint triathlon. I had previously done a very short 'Try a Tri' and a bike-run-kayak tri years ago (which incidentally I'm doing again this coming weekend) so it was about time. It was the first ever tri at St Swithun's School in Winchester, a beautiful school set in lovely grounds. The swim went fine and fortunately I didn't hold up the others in my lane. The bike started and ended a tad frustratingly as I took a couple of wrong turns, but all in all it was a nice route, undulating and scenic. Then it was time for the run, which got better as it went on once my legs had recovered from that awful jelly feeling! It was a nice event to start with and we got a lovely medal at the end. Still regaining fitness following a sore hip though so I hope to do better next time!"
Becky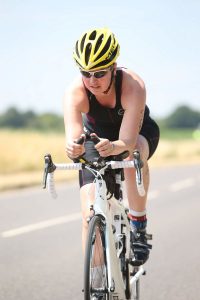 NATURES WAY CHICHESTER TRIATHLON
Leanne Levitt  & Ben Abbott undertook this traditional favourite for club members, both electing to race the Sprint distance of 400m pool based swim, 33km bike, and a 5km run:-
Ben reported in first; "I was a little conservative with my bike ride but that just left me more energy to run a PB at the end. A minute quicker than last year but I think that may have been down to them miss counting my swim laps. I felt I was two short when I was told to get out the pool and there is no way I have ever got close to a 06:12 400m swim 🙂 "  A strong result of 1:38:01 nonetheless.  Ben 
Leanne also reported in. "OMG!! I cannot believe I cut the bottom of my foot 24hrs before the race!! I was in such a panic trying to get permission to wear a neoprene boot in the pool for the swim which luckily they did.
My legs were still tired from the IM70.3 a few weeks before but just thought I would enter the Try a Tri for fun but BOY it WAS NOT a Try a Tri with 400m Swim/33km Bike/5km run….it was a tough course but I had a good run by my standards and went to finish in 2hrs 28 even with a cut foot! Leanne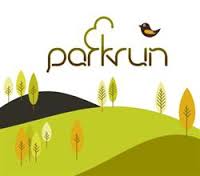 PARK RUN
At Worthing, clocking up his 43rd Park Run, James Oram has shown consistent running returning between 21:00- 21:30 for each of the last 8 weeks. However this week he shaved off another 8 seconds for a new PB in just 21:04. Amanda de Ridder was also on the start line returning home in 25:06 for her 31st Park Run.