Weekend Round Up 19th 20th August
More Tuffs have been reporting in from their activities. One big adventure was the Breca Swim Run around the Gower Peninsula where Joe Pascoe & Tom Goddard competed; their race report and photos are being posted separately.  Other events included:-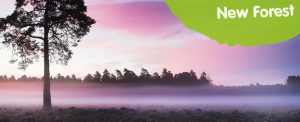 NEW FOREST TRIATHLON
Nicole Patterson;Lett reports in on behalf of 5 club members racing in the New Forest.  Bec Day, Mark Day, Barry McElearney & Nic PL took part in the Middle Distance Triathlon whilst Clive Patterson-Lett raced the Standard Distance
Based at Moyles Court School, Ringwood (we don't think Claire's ancestors are the proprietors, but who knows?!) so those that have raced at that venue before will know T1 is noted as 1km from the swim exit (which turns out to be 1mile IRL!)
To give the game away  – Nic, Bec, Mark and Clive all DNF'd  😞 but please read on for more of a story from a PL perspective …
Rewinding back to the Friday, I (Nic) (- do i write as me or 3rd person? i don't know!) had been under the weather and not running for a couple of months due to injury (cue violins!) so was looking forward to a camping weekend catching up on sleep, reading, resting etc. with a middle distance tri thrown in for good measure.  If I'd known running was out of the question the mile long T1 would not have been my first choice of triathlon, but the pre-race plan was to speed walk T1 and just have a good training day across the swim and the bike before retiring (ideally gracefully, but actually very frustrated!).  CPL's plan was to put in a speedy standard distance tri in the lead up to his half Ironman at Weymouth mid-September.
The weekend was a comedy of disasters to be honest, starting with our terrible campsite choice – owing to the surplus of overexcited rowdy children and carefree/drunken parents rather than the actual location. We packed up and moved after night one, only to experience the same racket most of the night before the race.  3:30am the alarm goes off, it's pitch dark, and about 4degrees.  In our tri suits and DryRobes (worth their weight in gold) we drove to the race venue to set up the camping stove in the car park for breakfast (coffee and porridge).  An accident on the road up from Southampton meant the start was delayed a little to allow competitors to take the diversion.  Bumped into Mark and Bec who had cleverly parked up their camper in a layby so they could have a later start than most – though 'til Mark finishes his welding I got the feeling the inside was not as warm and luxurious as Bec would like 😉.
Wetsuits on, most of us zipped up as it was still very cold and only 6:30am,  and the long long walk to the swim lake ensued.  Confusing and difficult to hear briefing instructions were shouted from the organisers, and consequently lots of us swam around buoys we'd needn't have (me and the pack I was with!) and others missed buoys out completely and got disqualified.
Despite a bit extra my 1900m swim went well and I was first lady and 6th overall.
Clive PL had a good 1500m swim, felt strong and was easily in the top 15 … he then whizzed up T1 gaining a few more places before heading out onto the bike.  At this point it didn't go quite to plan. Fired up from the little run he 'smashed it' (his words!) up the first hill, and somehow locked then broke the chain.  Now anything can be fixed in his Bikefitta workshop (shameless plug) but on the open road with cows, donkeys, fellow triathletes whizzing past and a puncture repair kit, it was game over and a slow clip-clop back to transition 😞
In the meantime, oblivious to all this, I had taken a steadier approach to the hill and cycled off on Lap1 of 3.  Seeing Clive at the end of Lap1 confused me for a moment – I know he's quick (and training like a 'pro' now he's retired!), but to finish, change and look that fresh?!?!  Clive shouted "I had a mechanical but I'm fine" so I relaxed a bit and went off on Lap2.  The course is tough and definitely keeps you interested with lots of hills and twisty-turny bits (technical term that!), plus you've got to always be on the look out for donkeys, cows, and ponies who keep randomly crossing roads just in front of you.  A little (or a lot) more training and better health would have helped, but in spite of everything the 60 miles (they threw in an extra 4miles, I didn't go the wrong way!) were completed at a relatively competitive rate.
We cheered Mark in on the bike, he was also just swim-biking due to his Achilles issue, and then looked out for Bec.  She came in to T2 all serious despite our whooping and whistling, but as soon as she was in her trainers (and clearly her comfort zone/happy place) she was off and out onto the run with a beaming smile and lots of waving.  Messages from Bec later claimed she wasn't prepared for hills on the run (the profile looked pretty mountainous!) and she had to pull out when she realised they might not make their ferry crossing to the Isle of Wight that afternoon (priorities Bec?! 😉)
Despite none of us having the ideal race, the event was really friendly and the support/ atmosphere brilliant owing to some local clubs using it as their club championship race.  There was a great range of entries from really really fast people to have-a-go's, and you could do a Sprint, Standard or a Middle Distance.
Barry McElearney had a more successful race completing the full Middle distance race, crossing the line 8th in his age group in 6 hours 24.
Thanks for listening!  Nic PL x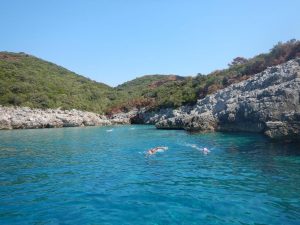 MONTENEGRO SWIMMING
Leanne Levitt reports in having just returned from a Strel Swimming Adventure and she says; "boy was it fun!  I previously went on a trip to Slovenia last year and knew it was perfect for me to have time away, get over physio, improve my swimming endurance, step out of my comfort zone as well as spending a week on a boat.
It took a day of travelling to get to the hotel so mostly slept when I got there for the briefing and dinner.  Borut, our Lead Guide was very professional and I knew Nina from the trip last year so I knew what they had in store for us plus they took very good care of us whilst away. Basically we were on a boat for 5 day trip with 2 swims a day which is more tiring than it sounds due to having to deal with cold water, the ladder up and down the boat, looking at an historic Alcatraz plus the swimming of about 1km – 2.5km each swim…….oh and the stress of dodging jellyfish which you would only discover when an inch from your nose! Gross!!
All in all it was lovely to swim in blue water, explore the caves, dark submarine tunnels and to get a change of scenery. I am looking forward to the next Strel Adventure in 2018! (the banner photo is of Strel Caves)"
Leanne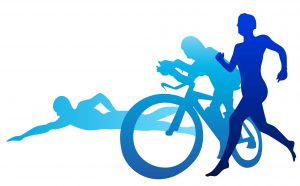 RINGMER TRIATHLON
Next up Ringmer Triathlon where several club members have raced. Great to see two of our newer members in action. Antony Oliver having attended several training sessions joined in July and reports:-
After a lot of preparation for my first standard distance triathlon, unfortunately, an injury prevented me from finishing the run after 3 kms. To say that I was disappointed was an understatement…The Ringmer triathlon was quite a small and basic event but very welcoming and had a nice cycle course. The run course even involved hiking over a stile and running through fields of cows!
Swimming is not a strength of mine but I managed to complete this in 21 minutes. After completing the 40km ride in 1:29, I was feeling on top of the world, ready to take on the run. 3km into the 9km run, my right leg calve muscle had other plans for my day….
On reflection, you have to experience some knock backs to revel in the success of completing any type of mentally and physically challenging sporting event. I didn't complete this event but I will be back again to finish what I started….
Antony
Disappointment for Antony but a great result from Nick Bolding. Having joined us for training on our Track nights, he has also joined a cycle ride and we are pleased that he is our latest member to become a Tuff, with a great pedigree in marathons and half marathons. He has now completed 5 triathlons this year with Brighton still to come. Nick took part in the Sprint race, comprising Swim 500m, Bike 23km, Run 6km . He finished in 1:23:59 second in his age group – welcome to Tuff Fitty Nick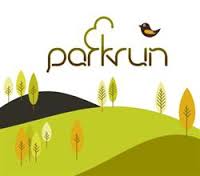 PARK RUN
Tuffs were out at just Worthing Park Run this week.  Huw Williams was first Tuff home in 20:54 and clocked up his 51st Park run. Tucked in just behind Jay McCardle crossing in 20:57, Danny Cunnett, 22:33 and Hazel Reilly 31:42