Weekend Round Up 5th 6th August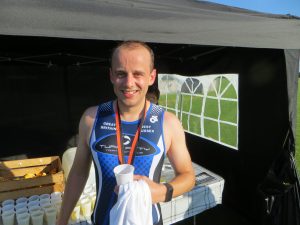 Ollie McDonald at Bognor Triathlon
BOGNOR TRIATHLON 
Excellent work From Tuff Fitty at the 3rd Bognor Triathlon including our Ladies as pictured on the banner above. Good support from Tony Morgan, marshalling all day, Clive Harvey who was the Technical Official for the morning and Leanne Levitt who popped in to cheer.  Ollie McDonald continued his fine season as he reported in:-
"I seem to have become a fan of last minute entries recently and this was no exception. Entry at 6am at Felpham Leisure Centre and ready to go. Just myself & Alister Marchant (who would finish as 3rd vet) as the only Tuffs in the sprint. Tony Morgan on the front desk, Alice and Nikki Gatland in the Standard along with Becky Lintott-Clarke. Fastest sprint athletes off first – that's right! So off I go about 6th place. A 400m snake swim to start, then bit of a run to transition. Nick Casburn is a local chap who I know is similar standard to me and he set off a minute ahead. Out onto the flat, fast bike course on the A259 by-pass. Nearly missed a turning on the way back and slammed on the brakes, back wheel out and almost came off – some people missed it completely and adding 4km to their race! This mistake would cost me later on. Back into transition in 2nd place and I knew I was about 1:30 behind Nick after a slow T2. Onto the run aiming for sub 4min/km which I was staying under. Then footsteps behind and a chap I had seen looking strong on the bike caught up after 2.5km so I knew he would win. Returning on the run I knew I had made up some time but it would be close for 2nd place. Nick Casburn 58:58, Oliver McDonald 58:59 = Gutted! Oh well, onwards and upwards! Well done to Alice & Nikki Gatland and Becky Lintott-Clarke for an impressive 1st, 2nd and 4th in the standard distance race!!"
Ollie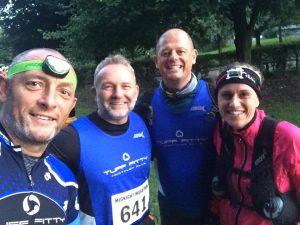 Jason Rae, Glenn Parisi, Chris Levitt & Debbie Boxall
MIDNIGHT MARATHON
Jason Rae reports in from the Midnight Marathon. His take on this nocturnal adventure follows:-
"Another Saturday night , another marathon with a torch strapped to my head.
This time the route had a few hills on it, namely the South Downs way between QE Park and Cocking and back. Arriving early we parked in the top car park because it was free. shortly after registering we moved the car down to the bottom car park which was a great decision because my legs would not have been happy at an additional 1/2 mile walk after the race.
It wasn't long before a car full of Tuffs had arrived too With Glenn Parisi, Chris Levitt and Debbie Boxall. Ian Moore also ran in His HJ colours. 5 mins before the brief we grabbed a selfie (Need to ask Rachel Brunning how to take a good selfie as I struggle to get 4 in mine and she can get at least a dozen in her photos !!)
We all went for the briefing , The race director was similar to Basil Fawlty but covered all the safety aspects and kept everyone listening for about ten mins which is an art in itself.
The race set off just before 9.10 pm straight up the first climb used by the QEP parkrun, from that point anyone who thought it was going to be easy was reminded it wouldn't . Head-torches were on pretty much from the start, The route wound through the park for 2 miles before joining the Southdowns way. There were lots of puddles on the paths so jumping them and running around them to avoid wet feet was a must. The route was slippery so road shoes would have been a disadvantage. I ran with a couple of mates from Bognor and before long we were at the first checkpoint.
The first thing you do at the checkpoints is see the range of food/drink on offer – Cheese and pineapple, Doritos and a shot of Amaretto for me at cp1 then on to the climb up to Harting then on to cp2 at 9 miles (Didling). This CP had music and a massive selection of fruit, savouries and squash, with tea, coffee and more amaretto or peach schnapps . After stocking up on fruit and squash it was up the long climb through the woods towards the ridge that heads towards Cocking. At the top of this hill we were passed by the first 2 runners on their way back. its amazing how runners can maintain speed on flint and chalk in the dark . I was feeling the stones through my shoes by now and knew the run back would be not so comfortable. soon we were at half way and after more watermelon, water and squash we headed back. The first thing we noticed was the headwind now in our faces which was quite cold – oh and the 20 minute climb back out of Cocking, Laughing and joking definitely helped. We passed Chris and Glenn on their way down , everyone running  was encouraging each other which is great about these out and back marathons. The run to the finish was tougher and tougher as the miles passed but great to have a coffee on the run home . We were eventually back in to QEP and decided to pick up the pace to the finish. Crossing the line was great as it always is, and to be presented with a medal the size of a hub cap was a bonus.
All runners were given a bowl of chilli at the end . The race director was at the finish chatting to all the runners as they came in."
Cheers
Jason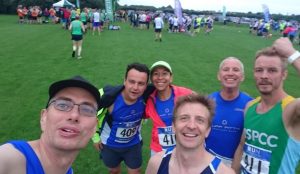 Smiles all round, despite the weather
HIGHDOWN HIKE 
Currently drying out in France, thanks to Simon Thistlethwaite for submitting his report about the Highdown Hike:-
Wednesday August 2nd 2017 saw the annual return of the Highdown Hike cross country race over familiar territory for us albeit no sign of grumpy Glen on this one. 😉 7 Tuffs swapped a wet track session to stamp their authority on what was a very wet and windy 3.9 mile trail race.
Slightly longer than than last years 3.6 miler the route took us on an extra lap of the playing field to try overcome the usual stampede through the bottle neck as the runners climb away from the field and through the trees.
In true Tuff fashion we pushed our way to the front for the start & immediately Andy Crawford looked in good shape after we completed two laps of the playing field before heading up to the bottleneck and through the trees.  Here the surface was hard and the chalk was supremely slippery. The Solomon trail shoes offered little grip here so I kept on the muddy stuff to stop from slipping.
From here I was able to keep a closer eye on Mr C as the runners climbed up the track.
The rain fell harder now and the wind was hearty as we made our way up to the right of the dirt track and round to the top where we became exposed to the elements. The wind hits you hard here and makes the flat harder than expected for a short while before heading back down the field.
It's a good time to up make some places here on the descent if you have it in the legs. Swinging left the route then takes you climbing once again this time up the very unforgiving track with runners battling line astern in the harsh conditions.
Time to breathe a sigh of relief at the top here and catch your breath for a moment before the big descent over a very wet slippery surface.
Last year the ground here was dry and we were able to run down at pace but not so forgiving this time round and regrettably medical staff had to attend after a runner took a tumble on the stones. Screams now in the distance we headed down onto the tarmac through the gate.
From here we headed out onto the road and turned left to head back onto the playing field to the welcome site of the finish line only to run straight past it and complete yet another lap of the field and a final climb through the shrubs before heading down for a sprint or stumble to the finish.
Andy Crawford finished in a very respectable 9th place in a time of 24.26 with myself almost a minute behind in 21st in 25.24. Clearly Andy arriving fashionable Lateish stuffing his face with a chocolate bar 20minutes from the start worked well for him. Peter littleboy came out of Ironman recovery to complete in a time of 28.32 in 59th Place. Also braving the harsh conditions were Mat and Debra Cauchy-Duval 67th & 166th with times of 28.50 & 35.19 respectively with Graham Liddell Separating them both as he squeezed in with a time of 35.19 position 105.
Bringing home the Tuffs our much beloved Chris Evans kept us honest as the rain continued to pour with a fabulous 188th place leaving a trail of 145 runners still to finish. He completed the course in 42minutes 50seconds.
Great to see such smiley faces on such a miserable evening. Great running all around. Big up from France
Au revoir
Simon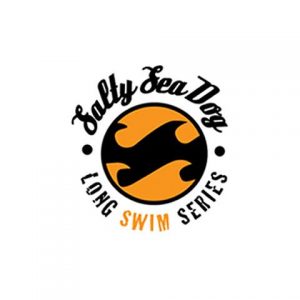 SALTY DOG SEA SWIM
Nicole and Clive Patterson-Lett travelled to Bournemouth for a mid morning swim on Boscombe Beach. Well actually it was the occasion of the salty Sea Dog Long Swims, a choice of either 2.5k or 3.8k. Both elected to swim the longer 3.8k with great results. Nicole swam home in a great 9th position overall which was 2nd female overall, and first female vet in 62:18. Clive described Nic's result as amazing as it proved to be a very choppy day. Whilst he modestly stated his result was more pedestrian it was two great performances.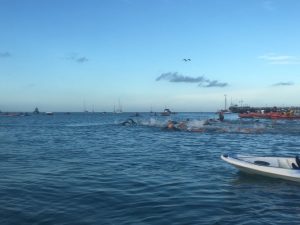 Trev's in there somewhere
SWANAGE SWIM
Trevor Harvey reports from his event in Swanage:-
A few days last week staying with friends at Corfe Castle, a period which coincided with the Swanage Carnival.  As such Carnival beer tent, (tick), run along the Jurassic Coast, (tick), MTB to Weymouth, (tick), beer tent, (tick), lock-In in local pub (tick) – you get the picture!
As part of the Carnival they hold the Swanage Bay swims.  Low key events, with kiddies 100 & 200m and adults 500m and a 1,000m.  Friends were safety kayaking and so I entered the 1k on, for a change, a lovely summers evening, with flat water in the bay.  No official timing, nor any goodies, but as only £5 to enter, a good event.  46 ish entrants, with some quick people, but the blue Tuff swim hat was far enough up the field!
Trev
MAZE RUNNER 10K
Catharine Western reports from her 'amazing' event in Newnham-on-Severn with "Chip timing"!
"Last weekend I met up with my rowing friends in Gloucestershire and Izzy signed us up for the local Maze Runner 10k. I didn't pay much attention to the race description as Izzy had informed us that all runners got a free bag of chips at the end, which immediately sealed my entry into the race. As the race approached I thought I'd better check out the website, which is when I discovered the slightly quirky nature of the event…
We turned up at Elton Giant Mazes, which consists of 12 acres of maize crop interspersed with paths to form a giant maze! Thankfully we discovered that the 10k wasn't taking place in the maze as I doubt we would have made it out before nightfall…The run itself was brutal! It started by zigzagging up a giant bmx track built into the steep hillside, complete with ramps to negotiate. We then ran on some sandy horse gallops before heading up, up and then up some more. The views across the Severn valley at the top were worth the climb! This was a very small local event and the marshals were quite spaced out, which resulted in us leading everyone behind us the wrong way at one point and having to scrabble down a very steep thistly hillside towards a distant yellow flag! The next marshall we saw then informed the unsure runner in front of us "I'm not sure which way it is, I've never run that bit"?!. We spent the remainder of the race reminding each other about the chips, which we wolfed down as soon as we'd crossed the line and been awarded our medal by 'Miss Forest of Dean 2017'. The race wasn't over though as there was an optional challenge field which involved being pelted with flour and water by local children whilst crawling under nets…we decided to forgo those delights and instead headed into the maze for a cool down wander and photoshoot!
A very fun (and random!) local event. Any race with free chips at the end gets a big thumbs up from me 🙂 "
Catharine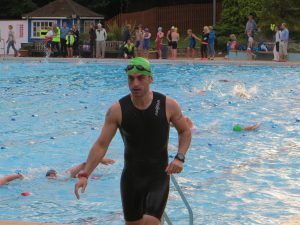 GUILDFORD AQUATHLON
Ben Abbott returned to race At Guildford Aquathlon on Friday evening. This event was the last in this years season of aquathlons which comprise a 500m swim and a 5k run. Held at Guildford Lido which is a 50m pool it is a great setting for an event with the run around the adjoining Stoke Park. Ben crossed the line in 34:17, improving by 5 seconds his time from a previous visit in June. He recommends this event and will return next year with his son as there is a separate event running concurrently on the other side of the pool for children. With 10 lanes of 50 metre length there is plenty of space, the adults undertake a snake swim and there is still a clear lane between adults and children.  Also present was Clive Harvey who was the technical official across the adult & 4 tristar races. He also recommends this event. With a 7:15pm start time, chip timing, medal, (and a burger chain less than half a mile away), he offers to take a car load next year whether he is racing or officiating.   2018 to be held first Friday in May, June, July & August. (June event 2nd Friday).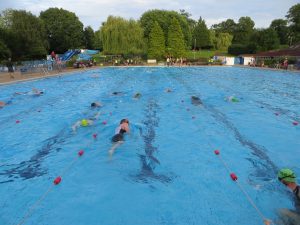 Guildford Lido, a great setting for a race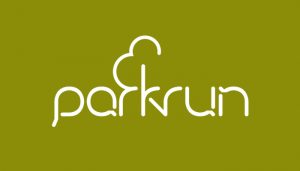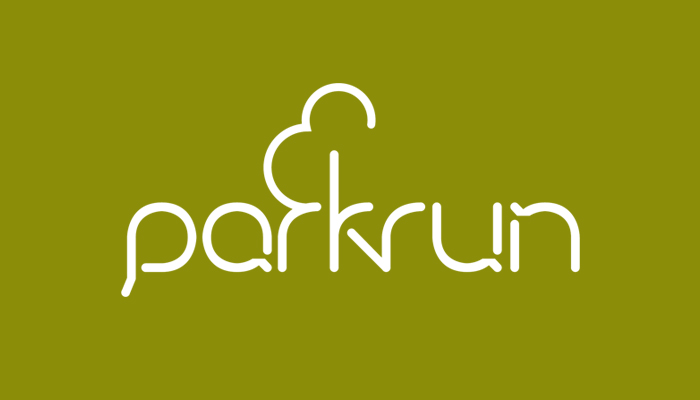 PARK RUN 
Worthing Park run was back this Saturday; Danny Cunnett was first Tuff in 19:42, Huw Williams crossed in 20:34 & Jay McCardle 21:25. Amanda De Ridder also ran, crossing in 25:29. This local Park Run is now regularly hitting almost 400 runners, with 389 this week. There was still space for a further Tuff Park Runner, Graham Liddell, once again staying close to Rushmere Park near Leighton Buzzard.  Our selfie taker extraordinaire;  Graham managed to have a selfie with virtually the whole field attracting a lot of attention on Strava, and  he still found time to run almost one minute quicker than the previous weekend in 23:22 – good work everyone.