Weekend Round Up 16th 17th September
Whilst many might consider the season to be winding down, clearly no one told Tuff Fitty members. This weekend round up is packed. Read on:-
IRONMAN 70.3 WEYMOUTH
DO WEYMOUTH!!!!!!…..its chuffin' freezing!
Nic and I travelled to Weymouth for the UKs biggest IM branded event (2,500 athletes) with a mixture of hope and anticipation…No running for Nic for 4 months with a hip injury and me having done no long course racing for 2.5 years after breaking my leg.
Having suffered at the hand of the weather in our tent this summer we hired a camper van for our race week/holiday and it proved a great move as the rain came and the temperature dropped towards Sunday. We registered first thing on Friday with no queue and a modest expo but a natty range of Chris Robinson V neck jumpers were part of the 2017 Collection!! 
Then it was off to the campsite to settle in. We found a brilliant place just outside town and hunkered down against the wind and rain-this is when the camper really came into its own! On Saturday morning we took advantage of a weather window and cycled down to transition to rack the bikes. Again no queues and very helpful volunteers, all done without drama, but worth a walk through of transition as it was massive!!!! We met up with Nic's folks for a bit of lunch before adjourning to the camper for a fitful nights sleep. An easy drive down to town where we parked the camper on the street and walked down to transition which was covered in puddles from the rain. The bikes were soaked so a reapplication of chain oil and an insurance poo and it was into the wet suits and stolen hotel slippers and onto the beach. 
We self seeded into estimated swim times and after a rather half hearted National Anthem (why do they bother???!) we were off. They said that it was 16 degrees in the sea….was it heck!!! more like 12!!! We both wore our neoprene hats under our race hats and the organisers had allowed booties to be worn-but it was ice cream head straight away! The sea had got up after being like a millpond on Saturday but this didn't stop Nic emerging emerging 6th woman ahead of all but one of the female pros!!! I was a bit more pedestrian 4 mins later!!!
The run to the bikes was a long one but this gave me plenty of time to deal with my reluctant wet suit! I put on  2 layers and full gloves, a decision I was glad of as a few people were taken off the course with hypothermia!-lesson is; a tri suit may be all aero but with an air temp of no more than 10 degrees it just  was never going to cut it!
I really struggled to get warm and didn't really start to race until half way by which time the damage was done. The journey was lifted by seeing Nic at 15 milesish and exchanging a few words, but a serious  downside was the mass cheating in the form of drafting. I saw only a couple of draft busters but no one serving penalties. Makes you wonder what the point is in racing fair when The Race Ref emphasises that drafting will be penalised then large packs are allowed to form without challenge????
Moan over!!!- Off the bike in just under 3 hrs for me with Nic 10 mins later- respectable, but not what I hoped for.
The weather really picked up (sunny and breezy) for the flat 3 lap sea front run, but it was very crowded on laps 2 and 3 and if I'm honest I just didn't have the confidence to push hard in pursuit of my goal for the race; to run under 1;40 for the half marathon. As a result I cruised round in a frustrating 1:42.(warning another serious point coming here!) I hadn't taken into account how seriously the injuries had impacted my race confidence, so it is always worth factoring this in when on the comeback trail. As such I crossed the line with mixed emotions- as well as turning the air blue with expletives!!! (I apologised to the announcer and anyone else in ear shot!) but I had "got it done" and injury free, albeit in my slowest ever time!
Into the athlete zone where I waited for Nic. She cruised home despite her lack of run training-again she got it done injury free and we had an admittedly tearful hug. We collected our finisher t shirts then collected our kit. I went full nude in the car park (beyond caring!) and we found Nic's folks. We collected our stuff from transition a 2 mile walk away! and went back to the campsite for a well earned shower.
Its only recently that we have attended the prize giving at IM events, but after going to the celebrations at Zell am See in Austria a few years back its worth going to hear the feats of the prize winners and for the free grub! Needless to say there was no free food at Weymouth!!! but it was uplifting to hear the winners stories. Then came the World Champs slot allocation, women first, and having checked the results Nic came 5/50 in her AG and was in with a real chance. It rolled down to 4th!!! Next it was the men, although 25/149 was my best ever IM AG finish it was more in hope than expectation that I might get a slot, with Weymouth being late in the year I think many of my rivals had pre qualified and it just kept rolling down…….to 21st!!!!  
All in all a great event, well organised and close to home,we will be back in 2018……..if only they could sort out the drafting.
Clive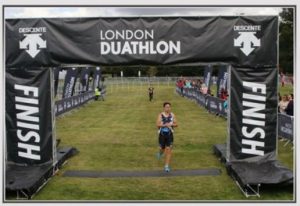 LONDON ULTRA DUATHLON
James Oram has reported in from his long distance Duathlon:-
After reading about people doing the Ironman,  I felt inspired to do a long distance distance challenge this year. Given my swimming is not up to scratch I decided to do London Ultra Duathlon; a 20k run, 77 k bike ride, and a 10k run on undulating terrain around Richmond Park. My ultimate goal given it was 107k was to finish. Thus I went off at a relatively comfortable pace on run one and managed to finish feeling confident that I had some energy left for the bike.
However, it became difficult on the bike as I started to get some rather nasty muscle contractions in my left calf muscle on lap 1 of 7. The calf muscle went in and did not seem to want to go out again! Someone on the course mentioned that it might be benign fasciculation syndrome after the muscle started going in and out! This scared me. I tried to ignore it but eventually the cramp/contractions became so painful I had to get off the bike and stretch/walk. Lots of people I overtook on the run started to whistle past me and I thought my race was over. Eventually however, the pain thankfully subsided and I was able to get back on the bike and chase some of the others down. Despite the 2175 ft elevation (due to going up the rather steep Brookfield Hill 7 times) in the the end I averaged 18.6 mph over the 77k which I was pleased with given the circumstances. As I went into the last transition for the run- all I could think about was getting the nutrition on board. In the process I hilariously forgot to put back on my running shoes and ran out of transition with my cycling shoes on! It was only when I got off the grass and on to the concrete that I started to notice so I had to run back. The run went fine though and I managed to keep a consistent pace for the last 10k. I completed the course in 5 hours 5 minutes, 35th position,  and would like to thank those who sponsored me in fundraising for British Heart Foundation.
James
PURBECK MARATHON
Trevor, (not stalking the PL's who were just down the coast at Weymouth), once again completed the Purbeck Marathon – billed as 'More than a Marathon' in more ways than one – the course is nearer 27 miles (so I claim an ultra!!), and has some 3,300ft of ascent and descent.  The upside is spectacular landscapes & views!!
The Trail Marathon starts in Swanage, and tours the Isle of Purbeck. From Swanage Downs the trail heads towards Durlston Country Park and the Jurassic coast path, before going through the villages of Worth Matravers and Kingston. It then heads towards Swyre Head, to pass Heavens Gate and along the ridge towards Tyneham Cap. From there it leaves the coast path and runs through the deserted village of Tyneham, (in the army ranges). The route then continues up (emphasis on the up), onto and along the ridge of the Purbeck Hills towards Corfe Castle, past the castle and into the village square. The route then has a 2 mile uphill to the Ridgeway and heads towards Swanage, to finish back on the seafront.
All off road, (I didn't fall over this year!), a toughie but there are great views of the coast, Portland, Poole Harbour and the Isle of Wight which helps deflect the number of hard climbs and uneven paths – some so rough and steep, running down, (for my knackered knees), was as hard as the uphill.
They say not in any way comparable to running a city marathon!  Too right, but nobody told that to the chap that won in 2hr 58m!!
I was happy with my time, especially as I've ticked off more beers than miles recently, but 8th in the 60 + category!
Good running weather during the day but a bit cool at the end even for a post race icing in the sea!  Another medal T shirt, cider, shopping bag etc for the collection.
Trev
REWELL WOOD RUNNING FESTIVAL
For those of us who know Max, our Tuff Fitties spaniel, it will come as no surprise that he has been looking for a suitable event all season to match his talents. Max's speed, hill work, and general aptitude for unpredictability means a 10k through woods, mud and puddles was perfect. Rewell Wood 10k organised by Jason Rae (Southern Multisports), was just the recipe. So it was with great excitement that Ellie, Max and I set off last Sunday for the short drive to Arundel Cricket Club for the start.
Embellishment of some recent minor successes may have back-fired at this point as Ellie's team talk to Max and I was filled with expectations of victory. The phrase 'unless Mo Farah turns up with a whippet' did nothing to calm our nerves, but I listened carefully and didn't respond. Max listened carefully too, but also said nothing principally because he's a dog and can't talk.
The start came quickly enough and amongst the fury of dogs and people we set off tucking in behind quite a fast Arunner who set the pace. Two hundred metres in and we had to stop for a 'poo break'. Trying to explain to Max how inappropriate this was during a race didn't help, and as we watched the entire field trying to jump over Max I could sense this might not go our way. However, business attended to we set off again, desperately trying to work our way forwards. The Arunner was still setting the pace out the front, but eventually we caught up and settled back into second place.
Rewell Woods has a very steep climb with 40 steps, and I knew it wasn't going to be easy. However for attendees of the Saturday morning runs it will come as no surprise that Max doesn't shy away from 'Hills of Death'. Halfway up the steps the Arunner tired. 'The Mix' was right in it, ploughing forwards and upwards not skipping a beat as I furiously upped the cadence trying to keep up. We cleared the steps a good 50 meters ahead of the Arunner and set back into our race. One kilometre from the finish the Arunner made a re-surge, but glancing over my shoulder we increased the pace a little and needless to say finished in first place! Max had won on his first race, and actually we not only won the Canicross, but we had won the whole race. It was a small field, but felt good all the same.
I was hopeful that this success wouldn't go to Max's head, but as I write this he is signing up for television rights to next season's schedule and his agent is negotiating for 'I'm a celebrity'. Good day out.
Andy
Jason's Southern Multisport event company are also promoting the great value Cross Duathlon or 11k trail run on the 7th October, at Coombs Farm, Lancing. To enter visit the website :-   http://southernmultisports.my-free.website/church-farm-coombes-x-duathlon-10k-trail-run and also the Cowdray Park 5k & 10k on Saturday 30th Sept @1pm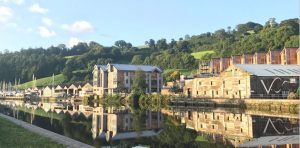 DART 10K SWIM
Paul Howie reports in having attended the Dart 10k,  a swim that is, not a run!  An interesting fact is that this 'event', (called an event rather than a race) was the first 10k swim on the open water calendar established 8 years ago:-.
"Whilst the the Ironmen were in Wales making light of some rough weather I was in sunny Devon floating along the Dart. One of 'the' outstanding open water swims in the UK, which sells out quickly every year, with about 800 swimmers on both the Saturday and Sunday. The day started in the Sunshine, pre-swim fuelling with a bacon sandwich by the start line. 4 waves at 15 minutes intervals I was in the 3rd fast wave in front of the elites who went last. A 'fluming' incident on holiday had meant I hadn't swam in the pre-ceding 3 weeks, due to a damaged shoulder, so was a bit apprehensive at the start. However, nobody seemed that keen and I was at the front of the start pen. We waited for a ferry to pass then off into the Dart. Blimey it was cold! Heavy rain the previous day had also washed most of the local flora into the mix, like swimming in minestrone soup in places. A nice swim, great views and catching the earlier waves of swimmers in front kept things interesting. They have a couple of drink stops at 4K & 7k with friendly volunteers dishing out drinks and jelly babies. The last 3k was across a harbour, by which time the sky's had darkened, the rain had come and the wind had picked up to produce a bit of chop. This all just made the free hot chocolate at the finish line taste even better. 1 hour 57 minutes, it didn't seem that long, a friendly atmosphere & a beer tent. I'm going back.
P.S. (left) the official photographer caught my face when I first caught sight of what I was swimming in! – not.  (Right) Paul says this is his best side!
Paul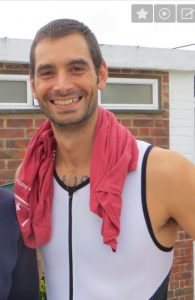 THORPE PARK SPRINT TRIATHLON
Sprint Triathlons are held at Thorpe Park and often there is a Tuff presence. This year the event was selected as part of the British Triathlon Major Events Programme as a GB Age Group Team Qualifier for the ETU Sprint Distance Triathlon European Championships in 2018. The event comprised a 750m swim, followed by a 21k Bike and 5km run. Drew Gowland was present and it was no surprise that he was near the front as one of only four competitors to get below 10 minutes for the swim. He remained in contention throughout on the bike, but some super quick running from other competitors pushed him down a bit at the finish.  A total time of 1:06:10. The winner completed the run in just sixteen minutes. Drew was pleased with his time coming off a chest infection, holiday and being stuck in Italy with work! If he had been in the age group below his current age he would have automatically qualified, but his current age group is particularly competitive. Having got to 105% of the winner, there is still a chance he may yet qualify for the European Champs.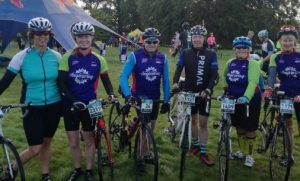 NEW FOREST 100 SPORTIVE
Great work from Claire Moyle who travelled down to Ringwood for the New Forest Sportive. She completed this and still made the Tuff Sunday Cycle!
"Saturday's New Forest ride had me up at 5 ready to get off early in the hope I would finish before the rain. I rode with 4 young ladies who had never ridden 100 miles before. We set off at a cracking pace and made the first 51 miles in great time where we had a lovely lunch. After lunch the weather turned and the clouds grew. The fast pace of the morning was beginning to show and with the hills coming often it seemed like ages before we made the final feed station;  by then the rain was lashing down. Cold wet and tired it was a very quick stop and then we raced for the finish line. 7hrs 7 mins average pace 14mph. A great ride on lovely quiet roads and well signposted. Second 100 of the season so well pleased
Claire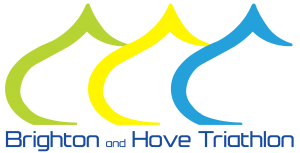 BRIGHTON AND HOVE TRIATHLON
Now in its second year, the event looked to build on last years participation and saw 1200 competitors taking part over a series of Sprint, Super Sprint & Olympic distance triathlons.
Alister Marchant was the sole Tuff in the full Olympic distance of 1,500m swim, 40k bike and 10k run. Alister completed the course in 2:48:05.   There was a Tuff duo in the Sprint with Ollie McDonald continuing his excellent season crossing the line in 8th position overall in a time of 1:09:19. A great achievement over a course of 750m swim, 20k bike and a 5k run.  It was equally rewarding the see that one our newer members Nick Bolding, also raced the sprint crossing in 1:21:49.  Well done to all three.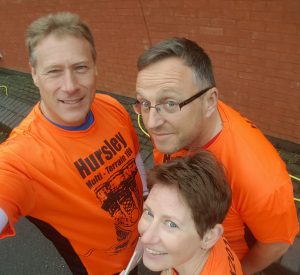 THE HURSLEY MULTI-TERRAIN 10K
Rachel Brunning & Mark Pickett travelled up towards Winchester for the Hursley 10k.  This was the tenth anniversary of the event meaning they both collected an anniversary medal as well as a T-shirt for their efforts.  Mark was first Tuff home over the multi-terrain course, run over the private Home Farm estate with Rachel close behind. The website after the event stated "we told you it would be muddy" which tells its own story.
PARK RUN                           FUN RUN LEAGUE
At Worthing Park Run; Tuffs on parade included James Oram, (who also raced the Duathlon the next day), Amanda de Ridder & Tim Kenny. This weeks stand out performance was from Antony Oliver achieving a personal best in 21:52.  Up at Horsham Leigh & Ian Moore took part as Ian closes in on his 50 Park run landmark.
Sunday was also the 13th race of the Fun Run league with some club members competing under their running club banner. Well done to Linda Wright, Neil Rabone, Tony Pearce, & Maynard Floyd who ran at the Tilgate Forest 5 Mile trail run, close to the K2 centre at Crawley