Weekend Round Up 2nd 3rd September
September 1st marks the start of autumn in the meteorological calendar, but there were still plenty of Tuff's out racing.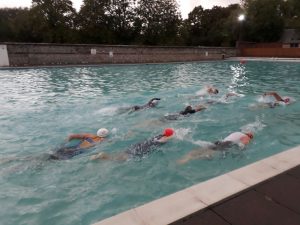 PELL's POOL AQUATHLON
Steve Feest has submitted a report from his Aquathlon:
"I've always wanted to visit Pell's Pool, Lewes, since I first heard about it and this Weds just gone (30th Aug) 7:00pm start, was a good opportunity.
Pell's Pool was built in 1860 and is a spring-fed, 50 yards x 25 yards, open air pool with warm water and a grassy area alongside, all in a lovely setting, with Café, toilets, changing facilities.
I did the "Pell's Pool Aquathlon", (last in a series of 3), organised by Brighton Tri Club as "GoTri" event. It's a very low key event, £5 early entry, and consists of 350m swim and 3k run. You go off in waves and is good for mass start, transition practice, (can wear whatever, tri-suits/wet suits if you wish).
Buoys are put in the pool and you swim a rectangle x 3, get out, walk to your transition (running shoes), then run out and over a bridge, over the River Ouse, and around local park, x 3 laps.
You get a properly marshalled and timed event; I completed the race in 23 mins 26 secs, and would recommend it to anyone from beginners right through to experienced."
Steve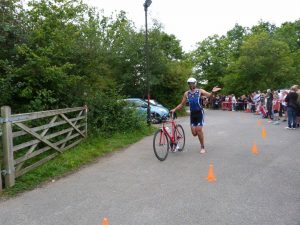 Tom runs in off the bike
SOUTHWATER RELAYS
The ever popular Southwater Relays, where teams of three each complete their own Triathlon before handing over to team member two who races and passes over to team member three. With two thirds of the competitors packing out the bank as swimmers exit the swim and run down  after completing the bike the atmosphere is always great.  Individual race distances are just over a 400m swim,  circa 12 mile bike and just over a 2 mile run. Whilst a short run, it is impressive how many undulations can be packed in.
Unfortunately the curse of Southwater meant injury prevented several Tuffs from competing on the day, but there were still some strong Tuff team and individual performances.  Well done to those racing:-  Tom Gray, Andy Crawford & Joe Pascoe, it is understood that they were the first Tuff team home. Clive Patterson-Lett, Stew Smith & Kev Pearson. Debra & Mathieu Cauchy-Duval, Steve Custance, Jane Custance & Tiff Orton.  Murray Hodge, Paul Martin & Nikki Gatland. Becky Lintott-Clarke, Bec Day & Nicole Ewer. Mark Day & Chris Evans.
We have been contacted by Claire Halas who reported "I was supporting my friend at the southwater Sprint Relay event this morning. I took plenty of photos of all members of your Tri club. Would be delighted if you wanted to share them to everyone who took part. No fee and equally no hidden charges. This is a online gallery with no password, you just need to pop your email address in to open." Thanks Claire, the gallery URL can be copied from here:-
https://clairehalasphotography.pixieset.com/guestlogin/southwatersprintrelay2017/?return=/southwatersprintrelay2017/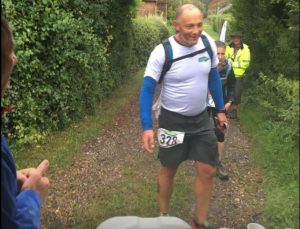 LONDON TO BRIGHTON ULTRA
Jason Rae reported in from his latest long distance event:-
Another Sunday morning and another 3.30am Alarm. My long suffering other half Alex got up and drove me up to Blackheath. The last time I was here was the London Marathon but this time I was here to run to Brighton. This is a classic run which has been resurrected by Tuffs Very own Chris Ette , Jay McCardle and Danny Cunnett of Sussex Trail Events. Once checked in we were briefed by Jay and informed there was a 14 hour cut off. The distance was 100k for those who didn't get lost. The race is self navigating so we were given an OS map of the route and a gpx file which I downloaded to my phone. Chris, Jay and Danny had marked the route with tiny discs which could be found on lamp posts at every turn, gate, sty and even road cones. Everyone lined up outside ready to get going. The first mile most of the 35 runners were together but soon it had broken into smaller groups of runners, some who stayed together in fear of getting lost. London is very peaceful at 6.30 on a Sunday morning and surprisingly rural with parks and streams to run along you hardly notice the blocks of flats and railway lines . As with every race most of us went off too quickly covering 10 miles about 15 mins ahead of a sensible time for the distance. We got to the first cp in good time , refilling bottles and eating the vast array of food on offer before the next section, which was much more rural across fields and through woods past biggin hill and down towards the m25 , Once here you start counting down the miles to cp2, saying hi to cyclists, horse riders, dog walkers and runners that you pass on the way. I ran the whole way with a lady called Helen who I'd met doing part of the recce last year with. She was at 13 the hard way and agreed we would run together. Its pretty amazing seeing someone read a tiny o/s map upside down describing what should be around us and what the elevation should be like if we were at the right spot. CP2 was on the side of the road , its amazing that there were only 35 runners yet some of the feed stations had 7 or 8 runners turning up really closely together, another great thing is you turn up at these events expecting it to be full of super athletes yet the mix is more unassuming run of the mill people all with similar concerns to you "have I packed the right food, will I make the cut off, is my bag to heavy etc" out of cp2 there was a long section of road so we got a good pace up getting us to the marathon 1 point in just under 5 hours including cp stops, in no time we were at cp3 and again 4 or 5 of us arrived together. I seem to have a good body compass and memory and think we saved an hour from last year by not getting lost. We passed Weir Wood reservoir at 36miles, this was where I stopped last year, running alone and self doubts got the better of me so I smiled to myself knowing I had got further than the last effort at this race. CP4 Horsted Keynes was a church hall, hot soup , coffee, loos and seats. Run shoes were emptied, clothing adjusted and bottles, food bags refilled. Whilst in here the weather had changed and the promised rain had started. Still feeling warm I put arm warmers on but no coat.we started on the last 18 mile section. The 10 miles to cp5 seemed to take forever, you start doubting you are going the right way and checking the map more and more often, in the hope you are still on track and not wasting energy. The rain was heavy but it still felt mild. Arriving at cp5 was an amazing feeling, it was manned by some great ultra runners who all give up their time to support others when they aren't running. Looking south from here we could see Black Cap, one of the 3 climbs we had to go over to the finish. It was raining really hard and misty and my choice of road shoes became a nightmare on the chalk of the south downs. We had 2 hours 10 mins before cut off , so pushed on again. I was really having to dig deep now, once over Black Cap we headed down some of the route I had ran during 13 the hard way the week previously, it was high 20's then but now driving wind and rain made it the complete opposite. We made it over the next small hill and down to Falmer. The last climb went on for ever until we arrived on a cycle track towards the race course at Brighton. I had some sweets from cp4 in my pocket which I ate , the boost was almost immediate and we got running again but no talking. In the distance we could see another runner we soon caught. We told him to keep going as we crossed the racecourse following the footpath towards the sea but still going uphill. I knew we were running out of time as it was almost dark . Suddenly a sharp pain down my inside thigh, a small cramp stopped me for a moment. I managed to walk it off and get going running down off the Downs , gaining my bearings from the buildings you run past at the many road runs in Brighton. We dropped down onto the sea road to be greeted by Jay McCardle who ran us into the finish line in 13 hours 50 mins. The runner we passed was the last one home with 1 min to spare. Everyone else had been pulled from the course, Helen was the only lady to finish from the 7 starters. Ultra running is an amazing sport, you meet so many supportive people, all with stories to tell and of course plenty of time to tell them. A few weeks rest now until the Downslink Ultra
Jas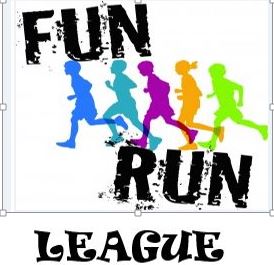 Three club members running at the Fittleworth 5 This is a 5 mile, multi-terrain course , Steve Feest Tony Pearce & Linda Wright all ran wearing their running club vests. Congrats to Steve who was the first of the trio home in 40.54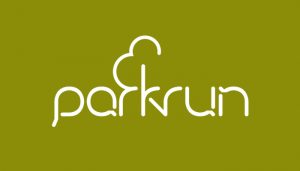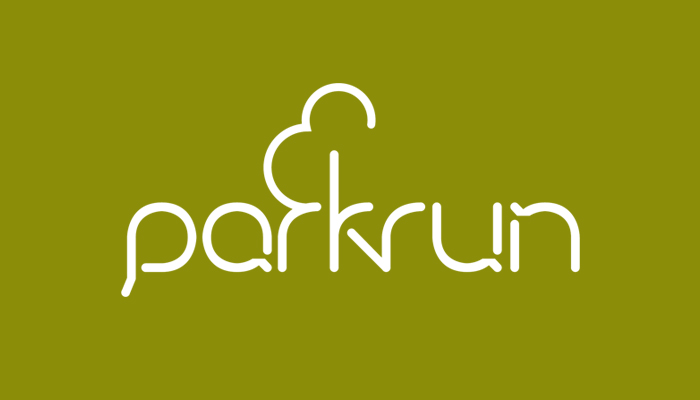 PARK RUN
Two Tuff's, (well four actually including their dogs) at Horsham Park Run, good work from Leigh & Ian Moore (& Ruby & Sam).  Down at Worthing Park Run well done to Amanda de Ridder 24:29 & Tim Kenny