Weekend Round Up September 9th /10th
The most notable performance this week was from Chris Robinson, and Martin Hawkins at Ironman Wales, where Chris's race report has already been published.  Other Tuffs completing good work included:-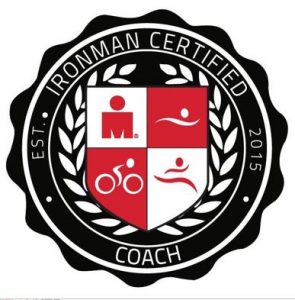 IRONMAN COACHING QUALIFICATION
Tuff Fitty are justifiably proud of their team of coaches, currently 13 in number with a variety of coaching qualifications from British Triathlon Level I, II & III,  as well as Swimming, Cycling & Running governing body qualifications. To the untrained eye, seeing all our coaches at training misses all the planning that goes into the periodisation to ensure our training meets the various stages of the race season. They all have a great thirst for more knowledge with further qualifications being sought. We are delighted to share our coaching coordinator's – Stew Smith's report about his latest qualification:-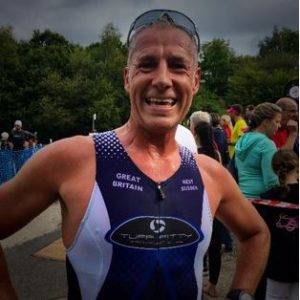 Some of you will know me. I'm Stew Smith, I've been part of Tuff Fitty for 15 years. I joined as I'd done a few triathlons and loved it. Did OK and wanted to train with a few people and learn from those with more experience.
I've had a few quiet years after changing job / careers and building up a new business. I've helped out with the coaching off and on over those years and as I've become more mature found myself passing on the little that I know and loving it. I have a BTF coaching qualification and wanted to add some more meat to the bones of knowledge that I have. I've found myself running a circuits / fitness class on the beach in Littlehampton that regularly has 40-50 people most Mondays. All for free to try and help people see that they can do more than they realise, be healthy and smile whilst pushing themselves. I've also been helping East Preston football club with strength and conditioning. As a young team full of brilliant footballers my focus has been to help the players avoid injury and implement functional strength out on the pitch.
Every now and again you get a chance in life. An opportunity to push yourself. To work hard and gain some experience.
For the past 9 months I've been on a journey. Way back in January I began an online course to become an accredited Ironman coach. This course has been pulled together by some of the worlds greatest athletes and coaches. Dave Scott, Matt Dixon, Paula Newbie Fraser to name a few. I've been coaching for the past 10 years or so and love the passing on of experience, both good, bad and even a little bit of the ugly.
Predominantly an online course working through video content and broken up into 12 modules. Pretty much everything that will concern an iron distance athlete was covered from nutrition to periodization. I've learnt a ton, slept less and feel that I have something of real value to pass on.
Examination week was full of late nights and lots of coffee. 2 papers with a minimum pass mark of 80%. I don't think that I've ever got 80% for anything before!!!
9 months on and I passed with a mark of 95%. I'm ready to help nurture the next budding ironman and women.
Thank you Tuffs.
Stew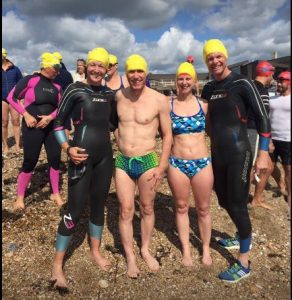 WELLWORTH WORTHING OPEN WATER 1.5/3k SWIM
Two reports from the successful inaugural Worthing swim. First up  Nicole Patterson-Lett and then Anthony Towers:-
A 4 Tuff turnout for this excellent event run by Chris, Jason and Danny @ Sussex Trail Events – Anthony Towers, Susan Douglas, Clive PL and Nic PL … plus Jason Rae who did a sterling job timekeeping.
Clive PL and I left the car in the free-to-park end of Worthing seafront (practically Goring), thinking the walk will do us good afterwards.  Hindsight would have been wonderful as a 2mile walk back, into a massive headwind, after a super tough swim was 'character building'!
It really didn't look too rough in the sea during the briefing… but goodness me, how wrong was I?!  Excellent briefing – beach start, swim out, keep buoys on your left once round the first one, towards the pier then back parallel with the beach, out to the far buoy and back in to the start if you were doing 1.5km and round once more for the 3km.  All seemed straightforward enough?
I thought they must be bonkers, but almost half of the entrants were only in swimsuits – including the hardcore Anthony and Susan – whilst Clive and I joined the other Southern softies in wetsuits 😊
Once swimming out to the pier the waves were HUGE and coming directly towards us (sort of across shore somehow?), this meant you had no hope of sighting the buoy, most arm stokes were cut very short by a big wave, breathing become a lottery and much seawater was consumed.  Despite all this it didn't take too long to arrive at the turn buoy … but we found out why on the return leg.  There was a very strong current with us out to the pier, and then although swimming with the waves on the way back the current ensured if you just slowed a little to sight, you actually started moving backwards.  After what felt like hrs I eventually reached a buoy and after so long I automatically assumed it was the far turn buoy and went around it, only to see the guy behind me keep swimming on.   I then realised it must be the midway point and we were only opposite the start, so I had to turn back quick and chase him down!
Eventually back at the pier buoy I was aware of 1 other swimmer a few metres behind and there were still safety kayaks out so battled on with the 2nd lap.  At the final turn I had a quick chat and a laugh (at the difficulty of this swim!) with the kayaker and then kicked for home.
What a relief to see Jay McCardle waist deep in the waves waiting to pull the swimmers out – I hung on with both hands, praying my legs would work on the vertical.  I found out later that Jay had dislocated his finger helping people out but had the finger popped back just in time for the next swimmer!
I'll admit to an anxious moment seeing Clive PL on the shore cheering me in and wondering if he'd beaten me, but luckily (for me!) he'd decided 1.5km was more than enough 😉   Anthony and Susan were both there too having agreed with Clive.  Whilst shivering we shared disbelief at the conditions and complained of aching arms.  Then Clive PL warmed us all up (with cups of tea from the café!) whilst we cheered in the finishers and a few who just couldn't beat the current and had to be led back in.
Massive kudos to the Sussex Trail Event support crew who were awesome in the kayaks in those extreme conditions – I can't believe any other events company would have had the expertise and courage to go ahead with the event.   And even more kudos must go to the swimmers who battled away in there for up to another hour… AND some of those were non-wetsuit.
Extremely exhilarating, great camaraderie, and I'll be the first to sign up again next year (and hope for more big waves 😉)
Nic PL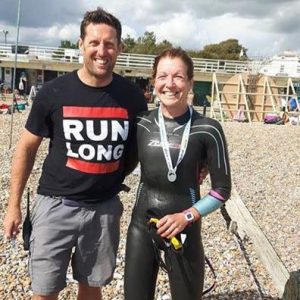 Chris Ette, with Nicole, first overall in the 3k
Having enjoyed the sea swim at the Isle of Wight last month, I thought I would give the Worthing open water swim a go, particularly as it offered a choice of wet suit or non wet suit. The non wet suit option being the challenge. I left it until the day before deciding to enter, partly because I never got around to entering and partly because the weather had been so variable. Anyway it didn't seem too windy when I left home to go down to the sea front. However, it was actually quite breezy and fairly choppy water. The safety boat was being thrown around in the sea. There was a choice of 1.5k or 3 k, same price, and you could decide after the start. It was mainly the water temperature which made my mind up after about a minute in the sea. The course was from the shore about 300m east of the pier, swim towards the pier, turn at the buoy then about 750m towards Shoreham. Another buoy marked the next turn, then back to the beach to finish or straight on for the 3k and another lap.
Most people wore wetsuits. There were about half a dozen non wet suit swimmers, including me and fellow Tuff Susan. Clive and Nic made up the rest of the TF squad. 49 swimmers in total.
The swim started into the swells and there was no way of settling into any sort of rhythm, being thrown around and trying not to breathe as a wave went over your head. The first turn by the pier was reached pretty soon and it was a relief to have the swells behind you. At least breathing was a bit easier. It took a very long time to reach the eastern turn buoy. At first I didn't mind the slow progress but eventually I wanted to have a proper look where I was so I trod water for a minute or two and could not see anyone else, nor the next buoy or anything to indicate how far I still had to go. I was tempted to swim ashore and walk back. Then another swimmer appeared over the waves behind me, I waited for them to catch me up then a few more arrived and one person said they could see a kayaker which was hopefully where the turn was. Encouraged by the presence of others I felt happier to carry on but I could feel I was getting cold. Finally, making it to the next turn, the kayaker called out the current would now be with me to get back to the finish. True enough, even though the last 500m or so was into the swells and wind, it was fairly swift progress to the end. Exiting the water, I was told I had taken 54 minutes. That is more than twice as long as I would have expected over 1500m. Most people finished after one lap. There was a few who completed 3k, including Nic, who won the event. There were swimmers in the water for over two hours. At the time I assumed they were doing 3k but looking at the results afterwards, it turned out they had swum 1.5 k without a wetsuit! There were a few swimmers pulled out. There was a huge sense of achievement to complete this swim as at one point I just wanted to get out.
Friendly event organised by fellow TF members Chris, Jason and Jay.
Anthony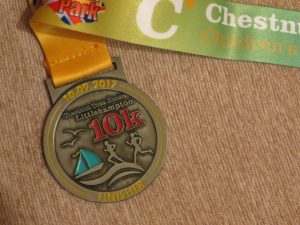 LITTLEHAMPTON 10k
Stuart Harvey reported in from the LA 10K:-
The Littlehampton 10k seems to get more and more popular year on year with a record breaking, capacity field of 1500 runners signing up to take part in the event this year. The course, a fast, flat route, is ideal for some PB's, so waking up to a sunny, warmish and wind free morning, I knew the pressure was on to pull it out. No excuses!
With an out and back along Littlehampton and Rustington seafront up first, it was then back into Littlehampton for a quick loop around past the council offices and back out to Mewsbrook Park. Starting off steady I managed to evenly pace the first couple of miles and felt good as I reached half distance.
After a dash around Mewsbrook Park lake (past some rather peeved looking swans which had been rudely awaken from their Sunday lay in!) it was back onto the seafront before heading inland again before doubling back up Sea Lane in Rustington. Legs feeling OK, I dug a little deeper as we approached the last slog along the prom back towards where it all began!
On the last stretch I managed to pick a few off and as we came up to the line, I summoned all my Wednesday night track training for a strong sprint finish. (Wardy, Marchy, those A skips finally paying off!) Crossing the line I clocked in at 43:22 which is now my 10k PB, so needless to say I was pretty chuffed picking up my medal!
It was great that one of Stew Smith's daughters, Abi was also on the start line. She was undertaking her first competitive 10k with Stew running alongside. Congratulation Abi on busting your target time; a future Tuff perhaps?
Stu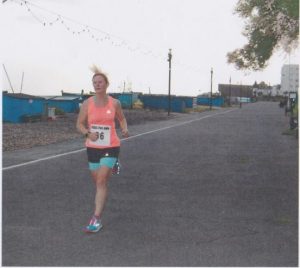 HSBC FUN RUN
Bec Day entered a local Fun Run along Worthing Promenade organised by HSBC in aid of charity. Bec raced the 5k and came storming home in 21:14. This result saw her cross the line first overall 'chicking' everyone else… the second person to cross the line was over 1min 50 seconds behind. Her victory gained a trophy, medal and stocked goody bag including massage voucher, drink and trial gym membership – Congratulations Bec, a good Wednesday evenings work.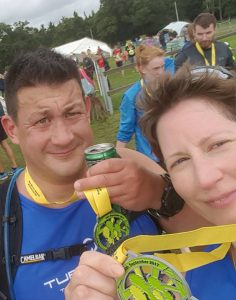 NEW FOREST HALF MARATHON
Over a very scenic course there were a trio of Tuffs racing at the New Forest Half Marathon at Brockenhurst. Whilst billed as 'multi-terrain', it was also stated to be a fast course. It is fantastic to see Maynard Floyd on the comeback trail building up his miles. Good running from Rachel Brunning but the quickest time of the day was a swift 1:40: from Tim McGrath. Pictured above is Maynard & Rachel with their bling

DENBIES BACCHUS MARATHON
A full marathon starting and finishing at Denbies Vineyard with a route taking in the North Downs. Paul Atkinson is a regular attendee and competed again this year. Those who have to ask what his time was miss the point and haven't raced the venue as all the feed stations have different types of wine, 6 per lap so 12 different wines for the Marathon. Good work Geordie Paul.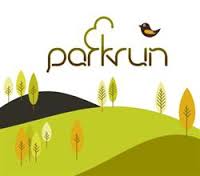 PARK RUN
Five Park Runners this week. Trevor Harvey raced at Maidenhead, Ian & Leigh Moore returned to Horsham and Amanda de Ridder & James Oram raced at Worthing. The stand out performance was James Oram as he inches inexorably towards his goal of sub 20 minutes.  His fifth consecutive PB took him to 20:02…. close!