Weekend Round Up 25th 26th November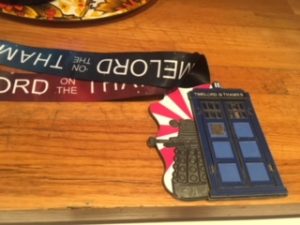 TIMELORD ON THE THAMES
This round up starts earlier in the week with the ' Thames on Thursday' as Jay McCardle travelled up for the Timelord on the Thames. Phoenix Running stage several of these Thames side runs during the year with several on a Thursday or Friday as well as weekend events.  They are not cheap but usually provide one of the biggest bits of bling you will come across http://www.phoenixrunning.co.uk/
Held next to a Pub at Walton on Thames the route is an out and back loop of just 3.28 miles.  Entrants can elect to do as few or as many as they can in the six hour cut off. There were a couple who managed 32.8miles and all sorts of distances down to one lap of 3.28 miles; that is a lot of entrance money for 3 miles although perhaps they were only there for the medal!
So where did Jay come? It will be no surprise to learn that in his quest for marathons he clocked up 8 laps to complete his 26.2 marathon distance. Not only that, but Jay crossed the line for the final lap in just 3:46 which placed him 8th overall – congratulations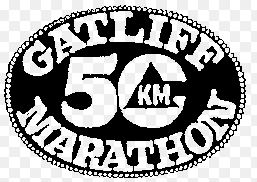 GATLIFF 50km MARATHON
Danny Cunnett travelled to Edenbridge in Kent for the Gatliff marathon on Sunday. He was also accompanied by Jay McCardle. Either Jay is totally awesome or totally bonkers in undertaking another marathon with just two days rest since his last one!   This event was not any old marathon but 50k,  – (31 miles). With early starts from 7:00am to try and get as many runners back before dark; Jay takes up the story
Danny and I had seen the Gatliff 50k a self navigation mainly walking event  around Edenbridge and North Downs way and  only £9 so was a bit of a no brainer however we did underestimate it, we thought it should take us 5-6 hours so was a bit of a shock when we came in at 7.45
The 11 page route description was very open to interpretation especially when describing paths in woods when the fallen leaves had carpeted the whole ground so no paths could be soon. We were lucky and got in as it was just getting dark as neither of us had packed a head torch.
Jay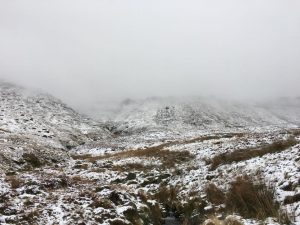 The top of the Peak District in November
KONG MINI MOUNTAIN MARATHON 
Bec & Mark Day headed to Kinder, the highest point in the Peak District and are the banner photo above this week. The organisers state the area is subject to 'special' weather conditions, and this year there was snow, blizzards, rain, fog and wind. This meant over 30 competitors finished up with zero points!!, but not our dynamic duo who finished in the top 100.  Bec reports:-
Mark and I travelled 'oop north' at the weekend to do a mini mountain marathon. The weather forecast was pretty much spot on – sub-zero and covered in snow. At the start you were given a map with lots of checkpoints and you decided which ones you wanted to visit in the 4hr time limit. We managed to select a couple that were in Heather fields which combined with deep snow was quite challenging, at one point I stepped in to a snow covered hole and ended up thigh deep! We finished in 4hrs 2mins, not bad for a couple of first timers. It was a really friendly event and included with the £20 entry fee was soup a hot drink and a load of cake 😊 we will definitely be back next year.
Bec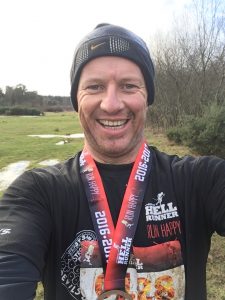 HELLRUNNER
With apologies to Grant Smalley as his report was missed off last weeks round up, he entered the annual wet & muddy Hell Down South.  Grant advised:-
Hellrunner was a bit warmer than its usual January date, but still just as hilly and 'boggy'. Great fun all the same and still one of my favourite events in the calendar! Every time I do it I always think back to it being my first event with TUFF FITTY.  It was also the spark I needed to help get my mojo back so hope to see everyone at training again soon.
Grant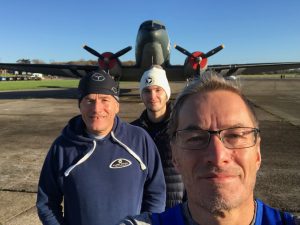 JIGSAW 10K
Trevor Harvey reports in following his trip to Surrey.
Sunday saw a Tuff Trio of Harveys take part in the Jigsaw 10k, held at Dunsfold Aerodrome, the Top Gear test track.
The route heads straight down the main runway for around 1 1/2 miles, before doing a loop back around the perimeter road, back to the start and off again for lap two, to finish. The main runway always has a strong headwind, similar to those often experienced on the back straight on a Wednesday Track Night
A clear crisp and chilly autumn day, (often squinting into the sun), on a nice flat surface that includes a mighty overall total of 36 foot of ascent!  As such Stuart, on his birthday, delivered himself another PB as a present.  Clive took revenge for being beaten by Trevor the previous week at Gosport and reversed the positions.
Not the cheapest race for a 10k – but it is for a great cause, the Jigsaw Trust, an autism charity – and a silicon medal to boot!
Trev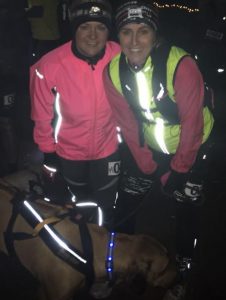 MAVERICK SILVA SERIES
Having completed a Maverick race series event recently Debbie Boxall also entered this one up at Dorking. There were 6k, 10k and 15k race distances to choose from which as a night race. head torches were mandatory. Deb's  reports as follows:-
Another muddy Mavericks! This time starting off from Denbies winery. Never the easiest place to leave when your mum likes wine so much! Cracking route with spectacular night light views. This time Obi got to drag Debbie's sister (Nikki) up the hills for her first ever 10k run! Maybe another Tuff in the making!?! "
Debbie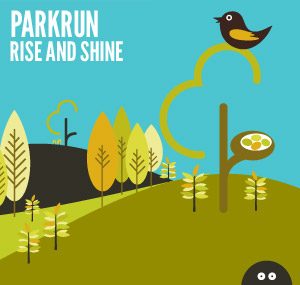 PARK RUN 
At Worthing Park Run James Oram achieved yet another PB, completing the course in just 19:30. Not only did he shave 21 seconds off his previous PB which is very impressive, but this run clocked up his 50th Park Run – congratulations.  Antony Oliver also ran meaning that he is still getting his runs in whilst he can ahead of his and Cathy's imminent arrival.  Good work from Alister Marchant who undertook his first Park Run. Across at Hotham Park for the Bognor Park Run, Jason Rae added to his impressive Park Run total of 78 Park Runs.  Further north Trevor Harvey ran at Maidenhead Park Run as a warm up for his 10k the next day.