Weekend Round Up 4th 5th November
Firstly Debra & Matthieu have returned from their break in Eire and have passed across their race report from last weekends marathon:-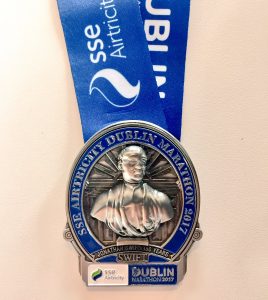 DUBLIN MARATHON 
"Never again" were my words last time I ran a marathon and here I am on a chilly morning on the streets of Dublin with twenty thousand other people. Two days after my thirty-sixth birthday. A few months ago Matthieu came up with the idea of running another marathon but this time somewhere else. Dublin was the perfect one as it was just after my birthday and it could be our family treat to spend few days in the city and finish off by running the marathon. This time our goal was to run it together under four hours. We just had to pace ourselves somewhere 5:35/ 5:40 the kilometre. We had a slow start due to the amount of people. The route was really nice but the best was the atmosphere.
There was not a moment during the entire race where you were alone without people encouraging you, giving you sweets, oranges, water, even a lady handing out Nipple guards for those that forgot about that important detail. From babies to grandpas and grandmas sitting outside their houses cheering up everyone. At points they had music bands and dj's playing music. It was very emotional, the support from the people was amazing.
So we had a slow start but very quickly made up the time and we were on track for our goal. I decided to take sausage rolls and crisp as my fuel and when I felt hungry I would have a nibble, it was for me the best to keep me going.
Starting mile 23, still on pace and just after a feeding station, recovering speed and feeling very close to the finishing line, I tripped and fell over. Right knee first, hands on the floor and finally my head banged against the asphalt. Still conscious but very sore, Matthieu checking on me, making sure I haven't broken anything. He helped me to stand up, my knee killing me but I can still walk and even better I can still run. So after few steps we start running again, me thinking of the time and Matthieu reassuring me that we are still ok.
We slowed down our pace, of course, but we carried on. Matthieu, as always, was my rock and was by my side holding my hand and motivating me to finish.
It was hard, it was really hard and we were so close to our goal. Official time says 4:00:55, but to my surprise Strava says 3:59:59!!! So I have decided to believe Strava.
This time is for sure "never again" (until the next time).
Debra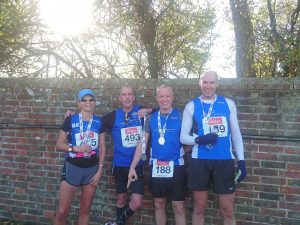 REGIS 10
The inaugural staging of this new event, a 10 mile route around Bognor Regis, Aldwick and Felpham; so it was likely to be a quick course. Add to this closed roads, plenty of water stations, chip timing & the all important bling at the finish, it had all the makings of a good race. When you add in that it was organised by our very own Jason Rae at Southern Multisports and Chris Ette, Danny Cunnett and Jay McCardle at Sussex Trail Events there was no doubt it would be good; and so it proved.
Fourteen Tuff's entered and apart from cold conditions everyone enjoyed the event. Social Media afterwards  insisted it should be an annual event. Becky Lintott-Clarke, our first lady home said it was 'a fantastic event'
Pete Littleboy was our first Tuff home who reported  "I entered this event as it was local and knowing there would be a good Tuff turn out in both racing & helping so I checked in on the Saturday at Bognor town F.C. This was also the start and finish venue. I biked to and from the event on the Sunday & was not disappointed with our turnout and so much so I was busy chatting when the siren went off to start.  As it was a 10 mile flat route out and around & along Bognor seafront I knew I could set a fairly fast pace as the wind was light & the sun shining & little Jack Frost knocking on the door. So suddenly Simon and I were going along chatting away and encouraging all the Tuffs we saw only to find we crossed the line in 1h08 & so we didn't have to wait long before the other Tuff's crossed the line to receive their medal/water/snack & so all in all great event for everyone of all abilities"
Pete & Bex, first Tuff Male & female
Tony Morgan was another Tuff on parade who reported " Really great event, interesting course and well marshalled. Good to catch up with so many Tuffs. I ran out of steam a bit after mile 7 as i hadn't run more than 10k in one go for about 6 months."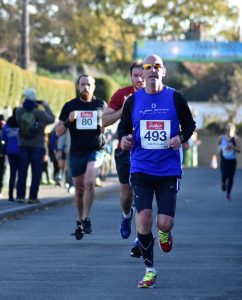 Tony runs so quickly he can wear his Tuff vest back to front to show everyone behind 'his front'!
Simon Thistlethwaite was just 6 seconds behind Pete with James Oram third just 40 seconds later. As well as competitors several other Tuffs had ridden over to cheer on what proved to be another grand Tuff morning out.
Same again next year then Jason? – Tuff times listed:-
| | |
| --- | --- |
| Pete Littleboy | 01:08:46 |
| Simon Thistlethwaite | 01:08:52 |
| James Oram | 01:09:30 |
| Tony Morgan | 01:12:44 |
| Phil Baker | 01:13:43 |
| Ian Bayley | 01:15:24 |
| Becky Lintott-Clarke | 01:15:25 |
| Neil Rabone | 01:19:46 |
| Glenn Parisi | 01:20:10 |
| Tony Pearce | 01:24:14 |
| Elle Williams | 01:25:23 |
| Amanda de Ridder | 01:26:58 |
| Rachel Brunning | 01:35:14 |
| Tim Kenny | 01:42:58 |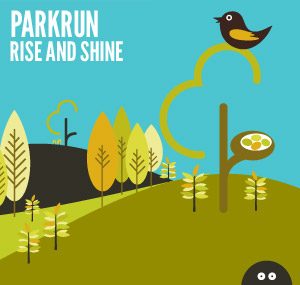 PARK RUN 
Clearly the Regis 10 left it's mark on Park run as all the runners (in the rain) would be involved the next day. At Worthing Park Run, James Oram raced, running on the Saturday prior to the Sunday crossing in 20:36. Getting their own run fix in before Sunday, Regis 10 organisers Jay McCardle & Danny Cunnett raced and crossed in 21:14 and 21:16 respectively. Meanwhile over at Hotham Park for the Bognor Park run, Regis 10 organiser Jason Rae clocked up his 77th Park run in 24:24 – where that Park Run encouraged everyone to don their Halloween fancy dress.