Weekend Round Up 10th 11th February
It is just mid February, but club members were out in force this weekend, as the following 8 reports testify.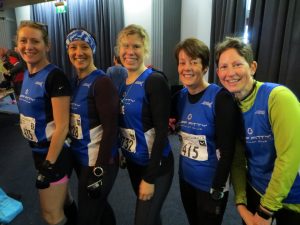 l to r: Amanda, Tiff, Ellie, Jane & Rachel
WORTHING HALF MARATHON
There were some great stories amongst the Tuff entrants who completed the Worthing Half Marathon. Not only were there 22 club runners, but there was a great number of fellow club members supporting. It is always difficult to spot them all when you have your race face on, but in addition to those mentioned below, thanks to Gary Edge, Muz Hodge, Mark & Bec Day, Tim, Tom & Emma Macready, apologies if anyone has been missed off.  Well done to Michael Redgrave who has been coming along to Saturday and Wednesday runs for several weeks, as our latest Tuff to pull a blue vest on. This was Micheal's first Half and congratulations to Abi Smith who also completed her first Half running around with Dad Stew. Another superb bit of news was seeing Becky Adamek (nee Sutton) back on the race circuit. A super quick runner Becky had been blighted by illness and injury following getting knocked off her bike. Welcome back Becky, we missed you. We will let our first Tuff home, Joe Pascoe  take up the tale and then Ellie Williams recounts her version of events:-
WINDY WORTHING HALF
Since my training time has dramatically reduced after increasing my family to four, I set my sights on Brighton Marathon. This meant only one sport – instead of three – and back to some serious run training.  I set Worthing as the first race to see how the training was going at about half way through the schedule.
After grim weather yesterday, it was great to see the sunshine – even if it was 50C.   When we arrived, we decided to hide in Café Nero to warm up and hide out of the wind. It also proved to be a great place for a toilet stop, which meant I would hopefully complete a running race without soiling myself.  With 20 minutes to go I got changed, left the family in the café and decided to try a warm up.  In doing so I bumped into a pile of Tuffs (collective noun for a group of Tuffs?), great to see everyone after a while away from club training.
With 5 minutes to go, I jumped into the starting pen and heard 'Joe'. Tom (the big friendly giant) Goddard was waving above everyone's heads 10 metres behind.  It took about 30 seconds to get across the line, but we were all finally off into the head wind.  Luckily I had plenty of human shields in front so the wind didn't really change the pace.   I met Stu Harvey at about 1 mile and then saw James Oram at around mile 3.  The wiggly 5 miles through the town was great.  No wind, no idea where I was and plenty of support from Tania, Wendy, Debbie and Catharine.
At 7 miles we turned into the headwind for a long stretch to Goring.  I implemented my human shield tactic again, thinking all I had to do was run hard to the turn around and then there'd be a tail wind all the way home.  It turned out, it was a bit further home than I thought, but passed Katie and various Tuffs heading the other way  – including Chief Clive and then Stew and Abi running together.  Finally finished in 1:23 – which I make to be a PB.
Great performances all round from Tuffs – in particular Jane Custance coming first female Tuff and 6th Tuff overall.  I feel it's also important to mention that Tom was hung over and still put in a sub 1:30.
Joe
This Sunday saw the third edition of the Worthing Half Marathon. Billed as one of the fastest courses in the south and marketed as a flat, scenic, closed road course that provides 'a great excuse to run over the Valentines weekend'. What could be more romantic than spending £33 to run around your home town on a blustery, cold Sunday morning in February? Nevertheless the sun was shining and Team Tuff were out in force. Prior to the race nobody really wanted to leave warmth of the pier pavilion to brave the icy wind for the obligatory pre-race photo call. However, James rocked up with a very impressive camera, and Glenn clearly relished the opportunity for us all to huddle together like artic penguins.
Things began to warm up once the race was underway. Buoyed on by some fantastic support on route there were some brilliant performances, with many of the Wednesday track regulars, Kate Cooper, along with guest trackers Alex (1:48) & Chris (1:41), reaping the benefits of their January training. The course makes a number of loops round Worthing's West End before heading out to Sea Lane and around the Goring cabbage patch. It certainly felt like a race of two halves. Running East, with the wind in your sails was a pure joy. Running west, not so much.
A big shout out to Jane Custance, as first Tuff woman home in 1:46:12, clocking a cracking PB, knocking an impressive 6 minutes off her previous half marathon time. Glenn, was hot on Jane's heals, coming in just 37 seconds later. Romance hung heavy in the air as I crossed the line behind a couple who had obviously run the course together. The air turned blue as one of them put on an impressive sprint finish over the last 100 meters. I've never heard 'that' word shouted on a finish line before! I'm guessing he didn't get a valentine's day card.
A massive thank-you to Rachel Brunning for organising the post run meal at Woods. It was lovely opportunity to refuel on fat and carbs and for runners and supporters catch up.
Ellie
| | |
| --- | --- |
| Joe Pascoe | 01:23:32 |
| James Oram | 01:28:25 |
| Tom Goddard | 01:28:32 |
| Pete Littleboy | 01:33:09 |
| Stuart Harvey | 01:38:57 |
| Jane Custance | 01:46:12 |
| Paul Martin | 01:46:19 |
| Glenn Parisi | 01:46:49 |
| Huw Williams | 01:47:49 |
| Olly Sampson | 01:48:05 |
| Kate Cooper | 01:48:38 |
| Becky Adamek | 01:49:28 |
| Elle Williams | 01:51:03 |
| Tiff Orton | 01:55:40 |
| Clive Harvey | 01:57:18 |
| Grant Smalley | 01:57:25 |
| Amanda de Ridder | 01:57:44 |
| Trevor Harvey | 01:58:11 |
| Michael Redgrave | 01:58:50 |
| Rachel Brunning | 02:21:07 |
| Abi Smith | 02:28:19 |
| Stew Smith | 02:28:20 |
Click on the arrow to view the gallery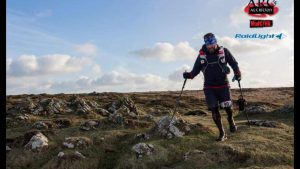 ARC OF ATTRITION
The Arc of Attrition is an extreme winter 100 mile footrace with competitors running in challenging winter conditions. A point-to-point race from Coverack to Porthtowan taking in the dramatic Cornish Coastpath, completing an Arc around the entire south west foot of Cornwall. Last year Danny Cunnett & Jay McCardle entered and explained then that there were few places where you could actually run, it was more often than not bouldering and climbing. Keen to have another go, they entered again and this time travelled down with Chris Ette to complete the full set of Sussex Trail Event Directors racing.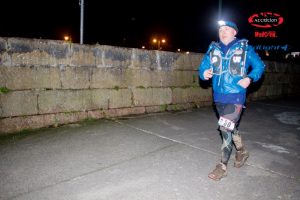 Jay above over the rough terrain and Danny running early Saturday morning
Conditions this year were much tougher than last year.  Jay fell in a stream and cramped up. Knowing how brutal it is, he decided to be sensible and pull out at 28 miles in the dark after 9pm. Danny completed the whole route last year but decided to retire in the poor conditions this time, although no shame at reaching Half way  at Lands Ends at 4.30 in the morning!  Chris continued to complete 75 miles reaching Pendeen at 10am on Saturday morning. Jay explained that it was much muddier this year and more brutal. Because competitors are often on their own in remote areas everyone has to carry a tracker and starting at Friday lunchtime the race carried on through the dark and rain.  These three, are seriously "Tough Tuff's", total respect from us all on your latest adventures; all this action whilst running Sussex Trail Events at the same time – impressive.
Inspired? well have a look at this video on Facebook, the stunning, but very tough terrain – to view click here
DARTMOOR TRAIL RUNNING CHALLENGE 
We had another Tuff in the West Country enduring tough weather conditions and terrain over the weekend- Simon Thistlethwaite who reported in:-
As January was almost out of the way and I still hadn't a single race secured on my 2018 calendar I decided that it was time to start getting my racing boots on. 
With a lot of Tuffs showing interest in the Worthing Half I too decided that it would be a good first race builder but as race day crept up i decided that the flats weren't really what I wanted having missed the trail so much over the winter. With a few recent trail practice runs in the back pocket I felt strong and so I decided to browse what was on offer on 'T' tinternet. 
The Dartmoor Trail challenge caught my eye especially with its location and time of the year (bloody freezing). With four races on offer I decided to go down the middle and so selected the half distance route described as being moderate to strenuous with around 3500ft max elevation. After handing over the dosh I was surprised to see the overall distance come in at 14.4 miles…. mmmm half indeed with an extra mile and a half of beasting no doubt. 
For once there were no pre-race nerves and I was looking forward to the challenge ahead especially as I was feeling in good shape and lightly rested. It wasnt long before feeling slightly rested turned to absolutey battered after the wind, rain and hail took my breath away on the first climb with little over 2km ran. Without trying to feel too negative and knowing that i had a long way to go I simply ignored the lets go home demons and removed my outer jack as I was already overheating. 
With the first climb out of the way the main route was clearly swampy, rocky, difficult terrain with some slippy descents and brutal climbs with the ground attempting to suck the trainers clean off your feet. At one point the lead 6 had turned back and told us we were all going the wrong way as they had hit an X on the trail suggesting we had missed a route flag. I was sure we were on the right track so I kept going and for a while I was lead man finding the correct route marker which saved me a half mile back track to the others. The first check point was filled with energy drinks and jelly babies which was a welcome sight given that Id dropped my first energy gel from my fumbling cold hands. 
The next two hours were extremely hard and the climbs became extremely difficult to run up, my calfs were battered as was I. I was relieved to see some runners walking ahead and it gave me a chance to catch my breath before the final climb which was around 100 metres. Almost at the summit i was perspiring so much the sweat trickled down my forehead and into my eyes – at the top the hill the icy cold winds hit my face and it felt like the sweat had frozen in the corner of my eyes leaving me with slightly blurred vision. The rain was really teaming down now and having ran without my jacket I was soaked but happy to know I had something dry to take from my pack at the finish. There was no sprint finish for me and even thought I had four or five runners  in my line of sight I felt Id done enough and I was happy to cross the line in 20th place out of a total 136 runners. 
A very challenging trail at this time of the year but a very rewarding run with some positives to take to the next one. 
Simon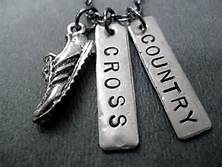 SUSSEX CROSS COUNTRY LEAGUE
This year Tuff Fitty have not been to the fore at the Sussex Cross Country league. A combination of being slap bang in the middle of the day, and a clash of events meant that our league position was not wonderful. However we are extremely grateful to Paul Martin who was our sole attendee at Stanmer Park- race 4; his attendance meant we were not wiped from the league – Many thanks Paul, especially, as you will read, he did the weekend double.  Before Paul's write up; comments from the organiser graphically sets the scene.  "The final League match was held in almost battle ground conditions at Stanmer Park on Saturday. In the bitter cold, wet and wind, it was the poorest underfoot conditions I have seen, apart from snow, at Stanmer Park since it was first used for cross-country racing in 1954" It had already been churned up from the South East Championshps just two weeks prior. Over to Paul:-
"I wasn't sure if I was going to do either races as I have had a bit of tendonitis in my foot. Decided on the Friday to do the X-Country as it would be soft and a bit more forgiving if my foot's not quite 100%. Got there in good time and got registered in the rain. The rain had just about stopped by the time the start gun was fired but the course was muddy to put it mildly. The youngsters and the women beforehand had thoroughly churned it up.
Took it fairly easy on the first two laps but my foot felt fine so pushed harder on the last lap. Some of the corners and downhills were treacherous to say the least and I nearly went down a few times but managed to complete the course in good time – 41:01. Quite pleased considering I wasn't sure if I was even going to race. Also pleased that I managed to do all of the XC races this year. I had planned to do the same last year but due to various reasons did not make it to any!
Then came Worthing half, I was running a little late that morning and missed all the Tuff pics, doh, saw Tom Goddard just coming out of the bag drop though who informed me that everyone else had made their way to the start line already so i hastily stripped off unwanted garments and made my way outside to get warmed up. I got to the start and decided to just wait near the back as I had no idea where anyone was.
So off we went, started well (took it relatively easy as I knew the hard ground would aggravate my foot) and slowly made my way up though the field passing a few Tuffs on the way and spotting a few coming back towards me on the other side of the road as they were flying, Joe, James, Tom, Pete.
Most of the race was fine right up to mile 12, then my IT bands in both legs decided they had had enough and my foot started to shout at me too! Great, I managed to hobble the last mile back but not before being over taken by Glenn in the last few hundred yards.
I have not finished this race in one piece yet (I think it may be my nemesis as I have completed other, more challenging, halfs in the past without issue) so I will be back next year to try and conquer this one. To add insult to injury I had put my jacket on one of the tables in the bag drop area behind a water dispenser, bad idea, as I now had a soaking wet jacket to put on, long sigh!!
Well done to all Tuffs that raced though, some superb times posted. Great stuff, see you at the next one  😁
Paul 
Karen McGrath reports in from Saturday's Winter Warmer:-
Worthing Excelsior's Winter Warmer is a 65 mile Audax (think Sportive without the price tag and better cakes) and takes in some of the most beautiful Sussex and Surrey lanes.
There were 101 riders this year, including John and Karen Mcgrath. It's not a race – but that didn't stop John and a small group of speedier riders setting off last – and getting back first. Meanwhile Karen took in the views whilst riding with two work colleagues – and was surprised to get round in just over 4 hours – oh and get a gold sticker for correctly answering the observation questions.
It was the first Audax I've ridden and will be back for more!
Karen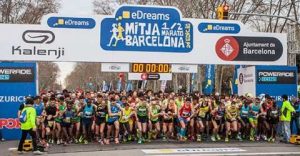 BARCELONA HALF MARATHON
Yet more Tuffs out racking up longer mile runs.  Two of our Tuff members are also members of Worthing Striders and they joined in on a trip to Barcelona for the Half Marathon.  This was a street circuit from Arc de Triomf, down Ramblas and through the modernist district before a lap out to the east and back along the seafront. Neil Rabone crossed in 1:46:30 & Tony Pearce in 1:54:00 – congratulations to them both
We are currently in the middle of a mini Tuff baby boom. Congratulations  from us all to Lucy Cardus (nee Crocombe) on the arrival of Leila May.  She was born 28th January weighing 6lb 15oz, both Leila May & Dad Matt  Cardus are doing well.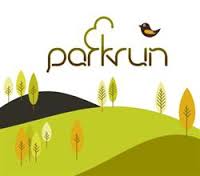 Tuffs have run at Park Runs across the UK & beyond; so for many the following about the toughest UK Park Run may be of interest?   Tuff Road trip anyone?
To view what is probably the toughest Park Run in the UK, look at this BBC article – click here
At Bushey Park, Park Run, Andy Strong raced in the hard conditions finishing in 22:38 to clock up his 42nd Park Run.  Whilst finishing behind Strongy,  Kirsty Keith  has now amassed 52 Park runs passing the magic 50th milestone.  Closer to home at Worthing Park Run, James Oram had talked about taking it easy before Sunday's half. However that still meant coming home 11th overall in 20:02.  Next across the line was Antony Oliver in 22:15 in 37th position. Amanda de Ridder was next in 24:27