Weekend Round Up 25th 26th February
Despite the bitterly cold weather there were still Tuffs out racing, although our first report is from  an altogether warmer climate:-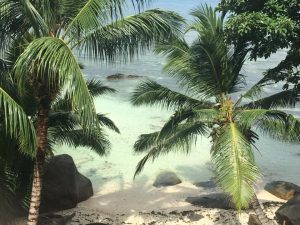 SEYCHELLES MARATHON
Far from the cold, out in the Indian Ocean, Ian & Leigh Moore have reported in:-
After walking off the plane into 30C heat and 80% humidity, we realised this marathon may be a bigger challenge than we thought.
After a couple of days acclimatising, (drinking beer), race day was upon us and we woke at 5 to a cloudy but warm day.
At 7 o'clock the gun went off and 10 seconds later the race clock started ! Nobody rushes in the Seychelles
A 5k loop started the marathoners and half-marathoners at which point we joined the majority of the runners doing the 5k and 10k races. The 5k race was out and back on the same route with no attempt to separate the returning runners from the rest of the field, resulting in several small children being sent flying by the lead runners.
After the 10k turnaround point the field was significantly reduced at which time the heavens opened and we were completely drenched.
Some significant undulations on the coast road to the capital Victoria took us to the turnaround point at approximately 16 miles. Aid stations were frequent, friendly but light on everything except water; thank goodness we carried our own nutrition.
We kept a steady pace and caught a few runners in the last few miles, crossing the finish line together in 5:15 to collect our t-shirt, medal, certificate and really heavy fresh coconut.
It was an even better result finding out that Leigh was 5th Lady home.
Although it was the 11th year of this event, it was still quite chaotic in typical Seychellois style however we still enjoyed the race. The Tuffs do it better!
Ian & Leigh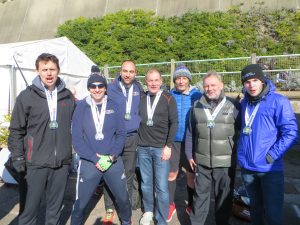 BRIGHTON HALF MARATHON
James Oram reported in from a chilly Brighton event:-
About 8,000 runners turned out for Brighton Half Marathon "embracing" the cold weather.Runners passed city landmarks such as the Royal Pavilion, i360 and Hove's colourful beach huts in their race around the city. Among them were 11 hardy Tuffs, who despite a difficult start negotiating the crowded bag drop off, put in some stella performances. Oram heard there was burgers and beers afterwards and came in at 1:28:38. Littleboy shortly followed in 1:34:56 after cycling to the race! Stu Harvey expertly paced by Andy Crawford smashed his PB by 22 seconds and came in at 01:35:03 – an impressive 10 mins 38 seconds quicker than his first half last year. Coach Wardy commented #mustbethetrack. First Tuff lady home was Becky Lintott-Clarke who clocked an impressive 1:39.23. Tom Gray in his first race for a while illustrated his natural ability by posting 1:44:03 despite focusing on cycling and swimming in previous months.  Glenn Parisi, Jason Rae and Clive Harvey all managed to come in under the 2 hour mark. Becky Hodge was the second lady to complete the Tuff contingent and round off a successful day. Post race some Tuffs went for free burgers with medal and helped volunteers by removing excess Lucozade and water from aid stations. Fuel for future races when hopefully it warms up!
James
We also have a perspective from Pete Littleboy :-
Being a proud Tuff, The 'Beast from the East' didn't stop me cycling over to the start of the Brighton half marathon which is always a busy packed affair and whether you arrive early or late it seems to make no difference.  You won't get a fast start and don't get me started on the queues for toilets and bag drops. However this does make for a lively chatty race and well supported, which I like.  The course changed this year, turning right out of Madeira drive it's a slight incline out and back to the city centre, then you go out to Hove Lawns all the while this year with the wind on your back and by now the sun was out. So that meant when you make the turn for the finish, the sun and wind on your face while passing the many iconic views all the while the waves crash along the shoreline and the crowds cheering you home
Many thanks Maynard Floyd in a mask aka Pete
Results:-
| | |
| --- | --- |
| James Oram | 01:28:38 |
| Pete Littleboy | 01:34:56 |
| Stuart Harvey | 01:35:03 |
| Andy Crawford | 01:35:27 |
| Becky Lintott-Clarke | 01:39:23 |
| Ian Bayley | 01:42:37 |
| Tom Gray | 01:44:04 |
| Glenn Parisi | 01:48:42 |
| Jason Rae | 01:54:05 |
| Clive Harvey | 01:57:58 |
| Becky Hodge | 02:19:06 |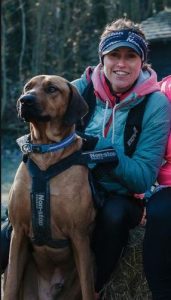 MAVERICK SUSSEX ORIGINAL
These Maverick Races are well organised and popular with Tuffs although many of the usual contingent kept their powder dry for Brighton Half instead.  Starting from Amberley Mueseum, so local for us, there was a choice of  Short: 8km, Middle: 13km, Long: 23km. Debbie Boxall & Obi took part as they are regular participants in the Maverick series.  From Amberley the only way is up; right up onto the  top of the South Downs .   Debbie & Obi strode out around the 23km course which took in South Downs Way then down to Lee Farm and across Angmering Park.  They crossed the line in 2:31. Debbie explained it  was a great start to her racing year but was mighty cold!  Obi accumulated a well earned medal from what Debbie recommends as a well organised race series.  There is a night time Mavericks close by at Cowdray Park at the end of October if anyone is interested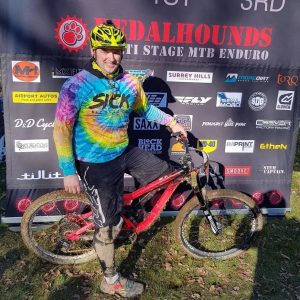 PEDALHOUNDS MULTI STAGE MTB ENDURO EVENT
There was some serious hard core MTB racing from Tony 'Bear' Day at the weekend when he entered the first round of Pedalhound's events. This was held at Penshurst Bike Park, near  Tonbridge in Kent.   The format is  over 3 laps of between 3 to 5km in length with several timed short gravity fed stages.  Each of the stages were ridden 3 times with all stage times completing the overall time. This is very hard core racing with the organisers stating "We're getting back to the true ethos of enduro, stages will be run blind – there will be no practice before the racing starts, although the stages will be available for inspection on foot the day before and on the morning of the event giving everyone a level playing field"  Good work from Bear who stated he "set out to walk the stages all of which were cold icy and very fast looking".  "I raced in the Masters cat, not the best result, mid table, but happy to be back out racing."
Bear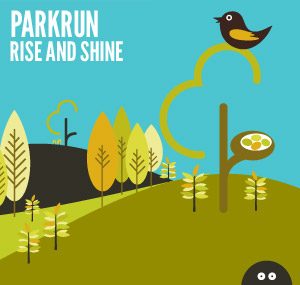 PARK RUN 
Over at Bognor Park Run Jason Rae clocked up his 84th Park Run; at this stage he was testing his foot, not knowing he would be racing at Brighton Half; he would find out at 6.30am the next morning.  Across at Worthing Park Run there was a further Brighton Half runner on a warm up mission; James Oram crossing in 20:16, 16th overall.  Next was Amanda de Ridder finishing 6th female in 24:09 with Tim Kenny next to clock up his 30th Park Run. At Bushey Park, Park Run Andy Strong was out for this 4th consecutive week, trimming his time down to 21:45. There was great news from Kirsty Keith notching up her 54th Park run with her best time for two years.