Frosty Aquathlon 2018 & Round Up
The "Beast from the East" which had brought the artic weather was a serious concern to the committee and competitors alike in the week before our Frosty Aquathlon. However it was pleasing to see that the forecasters were spot on, and improved weather on the Saturday meant we could proceed.
The race results have been available to the competitors on the designated "Frosty" tab and this is accompanied by the general race report. This can be accessed here
Placing the overall race report on the Frosty page enables a more Tuff specific article to be written here, which can serve as a big vote of thanks to everyone who supported by turning up to marshal on the morning; we couldn't have done it without you. Staging an event not only helps promote our club but is a significant revenue stream enabling us to stage the range of activities that we do.   This year we were able to get more pool time as the manager at Freedom is keen to work with us.  Several competitors had said they would pull out in the preceding week due to the snow,  so it meant all the extra pooltime was not used, but we are well placed for the planned staging of Frosty 2019 in our new pool where we can have a great finishing arena on the green inside Mewsbrook Park.
<
>
Click through album.
In the Frosty the Tuff representation got off to a great start with Drew Gowland's trademark rapid swim. He was in the same lane as the reigning champion, Sam Wade, who would go on to break his own course record from last year. Unfazed, Drew overtook in the swim and although Sam was slightly quicker in exiting the pool, Drew's swim + transition time of just 11:00 was impressive. Drew would go on to cross the line as first Tuff home in 55:06. It is great to see Simon Thistlethwaite back after his accident thwarted his season last year – a very strong run; 39:04 saw him 2nd Tuff home. Chris Robinson would cross the line behind Simon just 51 seconds adrift.  With so many club members marshalling for a change we had not pushed to get a team this year. However Debra Cauchy-Duval had entered to give us sufficient for the team competition which would see Tuff Fitty as fourth team home.
In the Frostbite many of us will recall that Graham Liddell built on the friendly rivalry between Andy Crawford and Tom Gray with his 'article' placed strategically around the tables last year.  Well this year Graham was back with the latest instalment of the horse/IT challenge. This is a rollicking read and in reproduced below.  However with the event now complete we can report that Tom did get the measure of Andy in the pool with a 7:10 swim and transition against Andy's 8:26.  However Andy ratcheted things up on the run returning a 5k time of  20:15 against Tom's very respectable 22:06.  In the results they were unsurprisingly side by side but Andy finished in  13th position and Tom 14th – just 35 seconds apart……..next year.
Next crossing in 17th position, it was great to see Mike Barrett back as a Tuff after a year away. Antony Oliver crossed the line in 25th positon. Amanda de Ridder was next home in 27th position but it was fantastic news that at the results presentation Amanda found out she won a trophy for first female vet.  James Brock is a definite star in our eyes as he raced. However in discussing at the committee meeting the week before he said he would like to race; very brave when at that moment we were all looking out the window to see the snow falling, but he did race, and did well.  Claire Moyle rounded up the intrepid Frostbite 7 coming back after injury.
The good news doesn't end there as potential Tuff Ross Malyon entered and had been coming along to the Saturday swims to help him prepare for the event, and is looking to continue. Also following the event, three competitors came along for the Saturday swim, and also one more attended the Wednesday track. Thanks for joining us and we hope we will be able to help Alex, Matt, Kelly & Karla achieve their goals.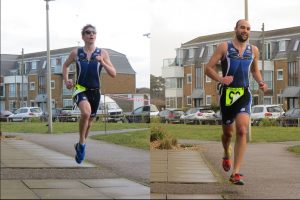 Tuff Times
4 March 2018 – Frosty Special
Exclusive
● Cyborg v Centaur grudge match is back
● Old timer 'shocked' at bullying of new member
● Intimate turbo sessions part of elaborate plot
● Internationally renowned horse surgeon 'apoplectic'
● Gamble 'likely to backfire'
Tuff Times can exclusively reveal that the grudge match between international horse vet Andy 'Centaur' Crawford and software engineer Tom 'Cyborg' Gray is back on. Hopes of a reconciliation between the two rivals were dashed when Gray and his partner (notorious senior committee member Catharine 'The Enforcer' Western) bullied new Tuff Fitty recruit, Michael into taking on Gray's marshalling duties. This released Gray to enable secure the final vacant spot in the Frostbite and set up a rerun of last year's controversial race.
Old timer shocked
Old timer, Glen Parisi witnessed the incident. "I was shocked. As soon as Michael signed his [membership] papers, they turned on him. It was when The Enforcer smiled at Michael I knew he was in trouble. They didn't even tell him it was a 6.00 am start"​.
Invited to intimate turbo sessions as part of elaborate plot
Tuff Times has now uncovered worrying new information that suggests that this was the culmination of an elaborate plot for Gray to gain revenge over last year's narrow defeat at the hands of half man, half horse Crawford. Following victory by the wildly tempramental Crawford last year, Gray seemed to accept defeat with uncharacteristic grace. Tuff Times can now reveal that this was simply the first part of Gray and Westerns' campaign to get close to Crawford. The plot included:
● moving house to Crawford's home town of Arundel
● befriending Crawford's loyal companion, Mad Max
● Inviting Crawford to intimate turbo sessions.
Gray and Western would then abuse Crawford's trust by encouraging him to enter the Frostbite under-prepared, as a training event. And, as we have now seen, Gray would then secure a last-minute entry with the intention of humiliating Crawford by romping to victory.
Internationally renowned horse surgeon apoplectic, gamble 'likely to backfire'
Tuff Fitty Chairman, Clive Harvey, has been watching both men closely and has been heard commenting that the plot is likely to backfire. Harvey believes that Gray doesn't appreciate that that Crawford's equine DNA not only makes means him emotionally volatile but also enables him to use his emotions to generate extra energy which, literally, boosts his horsepower. This theory was given additional credence by Tuff member Steve Custance who (in addition to knowing everyone in West Sussex) witnessed the moment that Crawford found out that Gray had entered the Frostbite. 'He was apoplectic' Custance told Tuff News, 'I reckon he is going to gallop faster than ever.'
So once again, the Sussex triathlon community waits with bated breath. Will Gray get his revenge or will Crawford stay top dog (or should that be top horse?). It's going to be close.
Flashback – how Tuff News revealed Crawford and Gray's terrible secrets at the 2017 Frosty
Rumours of a terrible experiment 'gone wrong' have dogged Tuff Fitty's internationally renowned horse surgeon, Andy Crawford for years. Crawford, despite referring to himself as 'The Centaur' has repeatedly denied that his DNA has mutated to half man and half horse. Tellingly he has still not offered himself up for testing. And he still can't explain how can he run so fast and yet swim so slow.
Software engineer, Tom 'Cyborg' Gray, uses his laid back and jack the lad image to hide an inner core of titanium and carbon fibre. Under cover of a 'work' assignment in the Middle East, Gray used his secret engineering contacts and his specialist software skills to 'improve' himself. And whilst his run times can't match those of his rival, he swims like an eel and his transition is over in the blink of an eye.
At first their uncompromising desire to swim, cycle and run faster and faster brought these two superhumans together. But the relationship soured in December over the use of a loyalty card and a free cup of coffee following a Tuff Fitty Saturday morning run.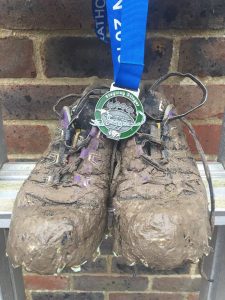 STEYNING STINGER 
Whilst most of the Tuff action was centred around Littlehampton, that still left a Tuff quintet to plough about in extremely muddy conditions up on the Downs for the Steyning Stinger
In the Half Marathon, Paul Atkinson was racing. This was an impressive achievement as the previous weekend he was up in Northumberland for a linear coastal marathon through sand dunes, two nature reserves and alongside Bamburgh Castle. Geordie Paul completed that in 4:42.  This week he completed the Stinger half in 2:03:09. Karen McGrath also entered the half – as her muddy trainers above testify.  A great result from her with the time of 2:26:58 positioning her 1st in her age bracket.
In the full marathon Danny Cunnett and Jay McCardle took time away from organising their Sussex Trail events to compete in one themselves.  Danny crossed the finish line in 4:41:36 with Jay close behind in 4:54:52.  Linda Wright completed the course in 5:49:19, Overall there were 487 entrants churning up the South Downs.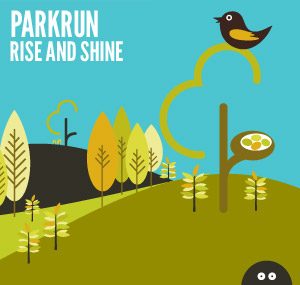 With Park Run's taking place on the Saturday there was no time for their organisers to check conditions. Both Worthing and Bognor were therefore called off with no Tuffs identified at those that did continue