Weekend Round Up 10th 11th March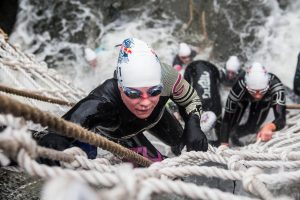 RED BULL NEPTUNE STEPS
Red Bull Neptune Steps is an unbelievable event which challenges swimmers to take on a 420m sprint swim up the Maryhill Locks in Glasgow. The swim itself climbs 18 metres through eight canal lock gates but as the lock gates are closed competitors have to navigate them through a series of cargo nets and various obstacles on their way.  However if you do well, then you could be faced with doing it all again! Different heats for Gents to try and make it through to their final and the same for Ladies.  Nikki Gatland was brave enough to enter and her great report follows:-
 "Getting the confirmation email and welcome pack for the Red Bull Neptune Steps, Glasgow
Feelings… fluctuating between "just have a go" to "come on sort it out I could have a chance of doing alright" to "MUM why have I done this", and shedding a tear or two whilst week by week reluctantly standing in the cold water dump shower after 6.30am HIIT raining and swim session.
I decided to give it the best shot I could, aim to make the final – top 5 in a 40 swimmer heat. EASY! Hmmmm
Training consisted of non wetsuit sea swims, bizarre pool jumping in and out/chin ups, press-ups, and a revenge cold water obstacle course created, much to his amusement, by Jake. Buckets of cold water and being jet washed whilst climbing a ladder!
Saturday 10th March came.  Obviously the Scots wouldn't have it easy for us with Saturday cold and very wet.
The men were off first with fellow Worthing swimmer Andy Tester in heat 4. First 5 to go through and it looked SAVAGE. Grown, strong men standing after only 3 locks looking as good as if they had eaten a very dodgy bit of haggis and been run over by a truck.
Feelings….GREAT why am I here? 
Nikki Gatland #491 heat 2 up against last year's winner with the OLYMPIC SWIMMER, yes OLYMPIC swimmer Cassie Patten in heat 1.  The girls were off, from what I saw from the first part of the first heat, some were struggling. Several got out before completing the first lock.  It looked cold and tough, oh water Temp 3.5 0C by the way.
HEAT 2 we jump in for our acclimatisation
Feelings….It doesn't actually seem too cold, the worst thing is the pong coming from the water. For some reason I thought it would be fresh Scottish mountain water, good enough to bottle up and sell. It wasn't, it was very much the opposite.
Out we climbed ready for the start.  I started to get a little chilly but I had a tactic up my sleeve. I had  saved up my organic heating system ready to release just before the race began, perfect way to keep my core warm in my wetsuit, if you know what I mean 😊
In we jump for the 10- sec count down and we are off.  After a few strokes the cold hit my face, I felt it through my neck back of my head and bizarrely on my teeth. Half way to the first obstacle my arms started to feel heavy and my under water phase of the stroke was just numb.  The first cargo net climb, with nothing to put your feet on, it is all grip and upper body. Eventually I hauled myself up against the current and started to gain on the girls in front making it to the top in joint 1st. Then it started to unravel.  My dive in off the obstacle was not the best and just caught my goggles, (which I had purchased brand new especially for this event) pushing them down slightly, limiting my vision. I also got the hat combo wrong, I went for hat,hat,goggles, school girl error.  I tackled the next obstacle but by this point the goggle situation was serious and  I couldn't see, this affected my decision making and as well breathing and confidence.  I was sitting in around 3rd place but slowly getting reeled in.  Then I hit the 4th obstacle, the rope ladders.  The force of the water was so strong, competent swimmers were struggling to get to the first rung.  I was stuck in the middle section with time standing still. I just couldn't see or feel the next rungs, I couldn't breathe with the freezing water pounding in my face. I reached a point where I knew had to climb and clear the water within the next 5 seconds or let go and drop. I have never felt so weak, hopeless and experiencing what I can only imagine must be near drowning. The only relatable experience I can think of is being waterboarded.
Feelings….I was absolutely shot, exhausted, sick, numb and should I get out?
NO CARRY ON
I had committed. I did a very dodgy 5 year old, petrified jump into the water for the remaining obstacles with my goggles around my neck. I had to concentrate so hard on squeezing my hands around the ropes to pull myself up and hoping I would find some strength to do so.  The wall climb was a clever idea from Red Bull sticking it in right at the end.  With no feeling in the hands, arms or legs it was a guessing game as to whether I would make it to the top. I did, just, with a struggled swim to the end, I looked up and there are 2 tags hanging at the finish.  It was to be mine but the thought of not taking it so I didn't have to do the final did go through my frozen mind.   In the hot tub I was in pain.  Thawing  my fingers and hands was agony as the staff yanked off my gloves and tape, the finals wrist band came off with it and my exact words were "well that must be a sign, don't get me another one" but in response to his "are you sure" I had to dig deep and said "OK go on then". It took several layers and a very large cuppa to get anywhere near warm but the final was called and down I went for a second time. This time I stuck with my trusty old goggles and a new combo of hat, goggles, hat!
Feelings….why?? 
Acclimatisation again and this time it was cold.  The hooter went.
Feelings…just get to the first lock,I am satisfied with my efforts, that's enough. if i want to get out it's fine, I haven't let anyone down. Here we are again, first cargo net.
Much to my surprise I had learnt from the first run. Although I took longer to make the first stage of the net, it felt better, less panicked and OK. I progressed through the course and battled head to head with another girl (in fact it turned out to be the girl who won my heat – Holly!) until the dreaded rope ladder.  Again I would be triumphant or it would break me.  I misjudged the edge and thought there was an extra row but there wasn't. I was swinging around the bottom looking like a drowned monkey for again what seemed like a decade. Eventually I made it up and was neck and neck with Holly.   I overtook and pulled away on the next obstacle but then she caught me on the wall climb. By this point my arms were done. I was being super cautious and concentrating on pushing with my legs.  With one more rope climb to go I knew I had to dig deep. I literally slapped my arms over in the water, I had no push phase of the stroke, I was pulling out near my rib cage!! I slipped on the final rope climb but so did Holly. With her Dad screaming at her "Go on Holly you can get her, you've got her GO" I screamed back "NO SHE F ING WONT", in my head and that was enough.  I stuck my head down, flung my limbs around and made it to the finishing pontoon in 5th place, 2 mins faster than my heat and I beat THE Holly!!
Feelings…It was the best feeling, I genuinely thought at points I was done and I still don't know how I got over some of the locks. It was the toughest thing I have ever done but the proudest moment when I rolled up onto the pontoon and even managed a little "wwwhoooooo".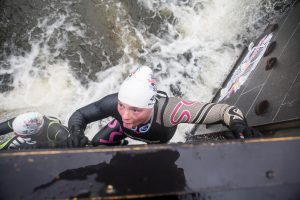 Question is, what next?
BIG HOLLA TO MUMMY GATLAND who battled the conditions to reluctantly support as her daughter fought for survival, but it was very much appreciated 😊
Nikki 
Grant being an Essex lad for the day (photo credit Jon Lavis)
SOUTHEND PIER MARATHON
Did you know that Southend Pier is the longest Pleasure Pier in the world, standing for over a century it extends 1.3 miles out into the Thames Estuary. So, thought Sussex Trail Events and our own Chris, Danny & Jay, what a great venue for a marathon, hence the inaugural Southend Pier Marathon was born.  Grant Smalley entered and provided the following report:-
"It was more a mental than a physical challenge, even with the obvious lack of training. I felt like a pirate continually walking the plank…after the first couple of laps I began not wanting to turn around and run off either end of the pier. Had a few strong words with myself and finished 7 mins quicker than I thought I would, so all in all a good day. Great event from STE and would recommend it. Southend Council have asked STE to make it an annual event. (Entries provisionally open in September)
Grant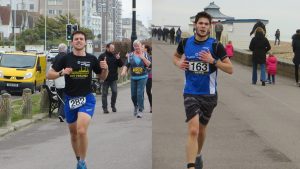 WEST WORTHING 10K
Stuart Harvey reported in from the annual West Worthing 5k & 10k taking place by the Sea Lane cafe in Goring-By-Sea.
Featuring a loop of the greensward before heading out on an out and back loop, which went out along the prom and on towards Splash Point before returning and completing a final greensward loop before crossing the finish line.
The 5k & 10k races both started at the same time which made it a real fight for position, especially early on, as the race wound its way along the seafront cycle path before reaching the main prom.
Taking part in the event were myself and James Oram, alongside regular Wednesday night track attendee, Malcolm Brown. Fearing it may be an elbows out affair myself and James tried to get as far up the field as we could for the start.
The first half of the race was a real slog straight into a fairly brisk headwind and the halfway point turn couldn't come soon enough. Heading back though, was a much better story. With the wind behind me, I was able to keep upping the pace right up until the finish line which saw me come home in 41:57, a new personal best and 16th overall in the race.
James Oram also fared well and came in at 40:47 and 12th overall. Malcolm rounded out the Tuff contingent, clocking in at 43:10 and 19th overall.
A nice local, well-supported event and a good medal to boot too in the shape of Worthing Pier.
Stu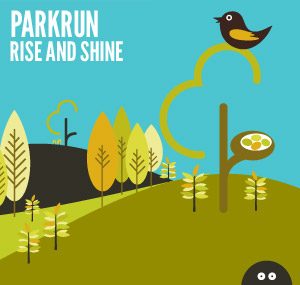 PARK RUN 
After many Park Runs had been 'snowed off' the week before, some Tuffs were back in action.  At Worthing Park Run, Antony Oliver and James Oram ran together; James acting as pacer for Antony to get him a new PB.  Great running from Antony exactly matching his PB of 21:52, but just needing one more second to set a new PB!; surely that can't be far away. James crossed right on his shoulder letting him push for the line. Amanda De Ridder was also in action finishing as 6th female in 23:58.   Ross Malyon justifiably gets a mention. Ross had started to come along to swims to train for the Frosty and has been inspired enough to have asked for a membership form; excellent news. Ross has already set his sights on two triathlons finishing in 25:47. Tim Kenny was next to finish as runners returned to the prom after last weeks cancellation.