The annual Splashpoint 5k run is organised as a fund raiser for Worthing Rowing Club. Falling on a Wednesday evening Tuff Fitty have traditionally switched our Track night training to this race and the number of Tuff pre-entries (20, together with many more pledges) suggested the turnout could be a good one – beating last years total.
The big Tuff flag was flying, and for a change, the weather was very mild, and a steady stream of club members arrived. We looked on course to be the largest contingent and then Lancing Eagles arrived. They meet on a Wednesday evening as well and this event always proves to be keenly contested.  It would transpire Lancing would have 35 runners and on the results Tuff Fitty had 36 beating last years total. All credit to Lancing as between us we accounted for 71% of the field.
It has become a Tuff tradition for a team photo on the seawall to psyche out the opposition and with so many new members over the past few weeks, this is a great opportunity for everyone to put names to faces.  Starting with our Tuff ladies:-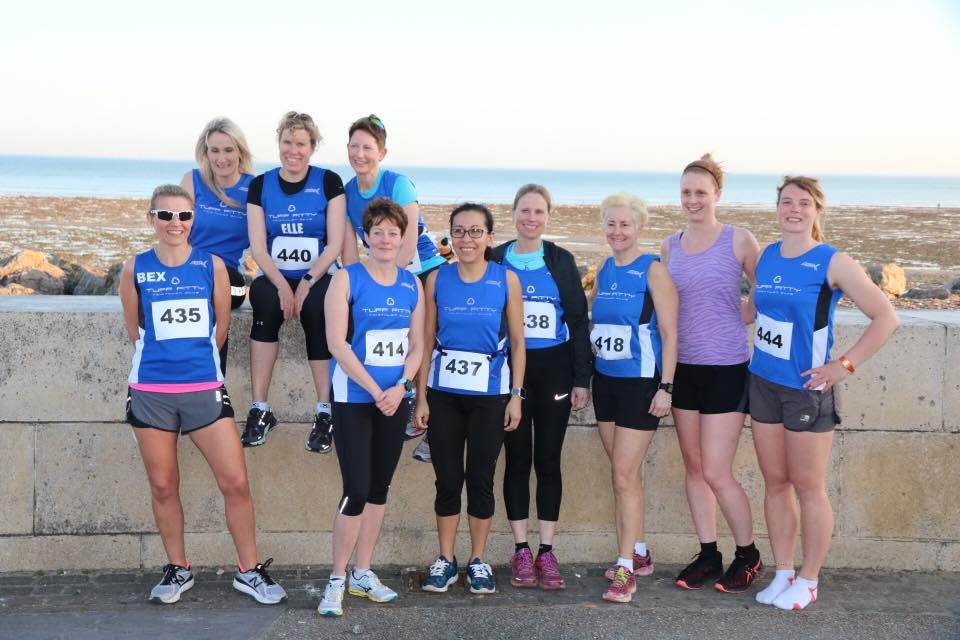 From l to r:- Becky Lintott-Clarke, Sharon Tidmarsh, Ellie Williams, Rachel Brunning, Jane Custance,  Debra Cauchy-Duval, Kate Cooper, Nicole Ewer, Clare Worgan, Nikki Gatland. Not in shot Susan Douglas & Lucy Cardus
Next the Tuff Men:-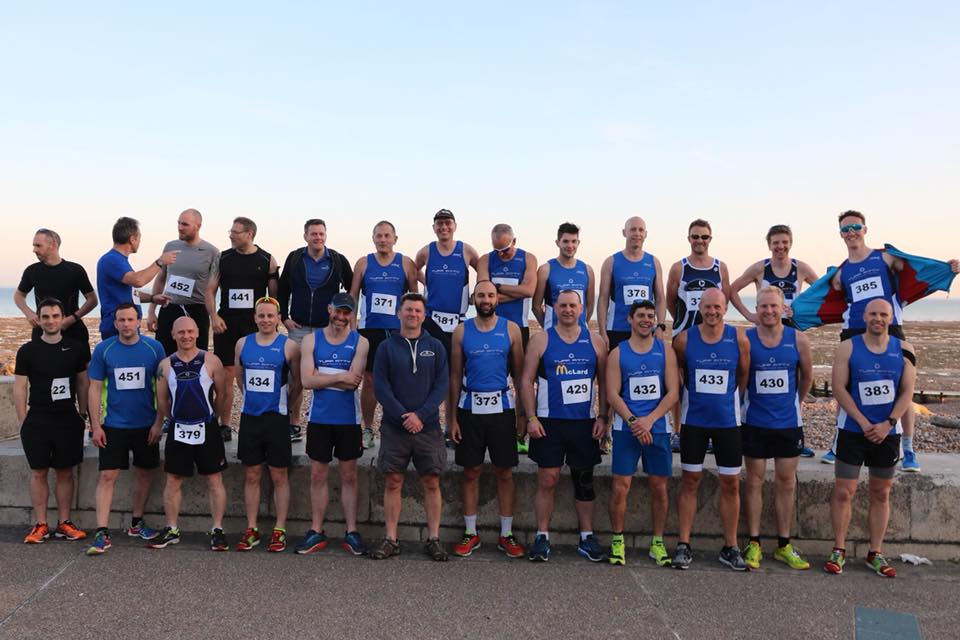 Back row L to R: – Nick Bolding, Roy Barraclough, Steve Brock, Mark Pickett, James Brock, Clive Harvey, Graham Liddell, Phil Lintott-Clarke, Stu Harvey, Chris Robinson, Simon Thistlethwaite, Andy Crawford, Tom Goddard.   Front Row L to R:- Ben Abbott, Nathan Kowlessar (potential Tuff having attended Track sessions), Ross Malyon, Ollie McDonald, Alex Webb, Paul Atkinson, Tom Gray, Gary Edge, Paul Martin, Olly Sampson, Joe Pascoe & Matt Whittaker.  Not in shot –  Dave March, Andy Vincent,Serge Kola & chief photographer – James Oram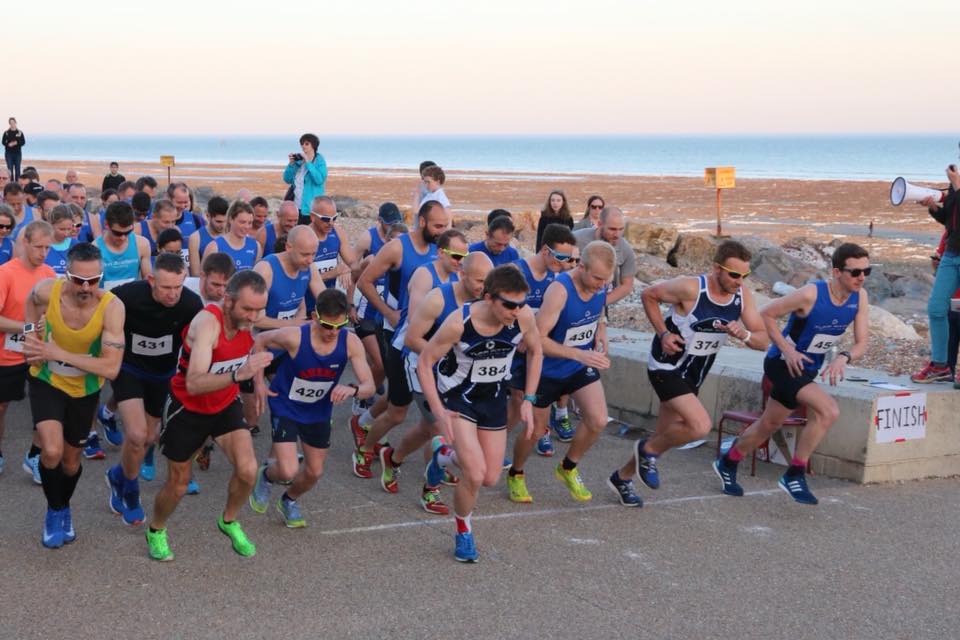 And they're off! A surge of Tuff blue vests off the start line, but who would prevail with runners from Brighton & Hove  and Arena 80 (last years winners) present. However  in totalling the times the Tuff men won by a minute over Brighton & Hove AC.  Last years team winners for the Ladies were Tuff Fitty, so how would they go?  It looked great with Becky Lintott-Clarke romping home as 1st female followed by Nikki Gatland in 2nd. When Kate Cooper & Jane Custance crossed as 4th & 5th lady respectively, it was another Tuff lockout.
With 15 of the top 30 places taken by Tuff's, Running Coach Dave March was well pleased with the evenings work. Everyone contributed to the successful evening but the top four who made the winning teams are listed below. Great running from Joe Pascoe 10th overall despite running Brighton Marathon just 3 days before , from Alex Webb, who since becoming a Tuff came home with a pb 19:44 just one of seven sub 20 minute 5k'ers.  This performance shows Tuff Fitty at its best and with another lady – Louise who came to meet us and run the future looks good.   The final postscript is from the race organiser who was impressed how Tuff Fitty packed the Rowing Club bar out afterwards – that sums up Tuff's approach, Train/Race hard & play hard!
Congratulations to all runners and over a dozen members who came to cheer
| | | | | | |
| --- | --- | --- | --- | --- | --- |
| 5th | Andy Crawford | 18:10 | 1st | Becky Lintott-Clarke | 22:04 |
| 8th | Simon Thistlewaite | 18:23 | 2nd | Nikki Gatland | 22:40 |
| 10th | Joe Pascoe | 18:28 | 4th | Kate Cooper | 23:45 |
| 12th | Ollie McDonald | 18:47 | 5th | Jane Custance | 23:53 |
The extensive photo gallery is below, led by James Oram with photos from James Brock & Clive Harvey – click on the picture to scroll through