Chichester Lake Full/Half Distance Swims
The vast majority of local residents will have driven past Chichester Lake on the A27, a 40 acre former gravel pit, fed freshwater from the South Downs. On Sunday it was the venue for a wetsuit swim across a full 3,800 metres swim or half distance 1,900 metres. Across the two distances there were eleven Tuffs in attendance, and we are fortunate that four members have written in with their view of the event.  Firstly Drew Gowland who won  by a clear 1 minute 18 seconds. There were further good Tuff Times in both the full and the half distance including Leanne Levitt who was 6th female:-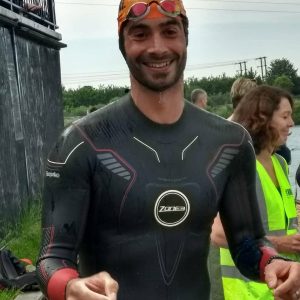 The winner of the full distance – Drew
"The forecast; thunder and lightning. The race; lake swim. The thought; how protective would a rubber suit be…?
 …got up late, tried to get to the lake on time, didn't, but all was ok as there was a queue of swimmers stretching down the road from Chichester Watersports Centre. Hang on, this means there are definitely more entries than last year! It turns out 166 people had entered the 3.8Km full ironman swim and 86 had entered the 1.8Km half. Great turn out for Tribal Sports Events.
A few Tuffs had turned up, many using this as a stepping stone to their 'A' races further along in the year:  Peter Littleboy, James Brock and myself (I'm sorry if more Tuffs were there and we missed you?!). Everyone of the lads lads lads were completely chilled and actually looking forward to the longer 3.8Km swim of which there were two waves; first <60mins and second >60mins (predicted). I went in the first and the other Tuffs went in the second with four 950m laps to complete. The weather, it turned out, was gorgeous, the water clear (saw some large carp in there) and around 17 deg C with minimal chop…
The race; well it's a swim, isn't it… The horn goes, it turns into waterpolo at the start and then wrestlemania at each turn buoy and no-one has a clue where they are placed in between; head down and get on with it whilst trying to avoid cramp and then ask where you placed once you've got your balance back on land… 
Turns out we are Tuff by name, Tuff by nature, everyone performed superbly, most recording PB's. We all left with smiles and with our personal victories. Personally, by winning the event I achieved the confidence boost I needed going forward towards my 'A' races later in the year…
Drew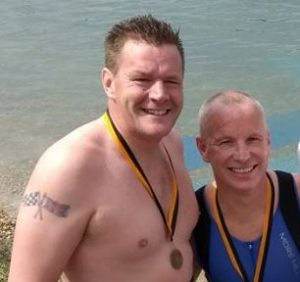 Jimbo & Pete having finished their race
Next up Pete Littleboy:-
"So having signed up for this Chichester lake ironman 3.8k swim which is a  tribal sports event I thought it would be nice to cycle over to the event & when I checked with google maps it required me to ride 15miles in 1h12 "challenge accepted " I thought. However with the threat of thunder storms I waited till the morning before setting off and 52mins later I arrived feeling smug but the queue for registration resembled a bank holiday theme park ride; however this only delayed the start by a mere 30mins or so. There were lots of Tuff's and non Tuff's present,  even the WOWS turned up (Worthing's open water swimming). It was very social and so once the race brief was finally done; which included "if lightning strikes, swim to the nearest piece of land" but with Tuff  Tony Morgan on the water in his canoe we where going to be alright. And so that was the case on lap 3 of 4 when I asked him, as by now the sun was out and it was beautiful day to be in the lake. I was happy with a solid 1h16 and hearing that not only our Drew  won but Jimbo achieved a pb 1h18! I can safely say not even the headwind home could wipe the smile off my face."
Pete
"Pleased to be able to report after Chichester Lake Ironman swim. I managed to recruit new member Roy Barraclough to come along (Roy did the half distance) so there were quite a few Tuffs represented. Including Pete Littleboy & Drew Gowland who went on to win by some distance. A very sociable start time of 09:00 delayed slightly by getting through a long registration queue. The course was 4 laps set out in a rectangular format. The water temperature was actually perfect. I very nearly swapped to the two lap race because I doubted myself. I am so pleased I went on to complete the full distance as I got a PB. I will definitely do it again next year".
Jimbo.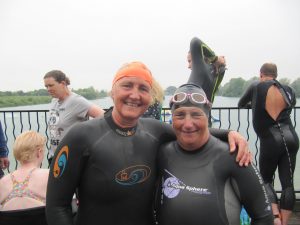 Meg & Claire
And Claire Moyle also took the time to report in on yet another event completing her very busy May schedule:-
Thanks to Meg Gritton for encouraging me to do this event as I really enjoyed it. That was after the first half lap as I was finding it difficult to breath, but once into my rhythm it was amazing, even the water was quite warm. I managed to pick my line away from the other swimmers and swum almost in a straight line and even tried to improve my technique as I relaxed into the race. Finished in 58.16 but would have been faster if I had got my breathing sorted early.
It was also lovely having Fraser swimming with me as well.
Thinking about the river swim, but  think I will need more practice.
Claire M
| | |
| --- | --- |
| 3,800m TIMES | |
| Drew Gowland | 50:21:00 |
| Charlie Walker | 01:08:37 |
| Pete Littleboy | 01:16:46 |
| Jo Meaney | 01:18:01 |
| James Brock | 01:19:14 |
| Meg Gritton | 01:25:43 |
| Serge Kolas | 01:27:04 |
| | |
| | |
| 1,900m SWIM TIMES | |
| Leanne Levitt | 32:38:00 |
| Alister Marchant | 40:33:00 |
| Roy Barraclough | 41:22:00 |
| Claire Moyle | 58:16:00 |
Click through the album