Swashbuckler Middle Distance Triathlon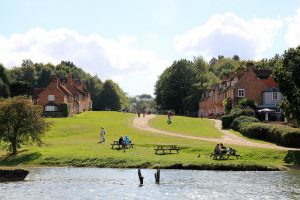 SWASHBUCKLER MIDDLE DISTANCE TRIATHLON
A traditional Tuff favourite event from Race New Forest who have been organising great tri's for well over a dozen years. Centred around Bucklers Hard in the New Forest; the swim is scenic in the Beaulieu River. People would struggle to find a more picturesque bike route gently undulating with New Forest ponies around to see what all the fuss was about. A two lap run course – running up the grass main street of Bucklers Hard for the third time (the first time was running up to transition from the swim). Six Tuffs finished strongly this year. If you fancy racing here don't wait as 2019 with be Race New Forest's last season.
Andy Ward has written in with his thoughts:-
"I don't think I have ever set an alarm for a 2am breakfast but here I am at 1.55am turning off the alarm before it goes off to eat my peanut butter and honey bagel with a banana. Luckily the others are all asleep (?) and with another hour before they get up, but I'm trying something that I've used many times before. I finish, switch off the light and try to go back to sleep for the 3am alarm.
Why so early? Well to be honest we were starting the race with a 5:15am swim and after the briefing the previous day we knew that we'd need to be down to the transition area for 4am as we'd been told that with only 1 hrs "slack" water we needed to be in the water and on time.
The previous day had been a real "road trip" where Pete, Drew and I had the pleasure of riding down to Bucklers Hard in Matt's passion wagon.
Tunes on the stereo to get us in the mood ranging from my choice of Perry Como and Max Bygraves to Drew's Techno and a little bit of Country & Western for Pete.
Lots of banter and discussions over water temperature and whether CPL's offer of buying bobble hats wasn't such a bad idea after all.
The weather on Saturday was amazing and as we arrived just before 2pm we settled on the grass overlooking the waterfront to listen to the race briefing.
Back to the cottage for dinner, bike tinkering and Britain's Got Talent before a 9pm bed time.
3am, I'm now up and faint noises from the kitchen indicates to me that we are all up and with large mugs of coffee we start preparing for the day ahead….it's pitch black outside and all I can think about is how cold is that water going to be?
Fast forward to 4:15am and the 4 become 6 as we meet Chris and Olly. The day is dawning, the weather seems fine and to top it all the water is a balmy 16 degrees (bearing in mind we'd been told to prepare for 12!!)
No sooner was the kit laid out we were heading to the water. Thoughts on why I hadn't brought some Crocs (nothing wrong with them) or flip flops to wear down to the waterside as the grass was freezing, however it made entering the water even better.
An eerie mist (or were my goggles fogging up?) fell over the water and I went through my pre swim routine of holding my head in the water and alternating with shouts of "shit that's cold…16 degrees???"
A slight panic attack at the swim start (hadn't had one for ages) but that soon disappeared and an uneventful but steady 3 lap swim.
Now bearing in mind Saturdays weather, we had been assured that the weather on Sunday was going to be even better, however "if you want to wear an extra layer……"!
Surely not I thought…..
How wrong could I be……!! in short this was the CLOSEST I have ever been to calling it a day on the bike. I was frozen…in fact not just frozen…..f'in frozen!! I couldn't move my hands, I couldn't hold a bottle and as for eating it was dare I say interesting!! My body started to shake uncontrollably but unbelievably I seemed to be holding a good pace….and with 30 minutes or so left the sun eventually reared its head.
I was surprised at how much I hadn't eaten but as I had been monitoring my power output very carefully I started the run well.
For me the run was the one area I really wanted to come away with a satisfactory result. For so long my running had let me down and so with a two lap 14 mile run to do I was hoping for a good end to this race.
And good it was…..stopping only for pee breaks and to drink sports drink my run remained constant.
So a good result and based on my 2011 result of 4:59 I have only lost 8 minutes!"
Wardy's Tips.
Gloves if there's the slightest chance of it being cold.
Breakfast 3 hrs before start really works and removes the queue in the morning. I'd "been" before we left the cottage!!
Gu Double Espresso gel with 100mg of caffeine……amazing!!
You might not need as much nutrition as you think
Smile, thank the Marshalls as you go around.
Don't use age as an excuse
Pace judgement on the bike is imperative to you having a good run
Great mates make for a great weekend, plan an event with your training buddies it makes the early morning starts worthwhile and bearable.
Set yourself 3 goals and try and accomplish one of them but be realistic
Make a playlist for pre-race to get you in the mood.
A big thanks to Drew, Matt, Chris, Pete and Olly for making it such a brilliant weekend.
Some excellent results and for most of us this was just the 'B' race…..there's even more to come.
Coach Wardy.
Pete Littleboy added his thoughts:-
This New Forest event of a 1.9k swim 90k Bike and a 22k Run has been going for many years.  However Race New Forest's Jo & Richard Iles  are holding their final season of three dates next year before retiring.  Therefore I was pleased to be here for this one, and having  taken part before I knew myself and the other 5 Tuff's in attendance + supporter/photographer Sara would love it;  not even upon receiving the news that it's now a 5:15am start. It didn't put us off, & in fact brought us closer together with a  organised swim over at Chi lake on the Sunday before  & myself going to Weir Wood on the Tuesday & countless sea swims arranged. There was even some Tuff non-Swashbucklers joining in, which was nice as you don't normally have to do this much early on in the season.
S0 to the race itself,  and racking up in the dark was a new experience for me and as we entered the water at sunrise I was pleased that the reports of 16c seemed to be true. However once on the Bike I was struggling to get warm. However that soon passed & you can be forgiven for daydreaming at the beautiful scenery and wildlife and forget that you're in a race. Once I had got out on the 2 lap run course the training really paid off and I beat my total time from the previous year by over 30mins. With the other Tuff's smashing their individual times we were all in a euphoric mood  and it was only 11am with the sun shining
Pete
| | | | | |
| --- | --- | --- | --- | --- |
| | Swim | Bike | Run | Total |
| Drew Gowland | 21:56:00 | 02:22:47 | 01:58:08 | 04:42:51 |
| Matt Whittaker | 31:31:00 | 02:34:50 | 01:44:14 | 04:50:36 |
| Chris Robinson | 30:21:00 | 02:39:42 | 01:51:51 | 05:01:55 |
| Andy Ward | 34:48:00 | 02:33:55 | 01:59:03 | 05:07:47 |
| Pete Littleboy | 36:31:00 | 02:53:36 | 01:50:17 | 05:20:24 |
| Olly Sampson | 35:01:00 | 02:47:26 | 02:18:27 | 05:40:54 |
| | | | | |