Weekend Round Up 26th 27th May
With many club members out racing, the round up has been broken down into three different posts as there are many reports submitted.  The 11 swimmers plus supporting canoeist have been mentioned in the Chichester swim write up, and there is a further report from north of the border where Tuffs were running Edinburgh marathon. But this still left further club members out  as illustrated with the following:-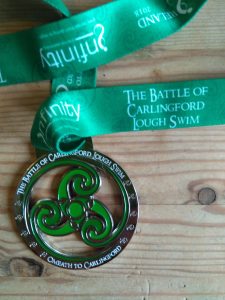 THE BATTLE OF CARLINGFORD LOUGH, IRELAND May 26th.
Susan Douglas has reported in from her Bank Holiday weekend away in Ireland at Omeath which is on the East Coast almost on the border between North & Southern Ireland:-
"I've been in Ireland again, this time attending the HITtheWALL swim weekend run by the Infinity Channel Swimming Crew. Swimmers from over 18 countries, some super hardcore, but plenty of normal folks like me who just want to improve.
Our prep for this race, was firewalking and night swimming the evening before and a yoga session first thing in the morning to prepare our minds as well as our bodies!
So the Battle of Carlingford Lough is a nice A to B swim starting at Omeath and following to coast down to Carlingford, about 7.5k, but with a bit of tidal assistance. Looking at last years times, I thought would take me about 2 hours.
Race start 11am- ish (there's a lot of ish in Ireland) weather pleasant but rather breezy! Notice board: air temp 18C, water temp 13C, cool, but you guys know I'm used to it and I was sporting my best bikini, what could possibly go wrong.
Finally the race started, all fine, although it was soon apparent the strong breeze was going to cancel out any advantages of tide. As is usual at the start there was a bit of bumping and bashing, but with a small-ish field of 133 we soon all spread out. Time to crack on and use some of the visualisation talked about at the yoga session earlier. So I swam and swam, mostly it seemed on my own, with the odd safety boat or kayaker passing by. I spotted the derelict adventure centre which was opposite where we were staying, so I knew I wasn't even half way and I'd been swimming for ages. Anyway focus and just carry on, annoying thoughts of how I would attract the safety boat kept popping into my head, but I'd counteract them with a quick body check, hands and feet fine, torso warm, just a little (well quite a lot) pain in my groin and behind my left knee, which I always seem to get when I swim too long in the cold. It wasn't going to stop me, I imagined getting to Carlingford Pier, walking up the slipway and collecting my medal, knowing I'd completed the hardest swim of my life.
At last I could see some boats moored at the waters edge, must be nearly there, but no it wasn't the finish!! I carried on and finally did see the finish and my visualisation came true. Strangely I'm already thinking about doing it again next year. My time 2:29:55 79th overall, 21st Skins woman, so I'm happy with that."
Susan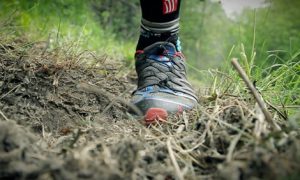 TRUNDLE HILL RUN 
The Trundle Hill Run is race number 4 in the West Sussex Fun Run League, so whilst there were three club members present they all raced in their running club colours. The route takes competitors along a tough route out to, up, and around, the site of the Iron Age fort at the top of Trundle Hill before retracing steps back to Lavant Village Hall.  Well done to James Oram 45:20; Neil Rabone 54:52 & Linda Wright (57:34)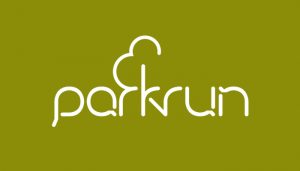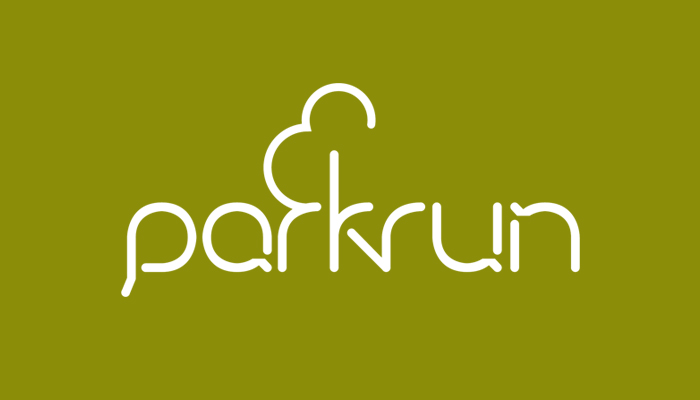 PARK RUN 
Twelve Tuffs running at Park Run.  Firstly at Worthing Park Run Antony Oliver maintained his good form crossing in 22:16. Roy Barraclough was next in 24:10 followed by Ross Malyon 24:26. Linda Wright (25:16) & Alice Gatland were next. Dave Priest, Clare Worgan, Gary Edge & Cathy Oliver completed the Tuff Role Call.
Across at Bognor Park Run, Jason Rae was in action in 24:50 ahead of his organisation for his Cowdray Trail Runs.  Up at Bushey Park, Park Run. Andy Strong raced home in 22:05 with Kirsty Keith also running.  Well done to all twelve.