Weekend Round Up 7th 8th July
Star Billing this week goes to Andy Vincent at the Hever Castle Triathlon Festival.  Andy entered The Bastion full Iron Distance race.  It sounds a very interesting race in the heat and that the course was described with a certain amount of undulations. However the organisers neglected to mention the amount climbed was just for each lap, meaning it was a very hilly, tough course. Andy completed the course in style joining the ranks of Tuffs completing the full 140.6 race distance ,and he is to let us know about his adventure soon.   Also congratulations to Dave March who raced the Half distance under the banner of The Guantlet – Impressive work from them both.
Yet another action packed weekend of racing and we still have a further post to raise regarding L'Etape du Tour -read on:- .
WORTHING TRIATHLON
Calm, warm water, leaving many to swim without a wetsuit, warm work cycling, and excessive heat on the cycle & run; this could have been the Mediterranean, but it was Sunny Worthing Tri with the sprint race having been selected as a qualifier for the 2019 ETU Sprint Distance Championships. In view of this status the number of competitors in the sprint out numbered the standard by 3 to 1. (If we receive a race report from one of our competitors this Round Up will be updated)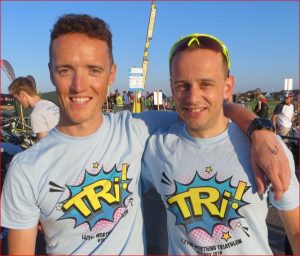 Tom Goddard & Ollie McDonald resplendent in their race T-Shirts
This was another well organised event from Raw Energy Pursuits and the Sprint started first off in waves. Tuff Fitty had 16 racing and as a qualifier, was very seriously contested. Tuffs acquitted themselves superbly with 8 finishing within the top 10 of their age grouping. It was two of our coaches that led the way in the swim with Nikki Gatland running up the beach with the fastest Tuff swim time of 10:50. It is fantastic to see Kev Pearson on the comeback trail who was the second Tuff out of the water in 11:34. Ollie McDonald and Tom Goddard were the next fastest. (The above banner photo shows Tom – far right, getting off to a storming swim start) Kev pulled one second back over Nikki in transition and then it was the climb over Long Furlong to Findon and back. It was here that Gareth Piggott made his move with the fastest Tuff cycle split of 39:21 and Ollie close behind in 39:45 with Tom Goddard third quickest.  Out onto the seafront for the run Ollie illustrated how he has really broken through over the last 18 months running strongly to finish as first Tuff home and more importantly on 104% of the winners time; prime position on rolldown to qualify for the ETU championships. There is an anxious wait to find out who has qualified. Gareth finishing as second Tuff and 8th in his age group and Tom next; 7th male in his age group. Steve Cathcart, who we hope will shortly become a Tuff, matched Tom's finish time to the second with them both crossing in 1:15:23. Next to finish were Kev & Nikki. Stephen O'Donnell followed with Alex Webb & Andy Crawford. Phil & Becky Lintott-Clarke exited the water just 1 second apart. Phil took bragging rights on the bike and Bex the same on the run and they finish just 1 minute 20 seconds apart at the finish. Tom Gray; Karen McGrath (who was 5th lady in her age group), Jason Rae, Francesca Mortell & Nicole Ewer completed a very good mornings work in the heat.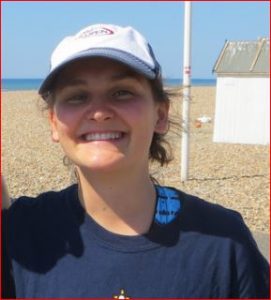 Francesca
A special mention goes out to Francesca Mortell who is one of our most recent new members pictured above. Francesca entered having ridden a 70 mile cycle sportive the day before – good work.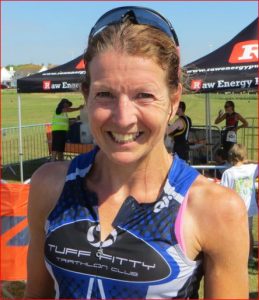 Nicole looking remarkably fresh after finishing her race
Next up after a gap to allow the Sprint cyclists to make their way up the course was the Standard Distance – with this one having the added dimension of being Tuff Fitty's Standard Distance Club Championship race. A mass start ensued and as the swimmers climbed out of the water Nicole Patterson-Lett was right amongst the leaders, seventh fastest swim split and the first lady by over 4.5 minutes. Joe Pascoe had the next fastest Tuff swim split and we had a total of 11 Tuffs racing over Long Furlong and straight up the A24 to Ashington before the turn for home.  It was here that Tom Frith came into his own as his strong bike leg of just 1:04:58 was under two minutes off the quickest bike time of the day. Matt Whittaker had the next quickest bike time with Joe just behind as these three pulled themselves up the order.  By now the sun was higher and hotter but it didn't stop Joe recording a 40 minute 10k with good running from Matt in the 42 minute sector.
As the Tuffs crossed the line, Tom Frith was first club member home in 10th position overall, then Joe & Matt. Simon Thistlethwaite had a good race in all three disciplines to finish next. Just 21 seconds behind came Nicole who won her age group but more significantly was the second female overall – what a fantastic result.  Further excellent news to see Gary Locker who returned to the race scene after downtime moving house. Roy Barraclough was next followed by  Sharon Tidmarsh, Nick Bolding & Paul Martin. It was a brave race from Jane Custance who has been out of action unable to run; but she still participated with a strong swim and bike before, sensibly, retiring to recover for her A race in a few weeks time.
Not only did we have 27 club members racing but one person enquired on the morning about coming along. Congratulations to Dan Fitzgerald who raced who is about to move into our area in a couple of weeks and is looking to join Tuff activities.   On the organisation side there was Tony Pearce, Olly Sampson & Andy Ward running transition, Trev Harvey overseeing the bike course and Clive Harvey in charge of the beach.
A great mornings work by the Tuff Collective – a few photos follow:-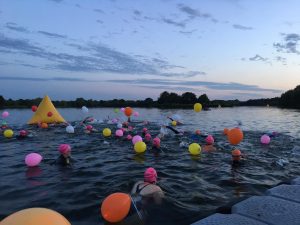 STARLIGHT SWIM 
Trevor Harvey reports in from Dinton Pastures Lake, just outside Reading for a 'Starlight Swim'.
I had undertaken a night swim a few years ago with several other Tuffs – but that was in October, pitch black and fffffreezing.  The idea of another in July therefore seemed a more sensible option.
With the warmth of this summer, a wetsuit didn't seem a good idea, but after arriving at the lake and being the 'evening meal' for lots of gnats, midges and mosquitoes, actually putting on the wetsuit was quite a relief, although I still ended the evening with loads of bites……….and a leech, luckily only on the swim hat!  I undertook the 1,500 m race, (there was a 750 version too), and they provided fluorescent hats, helium balloons with built in lights, which lasted the course, and glow bands which fell off before the start.  The photo is from an earlier event; it was actually much darker starting the two lap race, and was fairly dark by the end.
A well organised friendly event, with a medal for the endeavours.
Trev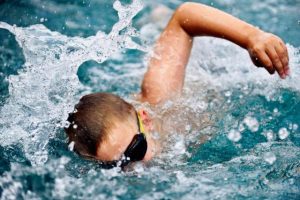 PALACE TO PADDLE
Run by Brighton Tri Club This  2.5k swim event was part of the Paddle Around The Pier water festival. The event took swimmers past both the Brighton Palace Pier, West Pier and the i360, parallel to Hove Lawns. Paul Howie was our Tuff representative in the non-wetsuit category.  It was a first class swim from one of our swim coaches with Paul stroking home as third male overall for the non-wetsuit event.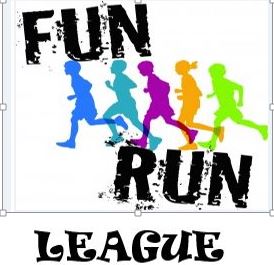 ROUND HILL ROMP
The Round Hill Romp is Race 7 in the Fun Run league – a  6 mile Wednesday night run from the Clock Tower in Steyning High Street and heads  up a challenging climb up to the top of the South Downs Way. Congratulations to Debra Cauchy-Duval racing as a Tuff and there were three others supporting their running clubs; James Oram, Linda Wright & Elaine Rousseau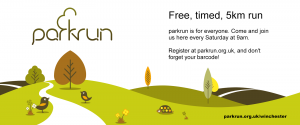 PARK RUN
Six Tuffs were racing at Worthing Park Run; Roy Barraclough, Antony Oliver, Clare Worgan, Cathy Oliver, Gary Edge & Elaine Rousseau. Tim Kenny was on the organising team.   Over Bognor Park Run Jason Rae was adding to his Park Run total clocking up race number 91 – not many weeks to the big century. Kudos to Roy & Jason for completing who would then 'do the double' racing at Worthing Tri the next day