Weekend Round Up 25th 26th August part 1
We have several reports this week, so they are split into two. The second contains reports of a super test of endurance from Chris Ette and some stag day antics at Arundel, but for now, read on:-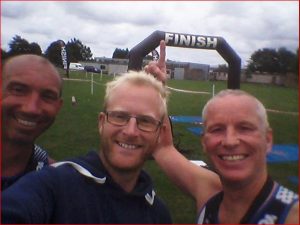 BOGNOR TRIATHLON
Bognor Tri is a good venue for a flat, fast Triathlon but numbers were significantly down this year, perhaps it is down to the event no longer being sanctioned through British Triathlon.   Joe Pascoe has reported in, although he was  completely modest, sending in the above photo but neglecting to let on that he came first overall by almost five minutes, grabbing each of the fastest, swim, bike, run and transition times – great work Joe, particularly after attending Strongie's Stag Do on Friday evening. Pete Littleboy also reported in, with his report after Joe's.
"Working out that I had to leave by 5am to get to Bognor on time didn't make the most positive start to the morning. As it turns out no one else is up at that time so I arrived with enough time to drive around the bike course and get lost in Bognor.  At the leisure centre, I discovered one other person in the carpark and the lesser spotted Tony Morgan.  It turned out that there wasn't much need to beat the queue at registration as only 39 people had entered.  I met Martin Hawkins, Tim McGrath and Pete Littleboy in transition. So that's 10% of the field Tuff Fitty.  The swim was the most entertaining part.  Tim set of first with the sprint wave in a snaked swim and then the three of us jumped in. The swim saw the fastest go first and the standard had to get back in to do another snake.  This made an 800m pool swim more like total wipeout and good preparation for the bundle at Southwater next week.  I even walked a bit of the swim which I'm not sure is in the rules.  The bike was flatter than flat (only 75m of climb) with some exciting crosswinds and then onto the 10km run.   This was also very flat but made interesting as you had to weave in and out of a housing estate before running over the new bypass.   Pete decided that the run wasn't long enough and added his own 1 mile loop at the beginning.  All in all a good fun morning and we finished before the rain – with everyone in the top 10 no less!"
Joe
"This tribal sports triathlon hosted a sprint distance of 400/24k/5k & a standard distance of 800/37k/10k with a start & finish from Felpham lesuire centre & being a local event  it was easy to attend and pick up my race pack on the Saturday thus giving me extra time in bed, and be more ready for a 7am start. Having arrived at 6:30 I was greeted with the smallest transition area I've ever known with only 39 in total taking part and 14 doing the std (inc me) so at the poolside race briefing we were told sprint off 1st & it's a snake swim (up down under the rope) then out of pool and repeat for std only and as we stood there chatting with Joe Pascoe Martin Hawkins Tim McGrath (sprint) we had different mindsets of Joe for the win Martin not be last, Tim to get through the swim and me a  top 10 finish. With theses different mindsets and goals we were confident to do the club and ourselves proud. And so it was to be as I passed Martin on the bike and saw Joe in the lead.  I left transition and the run route takes you through a housing estate and this is where I became the only competitor to make a wrong turn and end up back at the start/finish line. However it was almost worth it to see Martin's face seeing me doing a 10k in 10mins so then I set about chasing them down again and as I passed Martin again we had a chuckle about it. So to finish 5th with a 2h07 I was chuffed with that,  and so we had our coffee wearing our t shirts and our medals and watched the rain that had been missing all race.
Pete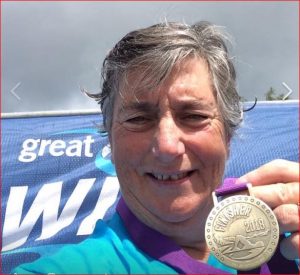 GREAT SWIM LOCH LOMOND
Claire Moyle keeps clocking up the races and with a break in Scotland entered a swim in Loch Lomond. This one of a series was The Great Scottish Swim with various distance. Claire elected to enter the 1 miles distance and reports:-
"On Saturday I was up early and quite excited about this swim. The weather was cloudy and with the look of rain but it wasn't to windy, and Scotland is definitely colder than England. I set off on the 1 1/2 hrs drive and took in the stunning scenery on the way, with quiet roads it was a lovely drive and was lucky enough to finding parking quite close. The atmosphere was buzzing and lots of different colour hats were milling around, but I found the changing area and soon got organised. The water temp was 15.9 and they were advising you that wetsuits were not compulsory, who are they kidding, the water was fresh to say the least. I was so impressed with the stunning scenery that I almost missed my start, but after a quick warm up we were off. I was really pleased that I settled into my swim rhythm quickly, (which has not been the case on my last two swims) and soon was out into the more choppy water and the half way point. I did stop to take in the view before the swim home under the boards and back to shore. A great swim, well organised and very friendly and what a great place to swim, did I mention that view!!!
Claire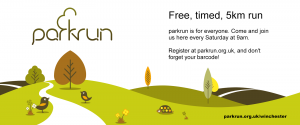 PARK RUN 
At Worthing Park Run this week, Roy Barraclough was on the organising team. Running was James Oram & Neil Rabone in their running club colours. Dave Priest, Francis Blake, & Daisy Bashford completed the Worthing contingent. The launch of the first Lancing Green Park Run took place with 102 runners, amongst them Elaine Rousseau.  Bognor Park Run saw Jason Rae in action