Weekend Round Up 15th 16th September
Mid September, but still plenty of club members out racing in addition to our weekend swim, run, bike training.  These included a fantastic extreme Full Iron Distance race from Danny Cunnett, a great Tuff Team win, a Tuff completing their first triathlon, a comeback from injury and lots more besides:- read on:-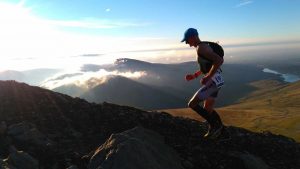 THE BRUTAL EXTREME (IRON DISTANCE) TRIATHLON
There is a great quote by Brutal Events- organisers of 'The Brutal' full Iron Distance race,  "If your dreams don't scare you, they're not big enough."  Stated to be 'The World's Toughest Triathlon'  by 220 magazine. Some people may want this on their bucket list. However if your name is Danny Cunnett once isn't enough – this was Danny's   third consecutive entry into the event held in Llanberis.  The course starts in the slightly chilly Lake Padarn before going through the scenic North Wales countryside which of course includes some challenging hills. And finally, the run took runners on an undulating trail round the lake and up and down Wales' highest mountain, Snowdon.
Last year Danny's time was similar to the previous year, but this was a real triumph, almost one hour quicker. Huge congratulations and thanks to him as he posted the Tuff Fitty name close to the top of the results – 19th overall and 5th in his age group
REWELL WOOD RUNNING FESTIVAL
Last year Andy Crawford won the event also picking up the Canicross prize with Max, but with Andy away on holiday how would we fare this year?   The answer was fantastically well.  The route started from Arundel Cricket Club with one lap completing 10k. Runners could chose to run two laps for the half marathon and four for the marathon.  The longer distance race started first with Paul Atkinson in the marathon. Jason Rae, as race organiser, ensured there was a beer at the end of every lap to spur Geordie on… it must have worked as Paul was 8th home.  Each lap ran across fields, through Rewell Woods, and then down to Fairmile Bottom. But then the climbing began back into the woods including 85 steps before heading back to Arundel.  Bec Day entered the half, facing the steps twice but acquitted herself very well finishing in third in that race.
The last race to go was the 10k with the majority of Tuffs opting for this distance with Weymouth 70.3 looming. The course is regularly traversed by the Tuff Saturday morning runners, so they knew where the 'undulations' would kick in.  This must have helped as it was pleasing to see whole Tuff contingent within the top 40%.  Simon Thistlethwaite had a cracking race finishing 2nd overall. Paul Martin running strongly in 5th position. Becky Lintott-Clarke  crossed in 9th. Bex had entered the Canicross race as well and it was clear from the outset that Honey meant business. Honey sped off like a rocket and it was just as well that Bex can run quickly as the pairing saw them home 1st place in the cani-cross race.   There were strong performances from Sharon Tidmarsh 16th, Clive Harvey 21st with Trevor Harvey just behind. Grant Smalley completed the Tuff contingent as he prepares for his forthcoming marathon.
A great event organised by our very own Jason Rae at Southern Multisports who spent the whole morning dashing around the route ensuring everyone was safe and then back to start the next race. Good work from Linda Wright & Roy Barraclough who were marshalling. Everyone met back at the Cricket Pavilion for burgers and a large bit of bling (all included in the price); excellent value.  Tim McGrath was also out on the trails on his MTB. It was subsequently learnt that Tuff Fitty won the Peter Chittenden shield for the best team, (by some margin) rounding off a great event in the sun.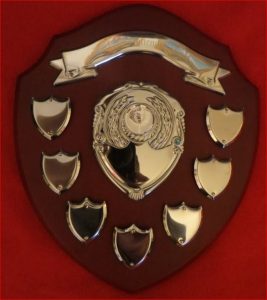 Champions!
 Looks like Tuff Fitty will need to return next year to defend our titles again. Gallery follows below:-
<
>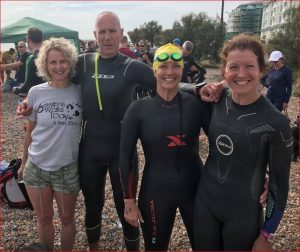 WELLWORTH SWIMMING EVENT
The same afternoon as Rewell Woods, Sussex Trail Events, with Chris & Jay were busy on Worthing Seafront organising this years Wellworth swim.  It might have been warm and sunny in Arundel but the sea was a different proposition as it was very cold, rough seas and a very strong current. This didn't stop Five club members plunging into the sea. Jon Roper was out in 8th position in the 1.5k event with Tiff Orton in 11th.  Nicole Patterson-Lett, James Togneri and Susan Douglas all swam the two lap 3k course.  As usual Nicole swam strongly and exited the water as third female overall.  Another of our strong swimmers – James did well and Susan of course would undertake the event without a wetsuit. Clive Patterson-Lett was the Tuff cheerleader.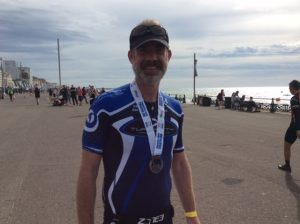 BRIGHTON & HOVE TRIATHLON
A third staging of Brighton's triathlon, although the run of good weather came to an end with windy conditions with the consequence of a shortened swim. Congratulations to Francis Blake (above) who was challenged by his brother to enter and did well finishing his first Triathlon.  The swim was followed by laps along the seafront for each of the bike and run. Francis entered the SuperSprint race of 400m sea swim / 5km bike / 2.5km run; a great result for his first Tri. Also worthy of congratulation is Martin Footman who has been swimming with us on Saturday's who did well in the sprint of 750m sea swim / 20km bike / 5km run crossing in an excellent 9th overall.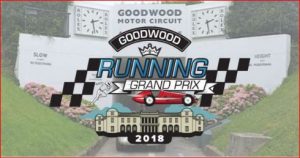 GOODWOOD RUNNING GRAND PRIX
We have received two reports from the inaugural Goodwood Running Grand Prix.  The first report is from James Brock who ran with Roy Barraclough; it is great to see Jimbo back on the race scene after his injury 'break'. In the 10k a strong result from Tim Kenny.  Tim McGrath entered the half marathon and his report is the second one. The 'big one' was the full marathon and Tuff representation here as well.  A test of mental strength as it was 11 laps around the circuit with nothing of note to look at.  However Jason McCardle did well (after his race organisation the day before) and well done to Linda Wright who had been out marshalling the previous day at Rewell. :-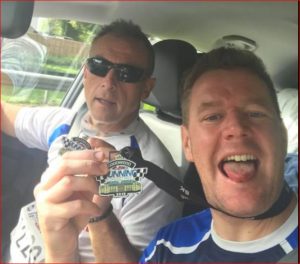 "Roy & I never follow the organisers steps. We arrived 3 hours early for the 5k so opted to start with the marathon guys. I've always loved motorsport & Goodwood holds many many fond childhood memories. So to be able to run around the track was an opportunity I was not going to pass up.
I have to say to organisation & Marshall's were really good. They got it spot on.
One lap of the track was enough though, once past the start finish line it becomes dull & silent.
Am I pleased I took part? Yeah… Will I do it again? Probably not.
Lovely finishers technical T-shirt & a bit of bling.
Nice to see a few fellow Tuffs out on the course"
Jimbo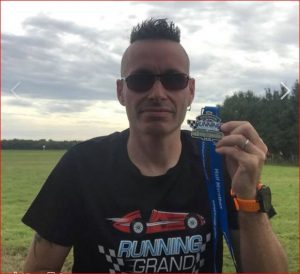 There was a choice of races to undertake from a marathon; 20 miler; half marathon; 10k and a 5k. I entered the half and completed in 1 hour 44 min (by my watch).  James Brook entered the 5k & I did see the other Tim on the way round the circuit.
It wasn't the most interesting of races as the course was laps of the motor racing circuit with the amount of laps required corresponding to which distance you had entered. I found it as much a mental challenge as physical because it was difficult to pace, as you never knew what distance the other runners were aiming for and therefore you could not work out your position. In addition the laps did grind a bit, although having said that it was very well organised, a nice little goody bag, medal & T-shirt
Tim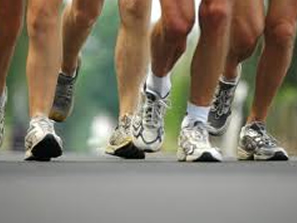 REIGATE HALF MARATHON
Reigate's Half Marathon has earnt gold award for best half marathon in 2017 and a silver award for this years race. One lap on closed roads around the Surrey countryside.  A  popular race as demonstrated by Glenn Parisi & Rachel Brunning who are both multiple attendees. The lure of an event T-shirt and bit of bling undoubtedly helped. Well done to both – fancy it next year? the date has been set of 15th Sept 19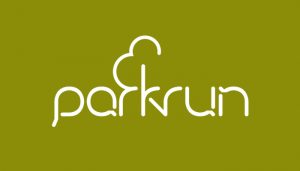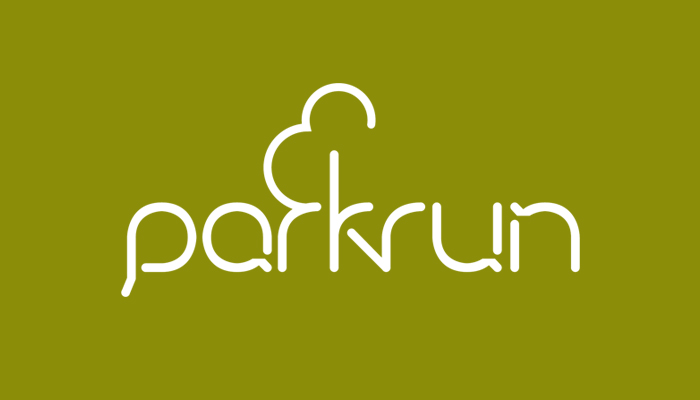 PARK RUN 
Starting at Worthing Park Run there was two strong performances with James Oram crossing just ahead of Phil Baker in 20:07 & 20:09 respectively. The good news continued with Dave Priest getting a new PB, excellent work from Francis Blake the day before his first Tri, Barry McElearney completed his first Park Run,  & Cathy Oliver, in her 55th Park Run. Meanwhile up at Horsham Park Run, Ian Moore put in a strong time with Leigh Moore clocking up her 25th Park Run