Weekend Round Up 17th 18th November
Club members have been undertaking a wide variety of events again as the following testifies:_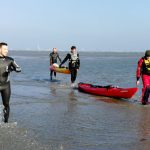 ISLE OF WIGHT SWIM
Whilst most people will have rinsed and stored their wetsuit for another year, Tom Gray has kept his going, swimming in the River Arun as he built up to, and accomplished the following epic swim. Tom's report follows:-
Myself and my friend, Jeff Leigh-Jones, decided during a chat in the pub 6 weeks ago that it would be a good idea to swim across the Solent in November. With Jeff expertly organising a couple of kayaks to accompany us, as well as the famous Lively Lady yacht to act as safety boat, before I knew it, we were ready to go! On the morning, the wind was a bit on the high side, but water temperatures seemed reasonable at 13 degrees (bearing in mind we were kitted out with wetsuits and every other warm clothing aid!), so we set off from Gosport at 10am. We were knocked around a bit in the waves at the beginning, but eventually settled into a rhythm, following the kayaks who were directing us to Ryde and dodging the crossing ferries for us! We reached the mid way marker in good time, before closing in on Ryde. With the tide going out, the second half was harder (or maybe I was getting tired…), but it did mean we were able to walk about 100m from the shore, where our families greeted us with warm clothes, brownies and whiskey! Jeff and I completed the 4km swim in 1hr 30min, which we were both pleased about. Overall a great day out, and I would recommend it to anyone who gets a chance to do it!
Tom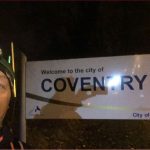 ESCAPE FROM MERIDEN 
From the South Coast, our next report comes from Jason Rae who travelled up to  Meriden in Warwickshire  where a 500 year cross marks the centre of England and basically involved competitors running (anywhere) from there; as far as they could get, as Jason explains:-
"This week's run was something a little different. Escape from Meriden starts next to the Monument that symbolises the centre of the UK just North West of Coventry".
"The day started on Friday Morning after a few days prep printing routes and maps with a train Journey to Coventry. Being a David Lloyd member has great advantages – one being there is usually one of these fantastic clubs in most large cities and the Cov one was located about 1 ½ miles from the station. With limited equipment I made my way there for a sauna, Jacuzzi and some dinner before heading back to the station to meet my friends. We taxi'd to Meriden and had soon registered and started to realise what we had let ourselves in for".
"The dry mild night that was forecast was now cold with drizzle and a Southerly wind straight into our faces, at 11.50pm we all headed up the road to the start. Most people decorated in bike lights, flouro clothes, glow sticks etc to make ourselves as bright as poss for the motorists. Midnight arrived and we were off. Everyone scattered in different directions, down side roads North , South and a few East or West."
"After a mile or so we were down to about 6 or 8 running along the roads towards Northampton. In the build up it didn't occur to me that most of this race was to be along the side of A roads and the first part was in dark, drizzle as well. Also there are not many places open for supplies, there were no aid stations to top up drinks or take snacks. We found a garage open at 1.45am but had no idea this would be the last place for refreshments for 6 hours so didn't really stock up. The next problem was the footpath stopping half way along the A45. The next 4 miles were spent jumping on and off the road every time we saw headlights in the distance – which were mostly articulated lorries at that time of morning. The Grass verge was soaking and this is where my blisters started due to wet socks and insoles moving. We saw the golden arches in the distance and the thought of a nice coffee would lift us but it wasn't a 24hour café ".
"We eventually made it to a B road and caught a few more runners. Max who was running with us had developed a pain in her knee which slowed us down a bit . By 7 am we were hoping for daylight to arrive and were looking for a shop to get something to drink."
"Max decided to call it a day just as we found a petrol station. After a few drinks and a sort out of the footwear we got running again hoping to make Northampton for 9.00 to do the parkrun. We picked up the pace but our efforts were cut short as the road to Northampton (A45) was getting really busy and also had no footpath. All the pre race planning really went out of the window here and we decided to head for Towcester instead. About a mile into the road to Towcester, we changed our minds again as we crossed over the Grand Union Canal. We joined the canal path here and basically ran along this to Milton Keynes (25 miles). The first 15 miles or so weren't too bad but after this it was like a Scooby Doo cartoon where you run past the same scenery over and over and over and over again !!! . There are only so many Canal boats you want to see in a day. My feet were really sore by now I'd managed to form blisters down the centre of both feet on the pressure pads so once back up on the road I managed a few more miles before calling it a day at Milton Keynes. I had ran just under 60 miles on a pasty, some jelly beans a few cashew nuts and some fizzy drink. I have learnt so much from this race – Not sleeping the day before is just stupid, Keep your feet dry, stay positive,eat well  and don't make eye contact with anyone on the train home when you've been running all night and smell like a washing basket full of sweaty socks. Oh and Southern Rail are S**T."
"Hopefully this has kept me on track for the Thames Path 100 next year, The blisters feel less painful already and entries for Escape From Meriden open up on Friday for next year !!!"
"These races are great for taking ourselves out of our comfort zones, mentally and physically."
Jason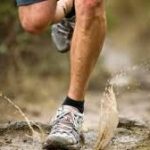 CANCER RESEARCH TOUGH TEN
Next up Simon Thistlethwaite reports in following his ascent of Box Hill:-
"I headed off to Box Hill in Surrey to take part in the Tough Ten which was literally the hardest 10k race I've ever done ever!!!!
It was a trail race through stunning countryside with over 384 meters of climbs. The first kilometre felt good at 4.11 and then came the steps. The next two kilometres we had to climb up the steep steps over 142 meters elevation then head back down only then to have to climb another 111 meters over uneven ground covered in leaves making this a very difficult tricky technical course with added toughness.
I took a tumble on a hidden rock 2k from the end which cost me a place or two but happy to finish with a smile on my face in 16th Place out of a field of around 380 in a time of 53 minutes.
I'm looking for another for next week which will hopefully put me in good stead for the XC league."
Best regards
Simon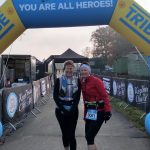 TRIBE & MAVERICK RUN FREE FESTIVAL
Elle Williams and Rachel Brunning travelled across to Liphook to take part in the Run Free Festival.  There was a choice of 10k or Half marathon and with Rachel's quest to hit 50 half marathons entering the half would clock up half number 36.   The race instructions stated "The trails will lead you through the Hollycombe forest, up and over undulating hills with panoramic views across the National Park. Trail running doesn't get better than this."  However the blurb also said "the routes we have mapped are intended to test you"
Testing it was, as it transpired the half distance course was not only undulating but covered 15 miles. Well done to Elle & Rachel.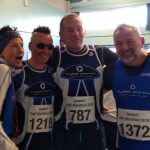 GOSPORT HALF MARATHON
It had seemed like a good idea from Rachel Brunning; Let's do Gosport half marathon on this much nicer route, and it would be another notch on her quest to complete 50 Half's.  However after the very tough Maverick event the day before (see above) she text Glenn to say don't bother picking her up, she would see how she felt and drive herself.  In true Tuff motivational style the answer from Glenn was – No; we are picking you up just after 7, so be there!   And that was how four Tuff's came to be on the start line – Rachel, Glenn Parisi, Tim McGrath & Clive Harvey.  As the course is an out and back route along Gosport seafront it was a relief to have dry sunny conditions although it was very nippy until the sun came out.
With almost 1,700 finishers it was quite crowded to start but soon spread out. Clive noted there was some confusion on the water station with a person missing his space causing a collision as he doubled back.  Clive got through without difficulty and he felt it was worth recalling some advice Coach Kev gave him decades before.  As you approach a marshal holding the cup of water, make eye contact and point at them, this works well creating a seamless transfer. Of course it adds to the process if you say 'yes please' but it does work -if you haven't tried the technique yourself.
Tim was first Tuff home, followed by Glenn and Clive. ….And Rachel..?  Having pointed out she was press ganged into the event, she was very pleased, running all the way in a good time and grudgingly admitted to Glenn she was pleased to have been pressured to enter. Rachel also brought mince pies which went down a treat and that was half 36 & 37 for her in one weekend – well done Rachel.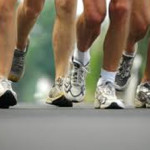 BRIGHTON 10k
Unfortunately injuries prevented some Tuff participation but the one club member running, Henry Teague-Smith is really getting back on form crossing the line is just 35:54 – superb running along the seafront course.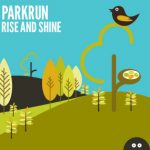 PARK RUN 
At Bognor Park Run, Ian Bayley took part running around Hotham Park in 23:18.  At Worthing Park Run James Oram was first club member home in 20:04 with further good running from Paul Martin and Amanda de Ridder who clocked up her 75th Park Run. Daisy Bashford completed the Worthing Tuff quartet. Lancing Green Park run saw Elaine Rousseau take part.