Weekend Round Up 10th 11th November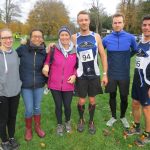 SUSSEX CROSS COUNTRY LEAGUE RACE 1 STANMER PARK
The cross country league got under way this weekend and we have a great write up from our roving reporter –Simon Thistlethwaite:-
"The start of the 2018 winter XC league takes us to Brighton Stamner Park for a 5 mile hike. I'd forgotten about the horrible hill climb in this one as its two years since my last appearance here.
As usual our main man Clive H was flying the Tuff flag as well as taking the time to provide us with very decent shelter should the weather conditions change. He did not come armed with cake but a choccy bar was very well received post race.
Thankfully the weather was almost perfect for a cross country and the slight breeze was kept off my chest as Clive pointed out I'd got my vest on the wrong way round. He who dares !! Proper TWAT ( Tuff with added Tuff ).
Stamner is the first in a series of four races organised by the county in four different venues over the Autumn / Winter period. At the end of the final race, medals are awarded to the best three individual athletes and best three teams that have scored most points with the best three races making the count.
There are Age and gender graded races and even non scoring races for the under 11's to give the younger runners a feel of what the races are like.
Tuff fitty had a full ladies team with Juliette Reader the first home in a time of 27.52 having completed one small lap and one big lap of the course. If you haven't done this one before, it's a flat start from the playing field then left-hander before a steady climb up through the first of two fields. Soon you are heading up through the trees after a short  trek over uneven ground to cheers of the spectators as they egg you on for a place or two, if you can be bothered at the sharp hairpin right, which takes you on a loooong climb to another short but steep climb. There is a flat bit between these two climbs where one would catch ones breath but I sure don't remember it and before you know it the second climb is upon you and its a leg burner at the second lap of the run.
Once you reach the top of here you can breathe a sigh of relief as there is at least 1k down hill to the start point then you can look forward to doing it all again YAY!!!
Second Tuff lady home was Karen Mcgrath in a time of 29.53 with Debra Cauchy-Duval just over a minute behind in  31.20 . This rounded up the Tuff ladies Trio who were all smiles at the end. Mad
Next up at 2.35 the men's race with one short lap and two big laps. We were expecting a team of 5 strong but unfortunately one dropped out last minute and one managed to find his way to the set of another XC league venue albeit a few weeks earlier than everyone else (Pete – Ace) but we still love you.
After struggling from the off with a last minute mystery stomach bug I found the race painful and I felt quite sluggish the entire race. I don't remember passing a single runner but instead felt like I was going the same way as my vest and falling further backwards as the race progressed. The hills were hard, the legs were hurting but I couldn't bring myself to stop and kept thinking Weymouth was much harder than this so just kept going. I had nothing to use on the downhills either and after completing the second lap I certainly was not looking forward to the hills for a third time. I managed to get round the 9.1k course in 40.25 and finished mid field in position 143. Paul Martin finished second Tuff man home in 44.01 but unfortunately our third man Michael Redgrave pulled out after suffering an injury after two laps which wasn't helped by some soppy Marshall telling him he had another two big laps left! If I'd been told that I'm pretty sure I'd have cried the rest of the way round.
See you all at the next race!!!! Lets gets some big teams in;  "come on Tuffs" click on the album below.
Race two is our 'home' race – Lancing Manor Saturday 1st December 
Simon
<
>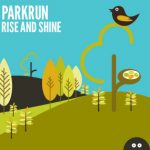 PARK RUN
It was a momentous occasion at Bognor Park Run on Saturday as Jason Rae clocked up his One Hundreth Park Run. This would be an incredible achievement for anyone, but it must be remembered that Jason set this Park Run up in May 2014, which gave him the confidence to organise his own events in later years. Bognor has staged 223 Park Runs, with over 6,100 runners have taken part on the course around Hotham Park. Fitting Park Run in between all his ultra Marathons is a terrific achievement – Congratulations Jason. Perhaps fittingly he was also on the organising team that day before the starting klaxon sounded.
Several members at Worthing Park Run where Henry Teague-Smith is back on form recording a new Park Run PB of just 17:37. Next James Oram in 20:08. Ed Lay was next across the line with Tim Kenny shaving a further 19 seconds off his pb from last week. Amanda de Ridder completed the five as she ran home as 9th female across the line. Across at Lancing Green Park Run, Elaine Rousseau was in action.   Well done to all seven.