Weekend Round Up 5th 6th January
It's the New Year, it is cold and dark so the good intentions for New Year's resolutions are going to falter aren't they? Well no, not if you are a Tuff, as less than a week into 2019 and Tuff Fitty's training sessions are back with a vengance. Wednesday evening Coached Track night was the first to make a return with runners keen to literally 'get back on track' and then we were back in the pool for the popular Thursday evening coached swim session before it was onto the weekend which saw a hive of activity.
Saturday morning run up at Arundel to take in some 'undulations' is now more structured with different speed/distance groups. Have you tried yet? All welcome and very social with most stopping for a coffee afterwards. The following shot is all smiles before tackling one of the 'undulations'!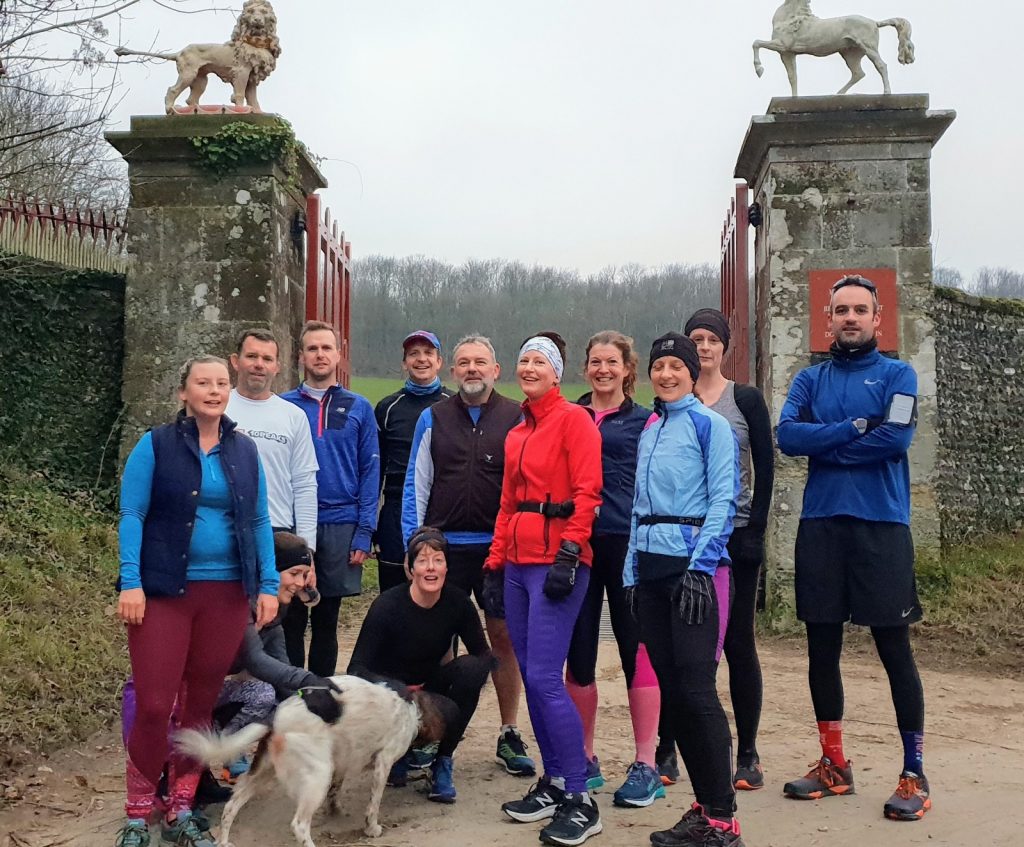 Tuff sessions do not end there as our ever popular Saturday early evening swim was next up. Just three months until we move into the new pool and Tuffs (and some newbies) were out in force with over 30 in attendance for our coached swim. The coaching is second to none and whilst we recommend bringing a drinks bottle for poolside, come along (either Thursday or Saturday) and see why these sessions help propel the Tuff swim splits higher up the results tables.
Time to recover under the duvet on Sunday morning? not a bit of it as there were two excellent ride groups out. Firstly (with thanks to Jon Roper for the run and one of the bike photos) a good turnout for a mountain bike ride up on the Downs. Running concurrent to this was a Road bike ride where a very strong turnout met up for different distances. Many are building up the miles as part of their Ironman journey, but is also suitable for our more advanced riders looking for a good training session.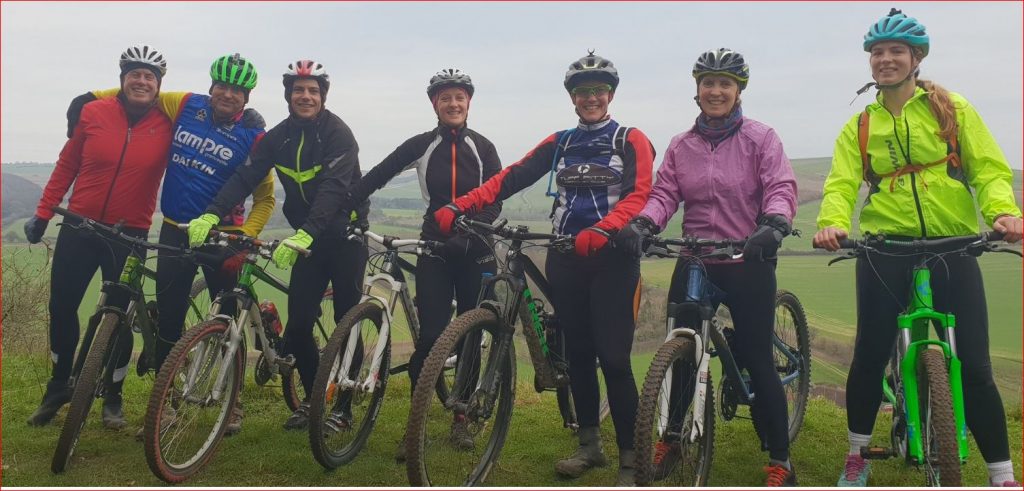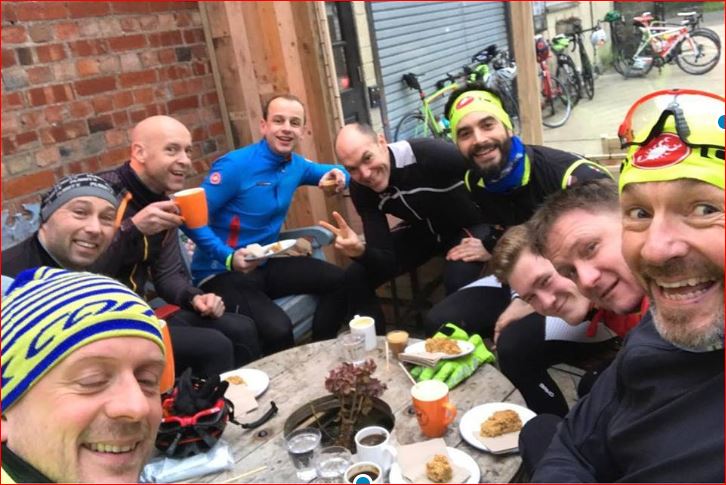 Those reading this who may be thinking Tuff Fitty can help them to their goals, Tuff sessions are mix and match to suit home/work commitments, so you do not have to attend all the sessions (although they can get addictive!). The Tuff programme didn't stop there with a re-commencement of a Monday evening run……….. before we start it all again at Wednesday Track Night. As the saying goes, "Winter Miles; Summer Smiles"
That could have been enough, but we still had members out racing; so read on.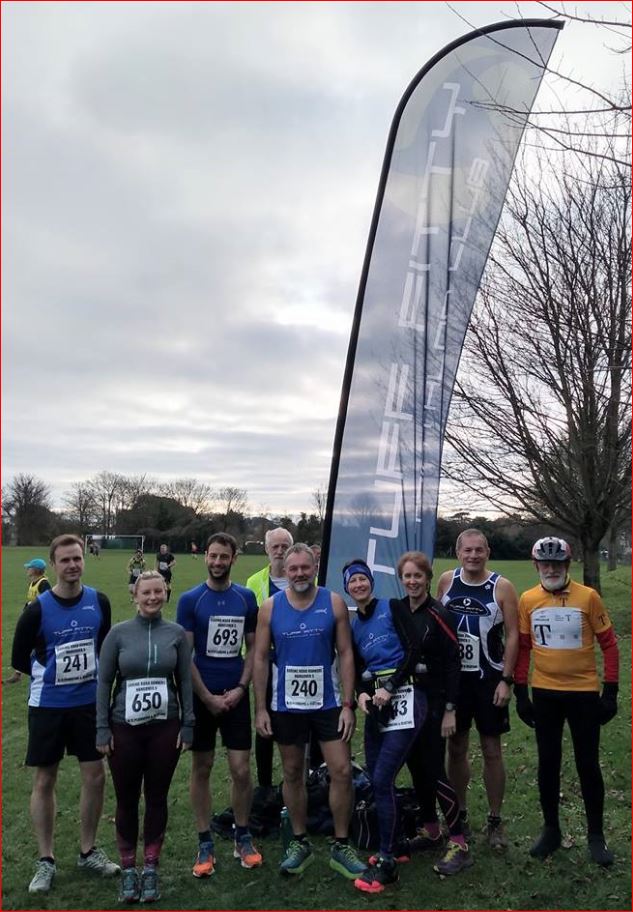 HANGOVER FIVE MILE
467 runners thought Hill Barn at the foot of the Downs would be a good place to kick start some worthwhile New Years resolutions, and in amongst these were a dozen Tuffs – the occasion being the annual Hang Over 5 on New Years Day.
The weather was very mild and the playing fields were not their usual slippery muddy mess. Climbing to the top of Cissbury Ring the sun came out and shades would have been the order of the day. Some club runners were wearing their running club vests – such as James Oram who finished in 36:55. Next home was Phil Scales & James Togneri. Well done also to Karen McGrath, first Tuff lady home, Michael Redgrave, Linda Wright, Tony Pearce, Glenn Parisi, Clive Harvey, Lucy Cardus, Chris Evans and Elaine Rousseau. All 12 covered the 500 feet climb to the top of Cissbury with many taking up the offer from Rachel to return to hers for coffee and a vast array of cakes. Thanks to Bob Thomas who rode his Mountain Bike over to see the runners off – Day One of 2019 off to a terrific start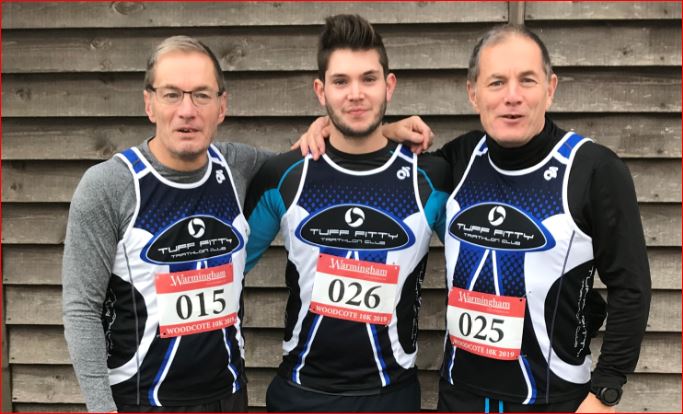 WOODCOTE 10K
A large number of the Harvey family usually meet up for the New Year and as many of them run, finding a 10k is always a good way to meet up. This year it was the Woodcote 10k which is in the Chiltern Hills. A cheeky course all on country lanes but it heads down for 499 feet before climbing exactly 499 feet back up to complete a square back to the start. Harvey's running included a trio of Tuffs with Stu Harvey first Tuff home, then Trevor and Clive. Medal and free tea, coffee and biscuits for all the runners made for an enjoyable race, despite it being billed as the "toughest 10k in the South Chilterns"
PARK RUN
Worthing Park Run held a New Years day Run and Antony Oliver was the first Tuff home. Roy Barraclough was next then James Oram who paced himself as a warm up before heading up to race the HangOver 5. Amanda de Ridder, Dave Priest, Cathy Oliver, & Daisy Bashford. It was a great New Year celebration for Tim Kenny as this event saw him reach his 50th Park Run – congratulations. Elaine Rousseau also used this event as a warm up before heading up to Hill Barn.
Across at Bognor Park Run, strong running from Becky Lintott-Clarke as 7th female home, and up at Horsham Park Run Ian Moore clocked up his 52nd Park Run.
Back to the usual Saturday morning Park Runs several Tuffs were at Worthing Park Run, including Daisy Bashford who was on the organising team. Those who ran included James Oram (20:18), Chris Sloggett (21:36), with James Togneri close behind. Roy Barraclough, Neil Rabone, Tim Kenny & Elaine Rousseau completed the 8. Across at Bognor Park Run Claire Moyle was our sole representative and Ian Moore was in action again at Horsham Park Run
As Tuff's venture out to events, please take a moment to submit a brief report for future round up's, and a photo is even better. please submit to clive.harvey@tinyworld.co.uk – thanks