Weekend Round Up 23rd 24th February
Another bumper edition of Tuffs out & about:-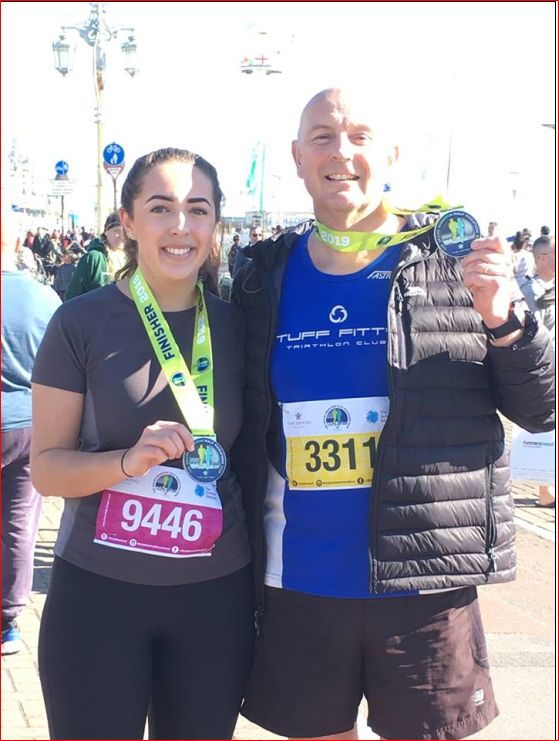 BRIGHTON HALF MARATHON
12 degrees on a February Sunday morning and not a cloud in the sky. Brighton was packed for the Half Marathon and even the rail line closure for engineering work didn't deter 7,530 runners from crossing the start line. Some runners were clearly overdressed in the sun and unfortunately a handful were in distress at the roadside. However there was a strong Tuff contingent again. The route towards gaining the chunky medal was similar but took the runners out up the hill to Rottingdean first, before heading up the Steyne.
First Tuff home was Glenn Parisi followed by Murray Hodge. Then a flurry within 3 minutes of each other in the form of Michael Redgrave, Elle Williams, Ed Lay, & Clive Harvey. Danny Bruce was next, then Becky Hodge and Rachel Brunning. Danny was a very proud dad as he took part with daughter Olivia who was next to finish. (pictured above) She had come along to some track sessions as part of her training; congratulations on your first half Olivia; a Tuff in the making?
Well done to all 9.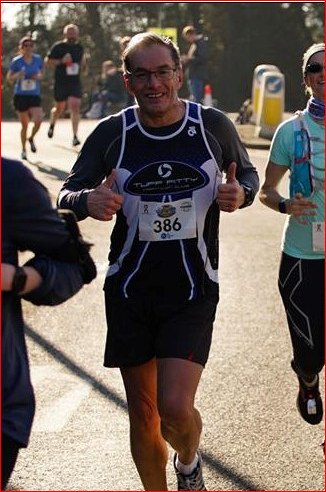 THORPE & EGHAM HALF MARATHON
Trevor Harvey reports in from his latest race:-
"Yay; first Tuff home!! Well, lets be clear, I was the only Tuff taking part. Thorpe & Egham Half Marathon was the same date as the Brighton Half, which a) was a more expensive entry; b) I've done Brighton many times; c) not so manic, 900 ish runners compared to thousands at Brighton and d) as Thorpe is just down the road from me, it would save a lot of time, diesel and parking expense and so I thought I'd give it a go.
A route all on closed roads, and apart for some bits alongside, over and under the M25, provided quite a scenic route – with a cheeky hill thrown in around mile 7 for good measure – all in gorgeous sunshine. One of "Run Through" events, it was well organised and a vast array of goodies; medal; T shirt (yet another), banana; loads of flapjacks, handfuls of Haribo, peanut butter gels……..and a big bag of Epsom salts at the finish!
Slightly quicker than Worthing, and 6th in my old git category."
Trevor
Be Better Today
How is the training going? don't think you are good enough? The following YouTube clip puts things into perspective and has a powerful message; Strive to be better today than you were yesterday. Thanks to Alister Marchant for bringing this to our attention; definitely worth a view:-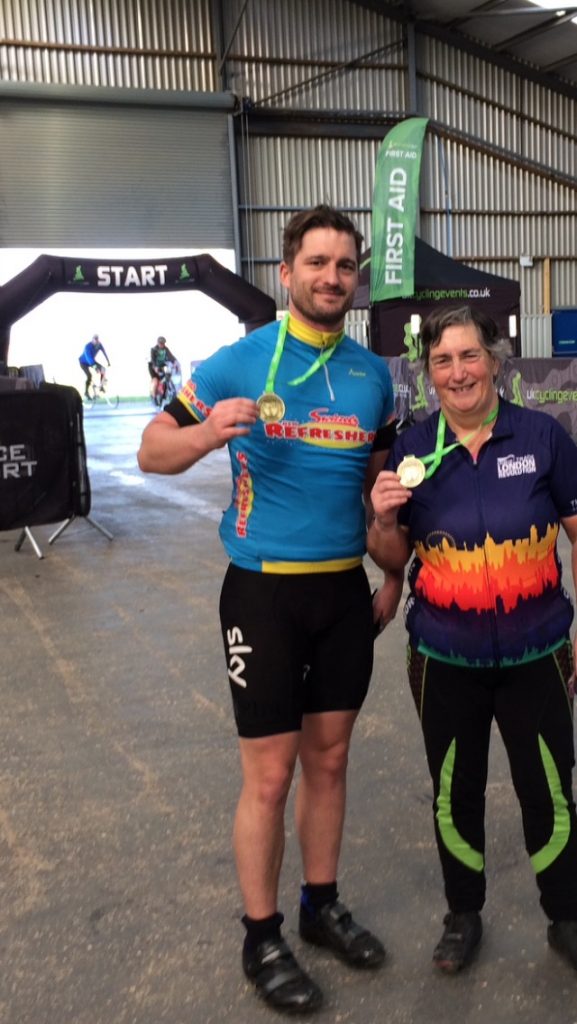 CAMBRIDGESHIRE CLASSIC SPORTIVE
Claire Moyle reports in from her latest adventure starting from the Peterborough Showground:-
On Sunday Fraser and I took on the Cambridgeshire classic 70 miles with 2000ft of climbing. Although it was a very cold start it soon warmed up and with a light breeze it was perfect for the flat open roads. We passed through some lovely villages on the way and kept a fast pace hitting the first stop at 35 miles in under 2 hrs. The ride went without incident and we finished in 4.30 hrs and had time for a massage before the drive home. The event was well organised with good food stops and medical and support vehicles and well worth the drive to get there. Next big ride will be in the New Forest next month.
Claire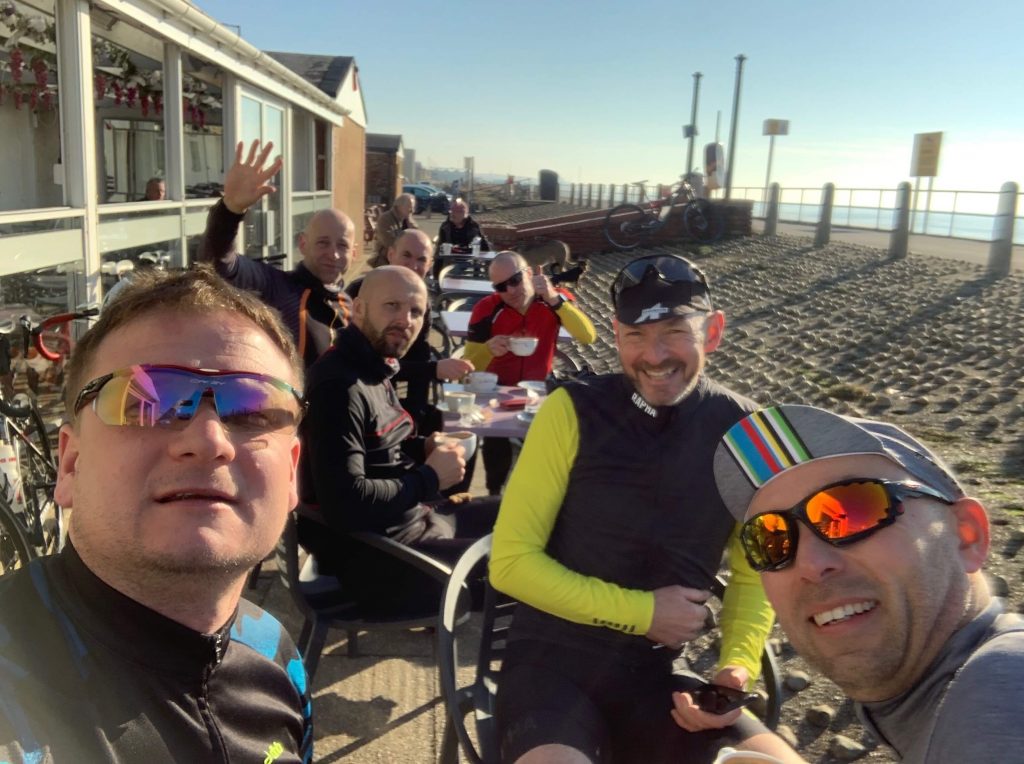 SUNDAY CYCLES
Last week there was a spotlight on the Saturday run; this week we highlight one of the Sunday cycle groups as Andy Ward reports in :-
For a good few years now through rain and shine…the TIITS (Tuff Ironman In Training) have made a regular habit of meeting on a Sunday morning (7am at Sea Lane Cafe) and taking in a fair few miles but always with a coffee stop. Although primarily aimed at the longer distance triathletes it is by no means exclusive and as long as you're a confident rider capable of riding between 16 and 18mph average you are more than welcome to join us. The 24th of February proved to be an interesting ride with what started as freezing conditions before ending up at Carrots Cafe bathed in sunshine. As the year moves on the TT Bikes usually make an appearance but again don't feel that you can't join us. A wealth of experienced cyclists and triathletes are happy to share their wealth of knowledge and expertise (understatement)and with double figures for Outlaw 2019 it promises to be a great year. Check out the Tuff Cycling Facebook page or feel free to contact Wardy via email or Facebook.
PARK RUN
Not so many club members Park Running this week. At Worthing Park Run there was Roy Barraclough, Chris Sloggett, Gary Edge, Danny Cunnett, Verity-Jane Lacey & Elaine Rousseau.
The only other Park run frequented by Tuffs this weekend was Maidenhead Park Run where Trevor Harvey ran for the second successive week.