Weekend Round Up April 13th 14th
This weekend, saw the Brighton Marathon weekend take centre stage. It was pleasing to see Tuff representation in each of the Marathon, the 10K and the new BM Ride. Paul Martin's family also took part in the Mini Mile. The marathon itself is now the 8th largest in Europe and their website states that across all four events almost 20,000 people participated. What about the Tuff contingent? read on:-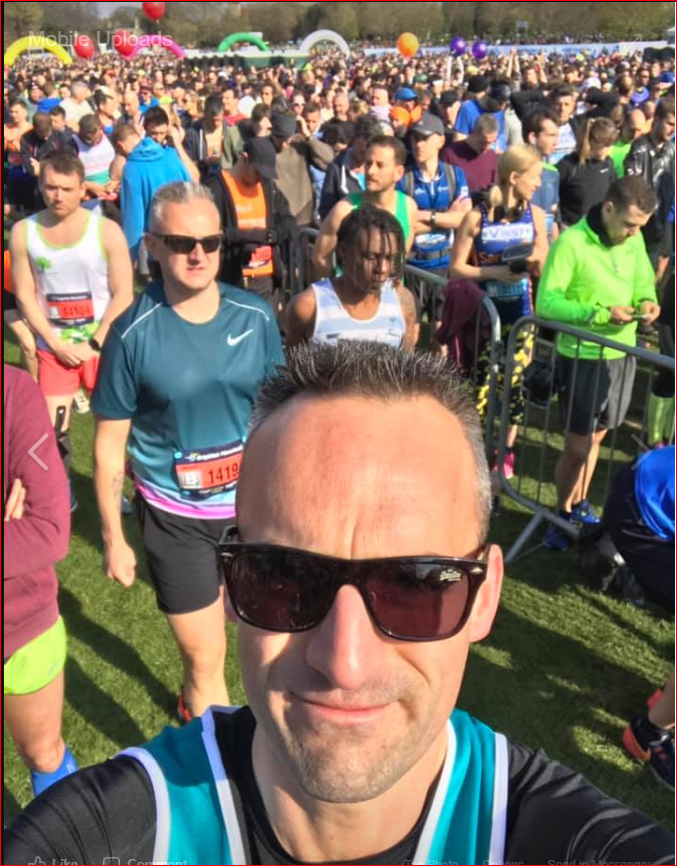 BRIGHTON MARATHON
This was the tenth staging of the Marathon and those who had run every race were awarded a special 10 medal. Whilst this didn't include any club members, two have come close. Glenn Parisi has established a great record with 2019 his 7th year of competing. One other club member who has run seven is Amanda de Ridder and she has reported in with her thoughts:-
"This year Unfortunately I didn't prepare too well for this one, not a lot of training, but this was my 7th Brighton Marathon, not my best time but a minute faster than last year! I was feeling really positive until about 21 miles. As usual the supporters were fantastic. But the legs cramps started to creep in and it was a case of run stretch walk into the cold wind back from the power station. Still enjoyed it… still chasing a sub 4… maybe one day!"
Amanda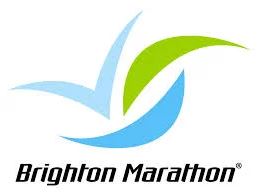 At the other end of the spectrum we had a someone undertaking their first ever marathon – Jon Babbage. He had set himself a target of 3 hours 30 and achieved that crossing the line in 3 hours 26. Not only did he break one target but he also beat another – exceeding his fund raising pledge to raise money for St Barnabas. This is still open if people wish to denote to a good cause here. From a first timer to one of our stupendous Ultra men edging ever closer to the 100 marathon club; Jay McCardle crossed the line in 3:30; Jay is another who has chalked up many Brighton Marathons.
Lee Bishop is one of our more recent members but has thrown himself into the Tuff run and swim sessions and beat the 4 hour mark crossing in 3:56. James Togneri has been pounding out the miles as he heads towards his Ironman achieving 3:58.
Our double 'seven timers' Amanda de Ridder & Glenn Parisi were next home, then Tony Pearce, Tim Kenny, Murray Hodge & completing the 'Terrific Tuff Ten' was Michael Redgrave. Congratulations to all. Inspired for next year? Entries are already open for 19 April 2020!
The photo album below captured just some of the Tuffs on the course; click on to view:-
<
>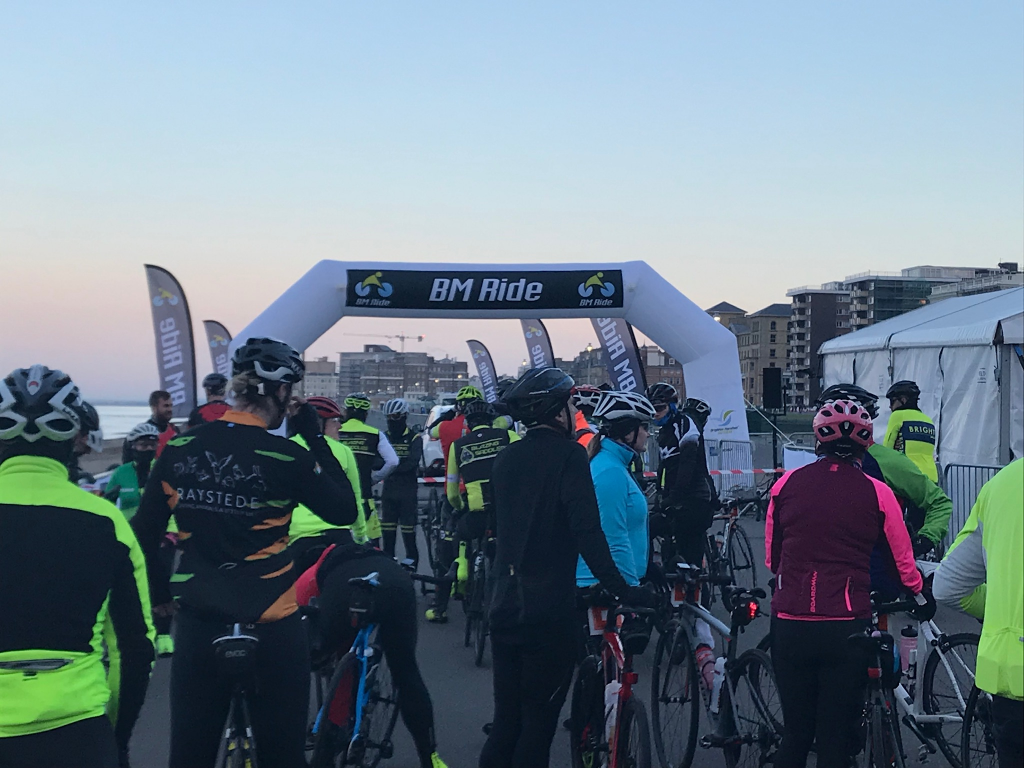 BM RIDE
Next up a report from Trevor Harvey who along with Clive Harvey, Chris Sloggett & Elaine Rousseau entered the new inaugural BM Ride along with 1,100 others. Time trial bikes and aero bars were banned but otherwise a whole range of two wheeled machines took to the streets, including fat bikes. There were also several examples of folding bikes present (Messrs Liddell & Goddard, just right for you next year then!). Trev takes up the story :-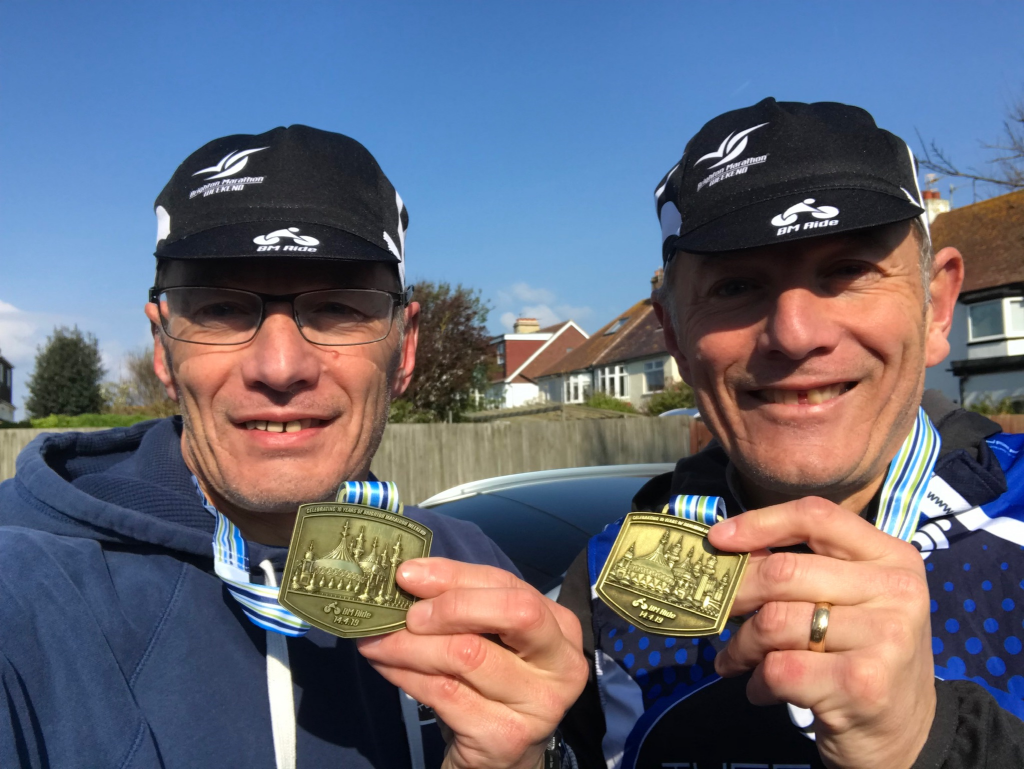 "My Brov and I, along with Chris & Elaine had signed up for the ride. The original entry had four general questions as to whether you were going to 'give it large' down to ' plod round' (not verbatim quotes!). On the day there were three pens, and Clive and I were in the first. Of course, all cyclists needed to be off the course long before the runners started, hence a 7.00 am start, and being advised to be there at 6.00 and in the pens by 6.45 it necessitated the alarm clock having a 4 as the first digit. (Argh!!). Also at that time of the morning it was freezing, and I had to scrape ice off the car at that time!
The Vello Village was on Hove Lawns…..and go! Heading west along the prom, before turning after Hove Lagoon to head East along the road to the Aquarium, heading north to go around the city, Preston Park and the Marathon route before heading back to the seafront to head along the seafront east. To that point the cycling had not been too manic, but back at the Aquarium roundabout things got pretty busy, as the organisers obviously felt a lot of the final starters wouldn't get round the route in time and just sent them straight on, with the quicker people then having to weave through the slower. The route followed the run route to Ovingdean before heading back west along the seafront, a loop through Hove and the glorious loop around the power station, (with lots of speed humps)! before back on the prom to the Vello Village to finish.
With the closed roads around Brighton it necessitated a cycle to and from the start, and so this, added onto a 50k ride made it a worthwhile distance. It was a well organised ride, (probably didn't think so if you were told to take the short cut), with a chunky medal to finish. At registration there was a good goodie bag with a casquette, as modelled in the photo."
Trev
BM 10K
The 10k race was a serious event in its own right as it served as England Athletics National Championships with the race winner completing in a rapid 28:22; a course record. It was pleasing to see two of our newer members racing here with the event commencing at 9am. Katie Wride did well finishing 18th in her age group and Shelley Babbage wasn't going to let husband Jon get all the glory. Shelley, like Jon, ran for St Barnabas and this was only her second race over 10k; so congratulations to both Katie & Shelley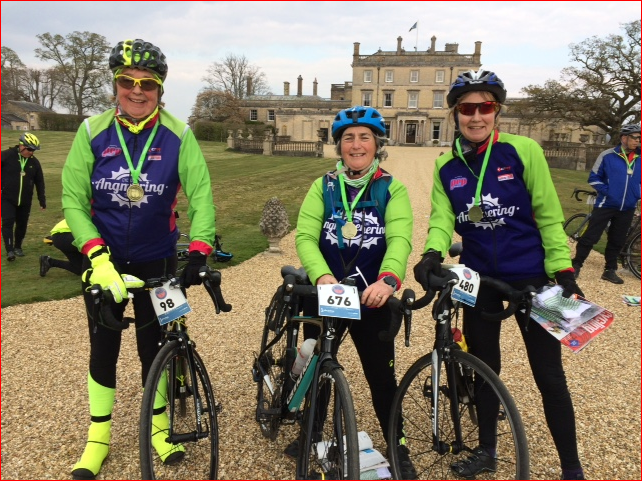 FREEWHEEL NEW FOREST SPRING SPORTIVE
Freewheel (the independent cycle retailer group) took over as lead sponsor for this popular New Forest Sportive. So popular the event is held on both Saturday and Sunday. Each day had a choice of Epic; 81 miles, Standard 67 miles and a 30 mile route. Sue Neilson took part on Sunday entering the 30 mile Sportive. Sue stated "this was the first time she had undertaken a Sportive, and despite windy conditions enjoyed the event after several years out of the saddle" Sue attained the silver standard. On Saturday, Claire Moyle took part and has reported in having completed the Epic. Well done to both Sue & Claire:- .
"On a very cold Saturday morning I headed to the New Forest for the lovely sportive of 81 miles. This was once a Wiggle event but has now been taken over by UK Cycling and it was well organised had great signage and good marshalling. If you could find a sunny spot it was lovely but the cold east wind seemed to hit on every turn and I stayed cool all day. Scenery was excellent and on mainly quiet roads it was a great ride out with medals and goodies at the end; what more could you ask for!
Claire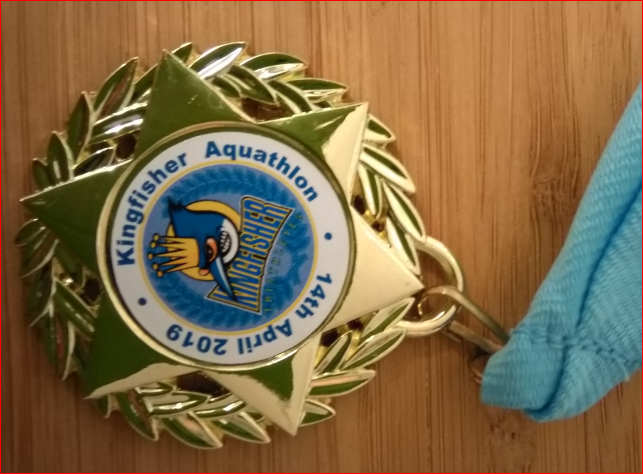 KINGFISHER AQUATHLON – MORDEN 14th April
Susan Douglas has reported in from her event at Morden Leisure Centre:-
"After the Frostbite I thought I fancy doing another Aquathlon, mix it up a bit this year, not just swim.
So I entered the Kingfisher Aquathlon, 300m swim and 9k run
Nice new pool, only 6 lanes, but swanky diving area and views over the park.
Lots of races going on with the Aquathlon scheduled for about 10am, two waves, medium /slow swimmers first, then fast/ medium, set off at 15 second intervals, zigzagging up and down the lanes until you get to the other side, then out to the transition area laid out on the grass and off for four laps of the park. Chilly start running in wet kit, but I soon warmed up as the course wasn't quite as flat as I'd hoped, but with ups there were downs which helped and encouraging words from the lovely marshalls and even other speedy competitors. Unfortunately starting in the second swim group and not being the fastest runner inevitably meant I was going to be last to finish and on the final two laps I was mostly on my own, and I confess I walked a bit in the wooded section where no one could see me. I did finish last but not in the actual race, so next year I'll make sure I go in the first wave. Super friendly race, didn't start too early and easy enough to get to up the A24 for you folks on the coast."
Susan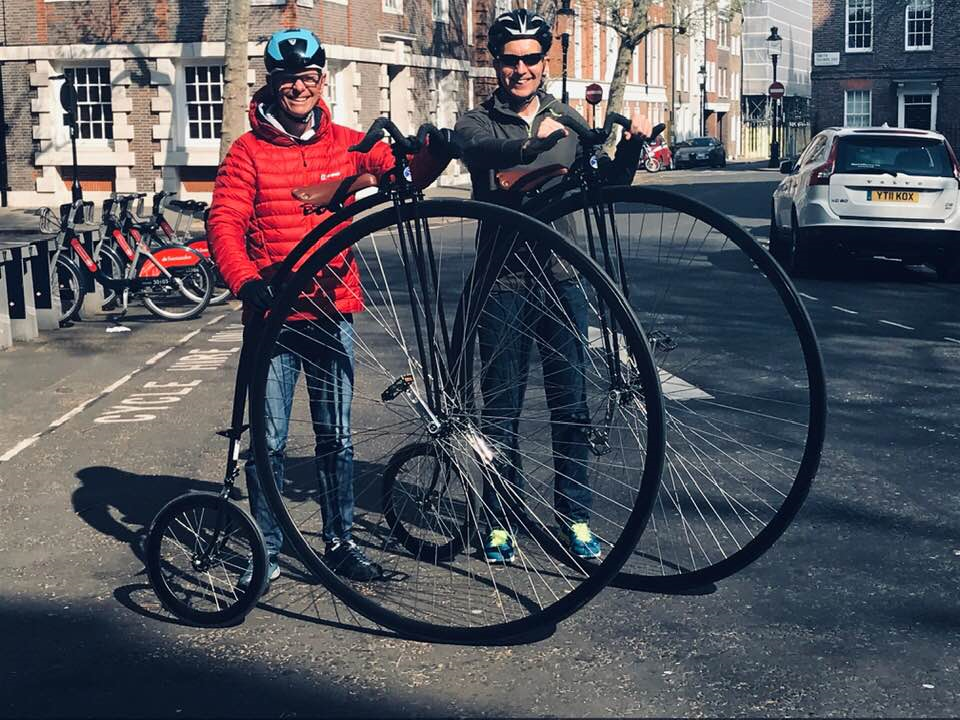 A different photo. Clive Patterson-Lett took part in a cycle experience riding a Penny Farthing; – 54 inchers! here he is above (left) with Nicole's brother Alec)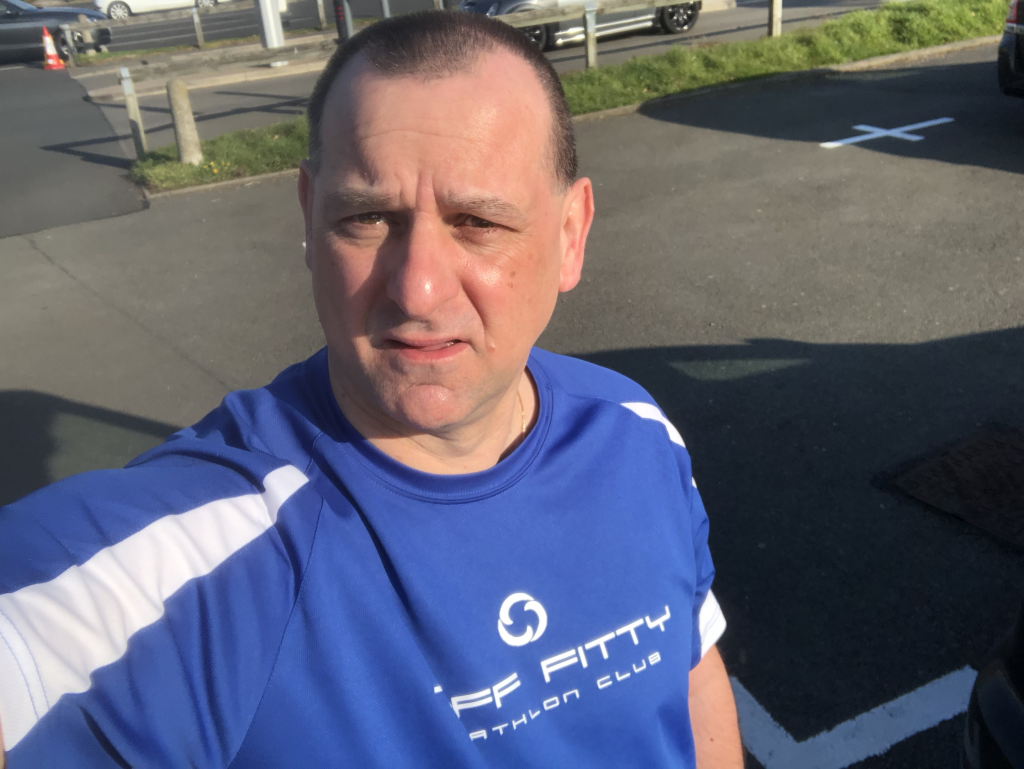 PARK RUN
This weekend saw the official launch of a new Park Run – Littlehampton. For those interested, the start is next to the Pier/Coastguards Station, with runners heading out on the prom as far as the Littlehampton Wave. Runners retrace their steps in a clockwise direction before a second lap which takes them into the finish. There were 162 runners for the first event including Linda Wright who was the 5th female home. Also running were Jon Babbage who ran with his son – a day before Jon's Brighton Marathon!!
Next it wasn't a new Park Run, but yet another one where there has been a Tuff attendance, as Gary Edge ran the Leicester Park Run . Gary reports:-"Flying the TF colours at Leicester (he stated he thought he would report in as it was unlikely the editor would have searched that one 😄 – quite right!) A little slower than usual but not unhappy with my time".
Over at Worthing Park Run Jay McCardle was in action again, recording a swift 20:40, (the day before his Brighton!) and congratulations to Chris Sloggett who has now racked up his 100th Park run. Elaine Rousseau also ran. This left a Tuff presence at Horsham Park Run where Ian & Leigh Moore ran