Weekend Round Up 27th/28th April (Marathons)
Having covered the Bluebell Runs, Sportives and Park Runs; part two of the weekend round up covers two separate Marathons attended by Tuffs. Firstly London Marathon, the iconic event that is one of the Abbott World Marathon Majors. Over the same weekend runners were in Madrid which is awarded a 'Gold Label event' by the International Athletics Association. The banner shot is of the Madrid runners at the start.
We have three inspirational and different viewpoints from London. Huge congratulations to Clare Worgan who's report is first, followed by Becky Adamek & then Bec Day – terrific results from them all
LONDON MARATHON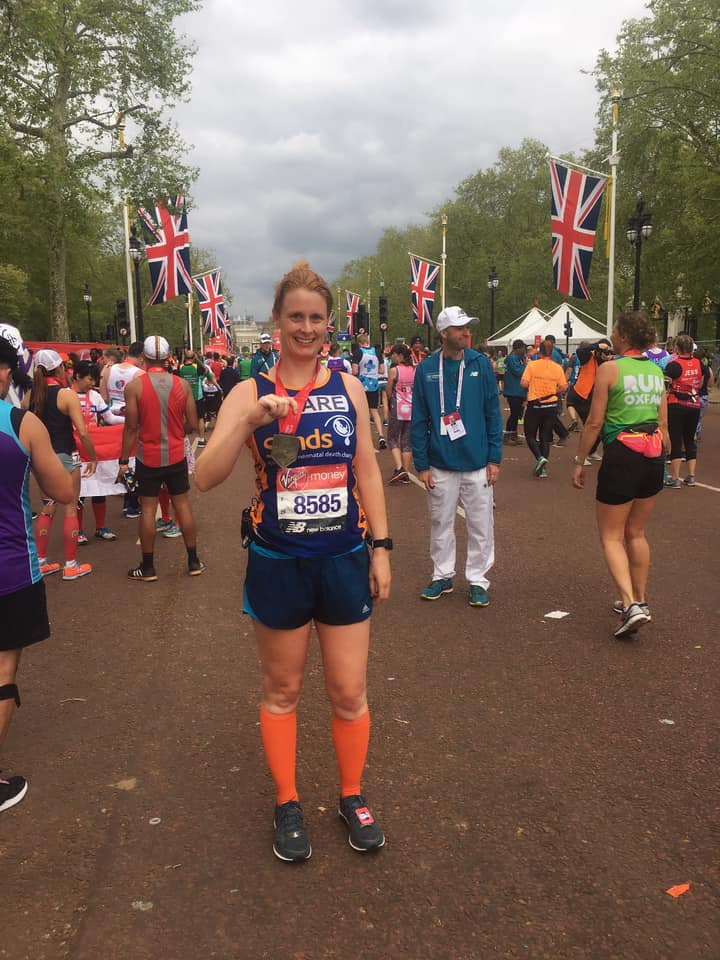 "The advice from Tuffs before the race was to not go off too fast and to soak up the atmosphere, so I had these wise words in mind as I lined up at the start. The atmosphere was great, the other runners were lovely and it was more like a festival than a race and so I made the most of it and quite enjoyed the first 16 miles. However, after 16 miles it certainly started to feel like a race, it got hard! and everything hurt! so stopped high fiving the crowds, conserved my energy and concentrated on reaching the finish line. I was running for Sands which is a charity very close to my heart and it was this that kept me going to the finish. I was determined to finish under 5 hours so when I spotted the 5h pacers I was not letting them go! I'm very happy with my finish time. I had a great day. Massive thanks to all the Tuffs who supported me with encouragement, advice and sponsorship, it really does mean a lot 😊"
Clare
For all those who wish to help donate to Clare's chosen charity, however small, please read her story of determination for such a deserving cause here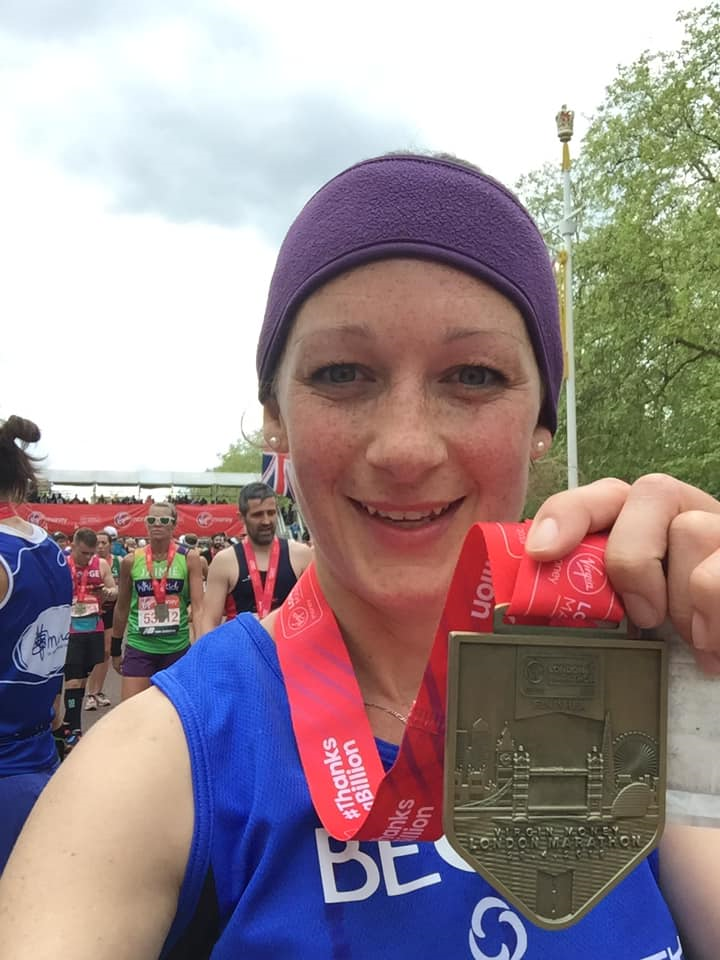 Next up we are grateful to Becky Adamek who has reported on her London experience:-
"This weekend brought the 39th London Marathon. Only 11 people have completed it every single year (the phone app gives you a fun fact when you open it!). As we know, it's one of the most inspiring events out there, both for the huge amount of money raised for charity and for the diversity of people who complete it from all walks of life.
This year I had the honour of being there myself. I was fortunate enough to get a championship place which meant representing Tuff Fitty, smaller toilet queues and starting at the front! However, as my pace isn't what it was at the time of qualifying, it also meant getting overtaken by thousands and thousands of faster runners! This didn't bother me as I expected it, but it did make pacing difficult and for the first several miles I was trying to slow myself down. My legs held out surprisingly well but I struggled at times with overall fatigue and the usual mental battles to keep going, so listened to my body when I needed a few sneaky walking breaks.
It was great to see Cutty Sark and Tower Bridge, then from about 20-35k it was a bit of a blur, just trying to dig deep and keep going. On the whole the route itself was less inspiring than I imagined but the crowds certainly lived up to their reputation. It paid off having my name on my shirt and support was even more immense if you walked. People put so much enthusiasm and energy into cheering us on, while children were giving out high 5's and several others had put effort into making signs to make us smile. The last 4 miles particularly wouldn't have been what it was without them. It's such a long way but it's over so quickly. Finally you see the '800m to go' sign, and it takes forever to get to the '600m to go' sign, but then before you know it you're turning into the Mall and you can actually see the finish! Then once you've crossed the line and you feel complete elation, you stop running, receive the wonderful medal, and that's when the pain really starts!! I still can't walk 2 days later, but I wouldn't change a thing. I'm over the moon to have completed it and feel incredibly lucky that it all went to plan.
Well done to Rebecca Day & Clare Worgan who both also completed it and achieved fantastic times!"
Becky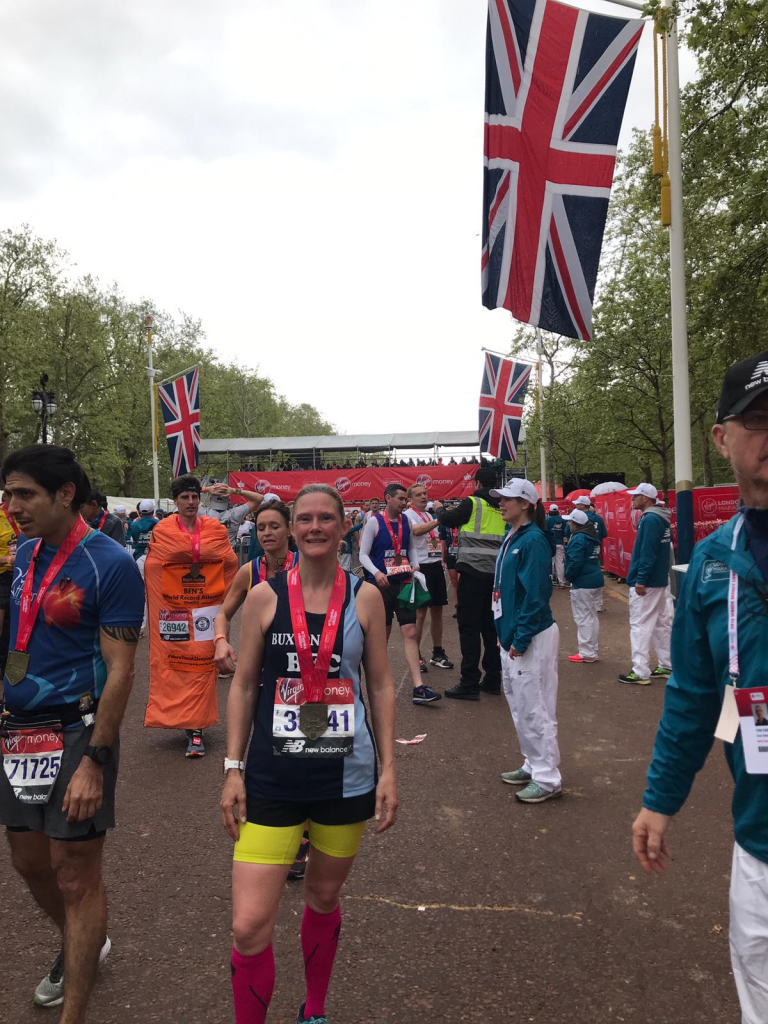 Completing our trio is Bec Day, who has also summed up her morning in the Capital
"London was brilliant, it was really hard but the crowds were amazing. I'd like to do it again and just enjoy it rather than go for a time, not sure I'm capable of doing that once someone has pinned a number on me though 😁 I knocked over 5 mins off my pb so I'm really pleased with that. Here's a picture of me looking very red at the finish!"
Bec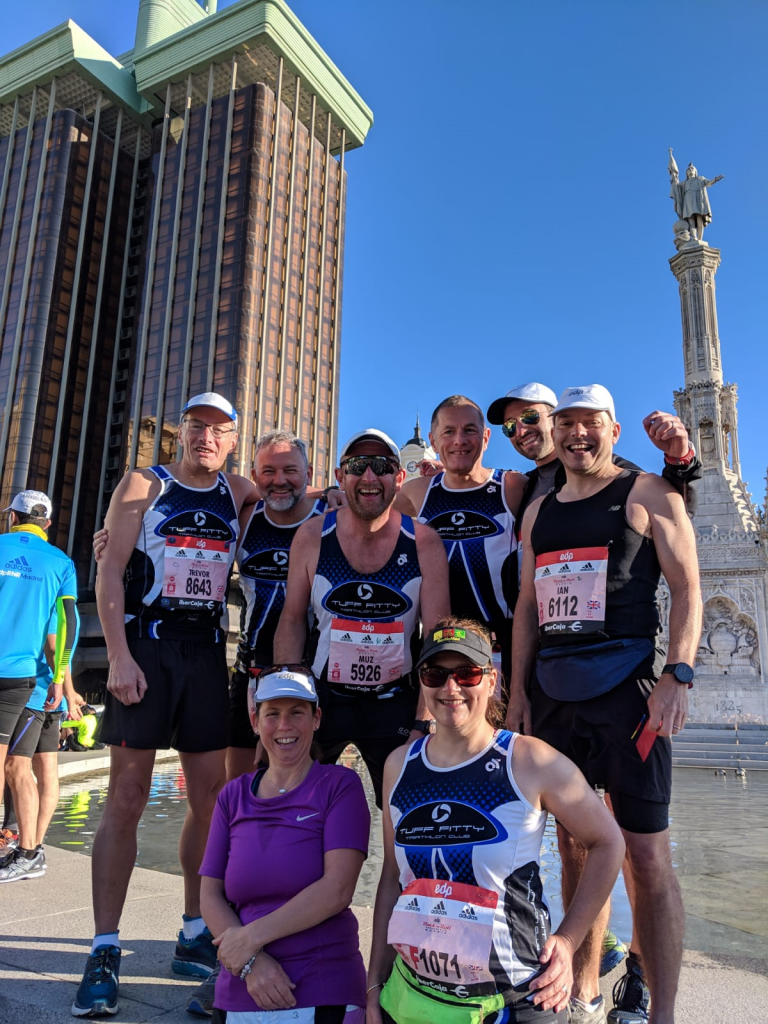 EDP ROCK´N´ROLL MADRID MARATHON
A runner on the plane to Madrid suggested they were heading to a tough course. Wikipedia clarifies the route as "The combination of an undulating course, the last 4m approximately uphill, and the altitude of the city has made it difficult to produce fast marathon times". The Marathon and Half Marathon were quite congested with both covering the same route for the first 10.5 miles. A scenic course, passing city sights, Real Madrid stadium, Palaces and a 6km loop through Casa de Campo, a 6.8 sq mile Park 5 times the size of New York's Central Park. Glenn Parisi takes up the story of this Rock N Roll Marathon Series event which is owned by Wanda the Chinese owner of the Ironman Franchise.
"On the weekend of 27th / 28th April nine Tuffs made the trip out to Madrid.
Clive, Trev, Muz, Leigh, Ian, and Glenn had signed up for the marathon whilst Andy (Strongie) and Becky had entered the half.
Kirsty had also entered the half but decided to give it a miss due to an early season injury, lack of training and because she 'couldn't really be arsed' and so was duly elected Tuff tour manager, coach, chief supporter and mascot!
The expo brought about the customary 20,000 or so steps whilst we all rested up for the big day by frantically searching for anything 'free'. The sum total of our efforts turned out to be a tin of cold coffee each!😡
Race day arrived….. forecast was for hot and sunny conditions rising to 25 degrees or so! Agh. Oh well at least we'll get a tan!
We all met up at the bag drop area, had a couple of group photos, decided on a post race meeting point (next to a cake shop!) and then made our way to our starting corrals.
Leigh and Ian had decided on a run / walk strategy and so started at the back in corral 8 (I knew I'd see them again before the end of the race, but more of that later!!)…
Strongie was a way up front in No 3 leaving the rest of us in No 7.
Both races started together and were mixed in with each other which made for a crowded first few miles. Seemed irritating at the time but probably saved me from having my normal going off to quickly issue!
I ran alongside Muz for the first couple of miles leaving the Harvey's behind only to be dropped by Muz and overtaken by both Harveys when I stopped for my 13th wee of the day at the first bush I could find!
It took the next couple of miles to catch them all up again but when I did I made a point of letting them know that I was back in the game and cockily left them all trailing in my dust!
Two weeks earlier Brighton marathon had been a bit of a disaster where my legs had gone and I'd got severe cramp at about mile 14 so with the hot weather in Madrid I was fully expecting the same. But it didn't happen… I felt ok.
Got to halfway feeling fine, comfortable even! The slower start must have worked. A quick bit of mental arithmetic later and I'd worked out I could get sub 4:15…. great news!
The miles ticked past, my legs started to feel heavy and my pace slowed a bit but still no sign of cramp.
I readjusted my calculations…. first Tuff home and a sub 4:30 was still on!
Mile 24 and I still hadn't walked a single pace. I'd run the whole way and was still feeling ok albeit now heavy legged and slowing.
Mile 24.5….. I stopped at the side of the road. I had a sudden urge to puke! Someone in the crowd gave me a tissue to wipe the slobber from my chin! The last two miles were going to be painful!😡
I got going again, determined to 'run' a whole marathon (something I hadn't achieved for quite a while)…
My pace was now so slow that I became aware that I was being overtaken by people who were walking!😡
Mile 25 and Trev Harvey comes trotting past me looking as fresh as a daisy and as if I was standing still (I may well have been)…
He told me afterwards that he didn't see me but I don't believe him. I just think he was ashamed to be in the same club kit as the guy who was staggering around with sick down his chest and just wanted to distance himself from me ASAP!
Mile 25.5 I start to shiver uncontrollably, I'm dizzy, feel faint, I've got numb hands and pins and needles. This isn't good!
There's an ambulance just up ahead. I should stop. But they'll pull me out if I do and I'm not going to DNF less than half a mile from the finish!
I walk past said ambulance. Twenty or so metres past. Nope this isn't good I am going to pass out! I'd better go back…
A couple of minutes later and I'm inside the ambulance having been held up and helped in by four paramedics. Blood pressure sleeve on my arm and one of the little clip things on my finger. They're talking to me shaking their heads at each other and I have no idea what they're saying, where I am or even who I am!
Then I puke again…. this time it's a big one. A fountain of blue liquid (Powerade!)….. all over their shoes!
I think they were OK about it but can't really remember!
As soon as it was out I felt ok again. My head cleared instantly. Told them I'd carry on, apologised for the mess and thanked them for their time!
As soon as I got out of the ambulance Leigh and Ian tapped me on the bum as they cheerily jogged past looking fresh! Agh don't you just hate bloody run / walkers!!
I walked (staggered) the last half mile and crossed the finish line in 4:52….
There really should be an opt out option for finish line photos btw!!
Turns out Harvey two (Clive) must have passed me whilst I was inside the ambulance. I reckon that doesn't count as a victory and that morally I beat him!
At least I beat Muz; just!
A nice big shiny heavy medal was put around my neck and a goody bag thrust into my hand.
One look inside…. a bloody bottle of Powerade!! They know where they can shove their f@ckin Powerade!!!!"
Glenn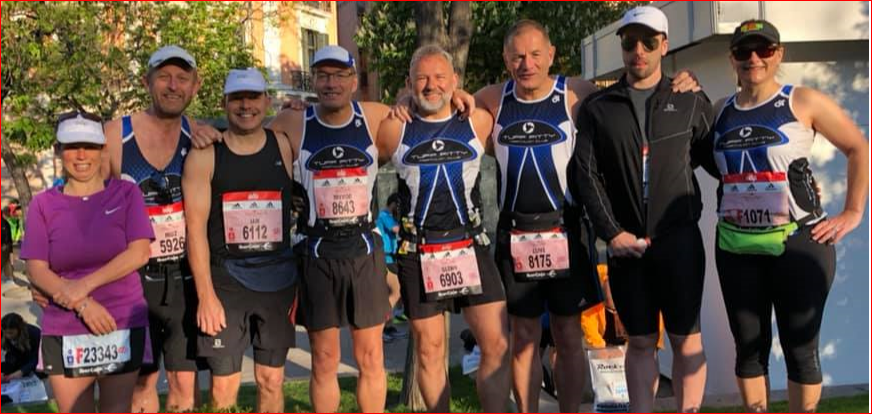 Despite the altitude/hot weather/undulations; there were some good results. Trev Harvey first Tuff home, Clive Harvey, then Leigh & Ian Moore who crossed in exactly the same time. Then Glenn Parisi who despite his "little incursion" and running a total of 27 miles, still secured a good time. Murray Hodge completed the Tuff six, all finishing under 5 hours. Andy Strong recorded a 1:41 in the half Marathon and Becky Hodge also completed that distance. Congratulations to all.