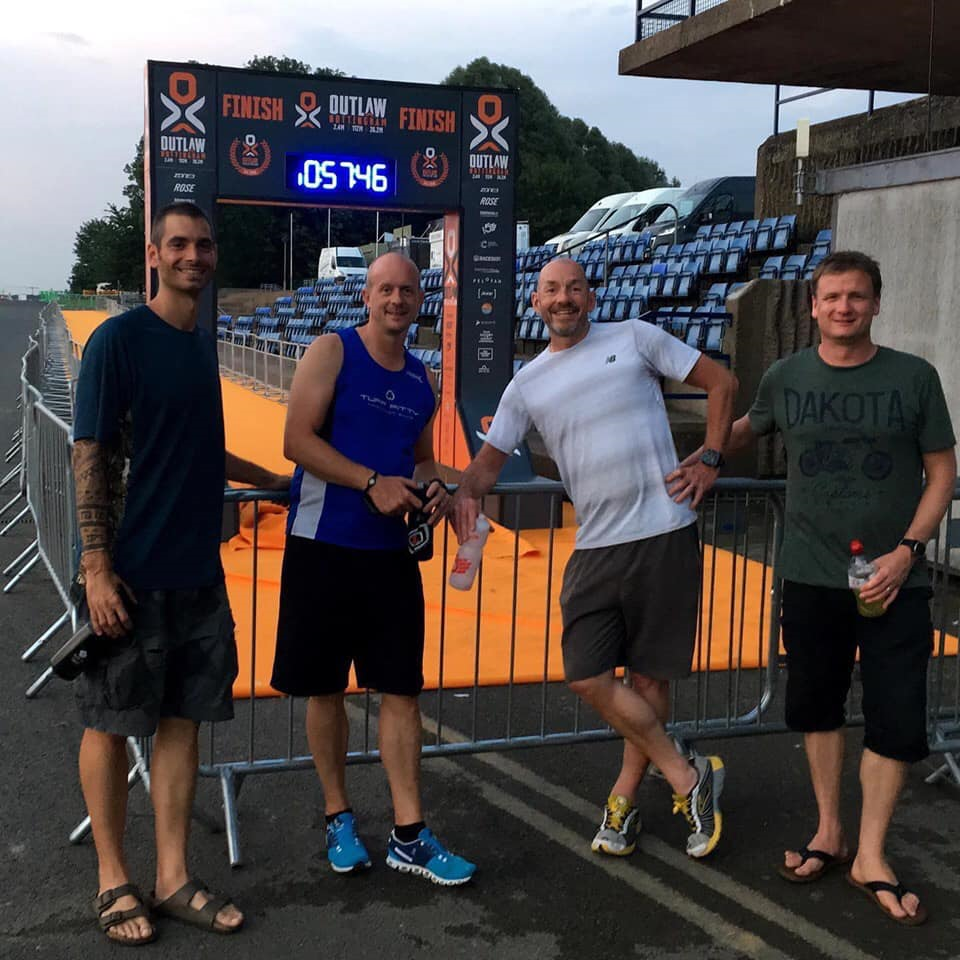 All the long hours in the saddle and early morning starts meant meant that Tuff Fitty had a super team travelling north to Nottingham for the ultimate Triathlon distance of 140.6 miles of swim, bike and run. The weather had become a cause for concern due to the recent heatwave and as the Tuff contingent arrived social media was full of how to cope racing in the heat!.
The old saying of be careful what you wish for meant as everyone gathered in the marquee for race briefing – (Banner shot above) the rain was pattering on the canvas. Whilst it was raining as the swim commenced, it soon become a deluge and as swimmers exited the water they were given the news that the organisers had no option than to abandon the cycle leg.
The conditions were so bad they even escalated 'Outlaw' onto a storm summary on BBCNews – some of the pictures highlight the horrendous road conditions.
Many Tuffs were tracking progress and it was a devastating blow that all the long hours training, and the periodisation to peak at the right time had been swept away to deprive them of the euphoria of crossing the finish line. Whilst many were seasoned Ironmen, Outlaw would have been the first full distance for some. Tuff Fitty are rightly proud of their achievements in the sheer determination, training and early hours put in just to get to the start line – total respect to our Eleven "Outlaws" of (strictly alphabetical) :- Phil Baker, Drew Gowland,  Pete Littleboy, Ollie McDonald, Chris Robinson, Olly Sampson, Gavin Sewell, Sharon Tidmarsh, James Togneri, & Andy Ward. It was great to see Bec Day in action following her move up north.
We were keen to highlight the still notable achievements by them all, of course just swimming 3.8km and running a marathon are no mean achievements at any time. However whilst preparing an article it was pleasing that two of the intrepid group have written in with their thoughts :- Firstly Pete Littleboy & then Andy Ward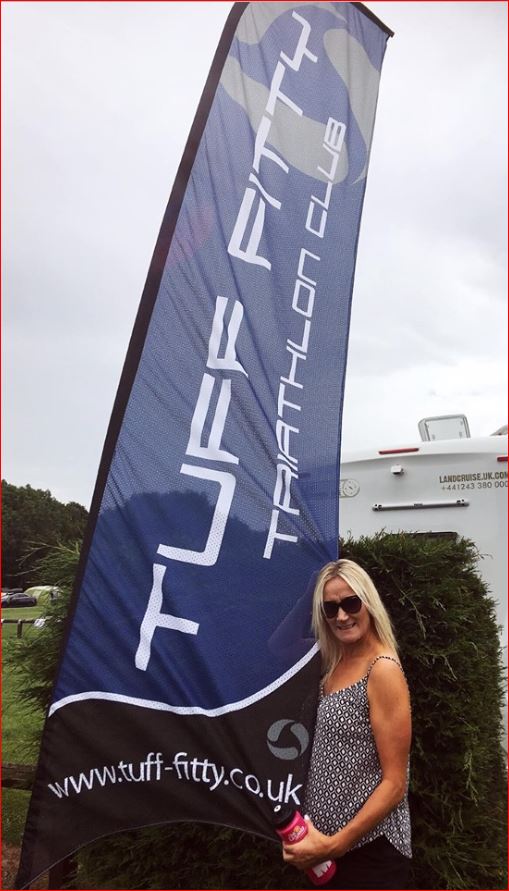 I signed up to this race in 2018, however I had to defer my place to this year and imagine my delight when I found out many other Tuff's had also signed up. 2019 would also be the 10th anniversary Outlaw full distance triathlon, so this was going to be a epic adventure that would go down in folklore.
Having so many regular training rides, runs and swims together I was seeing and speaking to Tuff's more than my own family! This takes its toll on any relationship and your day to day work gets affected as well; but I was enjoying it until 3 weeks to go when I picked up a shin splints injury meaning I couldn't run and now my best event had become my worst. So with recovery medical advice from various sources (avoid google) race weekend approached, and I arrived Friday after my dad gave me a lift to Nottingham. Accompanied by love notes from my Ellie and best wishes from my kids I was ready for race day. It was made so easy & relaxing being there with other Tuff's that you can be forgiven for forgetting that you had an epic race on the Sunday. With the sun shining Friday, it was fantastic until the constant rainfall Saturday & Sunday morning. So we then got into the mindset of let's just survive the bike leg; nothing silly.
The race got underway with the 3.8k 2lap swim. The first lap was carnage and a real fight & I only found clear water on the second lap & so I exited the water in 1 hour 20. It was at this point that we were all told the bike section was cancelled!
The organisers decided that the marathon would still go ahead at 9am in numbered waves. Now this is where I've never seen anything like it. It was horrible to be part of, but we had a marathon to run A 2 lap 2 loop wet mud fest and I loved it; so the time took care of itself and a 3h34 finish and no real injuries will do nicely. However I cannot dwell on the fact I feel unfulfilled and cheated that all the sacrifices were in vain, but that being said it was an epic weekend and will go down in triathlon folklore but for the wrong reasons and I am /we are very much looking forward to the next triathlon adventure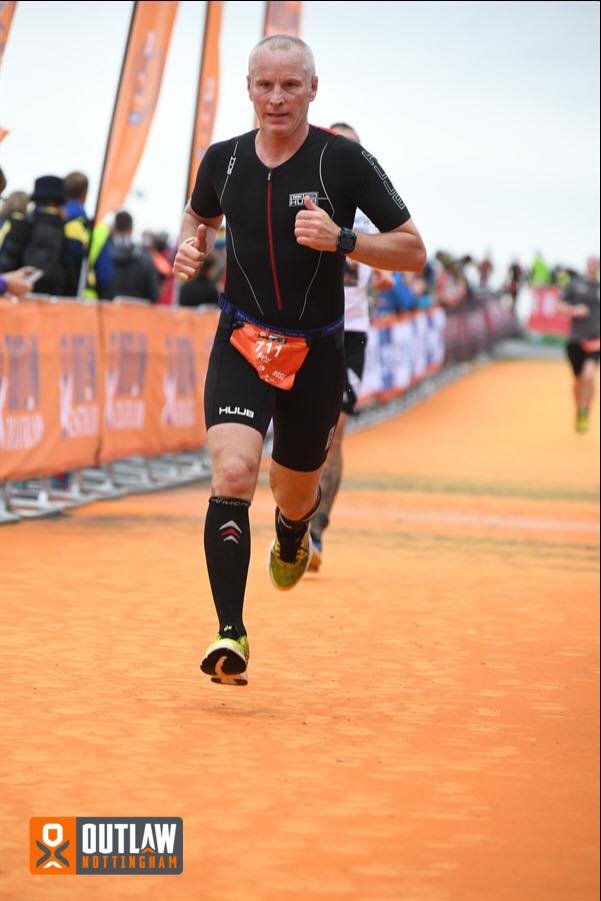 Much love Peter
"Imagine if you will buying tickets for one of the supergroups…..Led Zeppelin, Fleetwood Mac, Rolling Stones,Madonna, Oasis….whatever your musical genre I'm sure you get my drift.
Imagine that these tickets cost a fortune and they've gone on sale almost a year in advance and you and your wife are lucky enough to have secured two tickets and have booked accommodation to make the most of this. You've been to concerts before and they were okay but this is the one you've been waiting for….probably the last time you'll see them.
Imagine then if you can turning up and being told that the support band are here but only half of the main band are and they are going to do an acoustic set!!
That….. my friends was Outlaw 2019.
If I was asked to choose just one discipline that I could do for the rest of my life it would be without any hesitation cycling…..the event organisers had no choice on Sunday 28th but to cancel the bike leg, but as you can imagine a years preparation gone in an instance took some getting used to.
The swim start had been entertaining with probably as much water coming down to join the water that I was already standing in..plus the starter tried with a certain amount of success to try and create the Norwegian clap thing where it gets faster and faster…..me? I was looking at the dark grey sky and asking myself…..why??
The swim was a melee of arms and legs, people standing up and swearing. As such as the organisers had tried to pen people in an appropriate place ……it failed. A 2 lap Aussie style exit with people encouraged to dive, but to be honest I sat on the edge and slowly lowered myself in….I ain't no performing monkey!!
The swim finish loomed ever closer and I already knew my time wasn't going to be what I had hoped but…hey…my favourite leg to come…the bike! Plenty of time to move up a few places, but wait….what's happening? Nobody seems to be rushing to their bikes?
CANCELLED!!
So a marathon to look forward to in 2.5 hours seeing as my number was over the 800 so had to wait til 10.00am…(if anyone can offer any suggestions as to what to do for 2.5 hours after a 2.4 mile swim please let me know)…..me? I had a shower, some toast and a coffee!!
Some time later I finished….I'm not going to bore you with the intricacies of a multi lap (cross country) marathon but needless to say after speaking to a lot of people this HURT…more than it should.
The organisers at the finish tried their best to whip everyone into a frenzy but I've seen more life in Anne Widdicombe's undergarments………
Medal, T-shirt….lots of people in pain, talking about the rain, bike cancelled…..etc etc.
Me? I went back to the caravan park and enjoyed probably the one thing that kept me sane for the days I was here…..
A cuddle with my wife and some well earned banter with my fellow Tuffs…all who felt the same as me……demoralised, bewildered and a tad deflated.
Nothing could have been avoided, but when you expect Michael Buble and you get Joe Pascale…….how would you feel?
Coach Wardy