Weekend Round Up 20th 21st July
It was another busy weekend with Tuffs out and about. Our club special event relating to mental health ( #Not to Tuff to Talk) justifies its own entry but this still leaves plenty of other action to report on:-
DAVID LLOYD TRIATHLON
Organised by our very own Jason Rae at Southern Multisports this had all the hallmarks of a quality race and once again he didn't disappoint. Competitors and marshals alike collected a huge haul of goodies, and all for a very reasonable entry fee. Use of the David Lloyd facilities and a barbecue by the outside pool rounded off a very successful morning as illustrated above in our banner shot.
There were different distances to try one of which was a sprint distance of 400m swim, 24k cycle, 5.7k run with the cycle route up Long Furlong and the run taking in Highdown Hill. So how would Tuffs do? Actually rather well, with Paul Martin 8th overall. Danny Cunnett also produced a fine result 11th overall with the fastest Tuff swim leg, and just edging Paul's bike time by 2 seconds to get the fastest Tuff bike split. Jon Babbage came home 13th overall nabbing the fastest Tuff run split.
Nick Bolding was another Tuff in the top 20 finishing 18th. Tony Pearce did well with Lee Bishop next home. It was another good result from Shelley Babbage, particularly as her and Jon then cycled across to take part in the Row Row & Run event later that morning.
There was a strong Tuff marshal presence as well who also benefited on the goodie front. Nicole & Clive Patterson-Lett, Wendy Frost, Simon Thistlethwaite, Jay McCardle & Chris Robinson – Also to Danny Cunnett who helped set up before heading to the pool to race himself. Jason has asked that his thanks are passed on to all those who raced or helped, and Tuff Fitty wish to thank Jason for staging another great event.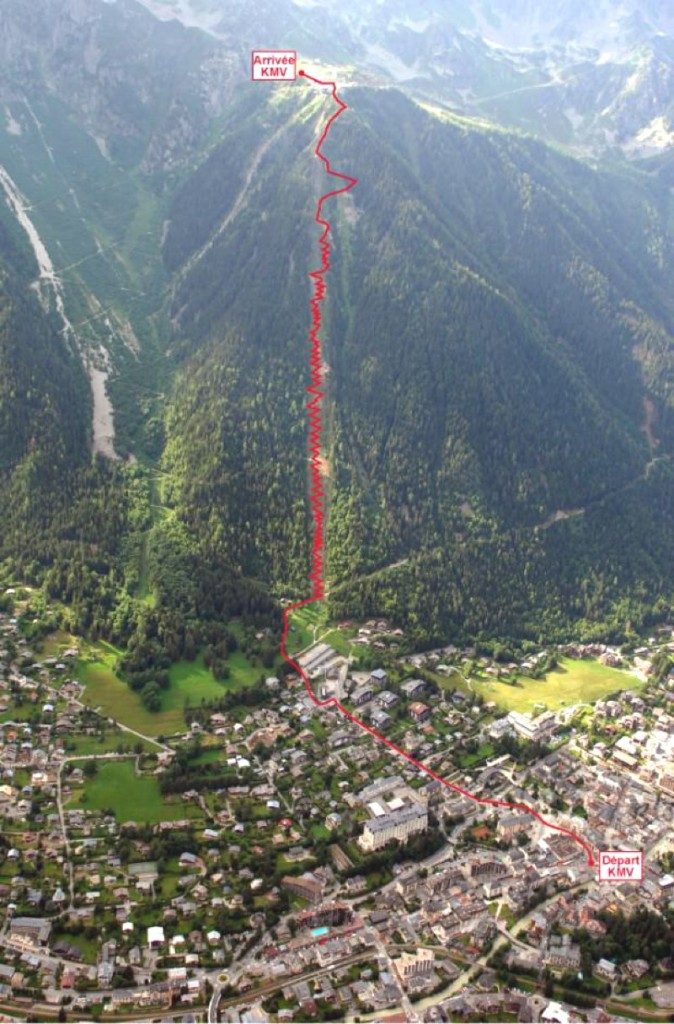 VERTICAL KILOMETER
Does racing 1km justify a report in the round up? The answer is yes if the venue is Chamonix Mont-Blanc and that the 1km is the 'Vertical Kilometer'. The Walton-On-Thames branch of Tuff Fitty have seen Kirsty & Andy Strong return from this adventure.
According to the specific rules for a trail to qualify as a Vertical Km the 1000 metres of ascent must be covered in 5kms or less in distance. Chamonix's vertical km is 1000 metres over 3.8km.
Starting in Chamonix the only way is up with the race run against the clock, and as an Alpine race it's not recommended for people with vertigo. The course zig-zags up underneath the Brevent chair lift but the final third sees the gradient increase making running almost impossible. Scrambling up rocks and climbing metal ladders were required and using ferratas (Steel cables drilled into the rock in order to climb.) Whilst Kirsts & Strongie didn't break the world record of 33 minutes it was still one great achievement – well done to them both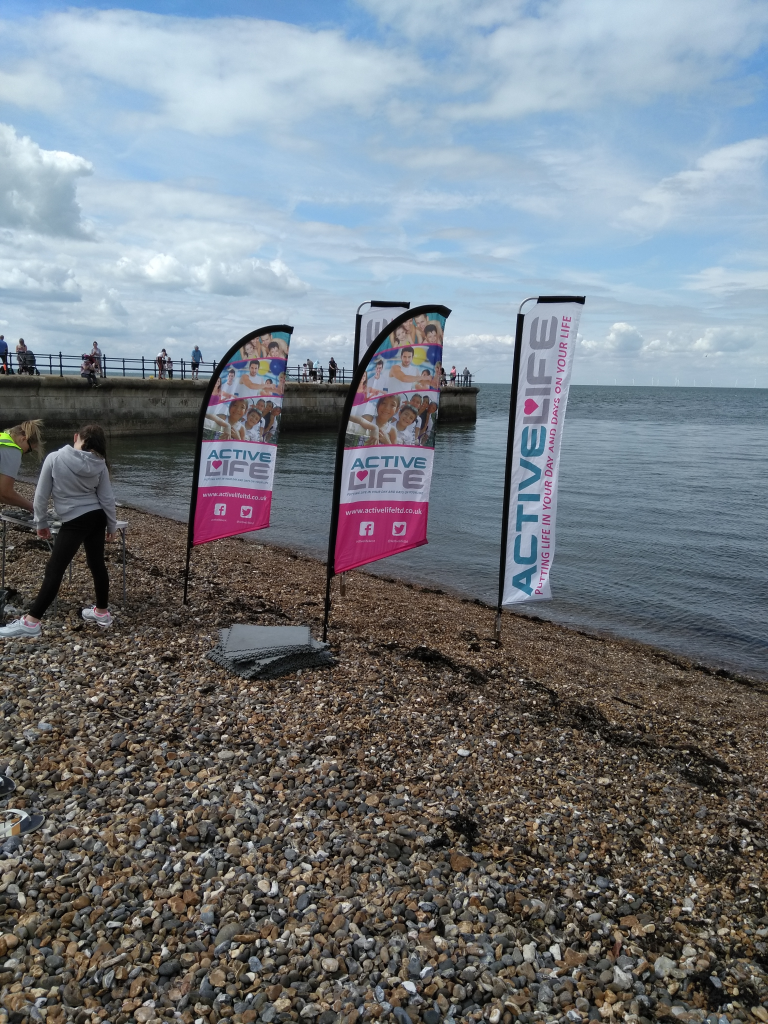 HERNE BAY PIER TO PIER SWIM
Susan Douglas has been clocking up the miles seeking out another different swim location. This time she reports from a 3k swim she competed in:-
"A jolly jaunt to Kent last week took me to Herne Bay for the annual Pier to Pier swim".
"A fairly low key swim with just 83 swimmers. I'd arrived early to walk the route from Hampton Pier (not really a Pier, more a bit that just sticks out, popular with fisherman and crabbers) to Herne Bay Pier, which was more like you'd expect. So tactics for the race, head for the helter-skelter on the end of the pier and turn when get there and can see the inflatable slide and bouncy Noah's ark Bouncy Castle and head back to Hampton Pier."
"The area wasn't dissimilar to Rustington, pebbly beach and wind turbines in the distance, but although there was a bit of a breeze the sea was relatively calm, due to the sheltered location."
"At the briefing we were told there wasn't much of a current, although if you took longer than an hour then that would change. Anyway off we went, with all the sprint training we've been doing lately I thought for once I might try and swim a bit faster at the start, I'm not sure I achieved much, getting past other bodies isn't easy. Eventually I got into my own space, ordinarily I'd have just chugged on at a sedate pace, but l could see a group of swimmers up ahead, let's try and up the pace a bit and waddya know, I caught up and eventually passed! Having turned I headed back in a small pod of swimmers, all going a bit faster than me. The lead wetsuit swimmer pulled ahead, humm time to move up a gear again, caught up and sat on her feet until the last 200 meters when I cruelly passed, #take no prisoners, #tough luck. I saw that the swimmer was mature lady, probably in my age group, so I'm glad I made the effort."
"At the high tech finishing line we were handed a pebble with a number on which we took to the registration area. When the results were published I'd come first in my age group (out of 8), 2nd skins swimmer and 6th lady (out of 29) so I was quite pleased with that. Unfortunately it was a swim with no prizes, no medal, no after swim drink or cake and no time as the girl on the computer managed to wipe the results and also the backup! "
"Anyway thanks to the swim coaches, seems those killer training sessions might be worth it after all."
Susan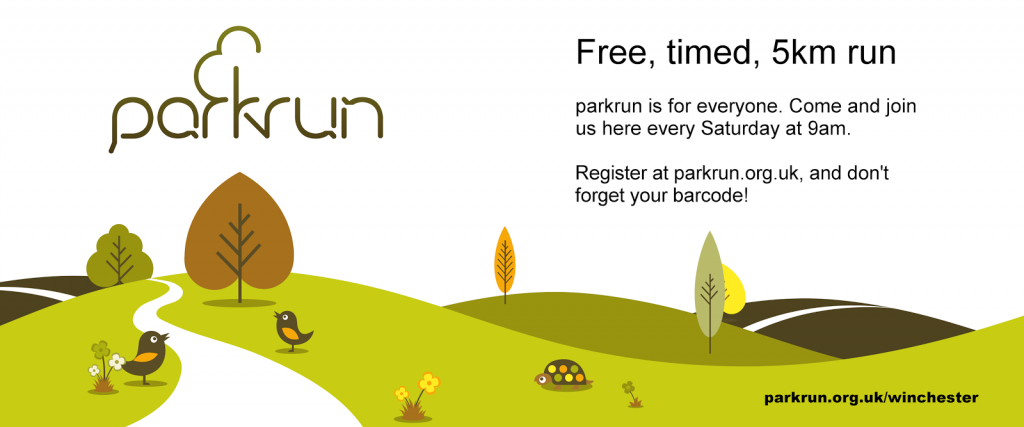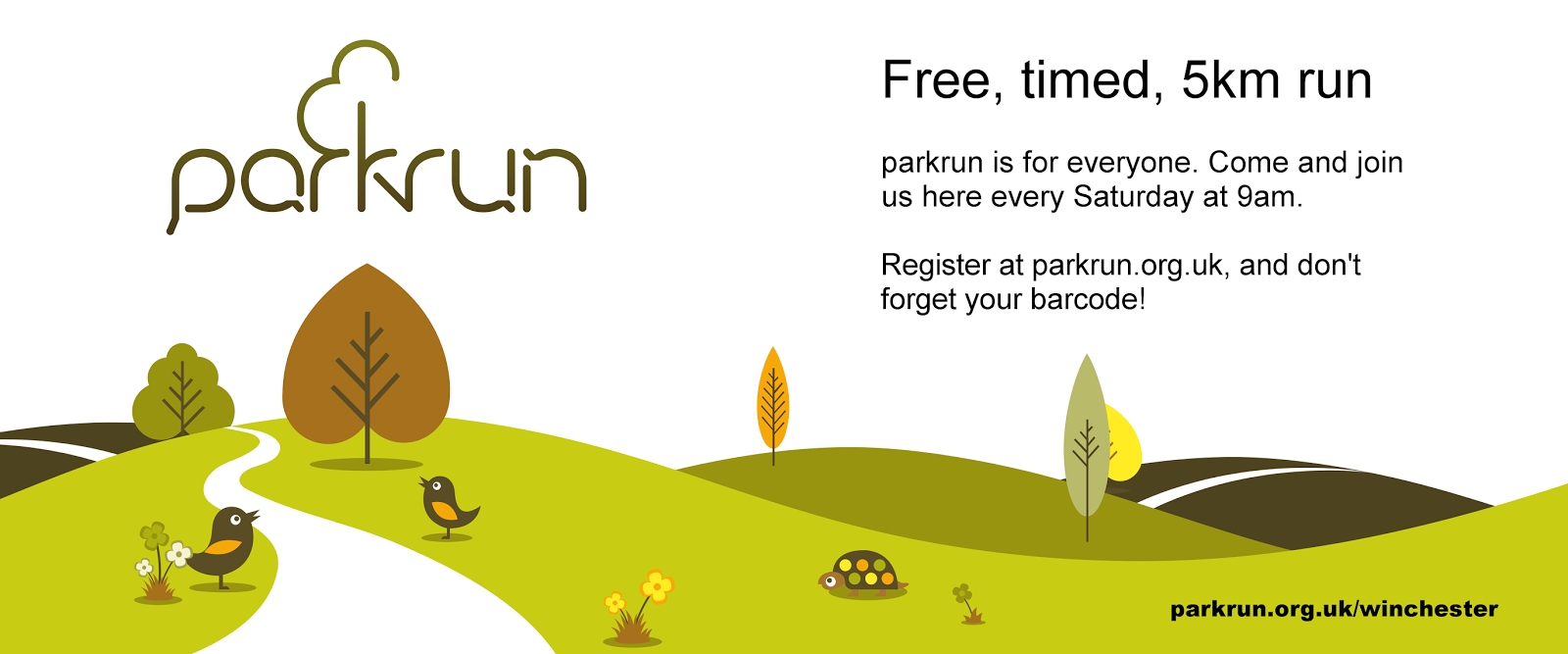 PARK RUN
A quieter week for attendance at Park Runs, including no Run at Bognor due to other events. However at Littlehampton Park Run Adrian Oliver competed, just a tantalising 3 seconds outside a new PB in 23:22. Jenny Oliver also ran
At Worthing Park Run Stephen O'Donnell raced on this course for the first time; and completed in some style – 19:47 so quality over quantity. Whilst the only Tuff running, on the organising team we had Amanda de Ridder and Tim Kenny volunteering.