Warm sunny weather and Tuffs have been out racing in their droves. So much so that the news is split into two with a separate write up for Worthing Triathlon with everything else for your delectation in a separate Round up. This edition covers Worthing:-
Worthing Triathlon attracted strong Tuff participation which included great results, even though the sea started to become choppy and the bike course was busy.
In the relay, tradition has dictated that one team always walks away with the prize, but not this year as the incumbents were shocked to be deposed by over 5 minutes. Who would do such a thing? – well if you put Nicole Patterson-Lett with her super quick swim; Craig Hunter with his super quick run and include a strong cyclist – Nik Allen, in a team the prospects looked good. Nicole was the first female out of the water, Nik was the only person all morning to finish the bike in under 60 minutes and Craig returned a 37 minute 10k – what a team – new relay champions (justifying our banner photo -l to r Nik, Nicole & Craig).
In the Sprint race taking time out for his family doesn't seem to have impeded his race pace as Tom Goddard was first Tuff home tenth overall. Next was Matt Staniforth in 25th position and then Adrian Oliver. Francesa Mortell crossed the line as 7th female overall. We wish Francesca well as she is about to depart on a cycle 2300 miles across Europe to raise money for Mind and MSF! – Edward Lay was the next Tuff home. Juliette Reader 10th lady overall and Katie Goddard 11th. Verity-Jane Lacey was next home and Clare Worgan to complete our 9 Sprint racers.
The Standard distance tri was the next race off twenty minutes later with the longer bike course also taking the sprint route up Long Furlong before then heading up the A24 to Ashington.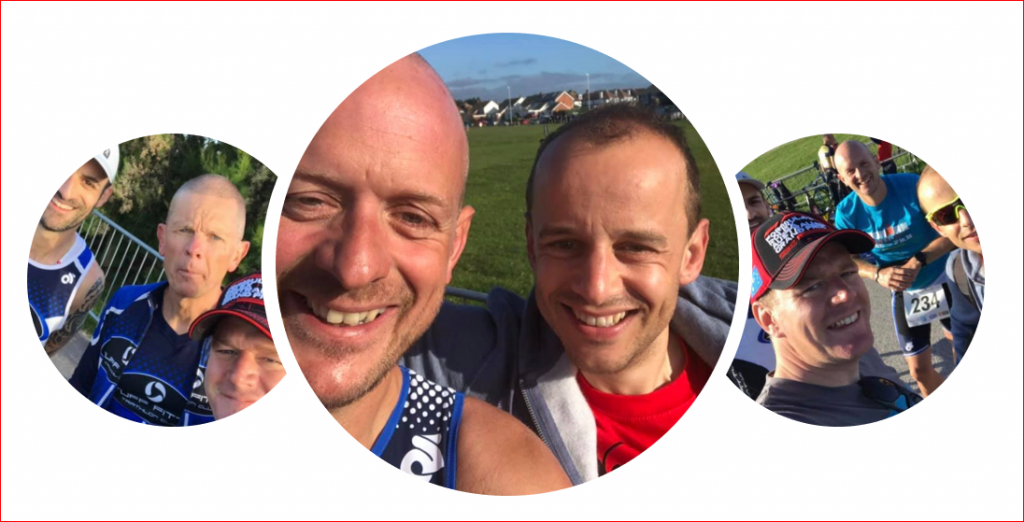 Tom Frith was first Tuff home in 13th position and then Ollie McDonald 15th. This was a great result from Ollie who has been battling knee problems but still managed to record a 40 minute 10k run -impressive. Stephen O'Donnell was next, and despite Danny Cunnett devoting a lot of time to Sussex Trail events, he was another Tuff going well. Clive Patterson-Lett, had a great swim and run although he said he was disappointed with his bike leg. That comment is relative, knowing how strong he is on the bike, so it must have still been quicker than most. . Olly Sampson, & Jon Babbage finished and then Karen McGrath who was the 2nd female super vet. Lee Bishop is having a good Tuff debut season, and the good Tuff news continued as Nick Bolding finished and then James Brock. Christine Holyoake and Jenny Oliver.
The race also doubled as the Police Tri championship & two of the above counted for that. Christine was a victor here securing 1st female supervet and Clive Patterson-Lett set himself up well ahead of his long course weekend in Wales.
With 24 club members racing, and some on the organising team, it was a grand Tuff day out and we have a report from Jon Babbage's perspective as follows:-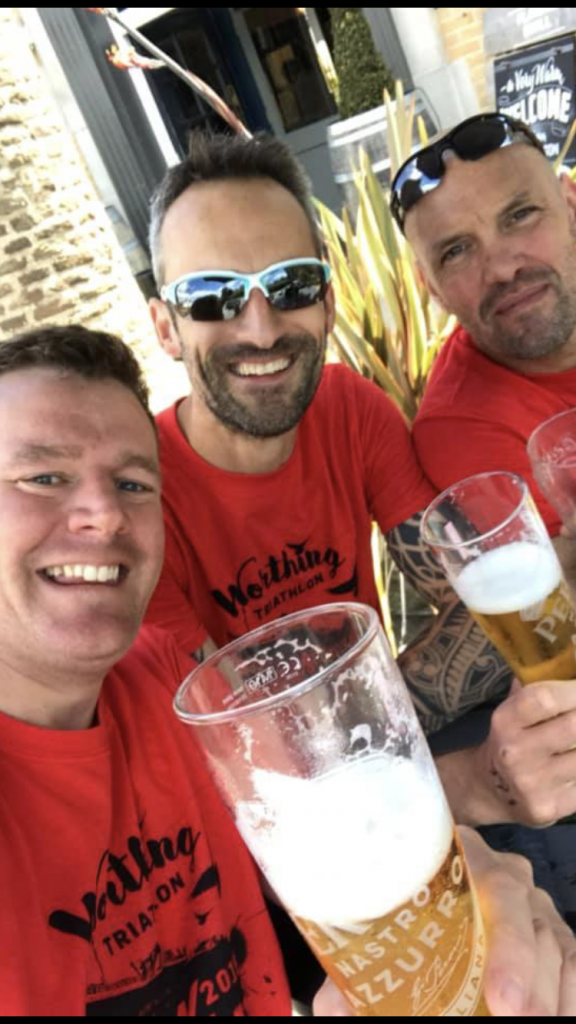 "I booked the Worthing triathlon last November and I remember saying to myself it's OK Jon although you can't swim more than 2 lengths and you've never done a sea swim, and you've never done a standard triathlon, you will be fine. Little did I know what then felt like a month was actually 6 months, the Worthing triathlon was just 4 weeks away and I still had only done 1 x 15 minute sea swim."
"For the next 3 weeks I kept thinking about changing it to the sprint instead of the standard all I had to do was send an email but never got round to it."
"Woke up Sunday morning at 4.30 did all my usual morning thing on race day, got sorted then headed over to Worthing for a steady 7 mile ride".
"I got to registration to collect my race pack where I meet up with Lee Bishop and Claire Worgan, then, once all the stickers where in the right places, I made my way to transition. There I was met at the entrance by top man James Brock who kindly saved me a space next to him. After I had checked everything it was time to have a wander round and see who else was present. James and I were racked up very close to the legend that is CPL so the selfie master James had his phone out snapping away. We then bumped into Olly Sampson who was setting up, a couple of photos were taken with Olly and some advice was received from him (thanks mate)."
"It was now time to get those wetsuits on and make our way to the sea, but not before that last minute toilet stop."
"Once out of the transition area it was very clear there was a lot of Tuffs taking part, everyone was very chatty there was a really good vibe going around. Spoke to a few of the Tuffs I never really had a chance to speak to before."
"We watched to first couple of waves go off then before we knew it, it was time to say goodbye to James Brock's mum and we were in the sea. At this point I'm starting to shit myself thinking, 'OMG those swim points are far ' especially for someone that's not done sea swimming before."
"That's it, we were off. Within a minute or 2 I had lost James and Lee and I kept trying to swim front crawl but I just couldn't put my face in the sea so I'm not really sure what my swimming was like. It was a mixture of breast Stoke and front crawl with the head out of the water A few times I said to myself what are you doing, just get dragged out and go home. 40 minutes after starting it was time to get out. I can honestly say if it wasn't for my wife, Shelley Babbage and other Tuffs that cycled over to watch I would have definitely given up at that point. I got out the sea but god knows what I looked like. I felt like crap exhausted and struggling to stand."
"I made it to transition grabbed a handful of jelly babies and starting to change. Shelley was supporting me from the side".
"Out on the road, it was time to try and gain some time. The bike ride itself was nice and fast with a couple of climbs. I managed to catch up with those so called friends that left me out at sea lol!".
"As I was coming back downhill along long furlong I managed a really quick wave at 38mph to the Tuffs that where out on the Sunday ride."
"Arriving back in transition, a few more jelly babies where demolished then straight out for the seafront nice and flat 10k. This was completed in a half decent time. Worthing sea triathlon was now completed in 2.52.28. I went back to transition to sort bits out and within 5 minutes Lee was back in. We then went to cheer James in and once the 3 of us where all home safely, we stuck around to hear the awards. We then decided a well deserved pint was in order to celebrate, so a plan was made to go straight to the Mulberry where 2 pints each where consumed. It was such a nice end to the day, the 3 of us all brought together for our love and passion for Multisports. We all had a story to tell and all had a good laugh; we would of probably never met if it was not for Tuff Fitty"
"Next time I will probably get someone to collect my bike as the 7 mile ride home was challenging for someone that hardly drinks."
Jon