Midnight Man 10th 11th August
The concept sounded intriguing. Start a Triathlon in the evening, race into the night and then drive home without the need for accommodation. The location being Dartford with a variety of races from Standard & Aquabike, and a Half and Full distance 140.6k. After being cruelly robbed of the opportunity to complete Outlaw due to the cancellation of the bike, Drew Gowland entered the full distance to finish what he had started, (with many other Outlaws of the same mind). As a club champ race, Matt Whittaker, Trevor Harvey & Clive Harvey were in for the 70.3. To complete the line up – Claire Moyle had set her own challenge; to complete her first standard Triathlon.
Race day loomed and the news was full of events and activities across the country being cancelled because of the incoming storms. Dartford was predicted to have high winds until 6pm and then they would abate……. really!
Claire Moyle was first off for the swim and then the Full and half all entered the water. Race instructions had warned it would take 15 minutes to get everyone in and the Tuff contingent were in early to get near the front, but with warm water, we were all remarkably calm bobbing up and down. Everyone exited the water well with Drew running into transition under the hour for his 3.8k.
Then the bike! everyone had been examining the map to work out what was entailed but the course had been shortened, so for the 70.3k, 10 laps were now 13. The Tuffs all had sympathy with Drew who would now have to complete 26 laps for the full! The course can best be described as a capital letter "H". The four points all had dead turns in the road and the central bar had a very acute narrow turn. So apart from keeping wits about you, the wind still hadn't abated – and wouldn't for the entire race.
STANDARD DISTANCE
Claire would be first to finish, and she was great standing roadside afterwards for a while cheering fellow Tuffs on. She was munching on a burger; lovely but the burger van had packed up not long after dark so of no use to the Half & Full distance racers .
Claire reports:-
"I was checking the emails hoping it was going to be called off because of the wind, but secretly wanting it to be on. I have been waiting for a while to do my first standard and due to injury wasn't sure I would be fit to race, managed to run 10k on Wednesday for the first time since April, so knew I would get round. On arrival I bumped into the Harvey brothers which was good and soon after Matt and Drew arrived so I felt at ease knowing I was not alone. It was very windy and blowing strongly across the lake and the swans came to see what was going on. Into transition and I met some lovely ladies and everybody seemed very friendly. At the briefing the course was explained but I was still worried I would get lost, but by the time I had completed a lap it was actually very easy."
"The lake was lovely, clear and warm and I managed to keep a good line despite the wind. Out on to the bike for 6 laps with some very tight corners and cross winds I found myself playing cat and mouse with a couple of other riders which I really enjoyed and I think it made me ride faster as I come off the ride ahead of both by quite some margin. They both caught me on the run which was slightly more sheltered, thank goodness, and it was nice to chat over a burger with them at the end."
"I really enjoyed the event, for its organisation, easy to get to, friendly and the course itself was great. Work needs to be done on the run but overall pleased with the times and 2nd in age group."
"Thanks for all the support from the other tuffs. Have the bug now and signed up for my next standard tri."
Claire
FULL 140.6k DISTANCE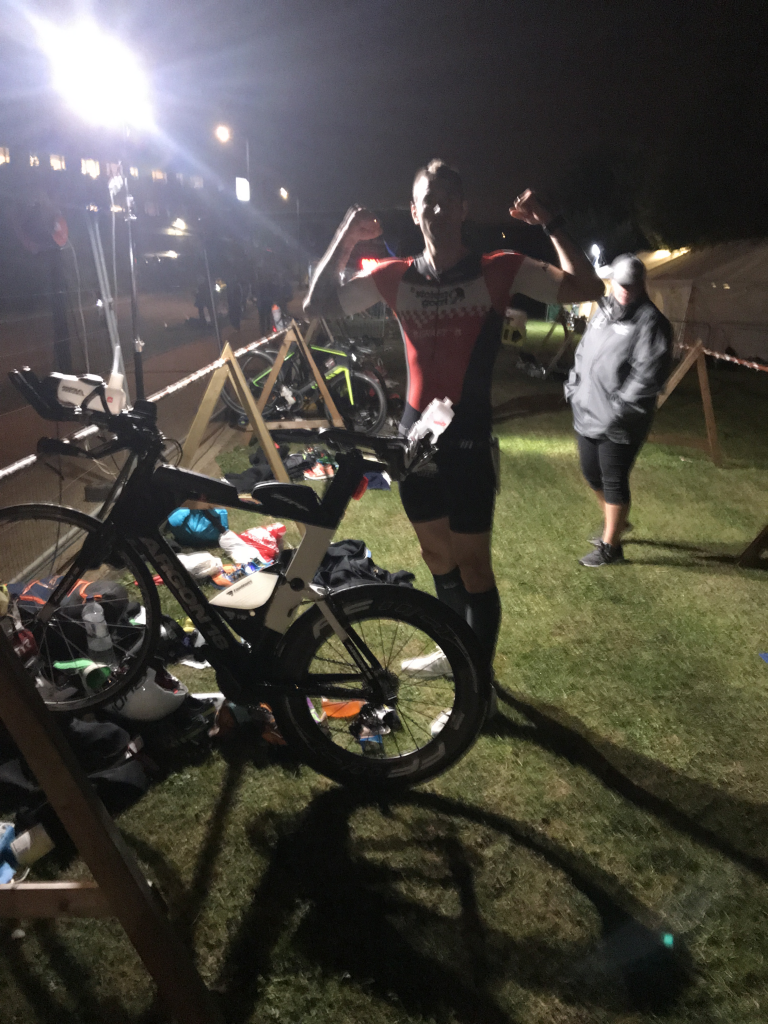 So first standard for Claire and further fantastic news in that Drew completed his first Full; as follows:-
"Following a previously full race cancellation I searched for a replacement race. The closest and cheapest turned out to be the very interesting looking Midnight Man. Sod it, let's go, added bonus of having a few fellow Tuffs there too."

"We all kept checking the weather, the weather wasn't changing. We checked again and again. This isn't so good, the forecast held for the entire two weeks prior; ~25mph winds with up to 40mph gusts throughout the night. Ah well, that'll make it more interesting, right?"

"Roll on the day… no early start, racking at 15:00 in the afternoon, felt like it should have been for the next day. A 18:00 mass start, perfect. Hugs and handshakes with fellow Tuffs and friends racing, then the game was on…"

"Swim; 3.8km/2.4miles as 4 laps with some chop."
"Bike; 180km/112miles as 26 laps, 104 dead 180° turns on the bike, 52 sharp 90° turns and 52 flying 90° turns. I lost count how many times I lost count and had to stop a few times to ask as their display boards were not working. Head wind galore at points too! Then came the sunset and we were in darkness racing by bike lights, quite different, but quite nice. Some bikes were adorned in Christmas tree lights = outstanding!"
"Run; 42km/26.2miles as 8 laps, quite nice slightly undulating (towards the middle it felt like I was climbing Everest on 3m rises!)."

"There was one food/drink stop for everything so that was quite different but functional for a smaller event of around 250 people."

"The finish; Well I did it, first full distance complete. It may not have been pretty, it may have been super windy, it may have been overnight, it may have involved late race shuffles and walks, but I completed in 11 hours 09 mins. I'll take that… oh and I somehow got 1st place veteran... I'll take that too…!"

"Now if I could just learn how to pace and run I may enjoy this long stuff."

"If you want a weird but quite unique challenge then this is one to enter, my body clock is nearly back to normal, you could experience jet lag and clock changes by only travelling as far as Dartford! Whoo whoo 🙂 "

"Well done everyone who raced in the tough conditions, really great to be out there with you."

"Just a quick thank you to my wife and children for their support throughout and of course to all my family and friends at Tuff Fitty. Without the support and encouragement none of us could do what we do."

"Be safe, be strong, perhaps go long!"
Drew
MIDDLE DISTANCE 70.3
The Middle distance of 1,900m 56 mile bike and 13.1m run had the same course with half the number of laps.
Matt Whittaker followed on his good form after his GB International duties in Romania. Going strongly across both the swim and the bike, Matt really got into his stride on the Half marathon. He looked very strong as the four lap course unfolded and he completed the run in just 1:32 – awesome. This brought Matt home as 9th Male overall and 2nd Male vet in 5 hours 8 minutes earning himself trophy – a great night's work.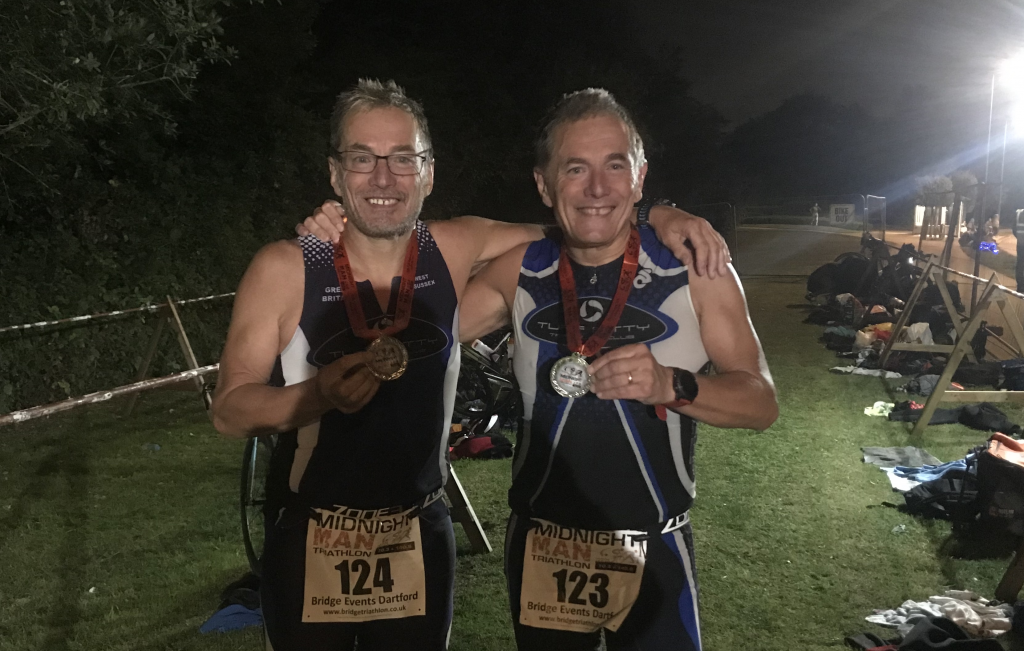 Trevor Harvey recounts his race:-
"As it was my 13th middle distance Tri, I thought beforehand that it was going to be jinxed by the weather and either cancelled or distance curtailed. As you will see from the other reports it in fact remained at the correct distance although much shortened laps on the bike due to the howling wind."
"I thought the swim went well until I looked at my time, so exited just behind Clive, who I regularly saw on the bike for the 13 laps and whilst I reeled him in a little, a very slightly slower transition for brov meant we exited for the run together – and there we started pacing each other along, so much so that we crossed the finish line together to get identical times to the second, being joint 2nd in the old gits category." "Happy with 6 hours 8 minutes".
"A good and unusual race, with great performance from the rest of the Tuff contingent.."
Trevor
Clive stated
"One of the concerns had been counting laps as the digital display didn't work, but once I had worked out each lap was 4 and a bit miles each, I settled and was pleased with how I was doing. Well that was until lap 9 when I breezed through the feedstation, jettisoned a bottle, called for energy drink, grabbed it, racked it and pedalled off pleased – textbook stuff. A while later I felt down, the nozzle was open so took a drink. It was then I found out the top hadn't been screwed on and I poured most of a bottle of gungy sticky electrolyte over myself and my bike – nice!
On the run I thought back to a Half distance I did back in 1998 – the iconic Ironbridge Triathlon (with a long 2,700m swim in the River Severn). That was won by Matt Belfield who the next year would be the first Briton to win an Ironman. Why that thought occurred to me during another Half distance race was that two weeks before Ironbridge, (having already been on the committee) I was asked to be Club Secretary, soon to morph into my current Tuff role. If someone had told me then, that I would still be racing and still Tuff chairman after 21 years I would have said they were totally bonkers. I have kept my 650 wheel Tri specific bike in my fleet although you will be pleased to know the crop top has long since been banished. I'm very surprised people have put up with me this long, but then I have made some great friends and had some quite outlandish experiences……… such as running around an industrial estate in Dartford in the dead of night!
Clive