As the season moves towards a close, the committee wanted to stage an open water event for club members and so the idea of Tuffs Get Wet was developed. Exclusive use of Westhampnett Lake, and as a thank you to members for their support, a free swim with optional donations for our charity partner Mind.
Whilst we have our members who have raced for Team GB this year, equally we have some members for whom it would be their first open water swim and to make it inclusive for all it was decided the format would be a team event, with all attendees graded into equal ability teams.
It was great to see the banter prior to the evening as various teams tried to out-psyche the others and our photo call below highlights our illustrious eleven teams of four:-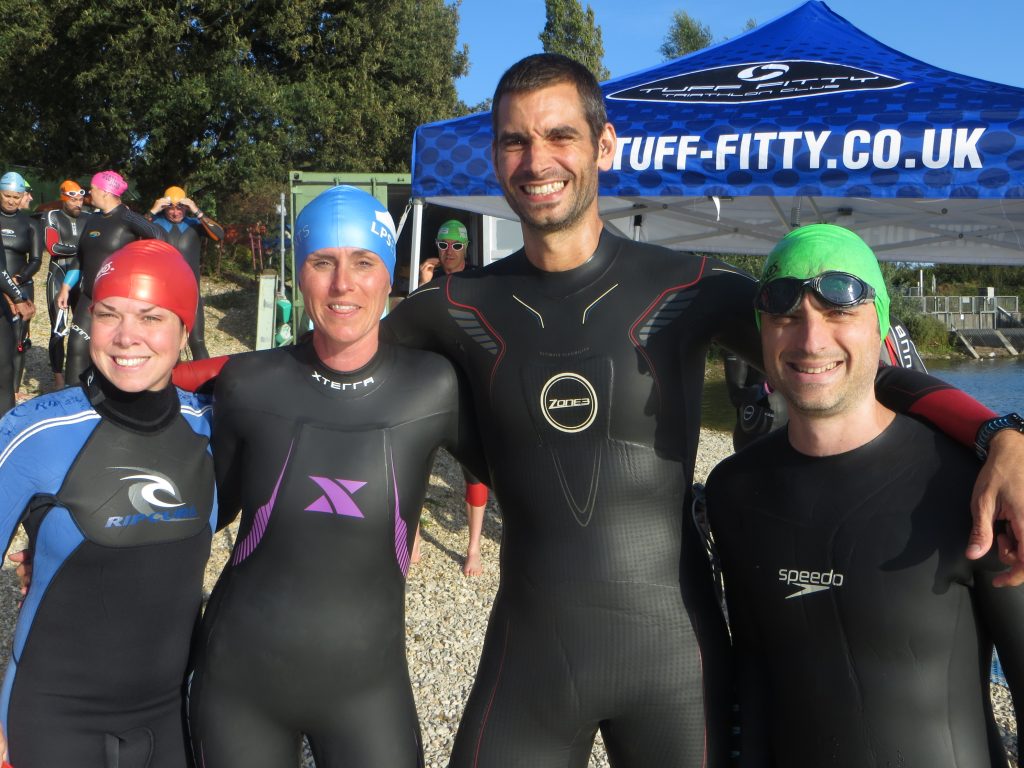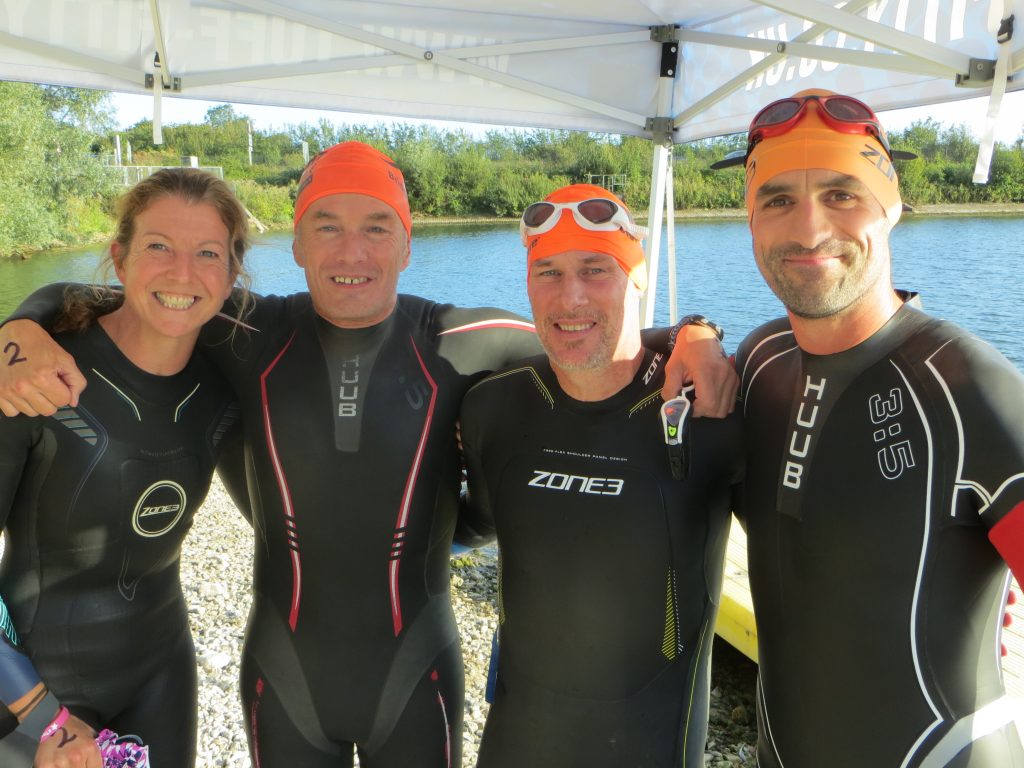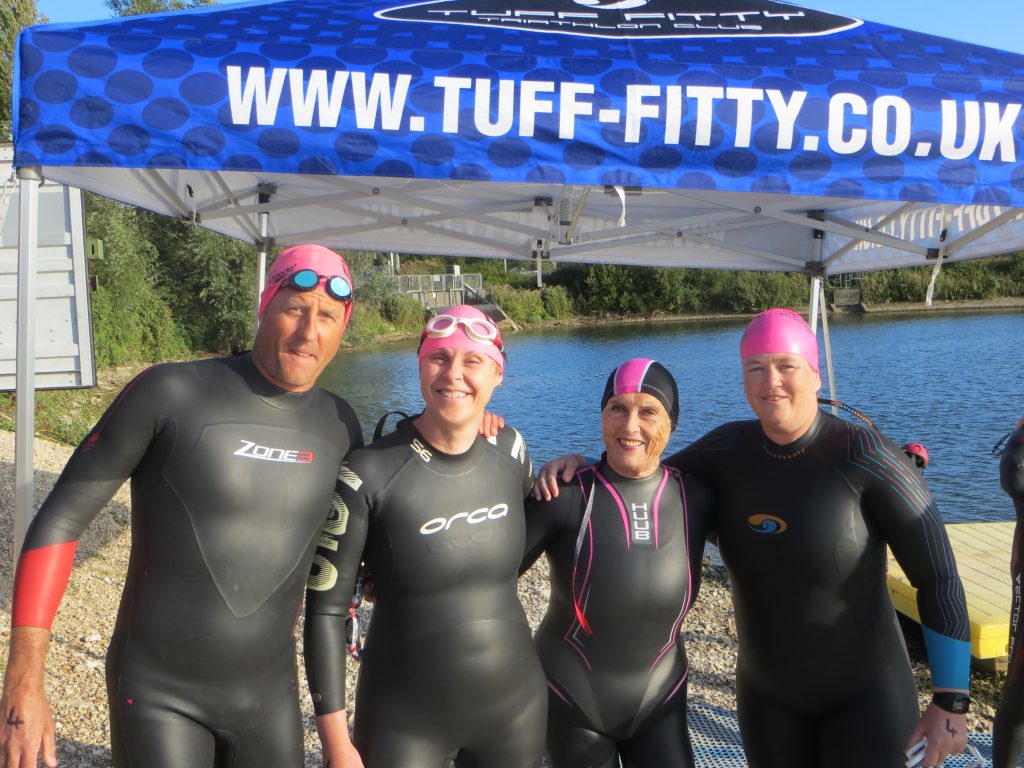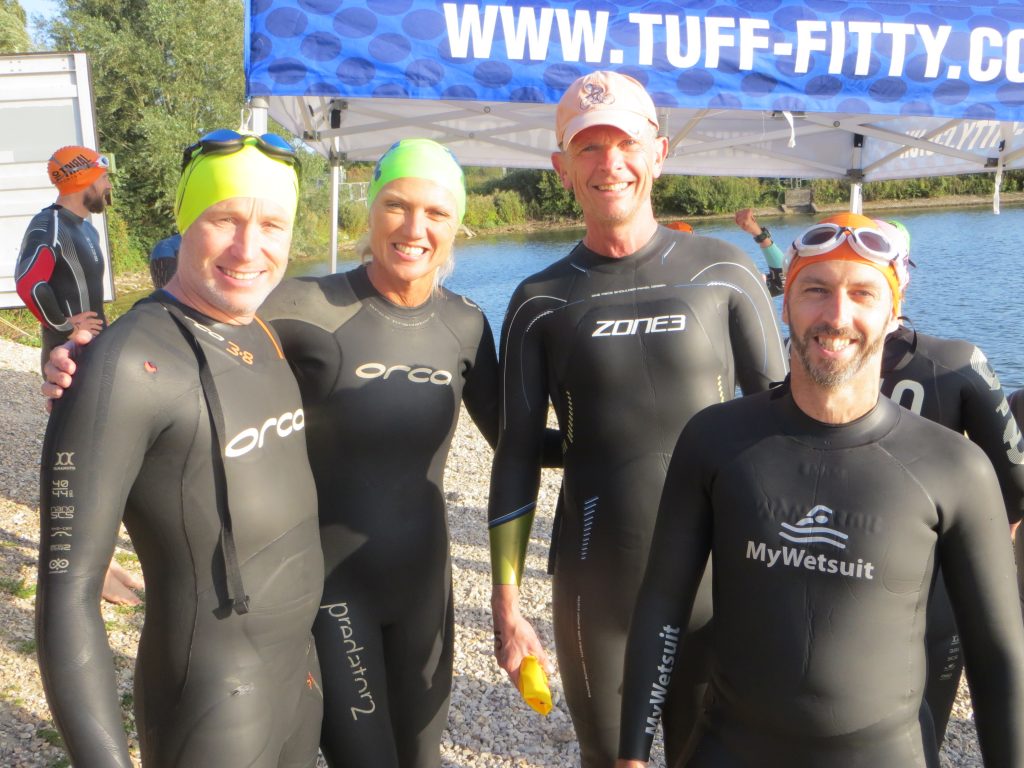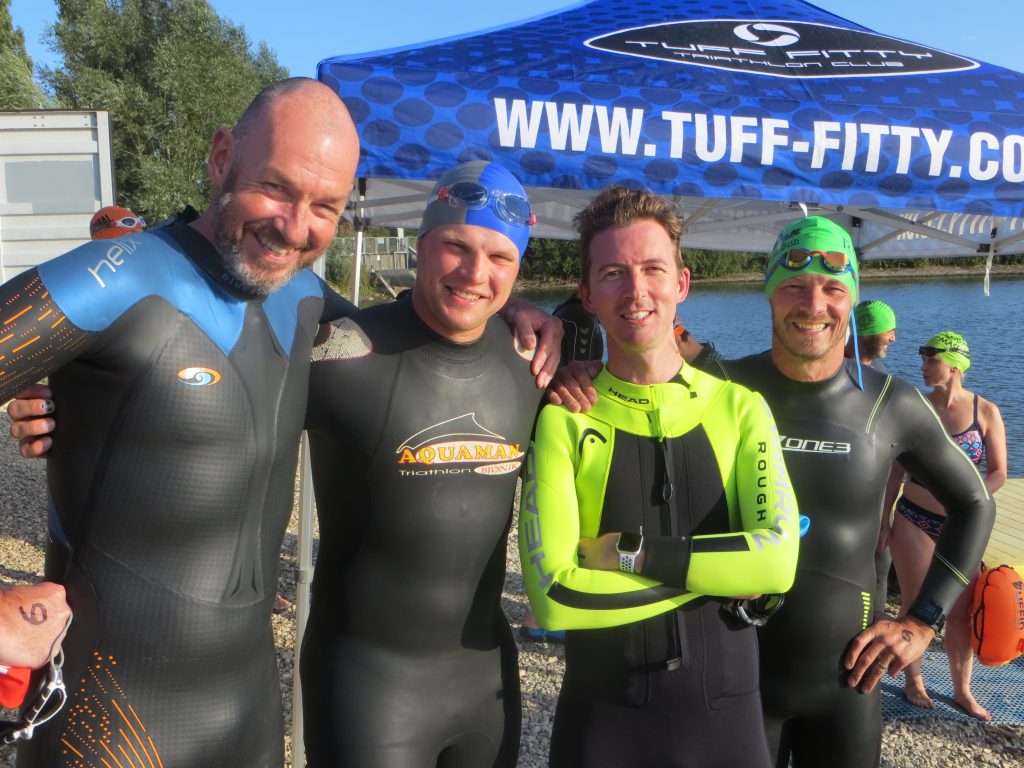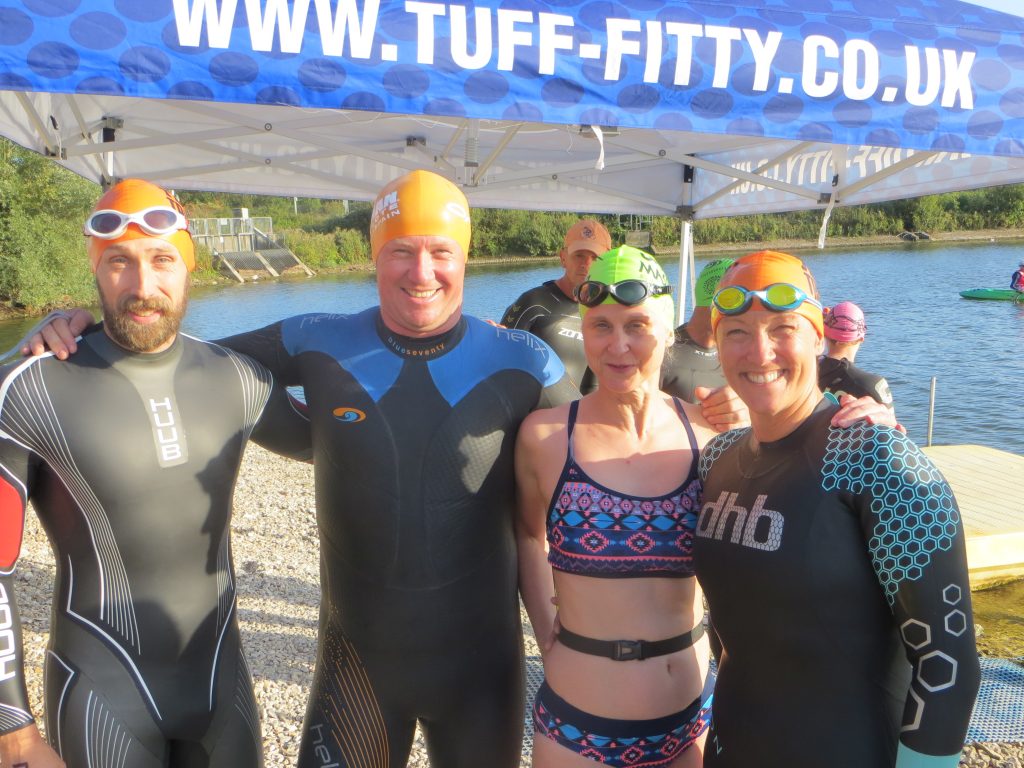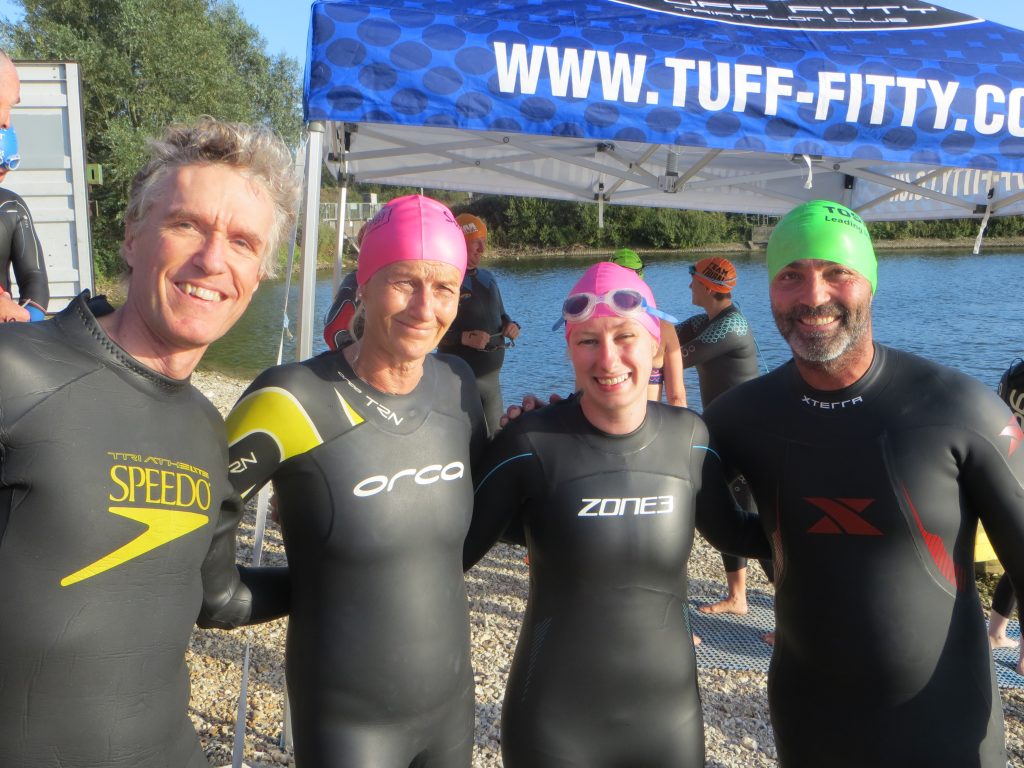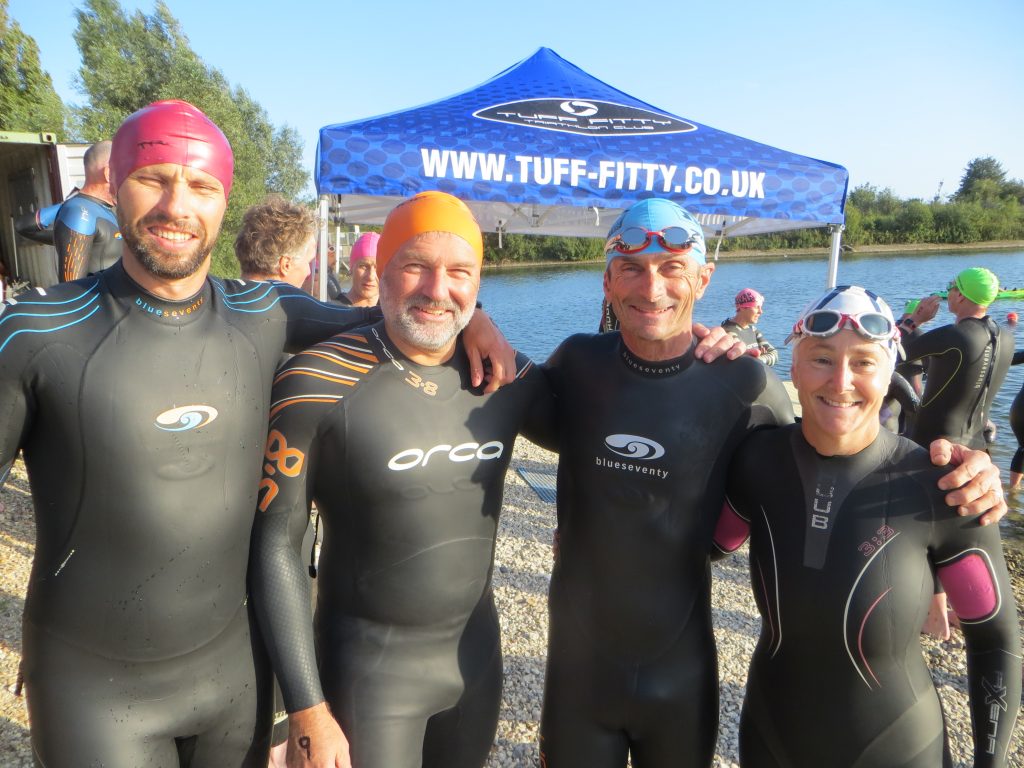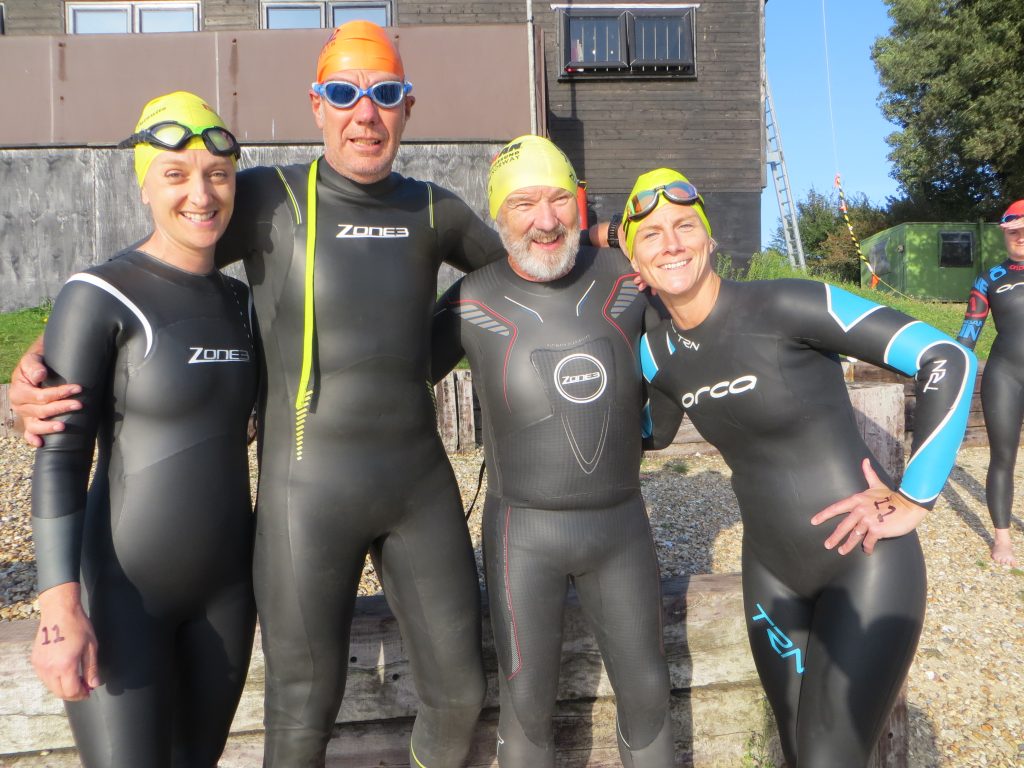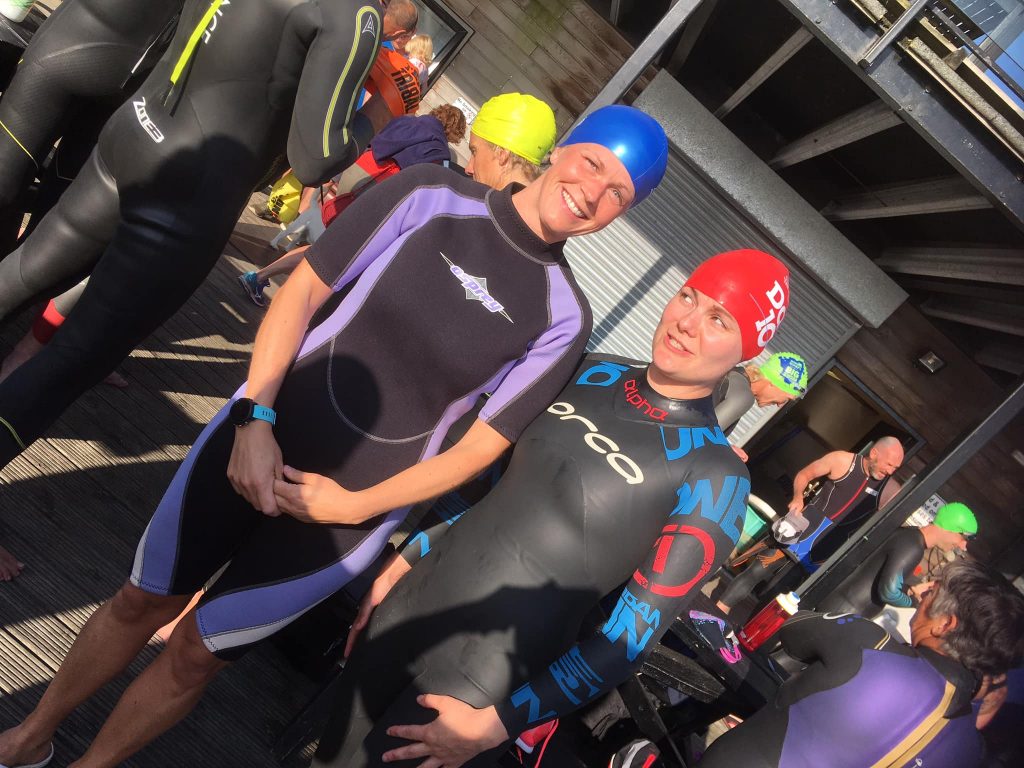 We were grateful to Jason Rae, Pete Wallis & Chris Day for providing Kayak cover, Jane Custance & Andy Vincent for marshalling duties; Clive Harvey, race starter and timekeeper. We were particularly grateful to Drew Gowland who had undertaken a lot of the prior race admin with the Lake.
The first event was a two hundred metre relay event, a shorter warm up, where the teams could choose their running order. Each team member swam in turn, tag team mate on the beach and repeat until the whole team were back on dry land. It was a surprisingly competitive affair and team selection pretty good as there was little to choose between them. First team home in order of swimmers were Trevor, Mike, Jon B & Nicole P-L. (Team two) They stroked home in 13:58. Team 8 (Marc, Juliette, Allyson & Anthony) were second in 14:05. Team One, (Debbie, Shelley, Ben & Drew) were third in 14:40. The first nine teams were all home in under 16 minutes, number ten in 16:18 and the final team in 17:05, illustrating how close each team was.
Everyone congregated on the beach for a water stop before the second event which would be held around a 400m course. Longer serving members will be familiar with one of our race formats which we call 'Uncle Nobby' which we have staged across running events. Each team has all four swimmers on the course with the rules being all team members must be within touching distance at all times. At the end of the first lap, the slowest swimmer retires, leaving the three faster to swim another lap. One more drops out at the end of the second lap to leave the fastest two to complete one more lap. Then for the last lap the fastest swimmer undertook a solo lap to complete the teams time. This is a great inclusive format as it enables each swimmer to dictate the speed that their team will go at before dropping out, and allowing the not so strong swimmers to swim a shorter distance than the more experienced. All swimmers followed the format…. well except one who shall be nameless. He, (which narrows it down a bit) was about 20 metres clear of everyone, but when challenged he said he had simply been in the zone and then waited for the rest of his team In reality the sheer variety of different colour swim caps, and the setting sun, made keeping contact difficult but the race was enjoyed by the competitors.
Once again it was team Two who came home first. Mike & Jon took the first & second lead, leaving Trev & then Nicole to stroke for home. Marc, Allyson, Juliette and Anthony were second again, with Shelley, Debbie, Ben and Drew securing third position.
A further break ensued whilst swimmers prepared for the final event. This was a relay with one swimming a 400m course then another over a 200m course before two other swimmers repeated the course. Some considered they had done pretty well and so some teams did have members covering two legs, but another format which enabled all those who wanted to swim a comfortable distance for them. This time it was the dream team of Andy Tester, Nancy & Claire who came first with Ben, Debbie & Drew in second. Team Two were third. Mike, Jon, Trev & Nic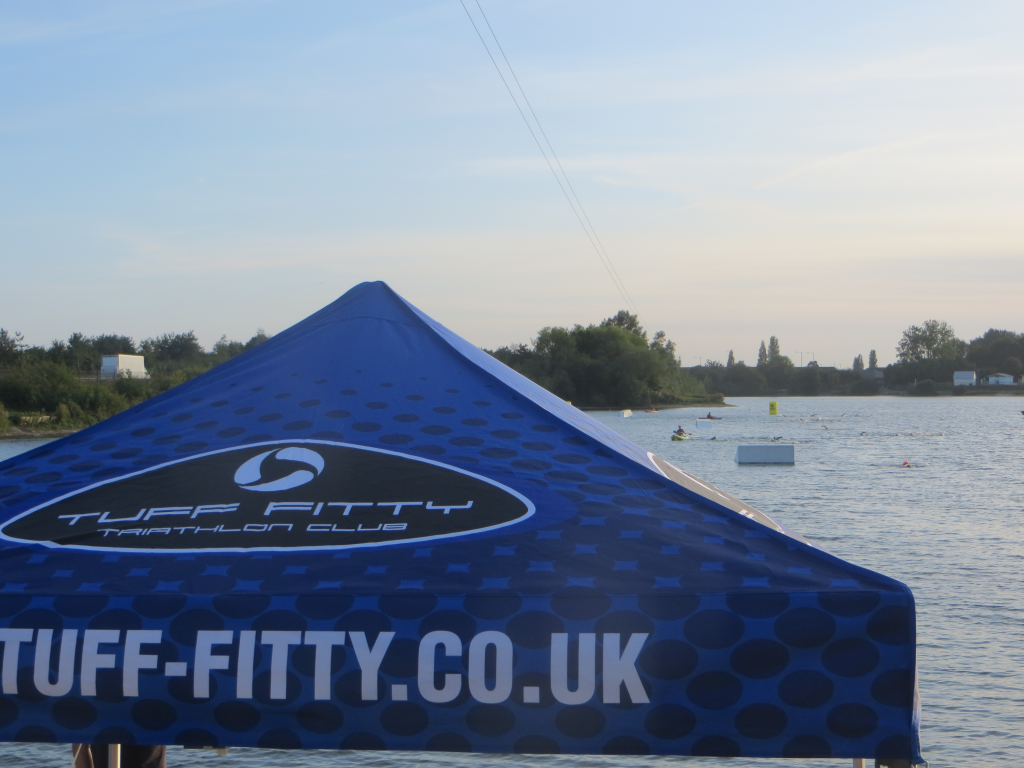 Overall the champions of the evening were Team Two of Nicole, Trev, Jon & Mike. Runners up; Team 8 of Anthony, Juliette, Marc & Allyson with Team One of Drew, Debbie, Ben & Shelley third.
Once everyone had got changed it was a chance to congratulate Sharon Tidmarsh on her birthday with cake served. Sharon also took some great photos up on the decking. These have been added to Clive's photos on the beach and these are lots in the album below (please feel able to take any for your personal use.) Click on the picture to scroll through.
The cafe was open for food and drink and it was an opportunity to reflect on a very successful Tuff evening out. Response from swimmers has been extremely positive with one note of thanks saying how they "enjoyed it and reminded us again what a great club Tuff Fitty is ". At discussions at later training sessions and between Tuffs everyone felt it was a great evening. Thanks from the committee to everyone for taking part; there was the added benefit that we raised a good sum for Mind during the evening.
It would appear highly likely that we will have to include this in our calendar for next year.
<
>