Weekend Round Up 17th 18th August
Not so many races to report on this weekend. This may be in part to the 50 attending our own Tuff Fitty Lido Barbecue/Aquathlon on Sunday evening. (reported on separately). Or it could be down to the large number of Tuff training sessions for people to choose from. We had, Saturday morning run, Saturday Pool swim, Sunday Morning Bike Rides, & Sunday afternoon sea swim which had some plucky Tuffs swimming despite the sea conditions.
However we still had the following who managed to squeeze the following in:-
GOODWOOD HILL CLIMB
One for the petrolheads – a five mile run from Goodwood Hotel up the famous Hill Climb on the Goodwood estate. The only way was up all the way to the top where the Cross Country course is based. From there it is downhill to the finish. A tough race for a Wednesday evening but there was a great result from Paul Martin who came in 27th overall in 34 minutes. A recommended race at a high quality venue (so the Tuff vest fitted in well) with music and food served afterwards.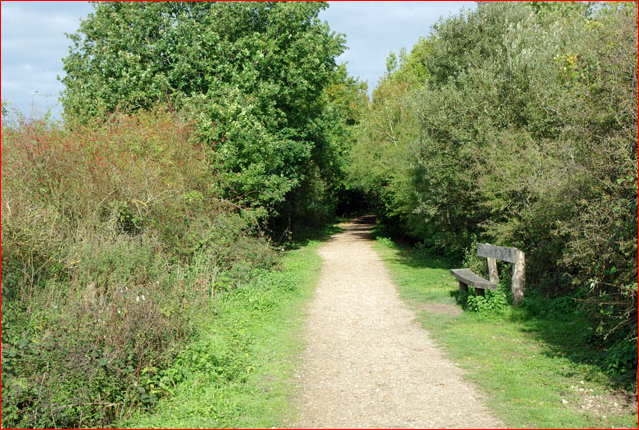 HENFIELD HALF MARATHON
At the Saturday morning run, discussions turned to Sunday's Henfield Half Marathon. Glenn Parisi & Clive Harvey stated they had run countless times. Only Rachel Brunning had entered in advance and as it was a reasonable £13 on the day, there was some cajoling as to who would enter. The comment was made "OK, as the forecast is good; otherwise the long grass along the riverbank with plenty of stiles and tracks would be poor in the rain"
And so it was the Tuff contingent assembled in the Sports Hall at Henfield Leisure Centre. Main banner shot; left to right; Glenn Parisi, Wendy Frost, Shelley Babbage, Phil Baker, Rachel Brunning, Clive Harvey & Jon Babbage. However by 9:30 there was much commotion and looking outside there was torrential rain – which showed no sign of easing. Discussions turned to 'who's fault was it' for getting Tuffs to turn up! There is a long walk to the start on the Downslink where the race briefing was to be held but at least the organiser listened to suggestions from runners to hold that in the hall.
Runners were cold on the walk to the start – even those who had pulled on the latest fashion style; the fetching bin bag. At last the whistle went and the runners headed along the Downslink. The rain continued until the 2 -3 mile mark and then as suddenly as it had started, it stopped. Blue skies appeared and it became very warm although ground conditions were still soft.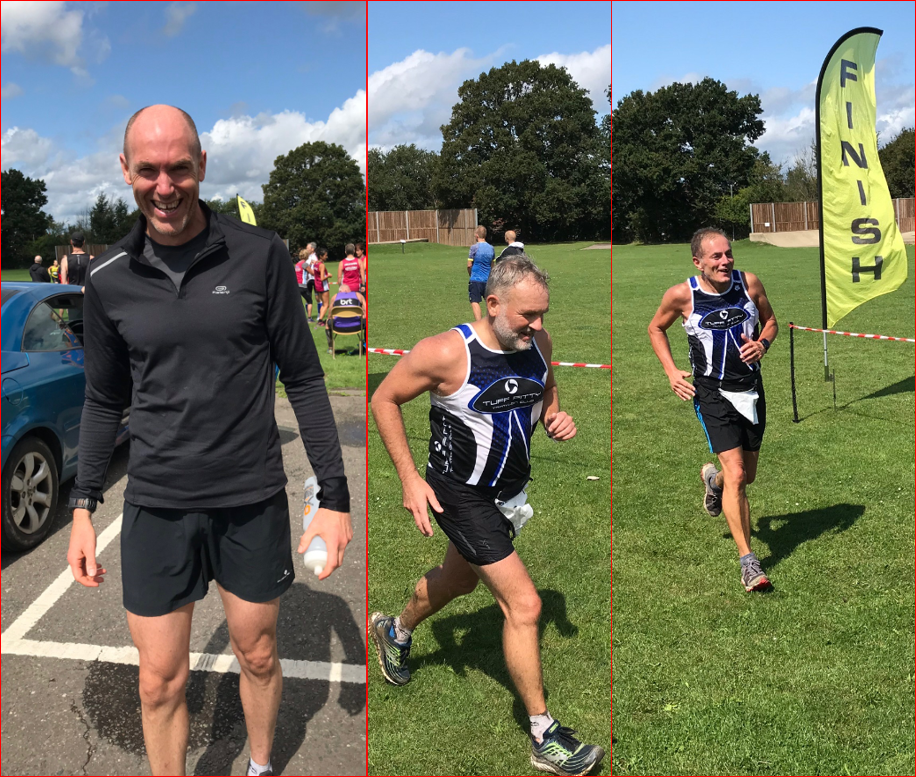 Overall a good race accompanied by some good times; albeit the medal wasn't very inspiring. First Tuff home was Jon Babbage; 13th overall in 1:37. Phil Baker had just returned from holiday and produced a strong 1:44. Glenn Parisi & Clive Harvey were next. Wendy Frost, and then Shelley Babbage completing her second half marathon. Rachel Brunning was pleased to tick off her 47th Half in her quest to reach 50 by the end of the year
DORNEY LAKE TRIATHLON
Andy Strong has been busy competing. He had an early 7am start for a Sprint Tri at Dorney Lake in Windsor two weekends ago. Strongie raced in the Sprint event. He had an excellent swim split and ensured the Tuff Fitty name came in 28th overall.
This weekend he was in action again. On Saturday Strongie was part of the assistance crew for the Superhero Triathlon. This Para-event for Children sees competitors compete over Aquathlon or Tri distances. Strongie explained " The leg the child takes part in can have as much outside assistance as they need. This might mean being pushed in a wheelchair, riding a side by side tandem bike or in my case, I was pulling a young lad on the swim in an inflatable craft while he was chaperoned by kayaks." "Very inspirational". We might have expected Claire Moyle to be present and Claire and Strongie took the opportunity to meet up for a good natter.
NATIONAL CHAMPIONSHIPS – HERTFORDSHIRE TRIATHLON
Sunday saw Andy Strong in action again this time at a British Triathlon major event – Originally scheduled for Stanborough Lake, the Algae levels meant this had to be moved at short notice to Box End Lakes in Bedfordshire. This was a very competitive affair serving as both a national championship and ETU Sprint qualifier. With almost 600 competitors Strongie had good swim and run legs to finish in a time of 1:19. Congratulations Strongie – two good weekends work.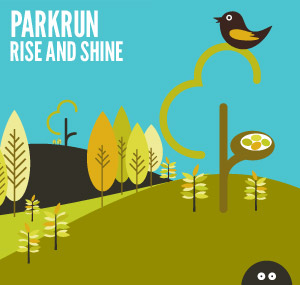 PARK RUN
At Bognor Park Run it was good to see Jason Rae back on the campaign trail after his knee injury and he completed his 110th Park Run. Littlehampton Park Run, saw Steve Bridgeman as the first Tuff across the line. This left Worthing Park Run where Chris Sloggett was first Tuff home. Next was Ed Lay, Amanda de Ridder with her 101st Park Run and Tim Kenny completing the six Park Runners .
SUMMER TUFF RUN SERIES – STRUN
In our July newsletter details of our STRUN – Summer Tuff RUN Series were set out. This is a series of runs where member are encouraged to participate in Club colours and scores are awarded based on gender and age. The first race was back in April at the Rowing Club 5k which was well attended, then Beat The Tide. The Best three scores go towards the final points table and we have three events still to go, so still time for people to participate. These are :-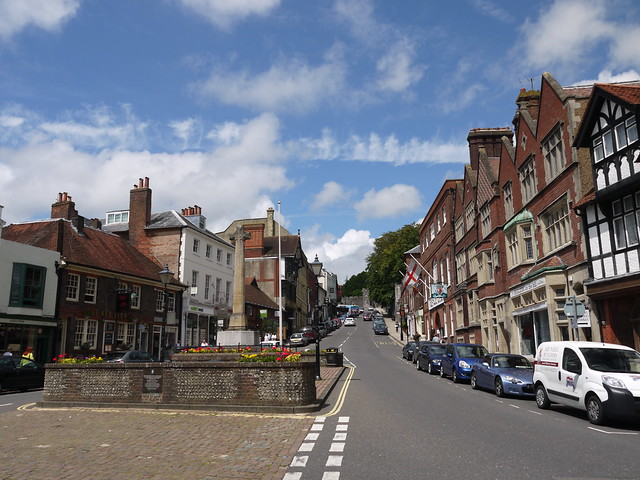 ARUNDEL 10k Sunday 25th August
Several Tuffs are already in for this popular 10k as part of Arundel Festival. Starting on the Town Quay there is a loop around the town before heading into the Castle by the lower Castle gates and then up into Arundel Park; finishing in the High St (above). On-line entry has closed but on the day entry is still available here 9am start and there is the added incentive of "The first 4 finishers from each club will constitute a team". Come on Tuffs.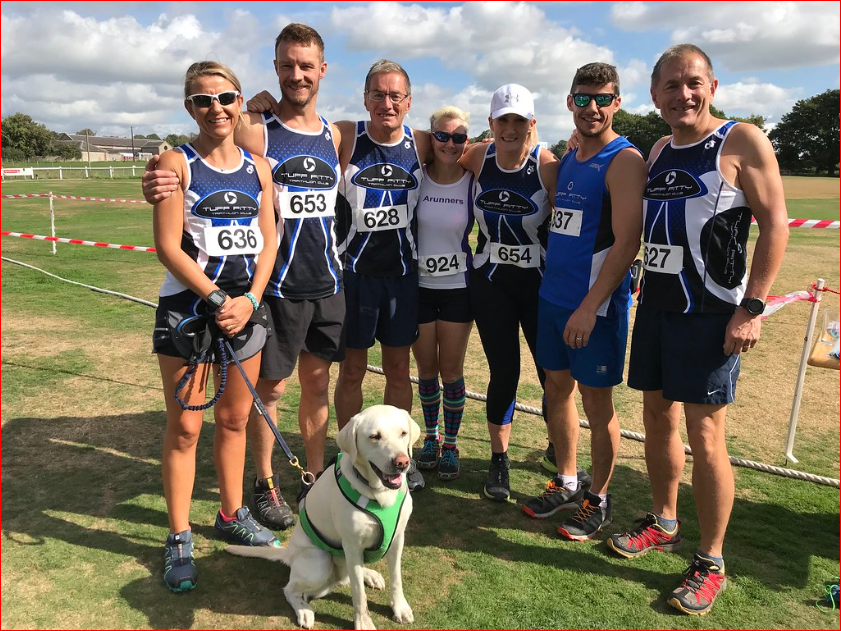 REWELL WOOD RUNNING FESTIVAL Sat Sept 14th
This was a cracking event last year, run by our very own Jason Rae at Southern Multisports. There is a choice of 10k, Half and Full Marathon trail runs. Saturday run is cancelled that day as we are targeting this event instead. Staggered race times but all get back in time for the barbecue. Why this is promoted and is part of the STRUN is that last year Tuff Fitty were team champions – the photo is of most of the victorious team (Paul Atkinson was just finishing the marathon). A fine trophy, but it is known several running clubs are giving it large this time. Therefore we need to ensure we maximise the Tuff attendance. The Tuff flag will be flying – will you be there? details here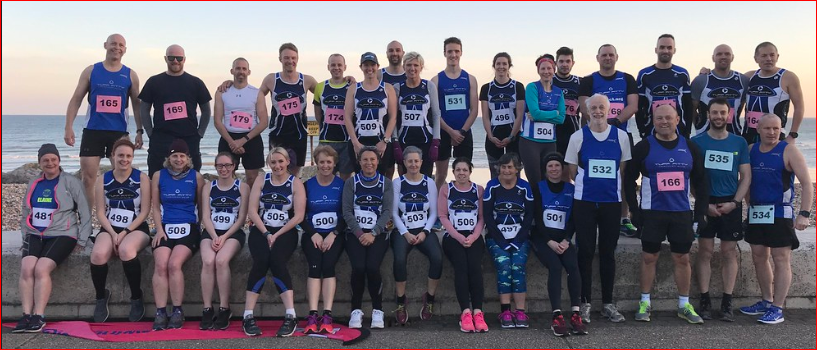 SPLASHPOINT AUTUMN 5K – Wednesday 25th Sept
The above shot is the impressive array of Tuffs at the Spring 5k which kick started this year's STRUN. There is an Autumn event being held on the 25th; so once again this race will be substituted for our Track session that week. At this stage the entry form is not out so there is no need to do anything yet, other than to note the date in your diary. In April we missed the men's title by just two seconds, so we will need to put the record straight this time.