Having already published reports from the weekend that occurred on the Saturday, Sunday saw a further flurry of events. This report covers the Dart 10k swim, but a third instalment is coming which covers a further five events. We may be in the middle of September, but Tuff Fitty continue to be where the action is, with further new members joining either side of the weekend.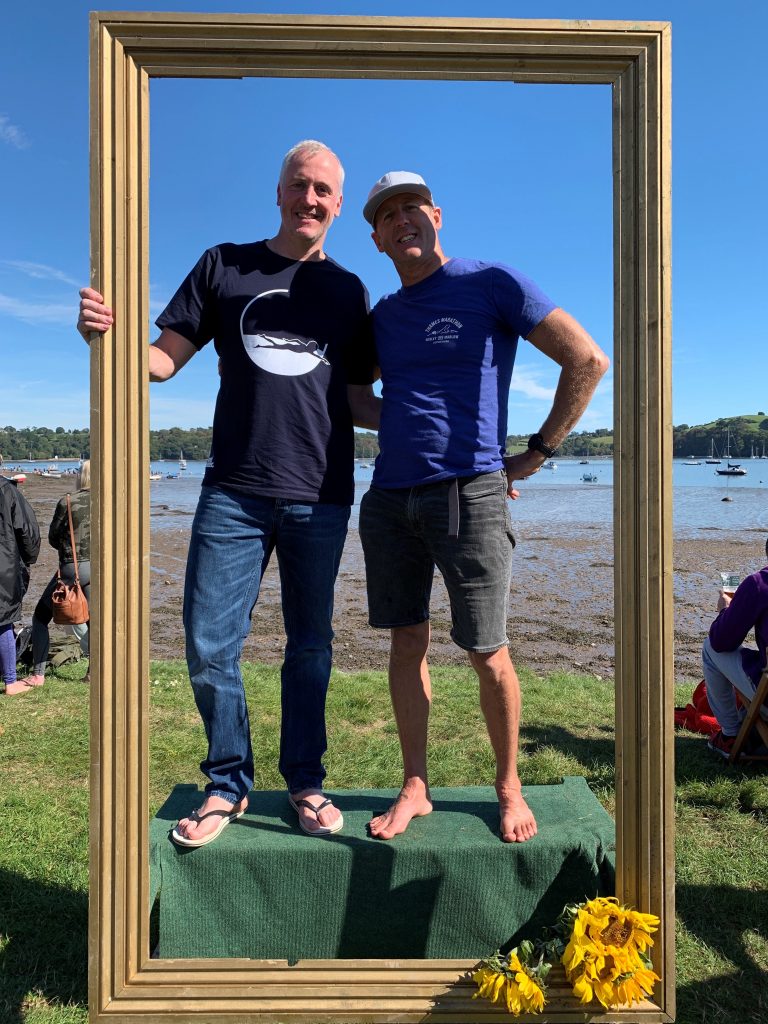 Stated to be to Swimming what the London Marathon is for running, the Dart 10k celebrated its 10th anniversary this year. Swimmers travel from Totnes to Dittisham but it was familiar territory for Andy Tester and Paul Howie as this year was their third Dart swim. This earnt them the distinction of being able to wear a gold colour swim cap each. Hazel Tuppen had a good swim finishing in the top 20%. It was a different prospect for Simon Thistlethwaite who swam further than he had ever achieved before, dashing down to South Devon straight after finishing 2nd at the Rewell 10k on Saturday morning. We have two reports; firstly Paul Howie & then Simon's report :-
"Beautiful day, perfect conditions, a toasty 15.8 degrees. Although we varied in course over the 10k Andy was easy to spot in his bedazzled gold wet suit so we kept coming back together through the swim. They say 'it's not a race, 'it's a journey' – whatever -"
"Outdoor Swim Society organisation is excellent, festival atmosphere at the end with food, drinks and entertainment."
"Andy finished 8th, myself 9th from a field of 750. 1:54.24 vs 1:54.25. Hazel was the next to finish in 2:16:16 and Simon in 2:32:22″
Paul
Simon's Swim Adventure:-
My Swim adventure ! The Event – Dart 10k. I signed up for this swim early 2019 once I received the dates for my foot op knowing that Steyning and Arundel would be my only Triathlons this year. This was based on my 4 month recovery period following my foot op commencing May 22nd. With most Tuffs racing almost every week I didn't want to be sat on my backside and thought about how I could keep up my fitness levels for a late return to the season. I'd seen the Dart ballot swim on a pop up add and knew it was just the thing I needed. Apart from being the only thing I could do after 2 months post foot op my swim needed some serious improvement and to have this in the planner gave me the motivation I needed and kept me from dwelling over lost run and bike time.
I was actually very content and patient and couldn't wait to get in the water. Previously I'd struggled in the pool and never really pushed myself due to becoming quite fatigued quite quickly and wondered how I could get better. I realised much more pool time that was needed, but with drills and more upper body training. At the end of July I was released from my foot cast and able to get back in the pool which was a huge relief and knowing that from the start of August I would be in France swimming the lakes in the evenings once the life guards left their posts.
I felt confident that I had made progress in the water albeit only ever swimming 2 miles at most in a single session but then I'm not one to shy away from a challenge but rather grab it with both hands.
Arriving in Totnes on the Saturday evening we managed to find a free car park less than 200 yards from registration in Longmarsh Green, which was ace considering all camp sites within a couple of miles were booked a year in advance. The river was calm and a giant steamer was making its way past us as we watched through the camper van window. Incidentally the same steamer we were asked to look out for during the swim. It's huge but as silent as an electric car !
Yikes; Sunday 6.40am, I stuffed my face with a scotch egg and hydrated with more electrolytes as I expected to be in the water for around 3hrs 15 minutes. I then collected my timing chip, yellow leisure wave hat and carefully slid into my well oiled newly patched up wetsuit ! I was ready. I lined up with the other 800 swimmers after we were notified of a 30 minute delay for the mist to burn off the river. My feet were a little cold waiting barefoot in the dewy grass and I was really wanting to get into the water which we were told was now 17 degrees. I managed to get near the front so I was in with the first 40/50 in hope of avoiding a stampede or fist fight.
The first 2 kilometres were virtually straight which takes you past the 6 knott max sign and the dead tree. The race director said we would start the 3rd kilometre after the first left turn which helped a lot. The next 2 kilometres were all bends and it was hard to keep to the right hand side; what with the hitting the chop which meant zigzagging and clocking up extras K's. Going too close to the right would almost certainly put you in the reeds too so there was plenty of movement constantly correcting my swim line. The first feed station a floating platform after bow creek marked the 4K point. I stopped very briefly as I was in with the front few swimmers at this point and didn't want to lose too much time as I didn't need any food, just a drink.
The next 4 kilometres was quite a lonely swim as I appeared to be on my own apart from the odd swimmer way off to the side. I cramped up slightly at 6k and immediately became worried that if I kicked again it would return and that I would have to stop swimming. I had a moment and decided that if I was going to get to the end then I would not kick much but instead concentrate on my rotations and stroke length using all my arm right back and breathing every 5 strokes instead of 3. This seemed to pay off and I became more relaxed and was able to move a lot quicker. Soon I was around the 7k mark. By now I'd had about 3 wees which then got me concerned about how much salt I was losing, but at the same time made me wonder if I would be OK due to the amount of salt that was hitting the back of my throat from the river. I decided at this point that I was going to skip the 7k feed station and so swam through blackness marina where I caught sight of a red hat and two others that were heading across the front of a boat. I kept looking at the boat wondering if it was anchored and as I got closer to it I could see a fellow with his hands at the wheel so made a quick detour to match the path of the other 3 across the front of it.
I then passed the Dittisham sailing club and from there you can see Dittisham in the distance where the finish was lined with cheering spectators and a huge 10k sign floating on the water. I couldn't believe it was over already. Was it hard ? A bit. Was it painful ? A bit . Am I doing it next year ? Hell yeah !
Simon
Inspired for next year – a video is below but don't delay it will be oversubscribed