Ironman Wales – 15th Sept
The full Iron distance Triathlon of 2.4 mile swim, 112 miles on the bike and full 26.2 mile marathon is rightly regarded as a pinnacle in the sport. Amongst our current membership Tuff Fitty have circa 40 Iron Wo/Men and so we were all willing on James Togneri who took on Ironman Wales, particularly as the race introduction mentions 'challenging bike and run courses'. Whilst still on holiday in Wales to celebrate, James has kindly provided his thoughts on the event.
"Race review by #666 "the beast"
"One of the hardest but greatest experiences of my life!
After months of training and preparing 7 days a week, race week was finally here . I had a meltdown wondering if I had done enough training, what if I can't do it, how hard is this going to be ?
Race day . 6.15am
"The swim start was absolutely epic ! We walked 1km from transition and down a steep  long slope to the starting pen. It was very early but the streets were heaving with crowds all above the bay cheering the competitors. We had the Welsh national anthem followed by Thunderstruck by ac/dc blaring and huge flames were firing up by the water "Awakening the Dragon " .
"The swim was a rough start. Fighting for a good spot in the water there was various times I sped up into a gap out of my comfort zone just so I could have some room. After the first buoy it all settled and the swim was great until the Aussie exit . Getting out and running back in again is hard as you start again but out of breath. My second lap was easy, lots of room and my stroke was strong I was thrilled to come out at 1 hr 4 . Then a lovely little run up the hill for 1km to transition which my legs propelled themselves from the cheers of massive crowds all the way."
Bike leg.
"The first ten miles on the bike was amazing but misleading . It was a very fast rolling course. But then the hills slowly introduced themselves; it was a gradual build of bigger and bigger hills. When I hit 40 miles I thought I've got this no prob . Well that's when they get worse, they get longer and steeper, it was extremely hard from 60 miles onwards as my knees were in pain from pushing too hard up the hills. I slowed for the rest of the ride worried my knees wouldn't last the run. There is crowd support everywhere on the bike ride wherever the toughest hills are, there's more crowds getting you up there. At 1 point in Saundersfoot its like the Tour de France, a slim line left in the road for a mile or so by the crowd shouting encouragement I felt like a celebrity. It helped I was number #666 and they were calling me "The Beast " I got a lot of attention on the course even from my fellow athletes. The bike course was very hard , but not as hard as I had thought it would be. I'm putting this down to the fact I did a lot of bostal reps in training- it obviously paid off. Overall the bike course was stunning and the best roads I've cycled on."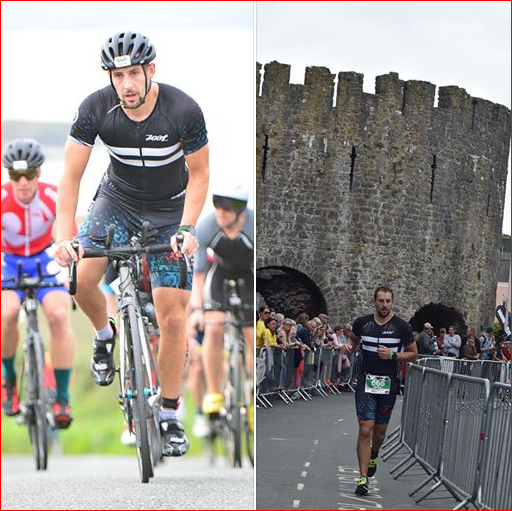 "The run was 4 laps of basically 3.3 miles up hill then back down".
"Starting the run I thought how the hell am I going to do a marathon, my legs are hurting now. So I said to myself I would do 1 lap then walk for a bit to take the mental strain away. I ended up stopping a fair bit throughout. Its so taxing on your legs coming down when their tired it was making my knee pain worse and worse."
"I got to 23 miles and crashed ! My knees were shot. My mental strength was diminished, I thought I'm going to have to walk the rest. I walked for 0.2 miles and saw it took me 7 minutes. I got severely pissed off knowing it would take ages walking . I tried to run but I physically couldn't get my knees to do it. I carried on walking and all of a sudden my head went 'come on' just get angry and run in pain its only 2.5 miles now. And I did, it was severe starting but I gritted my teeth and the longer I ran the less pain I felt. By now I was just running on pure adrenaline for the finish; it was amazing I had turned into "The Beast". I got to the finish and lapped up the cheers, it was like nothing else before. I felt like an Olympian."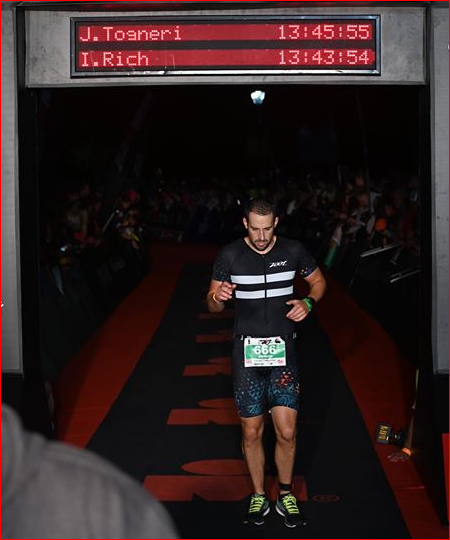 "I was greeted over the line by – 'James Togneri you are now an IRONMAN.' "
"Then I received a handshake from someone at the finish and a massive well done. Once I came back to reality from my exhausted daze I saw a big gold chain and realised it was the Mayor what a treat to top it all off."
"I couldnt have done it without my amazing wife as work and excessive training took all my time and energy. She prepped all my nutrition in the week and looked after our 1 year old boy Logan it was lovely to see them on each run lap. "
"When I got back to air bnb I was thrilled to see a fellow Tuff Chris Robinson had been updating everyone on how I was getting on and giving me a big shout out."
"The Tuffs gave me a lot of encouragement before raceday and told me they would be tracking me and were with me. It certainly helped me through it when times got hard. I remembered that, and one particular comment "dont be shit". What great support from such a great club . #TuffFitty
"This was a 5 star race. It has to be one of the hardest but best in the world I cant see how it could be any better . The best thing I've ever done . I'm very tempted to do it again……!
James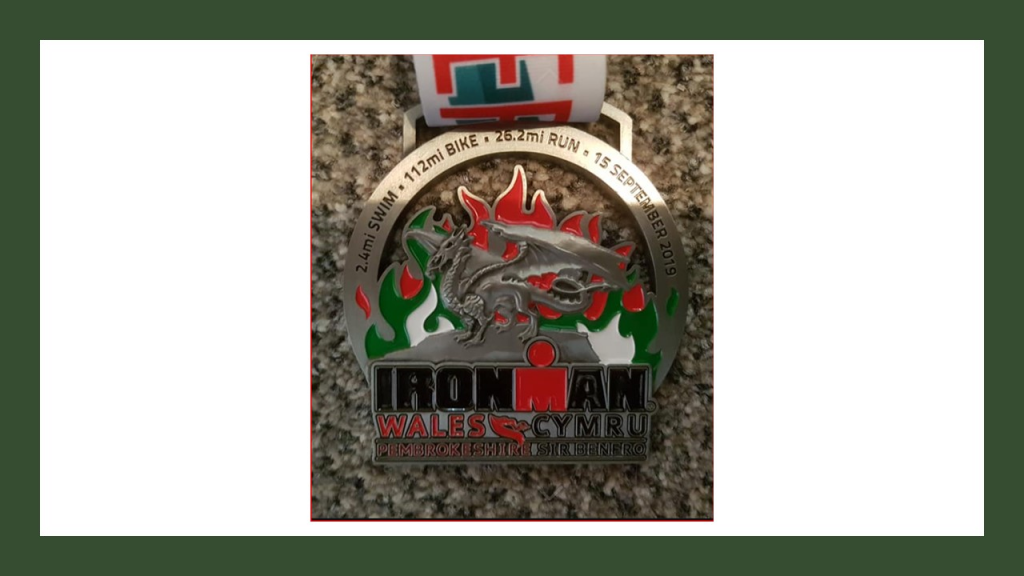 This is a great report and very inspirational; thank you James. Ironman Wales is scheduled for 6th September 2020. However if you want to make an incremental step first, how about Long Course Weekend in Tenby – 3rd to 5th July. The swim is on the Friday, Bike Saturday and Run Sunday – there are three different bike distances and four different run distance. There are a notable number of Tuffs entered, or interested already