Weekend Round Up 21st 22nd September
After the multitude of races last weekend, things quietened down just a little on the race front. Does this mean Tuffs have been easing back? – not a bit of it. We have had more member enquiries and people coming to see what being a Tuff entails, and our training sessions have continued apace. Tuff Fitty had a 'Super Saturday' with our usual Saturday morning run, Club Velo Cycle, Saturday Swim & our SCRAM as follows:-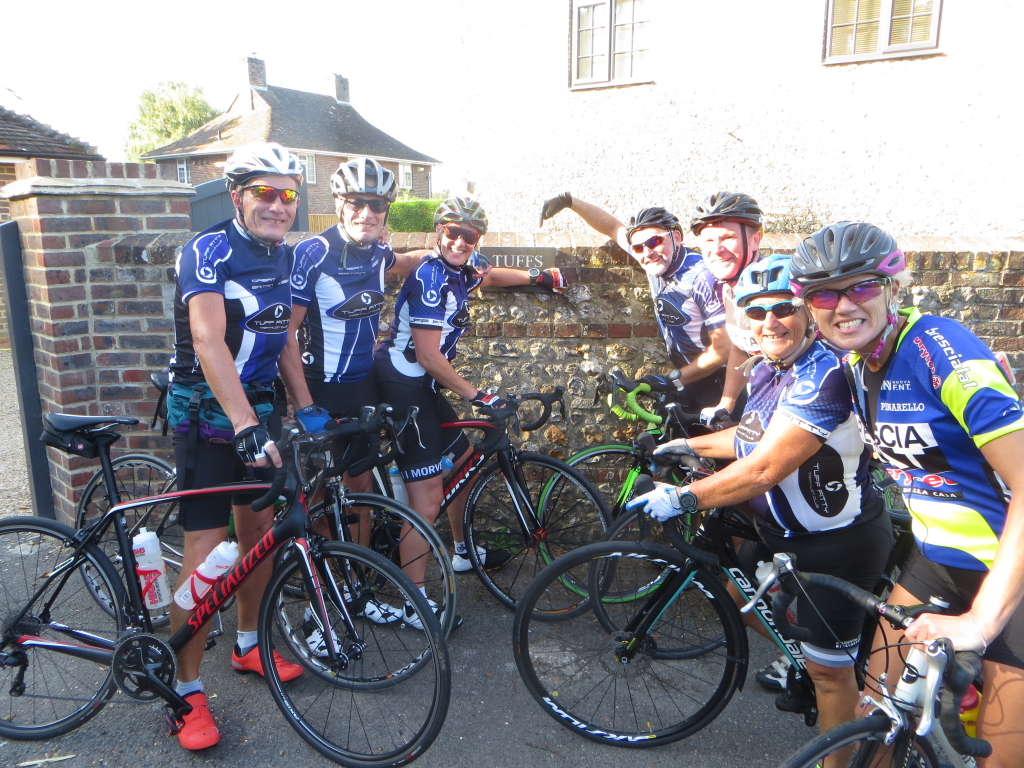 EDGCUMBES VELO RIDE
Linking up with Edgcumbes Coffee Roastery, Tuff riders and friends, having ridden up, congregated early in Ford. Following a pre-ride coffee, everyone formed into different groups due to the number of riders present. Organised by Richard Hobbs, two great routes were on offer. One of which took riders across to Goodwood and then off the Downs to the North, only to climb up again – which most riders took. The route headed to Boxgrove before traversing back to Ford to take advantage of the special coffee and cake offer to anyone wearing cycle gear. Weather conditions were ideal and after more coffee, everyone headed for home after a successful morning's ride. Click on the photo for a few more snaps.
<
>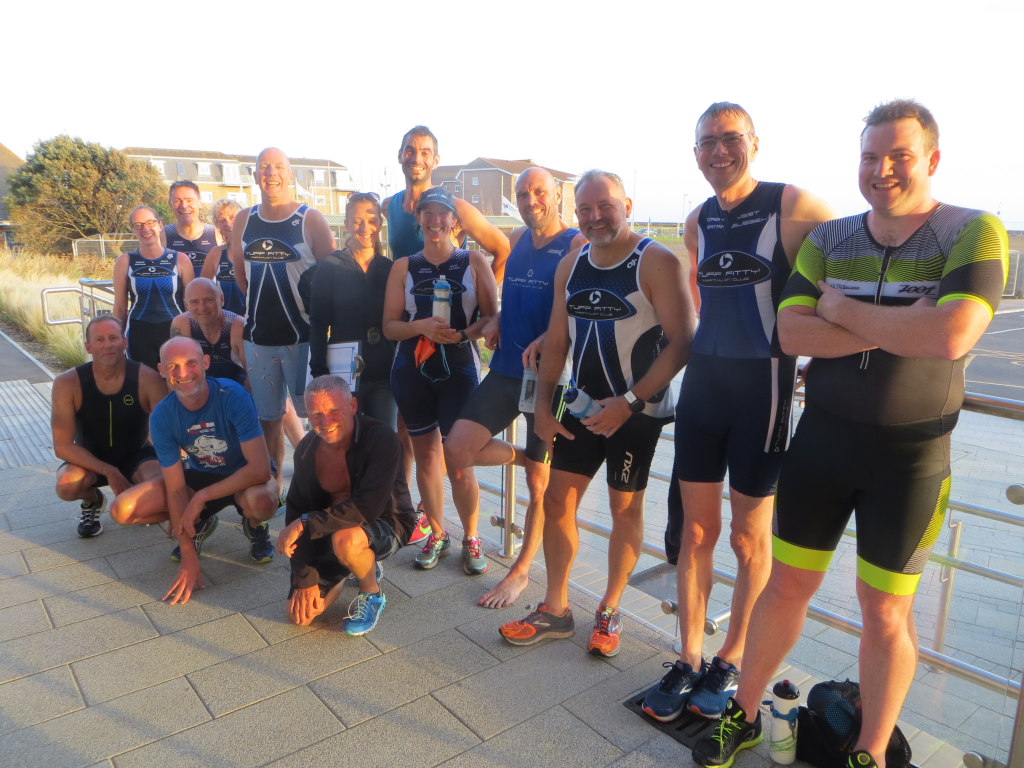 SCRAM
SCRAM stands for Swim Coaching and Run Around Mewsbrook. Towards the end of our usual Swim coach session, those who wished, congregated for a 400m swim, then it was on with the trainers for laps around Mewsbrook Park. There was some quite competitive action although the objective was met of a low key multisport activity. This was despite the direction sign on a corner being nicked. The results have been circulated just to the participants. However it is not unreasonable to report that Drew Gowland and Andy Tester secured the fastest swim splits – 400m in 5:09 & 5:29 respectively. Tom Frith & Lee Bishop secured the fastest run splits. Good work from everyone; particularly those who had ridden in the morning. Thanks also to those who just swam, good numbers at both of our Pool sessions of late – as illustrated below:-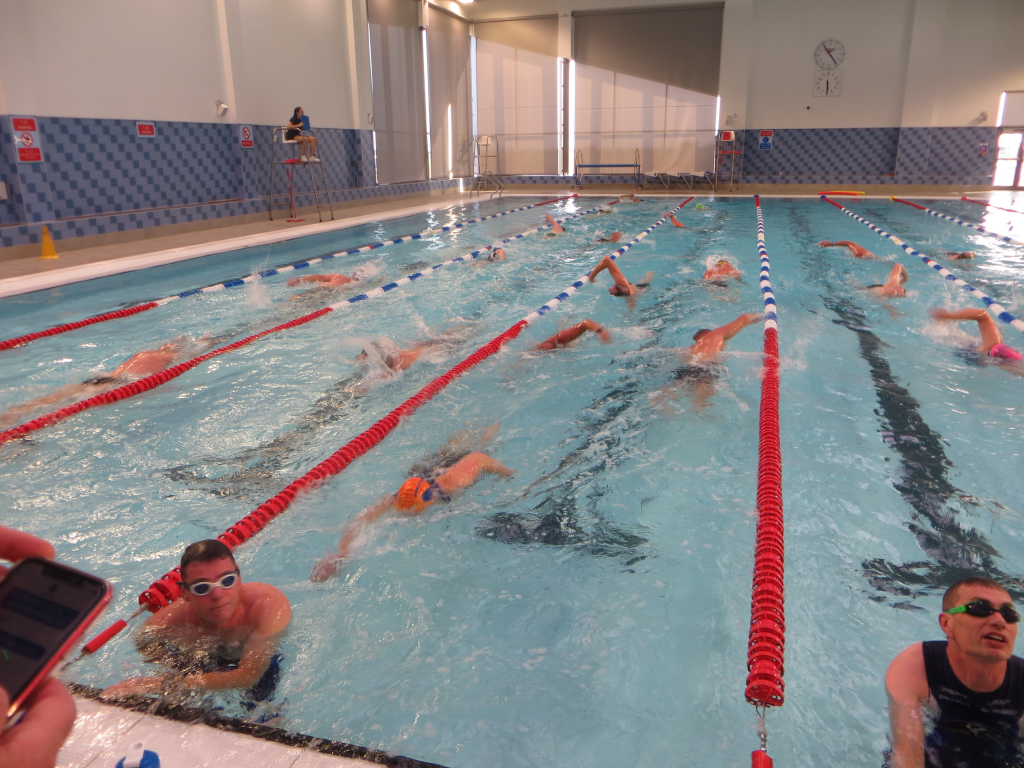 HARWELL HALF MARATHON
After tackling the Tuff Velo ride, Trevor Harvey reported in from a Half Marathon:-
"Another all too common morning when you wake up to an early alarm; its pitch dark & pi**ing down outside, and it's all too tempting to stay there. But I didn't, and some time later the hooter sounded for the start of the Harwell Half Marathon, (Didcot, Oxfordshire)."
"It was actually dry and very, very humid at the start. The route started on roads around a campus, and then around the 'UFO' shaped Diamond Light Source, (the UK's national synchrotron, it works like a giant microscope: info here if any interest!). From there the route headed into the countryside, and after three miles was off road and the promised rain started and persisted until the end. But this was BIG rain, and as the route went up onto the Ridgeway, down again…. and back up to the Ridgeway again, up-hills on chalky paths, it was not easy underfoot."
"Absolutely soaked by the end of it for a wooden medal and 4th in age group; a sensibly priced and well organised event by Barnes Fitness – and strangely, I was pleased I'd fought off the pull of the duvet several hours earlier!"
Trevor
TOUGH MUDDER
Paul Martin has reported in from his latest adventure which occurred at Faygate near Crawley:-
"This weekend I did a Tough Mudder, the 10 mile classic with 25 obstacles. Been wanting to do one for a while and when my sister-in law said she was doing the London south one in Holmbush, and did I want to go with her, I jumped at the chance (this was her fifth one I might add so bit of a pro, I needed to step up). I've been more excited for this than nervous as I do love a bit if mud and I am still mentally about twelve!
The day came and the weather was intermitant sun and the odd shower, perfect. Got to the site and was a little gobsmacked as to quite how big this event was. An athlete village, loads of loos, big bag drop, various entertainment and photo stalls, kids Lidl mudder course and a few of the big obstacles in easy view. It looked awesome!
Got ready, dropped our bags in and made our way to the start and waited for our 10am wave to be called through.
We were called in and given a h&s breifing, a fun and lively warm up and took the tough mudder oath, then it was 3, 2, 1 go!
About a 600m jog to the first obstacle, a large 15m or so long muddy hole filled with about a foot of muddy water and covered with barbed wire about 18inches above it. No easing you in gently then! Oh well, in for a penny in for a pound, with a big grin on my face I belly flopped into the mud spraying all these lovely clean people around me, they were about to get muddy anyway. Little things an all that. I started to scrambled my way through assuming it would be a roughly level floor, nope, got about halfway, put my arm down and slid straight down about another foot, didn't help that the mud was very rocky as well so straight from the off I had grazed most of my forearm. Oh well, crack on. Another short jog then another obstacle, this time 10ft timber walls, I helped hoick a few people over and then clambered over myself, on to the next, tyre wall, no problem, on to the next, a muddy pit covered with black polythene to scramble under, next, the same but filled with eucalyptus vapour, great for clearing the sinuses. There were several obstacles like this strewn between the larger obstacles.
The next one of note was a long set of wooden shuttering filled with about 8 inches of muddy water and covered with a framework that had hundreds of wires hanging down about another 8 inches above the water. A bit of a crowd had formed hear as lots of people were watching and others trying to pluck up the courage to go through. I made my way to the front and watched for a minute, all you could hear was big 'crack' followed by a scream and an 'oooo' from the crowd every few seconds as people were literally electrocuted, it was hilarious! Everyone had adopted a very slow and precise army crawl to try and get through unscathed, sod that, straight in, head first, to a gasp from the crowd, no shock, get in. I adopted a fast toes and elbows shuffle which worked well, till about two thirds of the way across, 'CRACK' a big 'ooooooooo' from the crowd, and 'holy shite', I thought someone had just booted me in the ribs, they feel as bad as they sound! I tried to make a rapid exit and got another belt for my troubles, it was actually great fun, and what made it better was that when you get shocked the electricity is so powerful that it goes through the water and gets anyone within a few inches of you too, as I was duly informed by the girl that was next to me at the time. I pushed on, just with a slightly bigger smile on my face.
The next good one was 'Everest' just a big ramp, with three different heights to choose from, but due to the mud, you had to rely on your fellow mudders at the top to grab a hand, arm, leg, shorts, anything they could to get you up and over. I managed to get up the highest one first time with some good 'catchers' at the top. Once up there i stayed for quite a while as a catcher as it was amazing just encouraging and helping others of all shapes and sizes get up and over this thing, some doing it first time, others taking several goes and some getting really emotional once up there as it is physically the hardest obstacle on the course, and to some its a huge achievement to 'conquer Everest'. I reluctantly had to leave to move on with the rest of the group I was with. That obstacle had left me with a warm fuzzy feeling that was unexpected, I quite liked it.
There was only one obstacle that I was not looking forward to, the 'arctic enima', this was about halfway, a short 10ft slide at 45° straight into icy water about 5ft deep, a short wade to a barrier that you had to dunk under then a short wade to the end. I knew this was going to be cold (I hate cold water) but just went for it, as soon as I hit the water my body just tightened and I struggled to breathe, f#$k me it was bloody freezing!!! I managed to just about gasp enough air to get under the barrier and scramble over to the exit and out, it took a minute or two to get my breathing back under control, but I had done it, and need never do it again, that was not pleasant! There was a welcome jog and a bit of sunshine to warm us before the next obstacle.
There were a few good monkey bar and rope type obstacles that you had to swing or climb or both to get across, i did OK on the rope ones but the metal bars and wet muddy hands is not a good mix so got a few good dunkings along the way. I would recommend gloves to anyone thinking of doing one of these. There were also a few tubes you had to hall yourself through or up, one that you had to just allow yourself to plop out backwards about 6ft down into the muddy water below, that was fun, and another close to the end that was just a ladder, in a tube, with a shower above it, good for getting you clean for a bit until you get to the next one, a mudpit with a taut cargo net over it. Caked in mud again. We were nearing the end now only three obstacles left in quick succession and all around the athlete village. The ten miles had flown by. First was the huge 'A' frame cargo net that you had to go up one side and down the other, I don't mind heights, so no bother there, the next looked like a nice big ankle deep, muddy puddle with lots of people just randomly falling over. I slowly walk in, I got about six feet, took a small step forward straight into a knee deep hole, I managed to keep my balance and step forward only to find a deeper one that toppled me, this was repeated several times with lots of real belly laughing at myself and others.
And so we get to the last one, 'electrotherapy' a 30ft long sloppy, muddy section strewn with hay bales an with loads of electrical wires hanging down from a frame above, all swinging gloriously in the wind, and all right in front of the athletes village with a commentator to boot. There was no way through without getting shocked so we just ran at it, made good ground but got floored by a few good belts. Covered in mud again. A gentle amble round the corner and we were at the finish line, headband placed on the head, photo taken and a beer thrust in my hand, all in all a great day and a great fun event. I would recommend it to anyone, as long as you a little sadistic and you don't mind a bit of mud! Bring on the next one.
Paul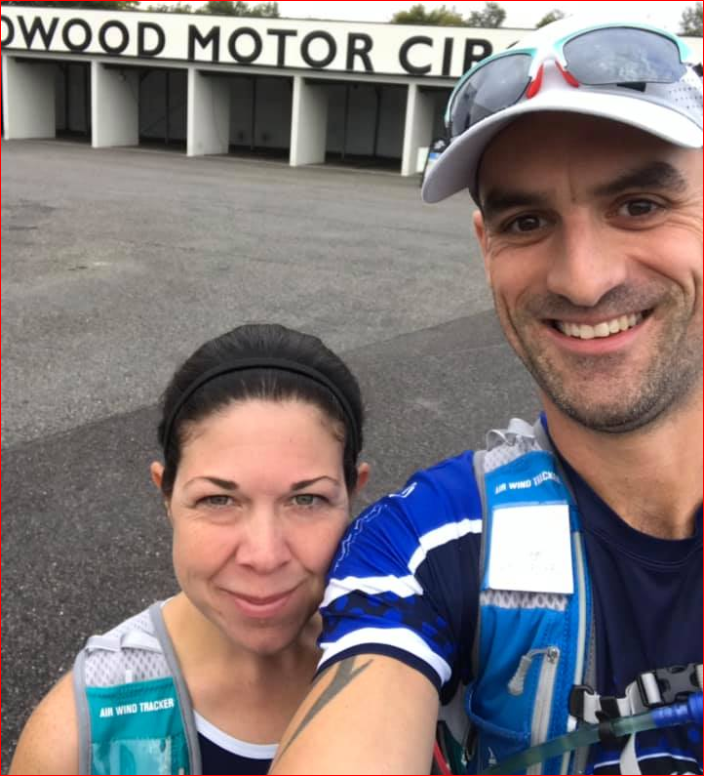 GOODWOOD RUNNING FESTIVAL
It appears you can't keep a good Babbage (or two) down having signed up for yet another run. This time Jon & Shelley had entered the Goodwood Running Festival as Shelley takes up the story:-
"I booked the Goodwood Grand Prix a few months ago because I have stupidly booked myself onto the Beachy head Marathon so I needed to get a longer distance run in before the big day. I booked onto the 20 mile race while Jon went for the 26 mile option. I was very nervous about this one as I have only ever gone up to 13 miles. The day arrived we collected our race numbers and waited nervously at the start. Jon and the 26 milers went off at 9 I had 30 minutes to work myself up before the 9.30 start time. I distracted myself with the warm up then headed off to the start line.
We had a out and back section at the start, at the turn I saw someone that looked like Jon walking round that section of track, I thought it cannot be Jon walking, if it was him I'm sure he will catch me up. I made it round my first lap and thought OK that's not to bad. Then it starts to rain and then it rained some more, I was absolutely soaked and I thought well this is not fun. Then I finally see Jon and I ask him if it was him walking, and he confirms yes it was him and it had taking him all that time to catch me up, I thought he was joking but then realised he was running funny and he said his leg was hurting and he was going to pull out. So it was raining hard and Jon was pulling out and I still had 6 laps to go. It crossed my mind to just call it a day with him but he encouraged me to carry on and said he will be fine. So this will be the only time this happens but off I go leaving Jon in my dust lol!!!
I kept myself at a steady pace and I was feeling OK. The track got busy when the 5 and 10k people started, everyone was soaking wet but happy. Then after a couple more laps the 5 and 10k people finished and I remember thinking I wish it was me going off to the right to the finish line but no, I had to stick to the left for another 3 laps. As I completed lap 6 I was chuffed to have made it that far and just 2 laps to go I kept telling myself you've got this just keep going. The track was quiet but I just kept looking out for my markers that I had noticed on previous laps. Lap 7 completed. Just one last lap my legs were tired and the sole of my foot was rubbing on my soaking wet socks but it was OK as it was the last lap. I saw some familiar faces and we encouraged each other round then it was my turn to go to the right. There it was that finish line I could not believe I had actually completed 20 miles. I wanted to complete it in 4 hours and I had done it in 3 hours 47.
I was so chuffed I had massive doubts that I could do it and I had done it!!! I had heard a few negative comments about this event but for me I am very pleased I did it. I actually quite liked it. The medal was good, t-shirt as well and a whole load of food goodies, what's not to like. Even though Jon got his first DNF he did get a 10k medal as he still managed 10 miles. A massive thanks to Jon and Tuff friends for all your encouragement, you guys are so supportive, tuff Fitty is a awesome club
Shelley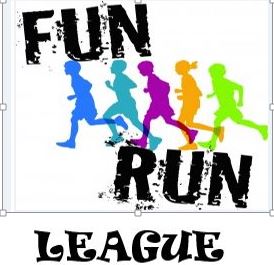 THE TILGATE 5-ish
The race takes place mainly on forest path in Tilgate Forest situated close to the K2 centre in Crawley. This approx 5 mile route saw 374 finishers with four club members part for their respective running clubs. Well done to Tim McGrath, first Tuff home in 41:11, then Linda Wright, Tony Pearce and Elaine Rousseau.
PARK RUN
Worthing Park Run saw Chris Sloggett and Elaine Rousseau compete. At Hosham Park Run saw Ian Moore achieve his 70th Park Run & Leigh Moore her 40th. At Littlehampton Park Run, Jenny Oliver couldn't keep her fourth successive run of PB's going, but has built to 12 Park Run's in a very short time. At Bognor Park Run Becky Lintott-Clarke ran again with her daughter