Weekend Round Up 15th 16th February
As competitors we feel for the race organisers, who had to cancel events after so much preparation, as Storm Dennis spoilt proceedings. (These included Glatting 5 & Slindon Slog which had Tuff entrants) Despite the storm there was still Tuff action to report as follows:-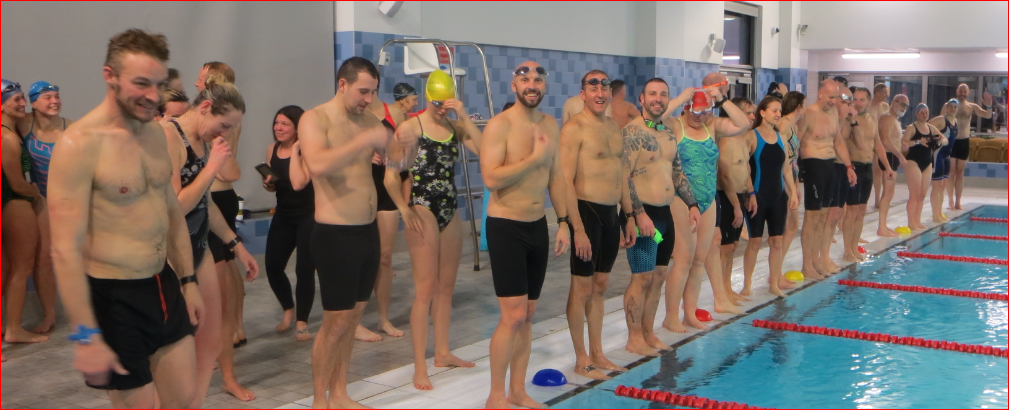 POWER HOUR
A great initiative from Captains Nicole Patterson-Lett & Jon Babbage when our Saturday swim training session was turned into a high octane, music pumping, Power Hour. Teams were graded in advance to try and ensure a similar mix of speeds and abilities with team members swimming 100m in turn to form a relay accruing as many 100's a possible.
100 metres, pah, easy? Possibly, but everyone was determined not to let their teammates down, and there was effort expended in trying to overtake/keep up with the adjoining team. DJ Jon Roper's boogie box added to the atmosphere/adrenaline and this was all accompanied by hollering and encouragement from teammates. Everyone felt the need to 'go large' and as swimmers hauled themselves out, usually to a round of applause, there was just time for a drink and get your breath back before going again to keep your team up the leaderboard.
Some of Tuff's not so strong swimmers had felt apprehensive as to what they were letting themselves in for, but the camaraderie and encouragement was second to none, even from rival teams, and everyone agreed it had been a great event and well worth attending.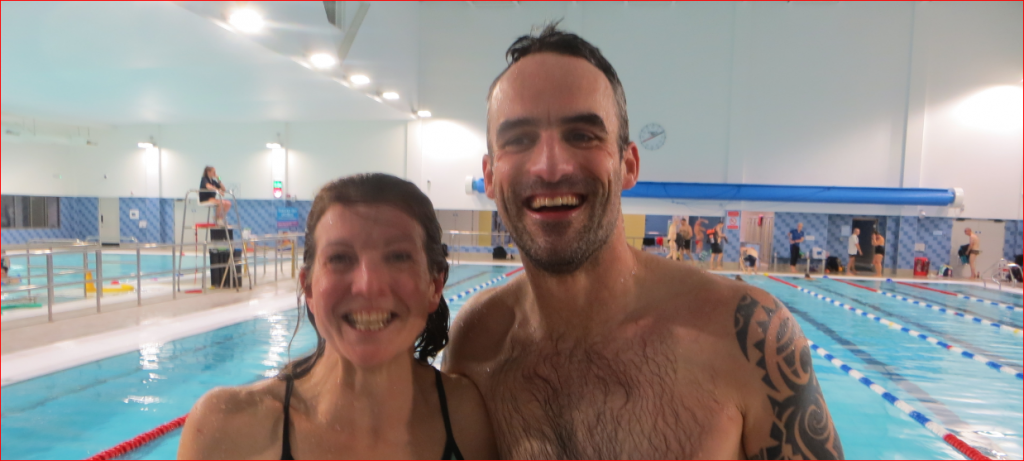 Whilst white boards had been provided to keep score the pens didn't approve of the damp atmosphere and wet Tuffs. However this only heightened the competition as pens were grabbed and teams speculated what position they were in. As the hour drew to a close 32 miles had been swum. Close competition; but it was adjudged Tom Frith, Lee Cullen and Spencer Scott just stroked in with the most 100s. Thanks to members of Trinity swimmers who took part and joined in the fun. With some Tuff coaches ensuring fair play there were just short of 60 people in The Wave.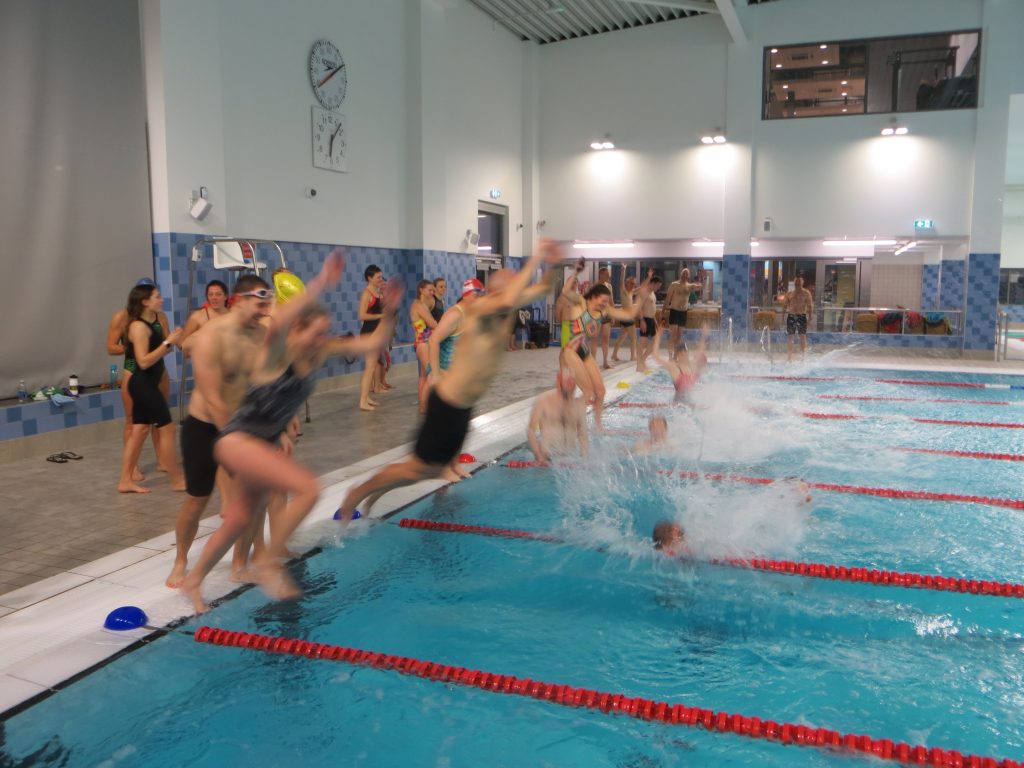 The photos are shown in the gallery below. (Click on the photo below to scroll through) As ever, feel able to use for your own use. Equally if anyone has serious objections to a snap in their cossie, please advise and it will be removed. Thanks to everyone who took part, especially our Captain's fantastic.
<
>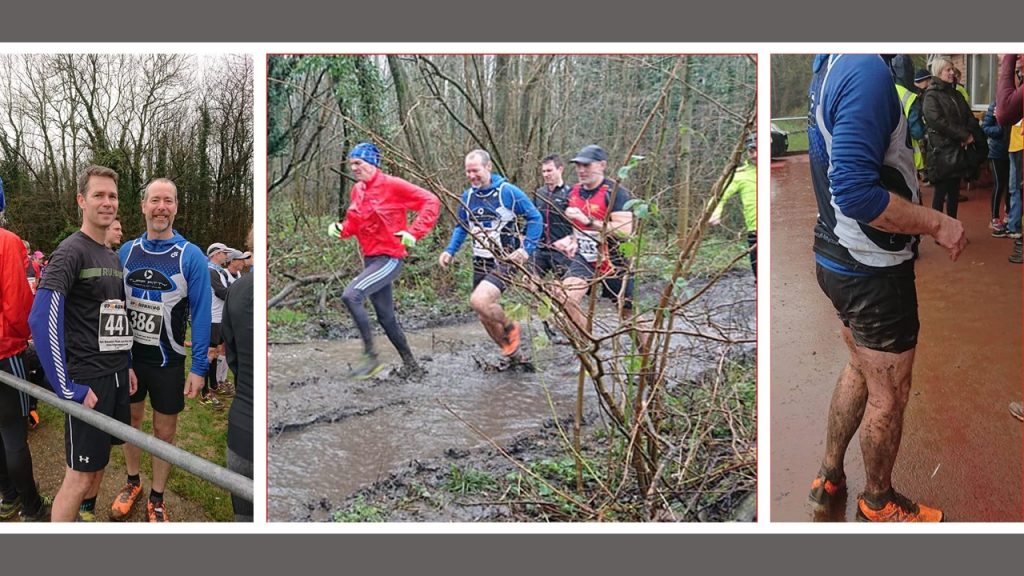 VALENTINE'S TOUGH LOVE CHALLENGE
Next up we have a brilliantly written, funny, report from Andy Vincent. Even before Storm Dennis, the entry form warned this was indeed 'Tough Love' and that entry was 'at runners own risk.' Andy takes up the story:-
"I first heard about the Vigo Runners Tough Love Valentines 10ish miler when my brother did it last year. All I really remember about it was the animated way it was talked about and "that big hill at the end". So when he asked me whether I wanted to run with him this year of course I said yes."
"Coming as it did in the middle of running for 30 minutes a day for 30 days meant that I would either be warmed up or worn out. Turns out it was worn out so it was with some dread that the day approached. But wait a minute, what's that? Storm Dennis! Maybe God would rescue me. But it didn't matter how many times I returned to the web page or refreshed my browser this race was not for cancelling. So with a slightly heavy heart and very heavy legs I navigated past the white water rafters floating down my brother's road and on to the Vigo rugby club."
"The course, it turns out, is slightly longer than 10 miles and there isn't one flat bit of trail! The puddles were at times half way up the calf and the mud was slicker than a politician on Question Time. On the down hills I was humming the Ski Sunday theme tune and desperately trying to avoid disappearing sideways into the undergrowth. In other words it was everything you'd want from a trail run. It never stopped raining, it blew quite hard (but I swear never from behind us!) and then we turned the corner and faced "that hill"."
"If you've ever driven along the M20 that escarpment to the north, that one that looks like a wall, that's the hill. Bringing to mind the best of Its a Knock Out and Stuart Hall laughing uncontrollably runners were desperately trying to go up hill on a slick surface that felt just the wrong side of steep. How there wasn't a big pile of runners at the bottom I'll never know. It felt that at any moment you'd lose grip and start sliding backwards. And if you did there would be nothing to stop you just gathering speed before crashing to a halt in the fence below."
"The good news when we did get to the top was that there was then a set of stairs up through the woods! "This is the only hill on the Harvel Hash House Harriers five" said my brother. Cold comfort, I thought, but at least I had a comparison for when I do that race in June."
"Once into the final mile through the mud in the woods we'd stopped trying to pick the best lines and just ran through the middle of everything. Calf muscles were screaming, smug runners who had finished were cheering us on and the marshals were smiling, encouraging and pointing us in the right direction so we finally entered the rugby club for the final hundred meter sprint (ahem!)."
"Definitely the most challenging conditions I've ever run in so finishing in 01:48:23 felt about right. I'll certainly be back next year and this time I'm hoping for snow!"
Andy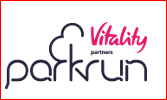 With Storm Dennis running in; we hope he had his parkrun barcode with him, together with shingle across their respective promenades from the last storm, each of Hove Prom, Worthing & Littlehampton Park Runs were cancelled. Jason Rae was race director at Bognor Regis Parkrun which did take place, so well done to him.
However we are pleased to say that the unbroken run of a Tuff parkrunning weekly continues as : Lancing Green parkrun saw some runners switch to this course including, Amanda De Ridder and Tim Kenny who ran together. Dave Priest was also in action accompanying his son who was running for the first time. Trevor Harvey ran around the muddy Maidenhead parkrun course to clock up his 25th parkrun. Well done to these four for venturing out.