OUTRUN CANCER 4
A Sunday morning run of just 4 miles. However the out and back course crammed in almost 400 ft of climbing. A special feature was that the race was organised by OutRun Cancer, so a fantastic cause which resonated with so many of our members. The other notable aspect was the huge Tuff attendance; someone commented there were Tuffs everywhere you looked. Indeed the Tuff presence comprised 15% of the total field.
It wasn't just quantity but quality with 4 Tuffs in the top ten. Second overall was Simon Thistlethwaite just 10 seconds behind the winner. Last year's victor Jon Babbage was third (still over a minute quicker than last year) 6 seconds behind. Andy Crawford was always going to run well and sure enough he crossed in 5th with Paul Martin in 9th overall. Paul features in the Facebook video below.
Next one of our newer members, Mark Walford, whilst he has ably demonstrated he is a strong swimmer proved he is also a useful runner striding home 16th overall. Pete Littleboy, Michael Redgrave and then Sue Neilson who was 4th female overall in a competitive field. After a long period where she has been unable to run, it was fantastic to see Captain Nicole Patterson-Lett back in her trainers who ran around with Clive Patterson-Lett which rounded off the top 30.
Great to see Catharine Western running strongly, then Malcolm Sheward, Tiff Orton, & Clive Harvey. The procession of Tuffs finishing continued with Nicole Ewer, Jame Brock, Charlotte Lattin-Rawstrone, Shelley Babbage, Clare Worgan, & Claire Moyle. Debbie Boxall & Marc Rice ran with their Family & Wendy Frost to complete the 23 Tuffs. The good news didn't stop there with Jason Rae, lead bike marshal, Linda Wright as traffic bike marshal and Kev Pearson at a junction giving particular encouragement to the Tuff collective.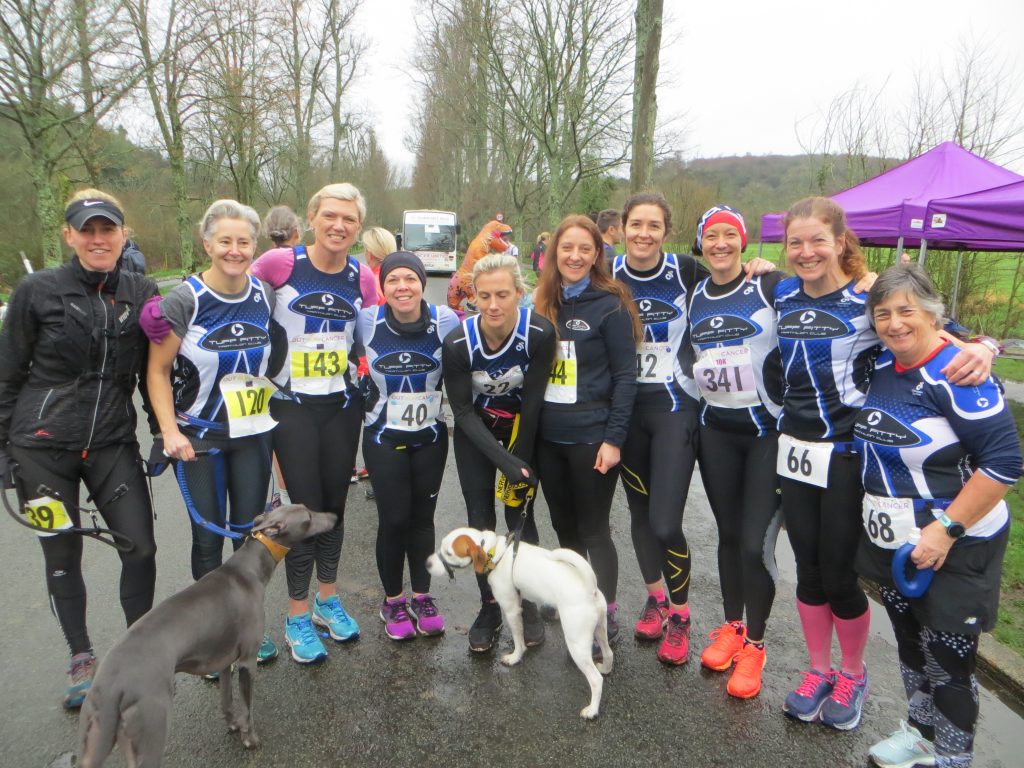 Jon Babbage reported " I would just like to say how pleased I am with the Tuff turnout for the out run cancer event. This event means a lot to me It was such a nice morning with many sticking around cheering others on and conversation flowing. Got to meet a couple of Tuffs I've not met before. When Tiff finished she came over for a hug and kiss on the cheek but our timing was wrong so ended up kissing her dripping wet sweat band which tasted awful but made us laugh "
Jon
James Brock stated "I was talking to Jon Babbage who was opening up to me about the reason why 'OutRunCancer' was so important to him. For sake of privacy I am sure Jon will tell you his story so I will move on..
I entered the race thinking a nice 'out and back' four miles can be eaten up and I would be back in the comfort of my sofa in no time! I wanted to show Jon my support and thought entering this race would be a nice 'blokes' way of saying I'm thinking of you mate….
I talked my neighbour Roy into driving and we arrived with plenty of time to spare. I was so amazed to see how many tuffs were running. The start went off and before I knew it we hit a hill, then another hill and then another hill… so much for a straight forward 'out and back'
The highlight for me has to be the chocolate brownies provided by Shelbo Babbage. That, and of course the warm feeling created by seeing so many of my friends dressed in blue racing/supporting one another.
Well done Tuffs, a great turn out and as always great support of a good cause."
Jimbo
Claire Moyles thoughts on the event. "This is the first time I have run this race and it was nicer then I expected. My running this year has been a bit slow and sluggish and certainly hasn't had any hills, so I was unsure if I would be able to run up them. On the day the weather was better than I expected and it was lovely to see so many people that I knew and so off I went and was soon up the first hill and admiring the lovely view, then I spotted the next hill and it looked rather long to me. Luckily there were people running back and I kept hearing 'well done Claire, keep going' and before long I was at the turn round point and I was feeling good. Before long all the hills were done and I was well on the way home. It was a great race with lots of support and some yummy brownies, thanks the Babbages.
Claire
Wendy Frost wished to "thank you to all the Tuff's who cheered me on walking the event. Felt a bit odd not running, but was great to feel I could join in with everyone else. A 4 mile walk when I only ditched the walking stick a few weeks ago was a big enough challenge for me! Big thanks to the Tuff's who joined me for the final bit of the walk (Nicole E, Sue, Murphy and Zachie) including Kev who was marshalling and waited for me despite being so much slower than everyone else! And of course thanks to Shelley for the Brownies!
Sue Neilson succinctly summed up the event with : Great race, great cause, great Tuff camaraderie and great Brownies.
Click on the photo below for the Tuff family album