The staging of this year's Frosty Aquathlon in Tuff Fitty's new home of The Wave was a great way to celebrate the event's 25th anniversary. The Frosty home page has been updated with the generic race report for all competitors highlighting all the winners. Once onto the link scroll down for the report, the link for which is HERE
The event has come a long way from its initial title of Frosty Funday and paper entry forms. Storms, snow ice, wind and rain have all featured over the past 25 years, as well as warm sunny weather. Thankfully after a washout February, conditions were the best they have been for a while, albeit with a short hailstorm. The following report focuses purely on the Tuff participants for our weekly round up:-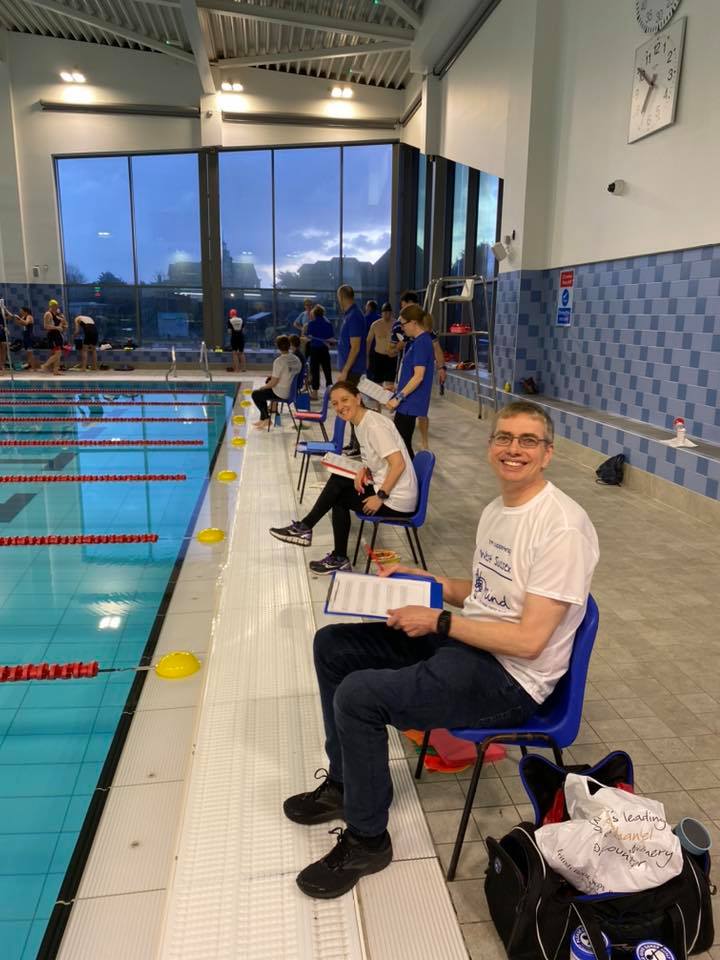 Firstly a huge thank you to all the marshals who helped, whether on registration, in the pool, outside at various points, at the finish and those who sourced a vast array for goodies for the spot prizes.
The first race off was the 32 length swim/10k run of the Frosty and our club had an impressive 25 racing. Nikki Gatland has a great swim/transition achieving the fastest female swim split and 4th fastest swim overall. Matt Whittaker was having a strong swim and run and would return home as 8th fastest overall. Clive Patterson-Lett also raced strongly starting off with an excellent swim and his achievement in finishing 10th overall also secured Clive the 1st Male supervet trophy. Just over a minute later a trio of Tuffs would cross the line. Alex Webb would be 13th overall, Simon Thistlethwaite 14th and Jon Babbage 15th all finishing within the hour. Dave March and Chris Robinson were next and their finishing positions of 18th & 19th respectively meant our club took 7 of the top 20 finisher positions.
The procession of Tuffs continued as Nikki Gatland finished 5th female and 25th overall. Adrian Oliver was 26th just 5 second ahead of Lee Bishop in 27th. Les Pearce last competed in the Frosty many years ago but can still deliver the goods finishing in 29th position. Pete Littleboy was 31st with Phil Turner close on his heels in 32nd. Nick Bolding and Phil Scales both recorded exactly the same 10k run time, with Nick slightly ahead because of his swim time. Good to see Tiff Orton competing after being on the support team here for so many years. Amanda De Ridder, Debra Cauchy-Duval & Clare Worgan all completed within the top twenty of female finishers. Good work from Nicole Ewer, & Susan Douglas and also to Hazel Sheward as she completed her first multisport event. Janet Shephard and Shelley Babbage highlighted the strong number of Tuff ladies racing. What was inspirational was the performance of one of our coaches, fellow Tuff Helen Bull. With her illness particularly troublesome it would have been justified if Helen hadn't made the start line, but as we have already found out, you can't keep a good woman down. She set off on her hand cycle around the run course after posting a very strong swim time. The route up Hendon Avenue isn't flat and Helen was on the course as the heavens opened accompanied by hailstones but she completed in style. Helen has achieved so many remarkable sporting milestones but it transpired this was her first multisport event; we were privileged to have played a part in it.
This wasn't quite the end of the Frosty action as running concurrently is a team competition of at least one male & female in each team. Matt, Clive, Alex & Nikki combined to be second placed team. The depth of our squad meant Tuff Fitty were also 5th, 6th, 8th & 9th team behind the champions for a second year- SUTRI
Next up was the Frostbite 16 length 5k run and Tuff Fitty had 9 club members out on the course. It was a great start for Tuffs with Nicole Patterson-Lett taking the fastest female swim split. Meanwhile Henry Teague-Smith was punching out his trademark rapid run split of just 18:59, a time that would see him home in 3rd position overall. What was exciting to see was Oliver Thomas who was another member entering his first multisport event. No one would have spotted this fact because after exiting the building with a swim/transition time of just 6:14 – fourth fastest; Ollie would continue strongly finishing 5th overall – a very impressive debut.
Next home were two of our swim specialists – James Togneri and Andy Tester crossing the line 10th & 11th overall. Next, another great debut with Mark Walford in his first Multisport event finishing ahead of Nicole P-L, good to see her comeback holding up after recent injury. Run specialist Sue Neilson was our next squad member followed by James Brock. Great work in combining his race with media duties – all photos here emanate from his camera – thanks Jimbo. Elaine Rousseau completed the Tuff contingent; well done to all.
Race Director Clive has received a very high level of emails saving how people enjoyed the race. All bar one were fulsome in their praise and enjoyment of the morning. The comments can be summarised by one who said " I want to simply tell you how well organised, welcoming and friendly everyone was from registration to time keepers to marshals. Brilliant effort all round. I'll be back next year! You were all marvellous and made me feel welcome – it was my very first event!!"
There were plenty of awards and a huge array of quality goodies for spot prizes. Thanks to Clive PL, Drew, Grant, Steve Belt & one of our sponsors, Edible Sandwich Co for these.
Thank you to everyone who donated to our charity partner MIND – our ambassador Graham Liddell has monies to hand over under our #NOT2TUFF2TALK Initiative. Click on the photo below for the Tuff album
<
>
First Sunday in March 2021 anyone?