May Bank Holiday Round Up
Happy VE Bank holiday from everyone at Tuff Fitty. Despite the sadness at Tuffs still being unable to meet up, there is still plenty of motivational (responsible) training happening.
It is fantastic news that despite the lockdown we are lucky to have recruited yet another new Tuff to our ranks. Welcome to Ben Cumberland. There has been several exchanges of correspondence and Ben appears to be a fantastic, quick, addition, training at a high level (responsibly), and we can't wait to formally welcome him when we meet up, and share the Tuff camaraderie. A warm welcome from us all Ben.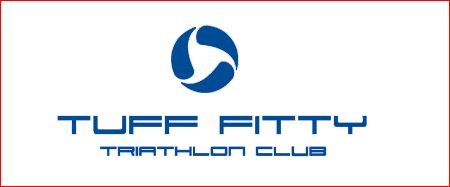 Particularly until our governing bodies (BTF/UKA) permit, if anyone has any ideas for activities or challenges to inspire everyone, please let one of the committee know.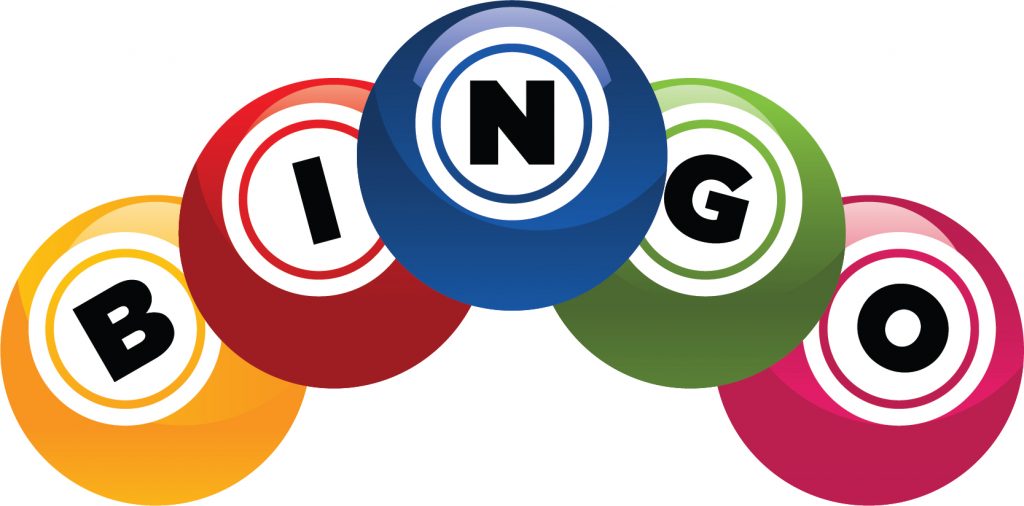 TUFF BINGO
Tuff Bingo has just been launched. To try and encourage everyone to remain active (when safe to do so) the "Tuff Bingo" event will run until June 7th.
All people need to do is to print off their bingo card (shown below) and simply tick off as many of the 25 boxes that you feel able, or are permitted to do. If you can complete a minimum of 18 challenges, then you will be eligible to go into the draw to pick a winner.
The categories have been designed to be inclusive and completed within social distancing guidelines, so for instance a 10k journey can be completed by any means of self propulsion.
We are looking to motivate members, so we do not require proof of completion. However we would very much like to keep abreast of developments. So as you tick off your bingo card, please post pictures to help inspire. When you have fulfilled the minimum (or more) number of boxes, please send an email through to clive.harvey@tinyworld.co.uk. All you need to do is to say "completed" and attach one or two of your best photos gained from the challenge. The snap(s) can be inspirational, picturesque, educational, unusual or just plain bonkers! There is a Joker box where you can 'play' anything you like – it isn't meant to be 'find a funny Tuff'! Then in a future roundup we can give a shout out to our 'players' and include a gallery of some of the great sights seen.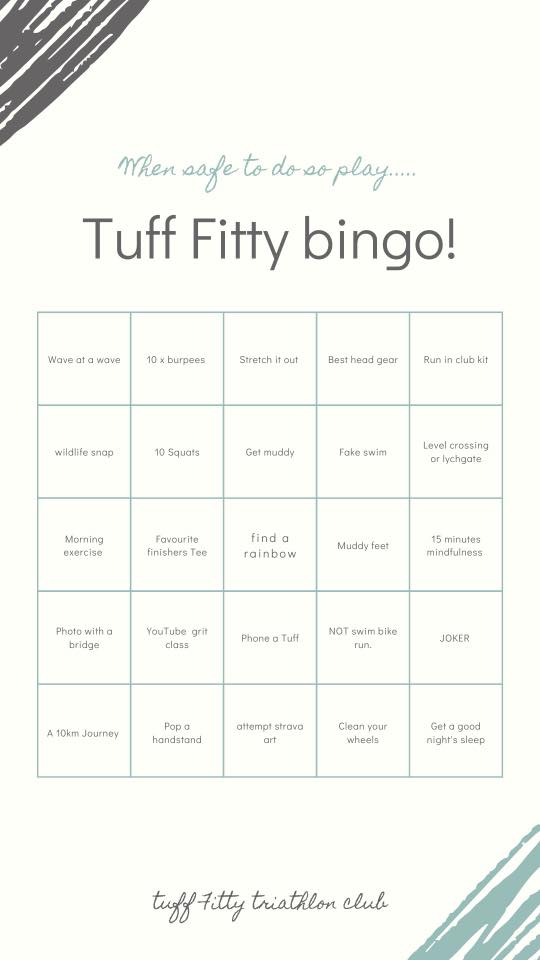 So 'Eyes Down' everyone. Actually no, watch where you are going, but good luck and we look forward to sharing your adventures.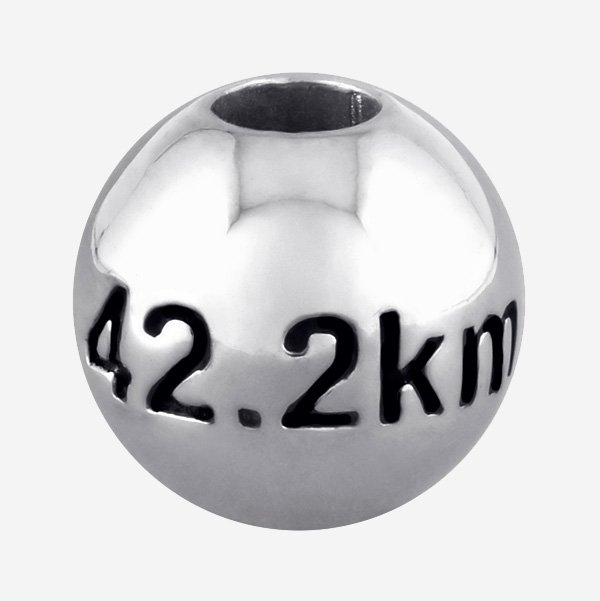 42.2km in 42 Hours
42.2km in 42 hours is an international challenge which commenced at 6pm on the 1st May until 12pm on Sunday 3rd. The aim was to complete the distance individually or as a team of three. Verity Jane Lacey was a key influencer here with several Tuffs undertaking the challenge.
Iris Bennett was one who took up the challenge and she reports as follows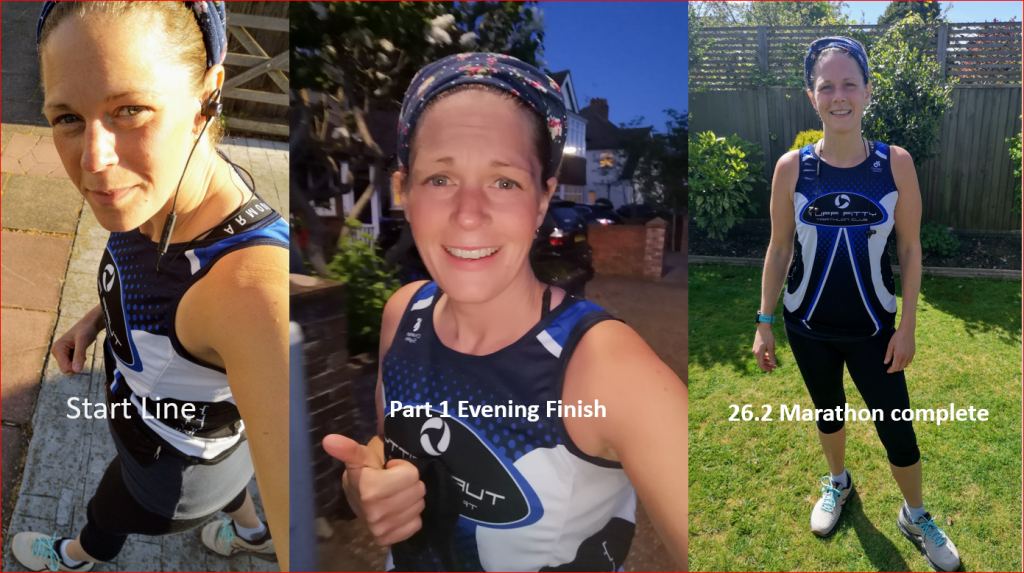 "I found out about the 42.2km challenge a week before the international event. Without hesitation I agreed to take part and decided I wanted to do it alone, as opposed to being part of a virtual team (not sure what that says about me….. but moving on)!"
"I have been running regularly during this Covid-19 lockdown period; I find it extremely beneficial.
Having expected to take part in the Bluebell 10k and Steyning Triathlon these last two weekends, this challenge was a welcome substitute.
Initially I thought I would complete the event in three parts (2 x 10 miles and 6.2 miles), however as I have been running 10 – 12 miles quite comfortably I decided I needed to challenge myself a bit more. So I chose to do a 20 mile run, starting at the official kick off time (6pm in the UK) on Friday 1st May and the remaining 6.2 miles on Saturday.
I prepared for the long run as I usually would by taking on water and carbs the day before.
Friday morning came and I felt excited, maybe a little nervous, after all not much has been happening lately!! With not much of a commute to the start line (the driveway), I was ready with a new playlist and wearing with pride my Tuff Fitty club vest.
The race was on (against myself) and knowing that other Tuff's were also starting at 6pm gave me a sense of comfort even though we weren't physically running together.
My plan for the long run was to focus on 5 miles at a time rather than counting them down from 20. At mile 6 I was feeling pretty confident, singing along to my tunes dreaming about completing the full 26.2 in one hit….. it's safe to say that didn't happen!
My route took me from home towards Shoreham, my turning point being the lifeboat station. I made it there quite happily. 12 miles in and I needed a drink (I am not a fan of carrying water or using gels)! I took a 3 minute pit stop whilst I bought some lucozade at a deserted garage, drank half the bottle, discarded the rest (in the bin) and carried on.
I was now running towards Worthing Pier, focusing on the third 5 mile section of the run. Still feeling good, pacing well and not pushing too hard. I didn't want to burn out, after all, this was not something I had trained for!!
Around mile 15 I was starting to get tired. I have an underlying hip injury which I tolerate but this was starting to shout at me a little louder! With just the last quarter to go I wasn't quitting now.
Running is as much of a mental challenge as it is a physical one. There is certainly a new found appreciation for me when it comes to running as a result of Covid-19. I ran feeling grateful that I could; bizarrely in a time when sometimes the roads are quieter than the pavements and I have to pay constant attention in order to comply with physical distancing regulations. I ran with the awareness that others are fighting bigger challenges and going through unimaginable pain right now and all I needed to do was put one foot in front of the other.
My headphones ran out of battery back at mile 13 so my thoughts were all I had to keep me going or to break me.
Miles 17 – 19 were tough but I found some energy from somewhere to finish part 1 just before 9pm.
Saturday morning came and I wondered how on earth these stiff legs were going to run anywhere! Having previously planned to run again at 6pm, I realised I needed to get it done. Patience is not my thing and I didn't want to spend all day thinking about it. I'd had my porridge and I set out at 9.45am. The first couple of hundred meters were tough, my hip/ leg was pulling and I was worrying about how this was going to go. Two miles in, having given myself a talking to and relaxing into my stride instead of fighting against the discomfort, I started to settle down. The miles ticked by quite nicely and although I once again ended up running in the road to avoid other humans; I managed a quick finish to a very quiet non existent crowd! Having completed the task I felt super proud when I got home. It was great to check the event's Facebook page and see everyone else's achievements including those from the club.
This challenge was a reminder that I still have determination, an inner strength that I thought I'd lost. A reminder that whilst I don't have the body I would like, I have one that is strong and enables me to run, which I enjoy so much.
It also gave me time to reflect. This pandemic affects the thing we need the most….. connection. I miss my running buddies and track night and the wonderful community that is Tuff Fitty Triathlon Club.
Iris
Jon Babbage also participated :-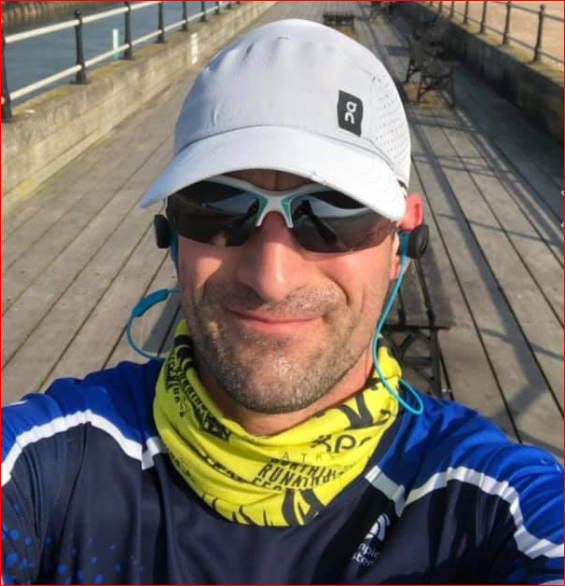 "I got a notification on Facebook a few week ago saying Verity had invited me to a group when I clicked on to it it was a group called 42km in 42 hours. So I thought yes, why not. So I joined the group and saw so much positivity on this world wide page I started to share it myself and round up a few Tuffs start Friday 6pm to Sunday midday – how hard can it be?
Having worked all day Friday I got home at 5 and half hour later I was getting ready to run 6.00pm on the dot. Shelley and myself were off 11 miles and I had enough. My hamstring was very tight after pushing 2 previous runs, plus I was hungry so I called it a night went home and started prepping dinning. Saturday I worked all day and really couldn't run my hamstring was so painful. I just thought I will finish the 15.2 in the morning. I very nearly didn't get up and thought 'sod it dnf jb'. After half a mile on Sunday morning I said to myself how the hell am I going to do 15 miles? I can feel the hammy already So I just slowed the pace down headed as far away from my house as I could and did not look at my watch for pace or distance I was now committed and couldn't give up. Got the 15.2 miles done so got the 42km in 42 hours done. Well done to the other tuffs that also took on the challenge you definitely helped me through this with your posts and upload so thank you
Jon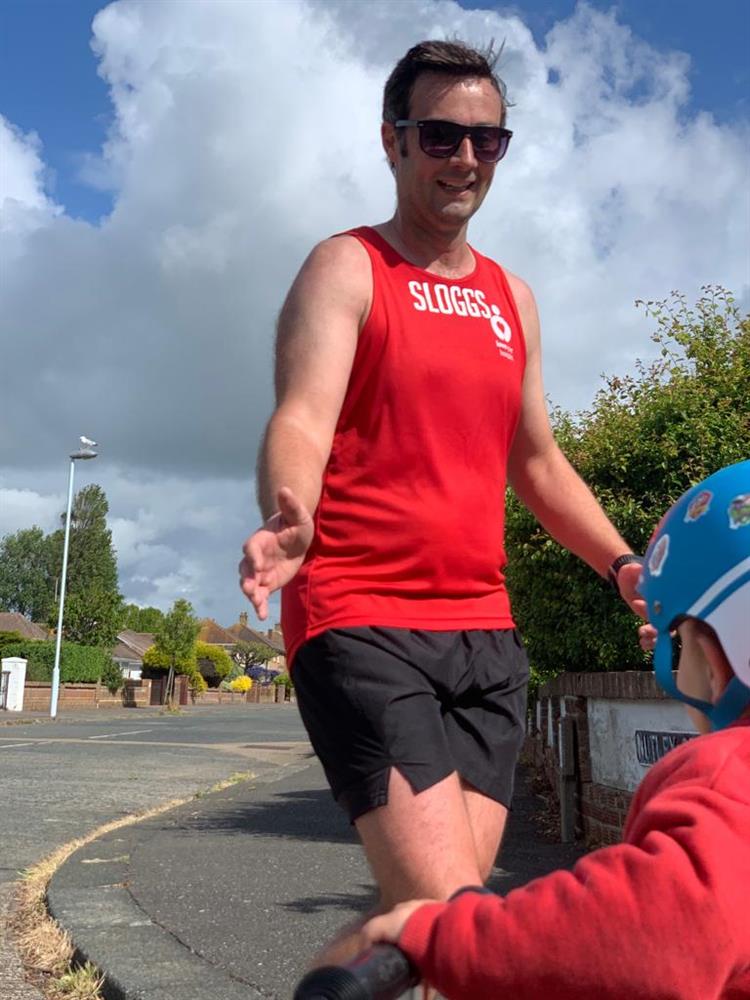 Next up we have Chris Sloggett who had been scheduled to undertake the Arun River Marathon this week. Instead he also participated in the challenge. Chris reports:-
"Well I started out around 9 in the morning and ran for 4 hours and 16 minutes. I am pretty happy with that as it is my 2nd best time. I am not going to say it was the most scenic marathon I have done (Beachy Head marathon smashes this one) but it was quite nice just going round and round. (70 times passed his front door!).
Chris
Well done to Chris who has so far raised £460 for Western Sussex Hospitals.
It was great to see so many Tuffs participate. Apologies if any names have been missed but also well done to those we are aware of. – Jennifer Turner, Adrian Oliver, Paul Atkinson, Shelley Babbage, Olly Sampson, plus of course one of the instigators – Verity who undertook as a team of three.
CAPTAINS COFFEE MORNING
Last Sunday saw our Captains, Nicole Patterson-Lett & Jon Babbage host a Captains Coffee morning. It was a great way to catch up and have a chat; although if you were coach Andy Ward, he doubled up by joining for a chat whilst on the turbo!
The link up proved successful and it is anticipated that a further one will be held in the near- future. If anyone hasn't participated in a Zoom meeting, a link will be provided so it is easy to access – thanks to Nic & Jon for arranging
POSTPONED RACES
We should have been well into race season now and it is sad to see events now postponed continue to slip by. Last weekend would have been our Sprint Distance Triathlon championship race at Steyning. However that didn't stop Ross Court using the course for an individual duathlon.