A See Change -Rampion Windfarm Challenge
On Saturday 12th September 2020 Jon Cassell and I (Nikki Gatland) attempted the 16 mile swim out to the Rampion offshore wind farm and back. Like every Sussex local, you look at the wind farm and know it's "quite far" but never think it's "that far". This was our challenge as team A See Change in our bid to row the Atlantic, raising money for Surfwell and campaign for cleaner oceans.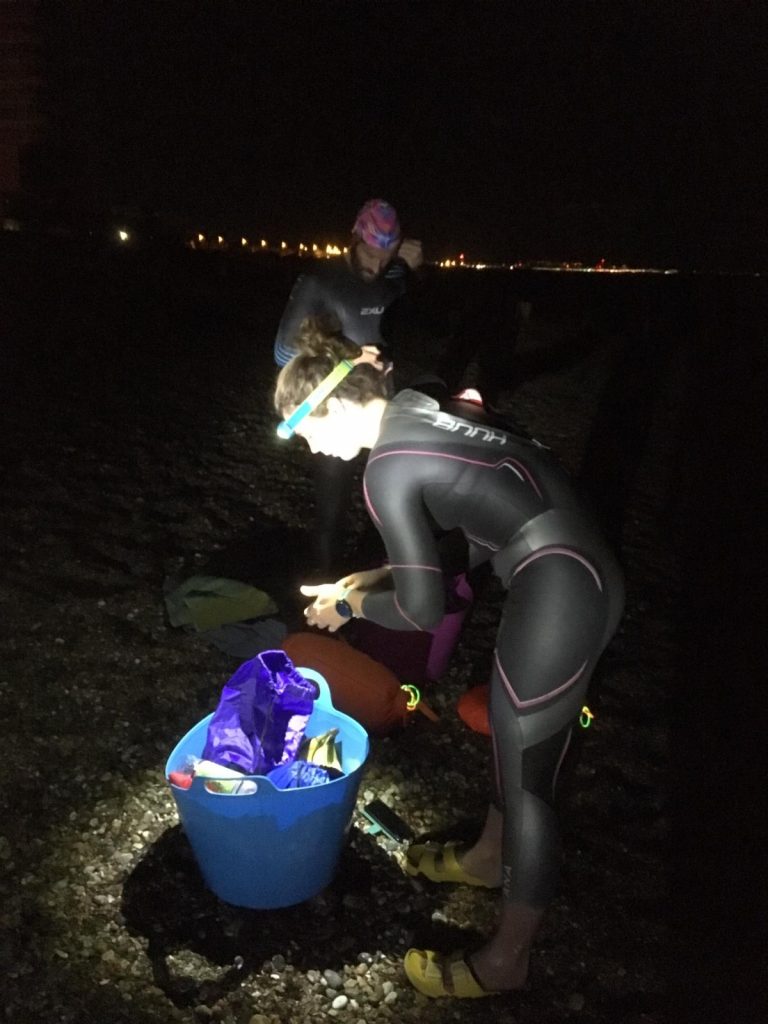 At 0500 on Saturday morning I was pretty much in hysterics. We were standing on the beach waiting in the pitch black with only bike lights, head torches and good old phone lights to try and guide the safety boat in. For me it was just comical. All I could think, genuinely was "what the hell are we doing". I mean, "this is ridiculous". Plus, once we were near the water's edge we could hear the crashing of the shore dump, and the state of the sea. It was rough. Rougher than forecasted, and rougher than expected. We were unable to beach the boat to load the kit, so had to wade in with our buckets of food and fuel to load up. Only after the event do I know that at this exact moment, Alastair and Andy were questioning whether we would swim. They anticipated that their arrival would be met with a reply of "it's too rough for us to do this". But nope. Off we went.
"This darkness and rough sea is making me feel a bit ill" , "I wonder how they're are feeling on the boat" " Don't think about that, that makes you feel more ill". Those conversations were going round in my head interspersed with "are we really going to make it? Yes of course we are, just don't think about it".
First food stop.
"Don't want any food, just a bit of drink please " reluctantly my wish was granted and carry on.. This is the easy bit.
Second food stop
"Jon we are going well, on a good time – 2 km in 34 mins" (we were aiming for 20 min kilometres)
"Just a bit of banana please". As the tupperware box was lobbed to me, I took out the peeled banana. In struggling to keep my head above the lumpy waves I pretty much mushed the entire thing in my hand, squashed some of it against my face, some in my mouth washed down with some salty sea water and ditched the rest. A salty banana was to feature regularly from now on.
Third food stop
"We are having a picnic" of…wait for it "salty banana" and protein drink, washed down with non salty water.
Again good pacing, and Captain Alastair lifted spirits further by estimating only another hour until we would at the wind farm.
And based on the pace we were going, I too was thinking "we are going to have to change the facebook event timings to 1300-1500, we could do this in 8-9 hours and we would be too early" Or "could we hang around the wind farm for a bit so we drag the time out" But no…
BOOM – We jinxed it. INSTANTLY
The sea state after the third fuel stop was choppy, winds picked up and were being pushed further east. My body was starting to feel it. The only way I can describe it is; I believed that this would be a state of plateau. That it felt difficult but I cant see it feeling much worse for a while. I would just be able to manage and cope with the pain for a bit longer.
Fourth food stop
Recovery powder and a bit more banana.
Jon was already struggling having pushed through the dark and feeling unwell, exhausted. But we said "let's get to the wind farm, just that. Don't worry about the rest". So off we went again but not long after, Jon needed to rest. Alastair and Andy circled back and Jon said he couldn't continue. Jon had already swum further and for longer than ever before, and Jon only started sea swimming 4 months ago!! I begged him to try the local delicacy of a peanut butter and jam sandwich, something solid to see him through, but he said he couldn't. Reluctantly Jon's body has stopped, and with the conditions out there lowering his body temperature, the only option was for Jon to exit the water.
At this point, ensuring Jon was safe on the boat and wasn't at risk of getting ill, I had no choice but to continue. And reach those pesky wind turbines.
Now, bear in mind an hour ago, Captain Alastair said he reckons one more hour. That was not the case. (I am not blaming him at all and it is all in good jest) We weren't there We weren't anywhere near. I would almost go as far to say I felt further away than before. Basically we had been pushed so far east that our original plan of turbine F15 was not an option.
15 minutes later
"Are we actually moving, I'm not getting any closer. [Expletive], we are not moving"
15 minute later
"[Naughty word] I am still not moving, where are we aiming for?"
15 minutes later
"this is a joke"
"you're nearly there we promise, you're so close"
"NO I AM NOT"
Missing feed stop 5 because I just wanted to get my head down and make the turbines. Eventually we made it to RM04 and I start to swim round it. They were big and there were lots of them but I didn't really care. All I thought about was swimming around the turbine and wanting salt and vinegar crisps and a sausage roll. We made it round the turbine at just under 17km and stopped for a cheer and a wave and to refuel (food stop 6). I said "cor I really fancy a sausage roll, that's all I can think about" and the response from Andy was "I have one, I actually do"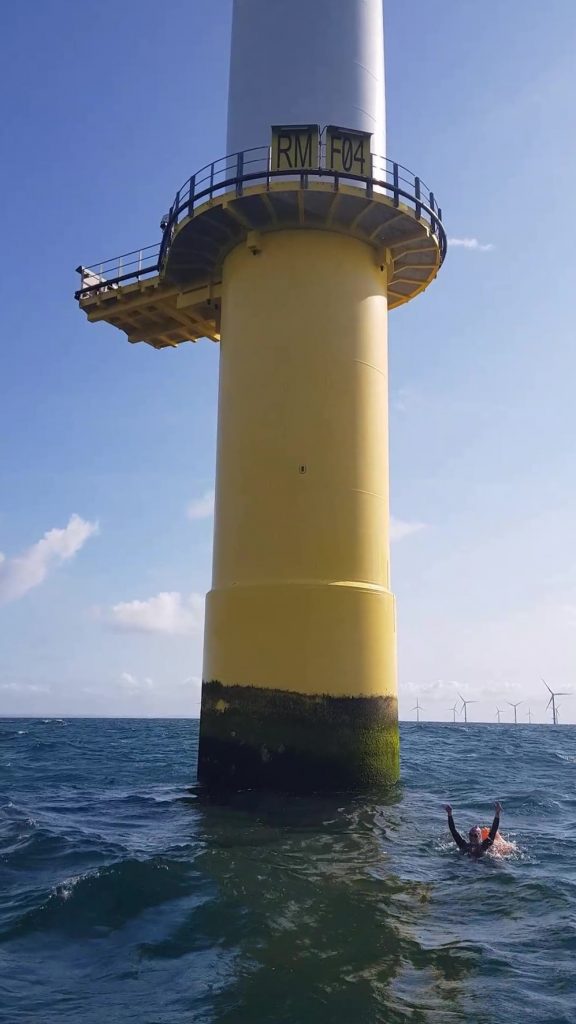 NO WAY
That news made me happier than reaching the turbines. I thought the flaky pastry on my lips and a bite of the sausage roll would cure my craving, but no– game over. The dryness of my mouth from the salt and dehydration instantly, like some chemical reaction, turned the once desired sausage roll into a massive lump of wall paper paste. I tried to fight it but it was not going down. To my disappointment the sausage roll let me down and I had to turn back to the trusty peanut butter and jam sandwich, flapjack and of course a salty banana.
I didn't want to stop for long and again, checking Jon was safe and well on the boat we set of to return to shore thinking "this is going to be tough. I know it will be but I have to give it a go".
An hour later
Seventh food stop
I was in need of some food, it didn't take long to feel hungry again after the turn around point. Luckily I had more pb and j sandwiches and flapjack to fill me up, unlucky for me though was Andy's a poor shot in the wind and rough waves. As the tupperware flew towards me it swiped me around the side of the head at considerable speed. I was not going to let concussion by tupperware stop me.
I checked my watch regularly to look at my pace, it dropped away from 2min/100m which was disappointing to see but I couldn't do anything about it. I couldn't catch the water harder, push at the end of my stroke any further or increase my stroke rate. My triceps felt the size of a pea, my back was aching from the wetsuit. I had a headache from dehydration and the goggles. I wasn't aware at the time, but my face had doubled in size and was probably increasing the drag resistance!!
But, I was not going to let myself get so close and not complete.
Eighth food stop
"This is actually really hard"
That was met by Andy's response of "you can afford to slow down a little if you need" – NO CHANCE
If I slow down then, I would have continued to slow until all that was left was for me to float in with the incoming tide hours later.
So then it was a case of efficiency. No tupperware chucking, just protein shake and recovery powder. I also then took to the jelly babies to get me to the end. Coming up to the boat I heard the words from Andy "look they come right up to the boat and you can feed them from your hands" I swam up, targeted the jelly baby (all colours, I don't have a favourite) dangling from the boat and inhaled the sweets before the waves got them.
I then looked over and saw Jon getting ready to make a come back. Jon re wetsuited and amazingly joined me back in the water. All I thought was "I can't let him pull away from me, I have to keep with him" and I even tried to draft off him for the first bit. But in the messy conditions we separated again. Jon gave a mighty go at pushing through the conditions , but sadly he had to exit the water again through exhaustion and illness. At this point I was not aware of what was happening apart from a very direct order to keep going.
Ninth stop
"I am starting to struggle now"
Same fuelling as before but I started to get cold. Luckily, the crew were prepared with a flask of warm water. After a few sips on that I was ready to get back on the metronome of one arm over, then the other. Sighting became increasingly difficult in the over 4ft waves and as my neck was tiring, lifting my head to see was hard. Swimming off track happened more frequently as I lost site of the boat, so I had to correct my path, whilst getting frustrated wasting valuable energy and time. My shoulders were gone and all I had left was some attempt at increasing my kick.
It was bad news from a tracking point of view. The current continued to push us east making it increasingly difficult to aim back into the conditions towards Splashpoint and the landing party on the beach.
Tenth food stop
Only post event was I reminded that at this point I shared my own rendition of R Kelly' Bump and Grind: "My mind's telling me yes, but my body, my body's telling me noooooo". Reminding me about how delusional I became.
I could see the wheel and the large block of flats to the left of me, I knew we were drifting further away from our landing site. But I could see a beach, quite clearly in front of me and that is what we aimed for, anywhere on the beach. I so wanted to get there but my body was slowing massively.
Head down, legs kicking we headed for shore. The boat escorted me through a number of kiters , who were enjoying the very conditions I was hating. Just off from the shore line, I sprinted past (that's how I imagined it happening) the boat and crawled my way to find some solid ground. Struggling to stand up I staggered around on the beach with a cheer from the boat and a whoop from me. WE MADE IT.
I actually did it. Gutted that it was a solo landing but happy that Jon was well on the boat and the amount of swimming he did achieve.

I dragged my sore body back to the boat and flopped in. We then made the 2km ride west to see the welcome home gaggle spread out on the beach. Jon donned his hat and goggles again and in style we fell out of the boat, splashed our way to the beach and had another whoop whoop and cheer from everyone on land with the biggest hooter blast and claps for our safety Captain, Alastair.
It truly was amazing to see everyone and to look back at the wind farm and realise what we had achieved. The 16 mile estimated swim turned into over 19 miles, and took 10 hours and 54 minutes in winds of 18knts, currents travelling 1.1 knts, all giving us over 4 ft waves.
A little surreal but I think I believe we did it!! Oh, and sorry about the state of my face. Little did I know that I had looked like I had just been pulled out of the ring after 5 rounds with Nicola Adams!!
We thank everyone who helped us get there, back and warm on dry land from the bottom of our hearts.
So here's to the next challenge.
Nikki