Weekend Round Up 10th 11th October
Tuffs are still managing to track down some great Covid-aware races which we can report on, and please ensure you read down to find out about your committee's latest Corona Challenge to participate in.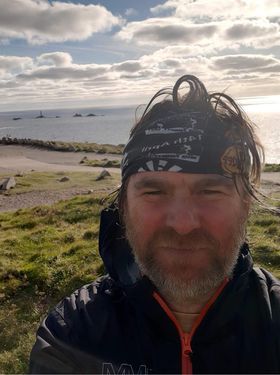 VoTWO ATLANTIC COAST CHALLENGE – CORNWALL
First up this week we have a great report from our very own Geordie – Paul Atkinson from his Atlantic Challenge from Friday 9th to Sunday 11th October
"The organisers did a fantastic job getting this event on. Days of training wouldn't go to waste after all. It meant a number of changes to the usual format to meet the covid risk assessment guidelines but actually it simplified the admin of the event considerably. No numbers, or dibbers, or kit checks etc, and only 2 very basic water stations per day to replace the controls & food stations. The lengthy daily registration and kit check process was replaced by the collection of a tracker. Result!"
"A reminder of the format. Run, walk or crawl 78 miles from Padstow to Lands End in 3 days along the South West Coastal Path. Actually it's 80 miles cos the hideous day 3 is long. It's self navigation. There are no Marshall's or signs. But Navigation is straightforward. Keep the sea on your right!"
"Now the big problem with this event is that they supply free beer all weekend. 3 barrels of Skinners Betty Stoggs. Anyone who knows me will realise that this is bad. So the Day 1 Marathon started with hangovers all round after smashing the first barrel. Day 1 also includes the additional challenge of navigating through Newquay. It is rumoured that no one has ever found the the same route twice. And the day finished with a 4km run along Perrenporth Sands. Grim. Miraculously though, all those months of lock-down eating & drinking got me round in under 5 hours for the first time in 5 attempts. 1,062m climb. Well happy. So celebrated with a Betty Stoggs…or two."
"Day 2 starts in Perrenporth and after circumnavigating the seals at Godrevy headland, heads along miles of endless sand to finish back at our holiday park accommodation in Hayle Sands. The cruelty of this stage is that we pass the finish line at 35km before completing a further loop round a Hayle to the finish. Anyways, all good, 5hrs 14 mins, 1,136m climb, legs still working, job done."
"And then there is Day 3…..I cannot describe how brutally hard this is. Lelant to Lands End. Legs felt good. 8km in the first hour and St Ives behind us. Then we enter the Boulder Fields. Miles and miles of miserableness. 20km later we crawl past Pendeen lighthouse and into the Botallick tin mines, broken and bleeding. Finally we reach Cape Cornwall and in the distance there is our first sight of Lands End. By this point we have naturally coalesced into small groups of similar inability with the sole objective of surviving the last 10km. And eventually myself, the founder of the "We Love Trigs Challenge" and a bloke called Dave cross the line together to rapturous silence from the non-existent crowd at Lands End. And eat our cold pasties."
"And that's when the fun started". (Click on photo below for more in the gallery)
Paul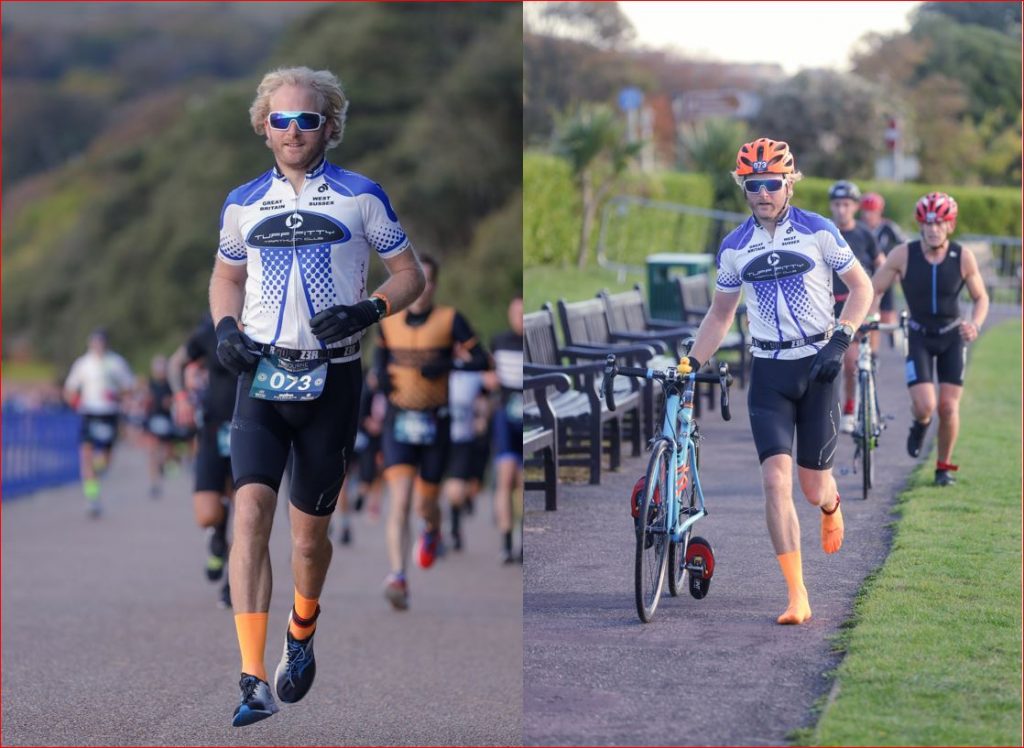 EASTBOURNE DUATHLON
Organised by Tribourne events, Eastbourne Triathlon & this weekends Duathlon are building in stature and this year there was Tuff representation in the form of Joe Pascoe & James Togneri. First up a 5km run along Eastbourne Prom with a gradual climb before returning on a gravel path. The 19km bike is mentioned going across Beachy Head by Joe, but then reaching East Dean back up and across Beachy Head again; phew. The final 2.5k run started downhill but at the end there was a run 'king of the mountain segment'. A challenging course, so how did they do? Joe first, then James:-
"This year I planned to race my first ever duathlon at the beginning of the season. After that got cancelled, I found Eastbourne Duathlon last weekend and though why not."
"The weather was spot on, fresh and sunny, my rubber duck was safely attached to my bike and when I forgot my race belt, James Togneri had a spare (thanks James)."
"The 5 km was a rolling start and I managed to scrape in at around 20 minutes. The bike had amazing views and some cracking downhill sections (and some rather painful uphill) as it headed out over Beachy Head and Birling Gap to the U-turn at East Dean".
The final 2.5km Run had a 1 in 10 climb right at the end where I had to give my legs a good talking to. Overall it was great to be racing and a cracking way to finish the sort-of-season. Plus if you don't count all the speedy women that beat me, I finished inside the top 40 😊."
Best wishes, Joe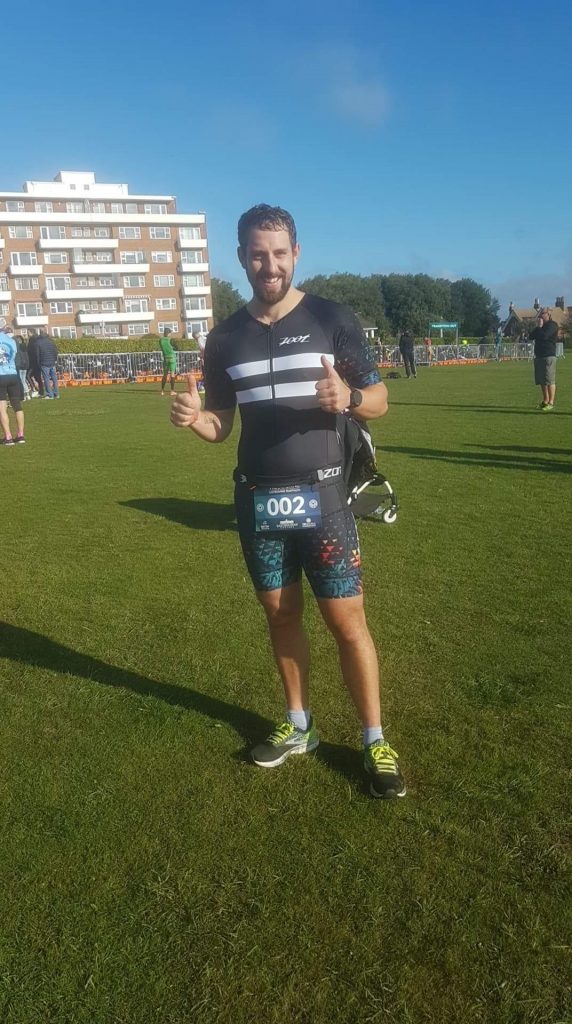 "What a great event ! Lovely crowd, very well organised and was so good to be racing" .
"Speed work has been slack so it was a hard race for that fact straight away."
"Run course and bike course were both brilliant amazing views and very challenging".
"The bike was Haaaaard . Very hilly ,very windy and it was an extremely competitive race you had to dig deep to even stay mid pack".
"Great to see Joe Pascoe there we had a good pre and post race chat and I'm glad he agreed it was a tough one . Especially finishing the run on a very steep hill ".
Cant wait for another !
Cheers; James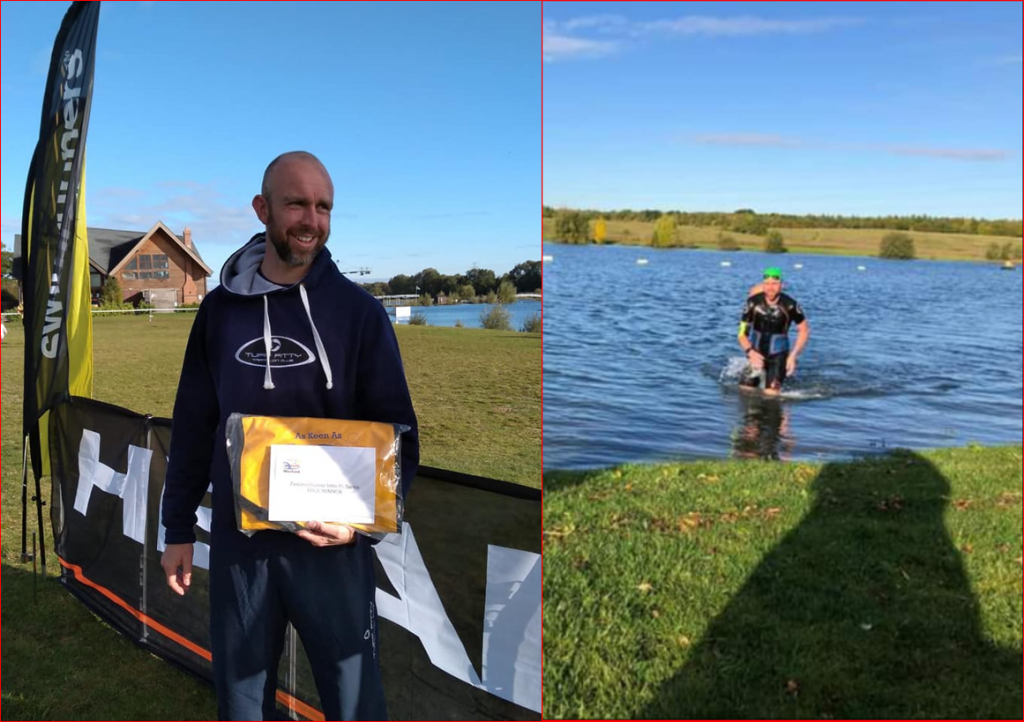 FENLAND RUNNER 5K SWIM RUN
Mark Walford had recently completed a Keen as Mustard event, and having got the taste for Swim Run, he found the next race in their series up at Box End in Bedfordshire. A long way to go and extremely early start, but certainly worth the effort, finishing 1 minutes 25 ahead of second as Mark reports :-
"After spraining my ankle 5 weeks ago in my first swim run and not being able to finish the way I wanted to, I told myself if my ankle recovered in time I would go back and complete another swimrun this year. After very little training and a super early start I prepared myself for a rather chilly 13degree water, having done one event I was much better prepared for what to expect on the race. After a gentle 2km run jumping straight into a lake for a 400m swim I was shocked how cold the lake was, but definitely by the end found it refreshing. After 3 runs and swim changed I was close to the end of the course. One last obstacle to navigate, a swan I didn't see on the water's edge as I run towards the finishing line didn't take to kindly to me and hissed and chased me prompting a quicker sprint finish than I planned it to be. But very relieved to be over the finish line with no injury and pleased with my performance. Now looking forward to next season"
Mark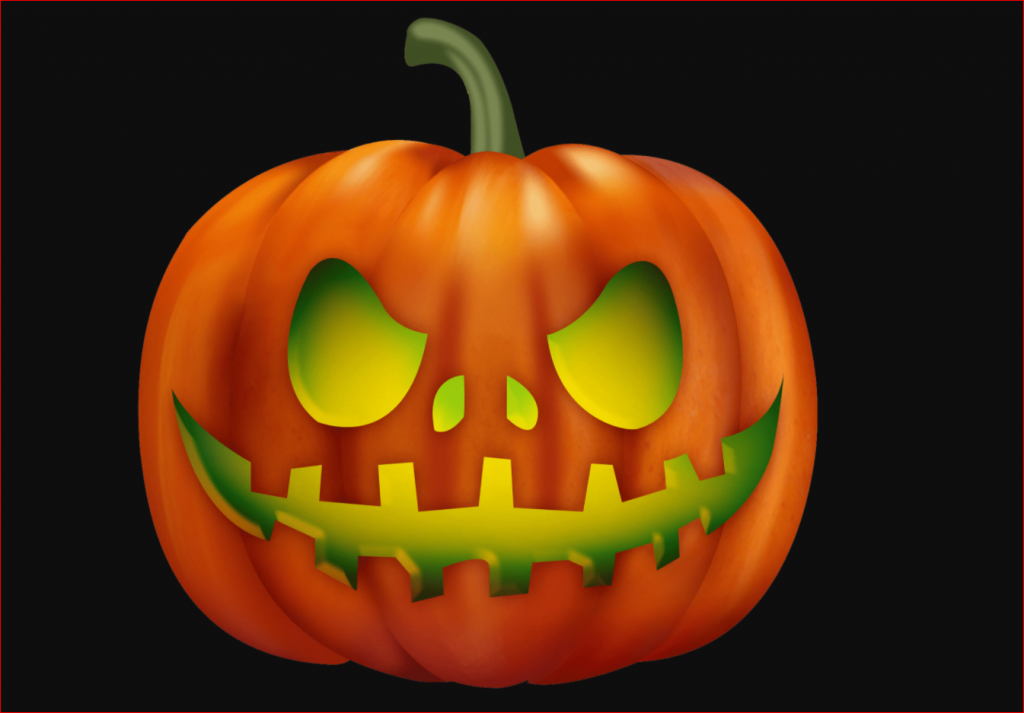 TUFF's "TRICK OR (RE)TREAT
Your club are trying to ensure we remain active with our socially distanced training, but as the different levels of tiers across the country increase, we need to be prepared for any further restrictions that may arise.
To this end our next Corona Initiatives are now launched. We held the successful Corona Classic Run and the Corona Cruisin' swim challenge. Your Tuff Committee now present the Trick – Corona Halloween GPS Run and the (Re)Treat The Corona Pumpkin Challenge.
Corona Halloween GPS challenge is to get artistic and record a Halloween themed art using any form of GPS/Strava logged device. Your artwork can be over any distance, and over any landscape – the only caveat is that we ask you to get artistic without the need to cross private land or leap over people's fences. Whilst planned for individuals if you wish to team up with someone, that is acceptable, provided prevailing guidelines and social distancing are maintained.
It could well be that with the weather turning colder, or with commitments associated with half term, you could get your family involved, something indoors may appeal. If a further lockdown occurs this could also apply – how about the Corona Pumpkin Challenge. Simply submit photos of carved pumpkins you have crafted, the design can be… well that's up to all our creative Tuffs out there.
So 'Trick' Tuffs by getting out and creative with the Strava art challenge on your GPS watch or (Re)Treat by carving a Pumpkin, or why not have a go at both
Entries to be submitted which will be judged by the Committee to decide who has delivered the best artistic Strava Art or Pumpkin.
Corona Halloween Challenges are now open with all entries to be submitted by the closing date of 1st November.