Weekend Round Up 12th 13th December
The lifting of national lockdown 2 has enabled more races to proceed, but also club members continue to keep active with initiatives such as Tuff Trig Challenge and group Zwift rides. Read on:-
GOODWOOD – RUNNING GRAND PRIX
The ending of Lockdown coincided with the onset of a cold snap, but that didn't deter three club members from arriving at Goodwood Motor Circuit to run around the circuit many times to achieve 10k, half or marathon status. Both Pete Littleboy and Chris Sloggett completed the marathon and Claire Moyle ran the half marathon.
In the marathon Pete was delighted with his time quoting "it seems my lockdown time has paid off with a 10min personal best" as he completed the distance in just 3 hours 5 minutes. Chris reported "It was so nice being at an event with a number on my chest again. I am not going to say it was easy doing 11 laps and the cold northerly wind did not help in parts, but all in all, a really enjoyable day." Chris completed in 4 hours 34 minutes.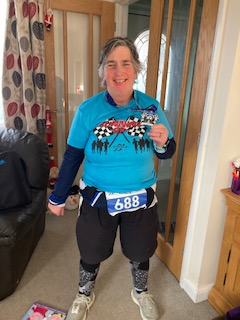 "I started the year with the Hampton Court half marathon which was the last event before lockdown and finished the year with the Goodwood half. These are the only races that survived my list this year.
I was quite nervous about racing again but it was very well organised and this is the first time I have run a laps half. To be fair this is only my second half and I must say I quite enjoyed the distance. I set off in sunshine but it soon turned murky, and the cold wind that hit you as you went over the top and into the bends was not pleasant. I managed to see and hear a few Tuffs that gave me encouragement and I focused on good even pace throughout. As I came to the finish my legs were beginning to hurt but I felt good and was delighted to cross the line in 2.27.43.
My target time was 2.30.00 so I was mega chuffed with a 16 minute PB.
Once on the finish line and medal in hand I suddenly realised how cold I actually was, so it was a quick dash home to warm up.
Hope everyone else had a good race." "I was pleased to learn later I was first in my age category" 🙂
Claire
THE SOUTH DOWNS TRAIL RUN
UK Trail Events stage several events in our catchment area and Simon Thistlethwaite reports in following his trail run at Plumpton:
"Set in the South downs national park in mid Sussex this race was obviously going to provide everyone with spectacular views and challenging terrain.
Being so close to lock down exit this was always a twitchy one for me but regular updates from the race events organiser ensured us that they intended to go ahead with the race if current guidelines permitted.
I really wanted this one given it may well be the last race of the year for me and because of how much I struggled with my last one.
It was easy to find , it was very well organised and laid out. The marshals were cheery and helpful and the course was easy to follow.
A well equipped Plumpton race course was the start at the foot of the South Downs and from here follow the tree line on a fairly comfortable first 3.5k before a very steep climb which saw a lot of people walking before the top – myself included!.
My legs were like lead 2/3rds up and before long walking the last bit appeared quicker and easier. Not wanting to walk for long I dug in again before the top to reach the Southdowns Way . From here you could see for miles , far reaching sea views and Seven Sisters country park !
It was windy on the Sturdy trails towards Brighton and the paths were thick with mud and very slippy with huge puddles. No chance of a PB here today so I just enjoyed the race at a steady comfortable pace. For some reason I thought it was a half marathon today and paced myself to ensure I had plenty left in the tank for a strong finish so I was very surprised and a wee disappointed when I spotted a 2k to go sign after 15k. It was then I realised I'd made a mistake with the distance but was happy with efforts today and managed to pick up 11th Place out of a field of over 500.
The goodie bag was great . Protein bar , socks , neck warmer , milkshake and very decent bling = Happy bunny"
Simon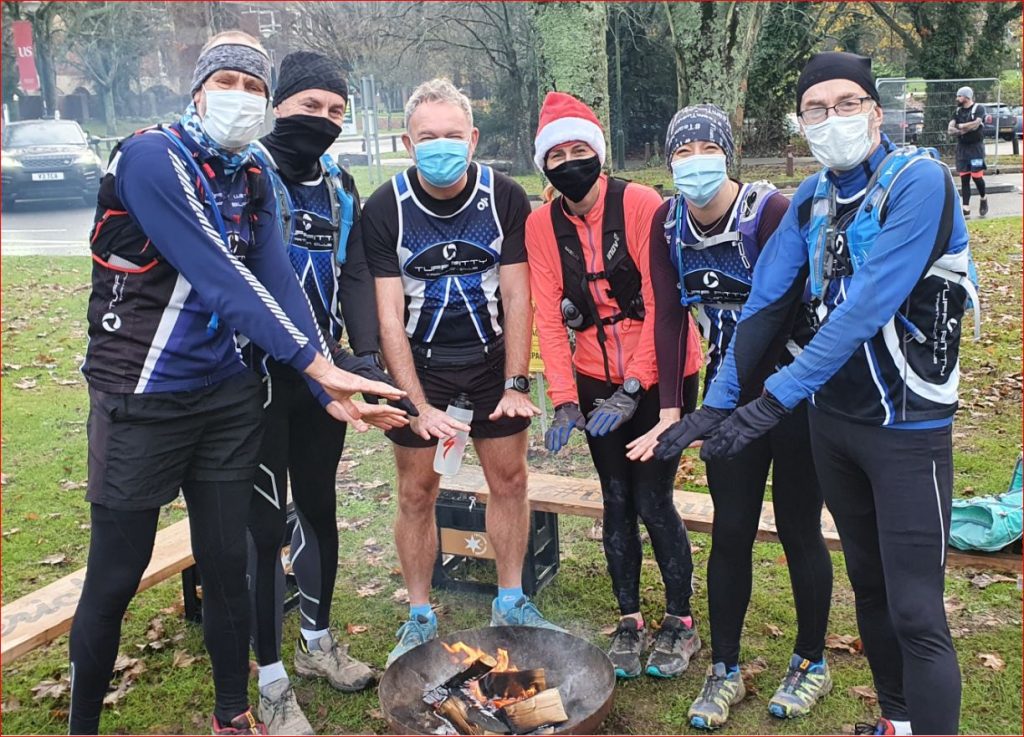 MAVERICK EAST SUSSEX
Normally this race is held in July, but this is not a normal year, so sevenTuffs arrived on the start line at Sussex University for a staggered start race on the 12th December. A choice of Short, Middle and Long distances. Long course participants needed to forget thoughts of a half marathon as Maverick tend to race over a 14.5 mile distance, and hilly ones at that. These are very well organised events and with a finish of can of iced coffee, bottle of beer, chewy bar and chunky bling – what's not to like.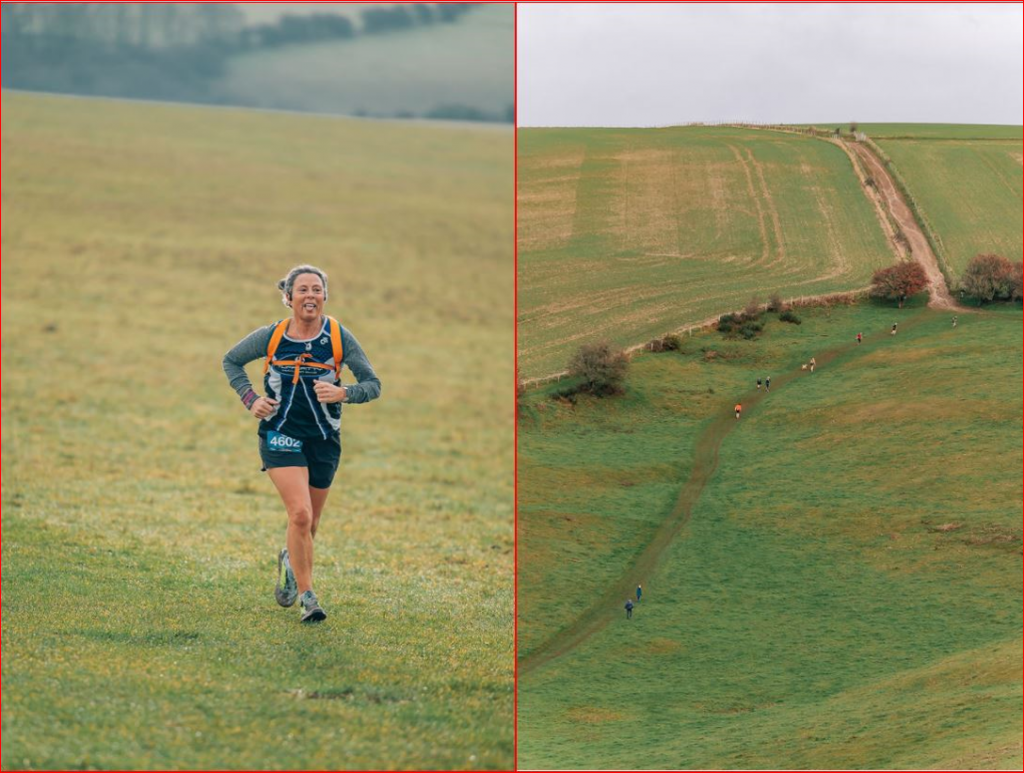 Well done to Katie Wride (above) who completed the middle (15k) course, a direct route up to the South Downs Way before joining the long course back to Falmer.
Tuffs long course contingent comprised Tiff Orton, Debbie Boxall, Jon Roper, Clive Harvey, Glenn Parisi & Trevor Harvey and they were all grateful for good running conditions, dry, and at one point the sun came out. Clive commented that "this was familiar territory as 3 months ago I was running up the climb out of Falmer on leg 1 of the DL Ultra, Falmer towards Plumpton and then left along to Ditchling Beacon & Pyecombe; although then it wasn't as muddy or slippy." Tiff reported: "There will be no mud, Debbie assured me (she lied!), felt like so much more up than down, but bloomin' marvellous; loved it
great company too! Jon added: "Lovely run, great to be out with Tuffs again! Glenn concurred but added "I might have to invest in some trail shoes lol!". Trev couldn't add much more to the above other than to say "I fell over
" Debbie summed it up for all six long coursers saying "It was a bloody great day! Perfect company, Lots of hills and no mud in sight
.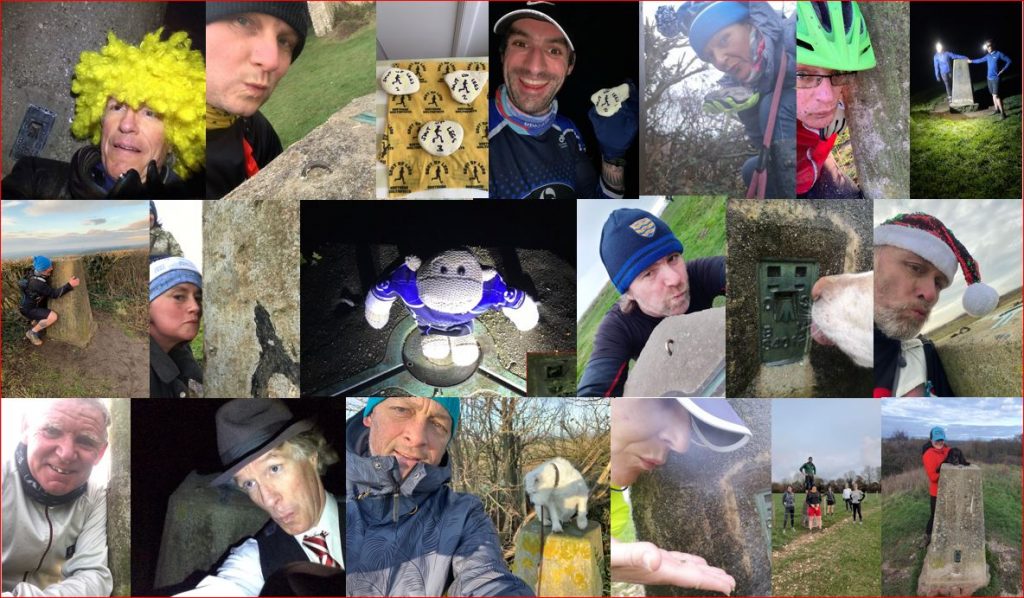 Just some of the 'Tuff Triggers'
TUFF "WE❤️ TRIGS" CHALLENGE
Trigpoints are the common name for "triangulation pillars". These are concrete pillars, about 4′ tall, which were used by the Ordnamce Survey in order to determine the exact shape of the country. They are generally located on the highest bit of ground in the area, so that there is a direct line of sight from one to the next. By sitting a theodolite on the top of the pillar, accurate angles between pairs of nearby trigpoints could be measured. This process is called "triangulation". The use of satellites made most trig points obsolete in 1962. Paul Atkinson, ably assisted by Jason Rae, set all Tuffs a challenge which continues throughout December. The aim is to reach as many Trigs as possible either by running, cycling or walking. Evidence is required with a picture of the 'flush bracket' (a metal plate with a unique number). Participants are also required to obtain a selfie of themselves 'virtually' kissing the trig -hence some bizarre snaps above 🙂 Finally bonus points are awarded if you travel more than 5k on foot to reach (we are a multisport club after all) and further bonus points for fancy dress!
The response has been fantastic with Tuffs (along with several Canine Tuffs) travelling across the whole of Sussex and trig spotting in Berkshire during morning noon and night! – the above montage is just a small sample of the pictures being submitted. The results table has just been updated and we would be forgiven for thinking Anthony Towers is on a quest to visit all of the remaining 6872 quintessentially British trig point landmarks in the UK. Anthony has already amassed a clear lead, with Becky Lintott-Clarke leading lady in third position. Jason Rae is in second position as he is not only participating but leaving special stones close by. Jason has kindly donated a Southern Multisport race entry to the leading male & female and also a spot prize buff. A big thank you to Paul Atkinson, who has really energised this initiative. it is impossible to run with him on a Saturday or Monday run now without him nudging the runners gently up to the top of the next Trig to bag 🙂 . Well done Paul & Jason, a great way to keep everyone active in a socially distanced way. There is still time for others to 'trigger' their interest and join the quest.
CLUB ZWIFT RIDES
Tuff Fitty have a large number of seasoned Zwift riders and several who subscribe to Peleton. With the wet and cold weather firmly in place, discussions ensued as to whether more members could be enticed onto the Zwift circuit (as the most popular). Whilst there is a monthly subscription fee to Zwift, in terms of equipment, a standard turbo trainer is sufficient if riders can purchase a cadence/speed sensor to go on their rear wheel and purchase a dongle to link up with Zwift.
We are immensely grateful to Richard Hobbs for volunteering to be ride leader to encourage Tuesday evening rides under the mantra 'all Tuffs welcome'. Hobbsie sets the hour's route sending prior invites to participants who accepted on Spond. Routes are structured so everyone is contained in a band, not dropped, ensuring all abilities can join in. Has the initiative proved successful? – Absolutely. Each of the four rides so far have seen 'new to Zwift' riders every week and Hobbsie links everyone in with 'discord' so the video stream (optional) and banter ensures there is plenty of motivation to keep riders pedalling. Just short of 20 different riders so far, anyone else looking to ride? Open to all. Don't be put off by some of the jargon or equipment, there is plenty of advice over what is required with encouragement to ride. Rides continue Tuesdays at 6:30 up to and including Tuesday 22nd before Christmas, but keep a look out on our app as there may be a New Year Special and then rides continue in the New Year. Thanks Hobbsie, a further great reason to be a Tuff.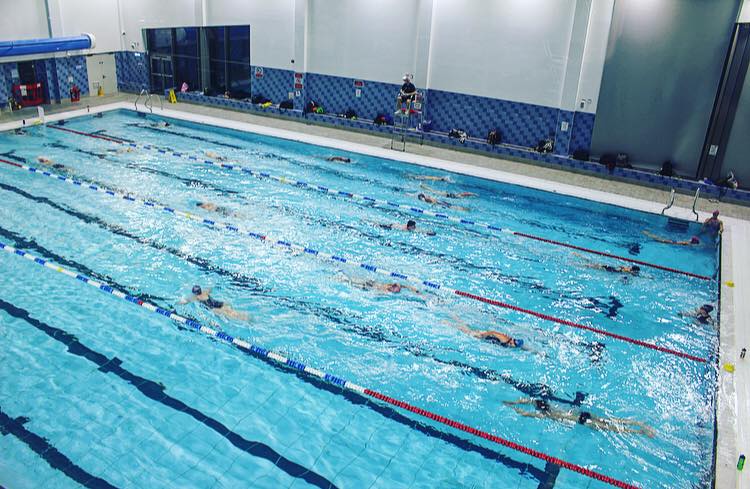 MIDNIGHT SWIM
As The Littlehampton Wave is one of their newer and bigger leisure centres, Freedom Leisure decided to mark the end of Lockdown at 1 minute past midnight on the Tuesday night by opening their flagship site for an hour's swim. A club member got wind of this announcement and in advertising on our communication app, it provoked quite a marmite response. Many felt they would rather be snug under the duvet and were quite dismissive, but others thought it was quite a bonkers bucket list thing to do in the middle of the night and signed up. Whilst not a club event, there were 18 Tuffs who arrived to queue outside in the dark just before midnight.
Everyone enjoyed the swim, and it was nice to get back in the pool after a month away, particularly as The Wave didn't charge for the swim. Kudos to those who had to get up for work early the next day and whilst it took a while for some to catch up on their sleep, it was a fun way to get back into swimming. Thanks to the Wave for organising.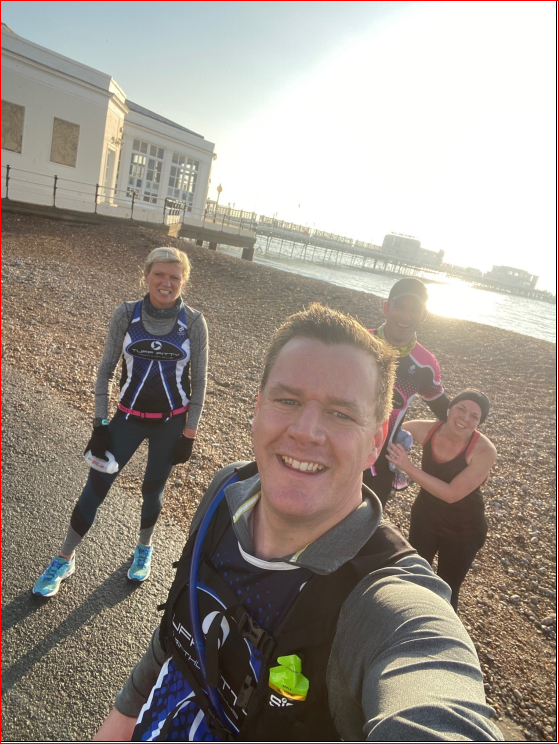 RUN GATWICK
Run Gatwick was another cancelled race which morphed into a virtual race as first James Brock and then Jon Babbage report:-
Jon Babbage informed me that it was Mrs Babbage 40th Birthday and to celebrate they had obviously entered a half marathon. Like the majority of all the other races ' Gatwick half' became a virtual race.
Sue and myself worked out that we could run together as a pair and Jon & Shelbo could run as a pair. So long as we gave suitable space we would not break any SD rules..
We all entered the virtual half and agreed to meet at Sea Lane Café at 07:30. It started off as a very grey morning. A steady pace of 10:05 min/per mile we headed out towards the pier. Within an hour we had completed 10km We pushed on to Shoreham. We turned here and encouraged Jon to run on ahead to the BP garage to buy some refreshments. A quick glug of some fluids and we headed back toward the pier where we saw Lunatic ED (AKA Ed Lay) out on his bike. His shouts of encouragement were very welcome.
We completed the half marathon in about 1hr 20 then Shelbo was encouraged to get in the sea to recognise her birthday! Jon had some luxury chocolate brownies and hot coffee at the ready.
Our finishers T-shirts and medals are in the post to us.
A nice way to round off November and a medal that we will all look back on to remember Shelbo's 40th and the most surreal years of our lives.
Jimbo
Gatwick virtual half marathon aka Shelley 40th birthday half So with the Gatwick half marathon being postponed till next year, the organisers decided to do a virtual half. Simply run a half whenever wherever and submit by the end of November. Shelley,myself, jimbo and Sue all decided to sign up and run it on the morning of Shelleys 40th birthday. I choose a nice flat route from SLC to Shoreham and back. It was a lovely calm morning, the sun was just coming out & we enjoyed a steady 10k out to Shoreham, and before we knew it was time to turn round. We arrived back at SLC when I got in the queue for coffees and saw Shelley and Jimbo walk off. After 10 mins they returned soaking wet they both got in the sea in their running gear. We gathered around a bench to demolish some brownies that I had a cake company bake for us. Presents were opened, cakes were eaten, and coffees drunk. Time to go home and we're now waiting for our medals. Really enjoyed the run and the company definitely my favourite run of the year.
Jon