Weekend Round Up 19th 20th June
Whilst the target date for the release of Covid restrictions passed without being lifted, club members have still been busy with strong numbers swimming, cycling and running as two more race reports testify from the weekend:-
OUTLAW HALF – NOTTINGHAM
Firstly up we have a report from Steve Bridgeman from the National Watersport Centre situated within Holme Pierrepont Country Park. The Outlaw Half and full distance triathlon usually see club members competing every year and this year was no exception as Steve relayed his experience.
"The weather forecast had promised rain for the whole event, but it stayed dry apart from half an hour of drizzle and the sun actually came out later on. Because of the lack of swimming training opportunities due to COVID, the organisers of the Outlaw Nottingham Half Ironman had allowed a reduction to 750m, which I grabbed hold of with both wetsuit-clad arms. My son Joe (ex-Tuff) went for the whole distance. The 800m transition area felt like a substantial task and the subsequent bike ride was hillier than I remember from two years ago (they slightly amended the course) and over some pretty rough road surfaces. By the time I'd done transition for the second time, I felt like I'd already run enough! The course was three laps of the Olympic lake and a bit of the country park. The support from the marshals throughout was astounding, the inspiration from athletes was awesome. One woman had been told she'd never run again and here she was back on her first triathlon for four years. What an honour to run with her a little way. There's nothing like the exhilarating burst of adrenalin as you run in on the orange finish chute, arms aloft. 7 hours, 28 minutes and 37 seconds. Joe came in at 6.46.26 (having not swum for 6 months!). What an amazing event, put on by an absolutely fantastic team. I also felt enormously proud to be representing Tuff Fitty, honoured to be wearing my club tri suit. I can't do 2022, but who's joining me for 2023?"
Steve
RACE TO THE KING
Held over the weekend, the race starts at Goodwood Racecourse and along the South Downs Way until competitors reach the steps of Winchester Cathedral at the end of 53.5 miles. Amongst the entrants was Elaine Rousseau who reports in:-
"Race to the King – what an epic adventure. This wasn't about time just about doing it. It had been postponed from last year. Did training go to plan (not in the slightest), have I done anywhere near that distance in the past (nope)."
"When my friend and I decided to sign up for this event, billed at 53.6 miles, we decided to do non-stop. I was looking forward to going through the night. I don't think we could have asked for better weather – it wasn't like the weather the weekend before with the heat and the sun. We didn't have the torrential rain that was forecast either".
"The aid stations were great, support crew and medical staff fab too. Going up Butser hill was like pea soup and couldn't see the glow sticks in the ground. Thankful that one of the support team came down to meet us and walk up with us (not sure I would have gone the right way otherwise). Got a bit sticky and slippy after that and the poles were a godsend. Unfortunately no sunrise but we did get to see a deer".
"So many people told us the finish was just round the corner (oh how I wish it was) but we did it 27+ hours on my feet. Tailwind with caffeine was great but it meant I couldn't actually fall asleep until about 8:30pm."
"Soooo, would I do it again …..(initial thought – no). I asked my brother who had been tracking me if he would do it next year. His response was "not if you're not doing it" – hmmmmm watch this space 😂"
Elaine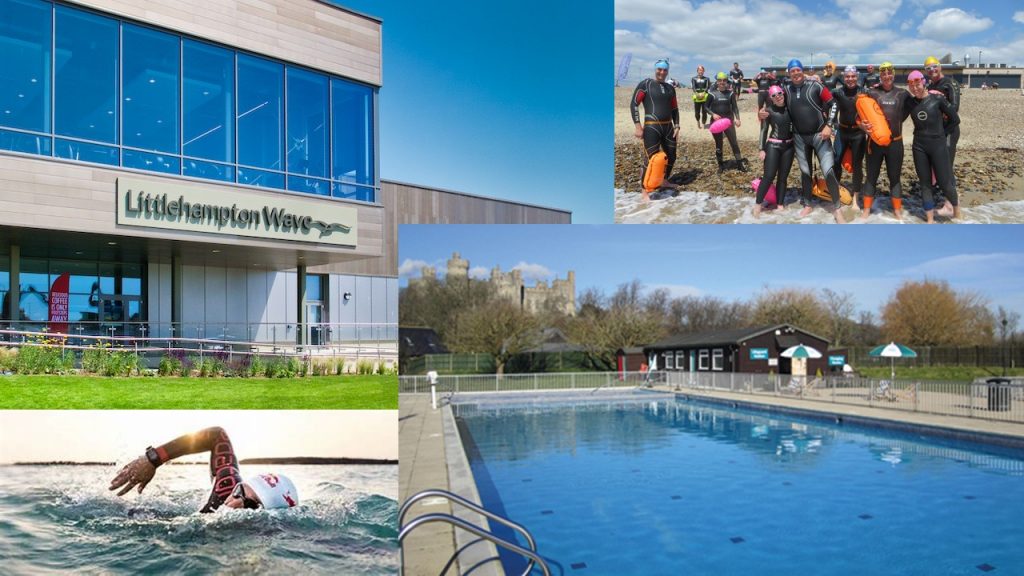 SWIM TRAINING
LITTLEHAMPTON WAVE
Whilst the Government's Roadmap 4 milepost has been pushed back, Littlehampton Wave have started to return to full operational capability. Tuff Fitty are therefore making a phased return. The first step is a resumption of our Saturday afternoon Coached swim, for the first few weeks at 4pm until 5pm, thereafter we revert to the traditional 5pm-6pm swim
ARUNDEL LIDO
Tuff Fitty have been fortunate in being able to use Arundel Lido since the beginning of April to ensure our swim training could continue as a club. Whilst the phased return to The Wave prohibits the continuation of both our Friday and Sunday swim at The Lido, we are delighted to advise that your club will continue with our Friday evening bookings. Swimmers continue to have the choice of an hour's coached swim from 6:30pm or an hour's uncoached at 7:30pm
SEA SWIMS @THE BEACH CAFE
The resumption of organised sea swims has seen very strong numbers for the last three weekends. Whilst Saturday 26th June is likely to see reduced numbers, due to the Arun River Swim (with a large field of Tuff entered), we still have our scheduled swim from The Beach at 1pm. The following Saturday – 3rd July, again to coincide with the tide, there is a swim programmed for 6pm. So why not do the double? Swim at The Wave between 4 & 5, have a coffee on the beach before the 6pm sea swim – nice. Therefore there are plenty of options to continue your swim training; booking required via the members Spond app please to ensure capacity can be managed
.