Tuff's Midsummer Lido Aquathlon 17th June 22
Tuff Fitty's traditional Aquathlon/social Series was deliberately chosen in June to be close to Midsummer day, and it didn't disappoint with one of the best day's weather this year. The Lido looked its best as usual with the Castle providing an excellent backdrop to proceedings.
Two waves were held for members to swim 400m before heading off for a 5k run down Mill Road, out to The Black Rabbit before the climb up towards the Park's Lion & Unicorn gates. Then it was a case of retracing the route to finish back outside the Lido. Several rode over the take advantage of the light evening and relay teams of a swimmer and runner were permitted to enable as many club members as possible to participate.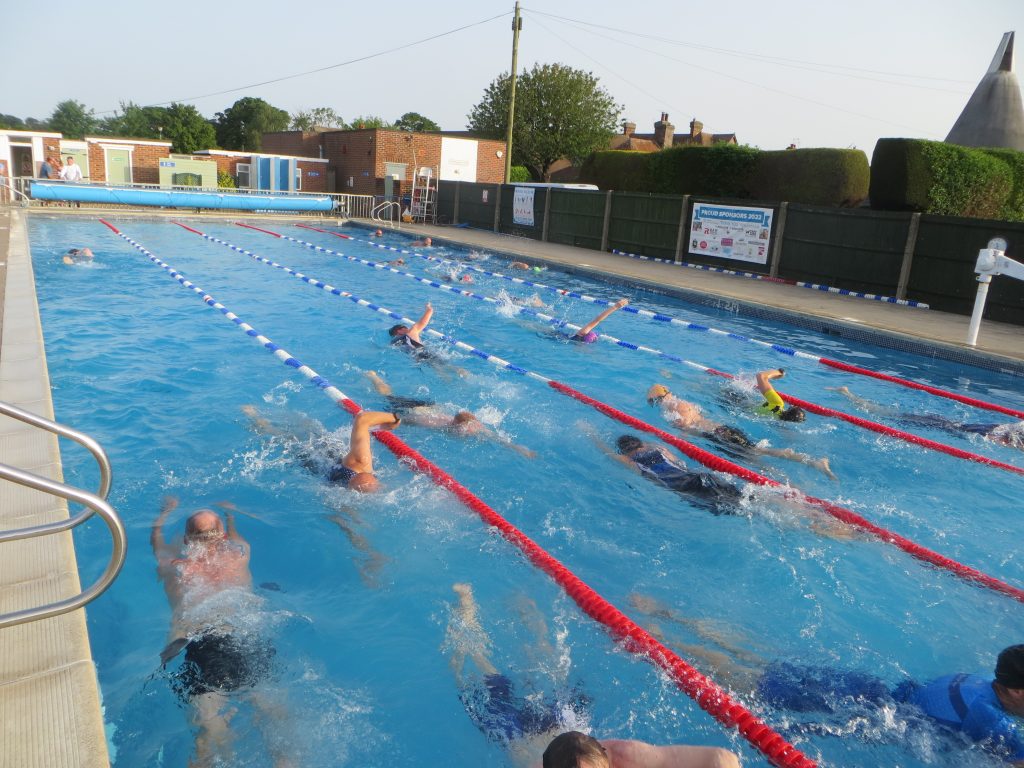 As the race started, it soon became clear Tuffs were not just there for the food, as 9 swimmers jumped out of the pool in under 7 minutes. James Mapley took the honours for the quickest swim split of just 5 minutes 46 seconds, and headed onto the run at a rapid pace. James was followed by a long line of Tuffs exiting the water, with over half the field, heading into transition in under 8 minutes.
For the relay teams it was a case of finding their runner, whilst individuals pulled on their trainers and out for the run – including the climb past The Black Rabbit.
Setting everyone off in two waves meant that Tuffs who had not competed before and were apprehensive, started first without the fear of being last over the finish line. It was particularly rewarding that we had some who would later be able to announce that they had completed their first ever Aquathlon.
Out on the run course Henry Teague-Smith meant business and managed to achieve a run split of just 19:17 enabling Henry to cross the line first overall in 25:42. James was running strongly securing the second fastest run split to cross the line 2nd overall. Alex Webb was third, Spencer Scott fourth & Tom Frith; fifth.
For the ladies Juliette Reader punched out a swift 6:59 swim, the fastest female, before attaining the fastest female run split to race home first in 30 minutes 30. Shelley Dodman was in strong form to take second female and Liane Davids, who had raced back from Bristol to participate was third female.
The relay race was a closely fought contest. Claire Luckham (Swim) combined with Simon Thistlethwaite (run) to cross the line as 1st Relay team. Barry Davids got his team off to a flying start with the quickest relay swim split and then Sophie Garbo ran home to secure them 2nd team overall. Close behind Wendy Kane (Swim) linked up with Jake Melvin (run) to finish third team 43 seconds behind. The full schedule of times is listed on Tuff Fitty's Spond App.
Some other members took advantage of an untimed swim in the Lido meaning 45 members took part .
Click on the Flickr gallery below for pictures from the evening.
Whether Tuffs had raced to work up an appetite or their main purpose was the social side, the Barbecue was now ready to serve led by our own Masterchef Jon Roper ably assisted by Gary Edge & Graham Liddell. When the meat and Vegetarian options were laid out on the tables it was a veritable feast. Tuff Fitty's Lido series have remained a popular fixture for all of this century but it was agreed the feast this time was up with the best ever. Thanks go to the team who shared the catering task with a vast array of different salads; Wendy Frost, Jenny Oliver. Sophie Garbo, Vicky Cooper, Janet Shepherd, Kate Cooper & Graham & Nancy Liddell. That may have been sufficient… except… there was a great assortment of cakes, Muffins, Millionaire's shortbread, Rocky Road and flapjacks amongst others, so almost all the calories shed in the Aquathlon were quickly replaced 🙂
A big thank you to everyone for playing their part which proved once again than when we get a group of Tuffs together, everyone has a good time.
Did someone mention Cake? Well you better place in your diary our July Lido date of FRIDAY 22nd JULY based on last night it could be a sell out.