Pier to Pier Swim – Isle of Wight
When:
August 1, 2019 @ 11:45 am – 12:45 pm
2019-08-01T11:45:00+01:00
2019-08-01T12:45:00+01:00
Where:
Western Esplanade, Sandown
Sandown PO36 8Jt
UK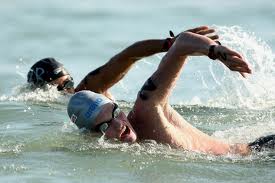 This non wet-suit swim has seen club members participate and 2020 is no exception
The Pier to Pier swim follows a long tradition here on the Isle of Wight. When it first started 68 years ago the Deep Sea Fishermen and other locals threw down the gauntlet during Shanklin Regatta week and challenged each other to a race in the sea from one end of the bay to the other, notably from Sandown Pier to Shanklin Pier. They swam in the traditional swim costumes of the day in the open sea whatever the conditions! No risk assessment, no safety cover probably, few officials, no numbered hats etc. We now run into the sea rather than jump off the pier, we are accompanied (for safety reasons) by so many kayakers, fishermen, Sandown Lifeboat and Ryde Inshore Rescue! We finish the race on the beach by Shanklin Rowing Club.