When:
September 26, 2019 @ 8:25 am – 1:00 pm
2019-09-26T08:25:00+01:00
2019-09-26T13:00:00+01:00
Where:
Hyde Park
London W2 2UH
UK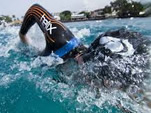 Swim Serpentine is a one-day open water swimming festival staged in the heart of London. The 2020 event will take place on Saturday 26 September.
Organised by London Marathon Events, the festival is held in and around the beautiful Serpentine in Hyde Park, the venue for the open water swimming competition at the London 2012 Olympic Games.
What's happening
Thousands of swimmers will participate in events that include:
Half-Mile Swim: Taking in half a lap of the Serpentine, there is plenty of time to swim this distance at your leisure with a friend, race your mum or dad or just to try out an open water swimming event with an achievable but for some still challenging swim.
One-Mile Swim: A classic distance in the world of open water swimming events. Swim Serpentine takes place on the same course as the London 2012 Marathon Swimming Olympic event, with one full lap around the Serpentine making up the one-mile swim. This is the most popular of all the swim distances for Swim Serpentine with swimmers taking anything from 20 minutes through to one hour to complete the swim.
Two-Mile Swim: For those who would like to test themselves with two full (1.6km) laps of the Serpentine. Aimed at more experienced swimmers who have already completed a mile open water swim previously. A challenging two-lap swim set in a beautiful location.
Every swimmer will be able to choose a start wave, with swimmers setting off at regular intervals during the day.
Now in its fourth year, Swim Serpentine is already a must-do event in the open water swimming calendar. All your needs are catered for with heated changing rooms, dunk zone, pontoon start and finish, full water safety crew, hot tubs and exhibition area.