Weekend Round Up 21st/22nd April
Scorching weather for a change, matched by some hot performances from the 18 Tuffs running at Angmering Park, plus others out running – read on:-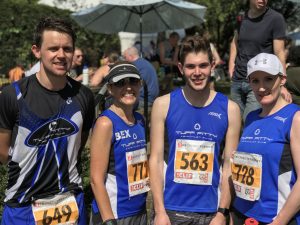 BLUBELL 10K & 10 MILER
Much talk in the run up to London Marathon about the heat, but Sussex was very warm as well for a change for the 14th annual Bluebell run staged by our friends at Raw Energy Pursuits.  The event is always popular but filled in record time meaning several who had wanted to race were left disappointed. (The Saturday morning training run, undertook a 12 mile training run around the route instead). There were still eight club members who entered the 10k; which was the first race off, and was a high quality Tuff field. Storming around the course, Andy Crawford pushed up the final killer hill back to the pub in just 41:07. Hot on his heels with another strong run was Ollie McDonald in 41:33 crossing the line in 5th place. The good news didn't end their with Stephen O'Donnell in 12th 46:06;  and then Paul Martin – 19th position in 47:30. Four in the top 20 – excellent.  Becoming a dad seems to suit Tom Gray, who cantered home in 50:00. There was also strong results from Nikki Gatland, 13th female (51:19) Matt Staniforth (52:05) & Paul Howie (53:15).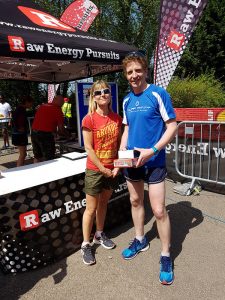 Andy's great result saw him finish third overall earning a trophy and lots of Clif Bars – well done to all eight in the 10k.
As usual for Raw Energy Events there were plenty of 'Tuff's on the team' with Jon Roper and Trev Harvey lead and sweep mountain bikers; Tiff Orton & Andy Ward at the finish and everyone dashed to see Tom Frith in the heat who manned the water station. Some Tuff cheerleaders as well with Matthieu, Catharine, Jason & Clive
Limbering up behind the 10k were the 251 runners who would undertake the 10 miler.  This was another competitive affair with Matt Whittaker running hard up the final hill to finish. Having given it his all his son Max thought it would be good to revive him by chucking a cup of water over him. But the effort was worth it; 4th man home and 2nd male vet – brilliant. Next home the friendly rivalry between James Oram and Stuart Harvey continued. Overtaking at a water station; James finished in 1:12:26 & Stu in 1:12:51; 14th & 16th respectively.   Next home one of our newer members – Matthew Bolton-Alarcon  (1:18:51).  After her Splash Point success Becky Lintott-Clark was 6th in her age group (1:22:18).  Joanne Meaney  (1:23:40) & Charlie Walker  (1;24:15). Debra Cauchy-Duval had her trademark broad smile on she crossed the line in 1:27:39 Sharon Tidmarsh crossed in 1:33:18  & Ellie Williams (1:40:35).  Another great result from our Tuff ladies  6 running against 4 men in the 10-miler 
Congratulations to all –  another good mornings work.   Photo album follows:-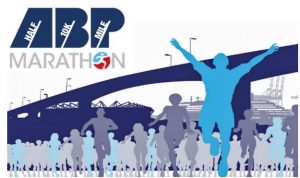 SOUTHAMPTON HALF MARATHON
Rachel Brunning is on a quest currently to ratchet up the number of half marathons to hit the half century; so the Southampton Half fit the bill nicely. Set in the heart of Southampton's city centre the course passed local landmarks including Bargate, QE2 Anchor and St Mary's Stadium. One of the stated highlights was the running both the ascent and more popularly the descent over the Itchen bridge, which was closed exclusively for this race. There were 4,234 finishers for the half, with a further 1,070 more finishing the full marathon – well done Rach.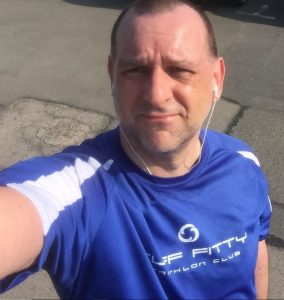 PARK RUN
STOP PRESS: After a winter sabbatical; Horsham Park Run returns from its temporary home of Southwater Lake to Horsham Park RH12 2DF from this weekend.
A round up from Park Run take us 'oop north' to Leicester Park Run. After completing Spashpoint 5k on Wednesday, Gary Edge reported:-  Was up in Leicester for the weekend and flew the Tuff Fitty flag at Park Run Leicester. No improvement on my 5k time but another run completed with my knee intact.  Back home Worthing Park Run produced some good conditions and the first Tuff home was Jay McCardle– fresh from Brighton Marathon – doesn't he ever rest?  It was a great performance from him returning a PB – 20:46 shaving 2 seconds off his record.  Dom Amey ran around with his son Freddie who gained a pb. It is great to see several of our 2018 intake of members running well;  Roy Barraclough 23:32,  Daisy Bashford completed her 19th Park Run & Clare Worgan her tenth Park Run.  Well done to all the runners. Further Oop north again, at Bushey Park, Park Run, both Andy Strong and Kirsty Keith were in action again, with Andy riding high with 22:08.