Weekend Round Up 2nd 3rd July
Congratulations to Craig, at Ironman Frankfurt, please see separate post and picture of Craig in action
PADDLE ROUND THE PIER
Now staged by Brighton Tri Club the  event gives competitors the rare opportunity to swim around both Brighton Pier and the West Pier. There was choice of either a 1.5k race which took swimmers around just the West pier or a 2.5k swim which took in both piers.
Scheduled as part of a seafront festival the swims had to be cancelled on the Saturday due to very rough seas and re-scheduled for Sunday.  Sunday dawned and with an early start attendance would be required anyway,  but thankfully whilst conditions were still choppy the race went ahead.
Susan Douglas was our sole entrant and whilst the majority chose to race in the wetsuit category, Susan, (being a proper open water swimmer) elected to race in the non-wetsuit category. This decision paid off handsomely as she raced home 3rd female winning a rather nice trophy in 49:13
BEWL WATER TRAIL RUN
There was very good work undertaken by Stew Smith flying the Tuff flag at Wadhurst in East Sussex for the Bewl 15 mile run. Billed as a challenging multi terrain race run around Bewl Water and lanes surrounding the reservoir. A well stocked goody bag and cake for finishing, with runners serenaded by the local brass band. Whilst a British Masters multi terrain championship race, a good result from Stew coming home in 2:17.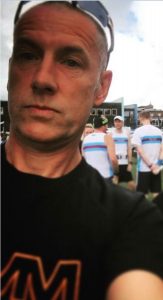 Stew gets his 'race face' on
NATURES WAY CHICHESTER TRIATHLON
No race report has been forthcoming yet from Chichester Triathlon but as this is was a Club Championship race certainly deserves a mention.  There were two distances; a sprint race comprising a 400m swim, then a 33k bike leg with a 5k run to reach the finish line.   However first off was the Standard distance race at 7am.  Whilst a shorter swim at just 600m, the race more than made up for that on a demanding bike course.  Matt Whittaker is going well and demonstrated it again here crossing the line 20th overall.  Another great result from Becky Lintott-Clarke racing home as third female overall. Good to see coach Andy Ward practising what he preaches, home as second Tuff with Carl Davey third Tuff home.  Our very own legend, Bob Thomas pops up everywhere racing well and good to see Chris Evans back on the race scene.
There were three Tuff competitors in the Sprint race and with the Standard crew off first, these three were not timed off until closer to 12:30. This is a tricky time to start a race with the dilemma of do you eat something beforehand.   Not that it deterred any of the trio; Joe Pascoe was our highest placed Tuff  home 6th overall.   Ben Abbott and Adam Parsons completed the nine Tuffs racing at the Westgate centre
| | | | | | | |
| --- | --- | --- | --- | --- | --- | --- |
| | Total | Swim | T1 | Bike | T2 | Run |
| Joe Pascoe | 01:26:47 | 06:11 | 01:07 | 58:54:00 | 00:36 | 19:59 |
| Ben Abbott | 01:38:52 | 07:27 | 01:29 | 01:04:42 | 00:47 | 24:27:00 |
| Adam Parsons | 01:43:28 | 08:53 | 01:52 | 01:07:12 | 01:03 | 24:28:00 |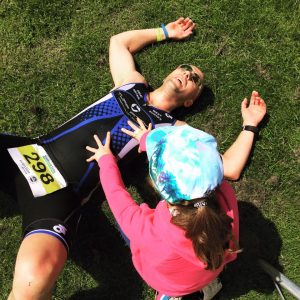 Matt having given it his all gets revived by his daughter,
PARK RUNS
Only one club member at a Park Run this weekend, but Becky Day was present at the Worthing run, ensuring one club member has been present at each staging of this event.
What have you been up to?  You have worked hard for your latest result.  Whilst you may have the medal or T-shirt; please find the time to report in with where you have been racing. A picture would also be brilliant.  Please email clive.harvey@tinyworld.co.uk