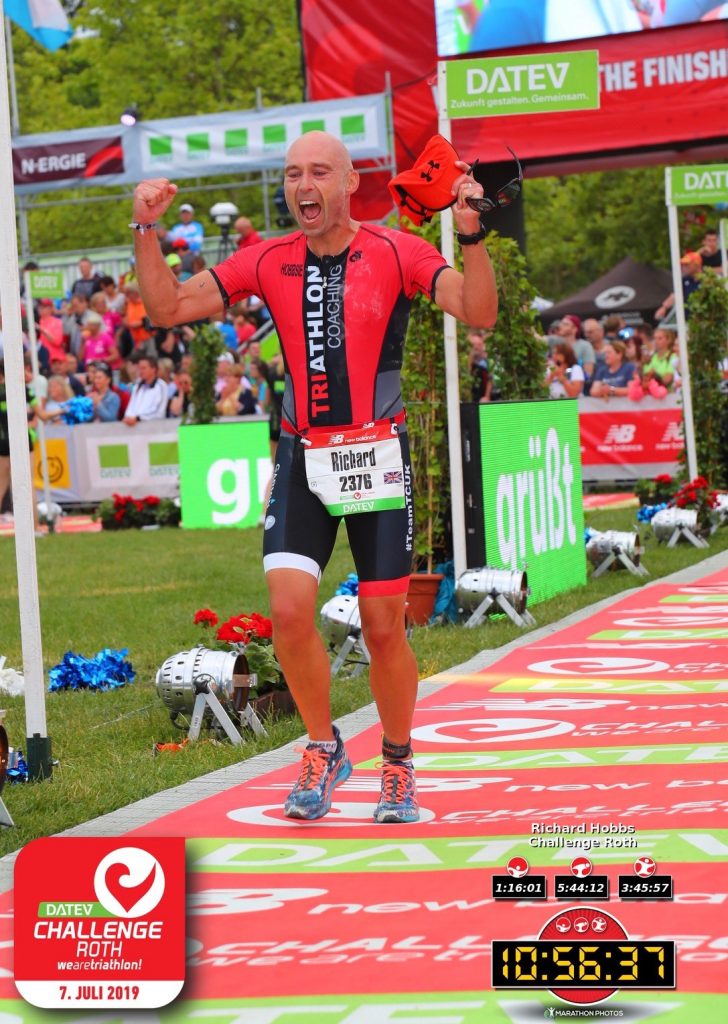 The weekend saw two club members race abroad justifying separate reports. Firstly:-
Richard Hobbs has compiled an inspirational report from completing the full distance 140.6 mile Challenge Roth. Hobbsie completed in an incredible time as he takes up the tale:-
"After competing at Roth in 2017, in 36deg heat and a (one year only) change to the run course, I was keen to go back and give it another go.
So after some focussed keyboard bashing last July, I somehow got another place in a race that fills in less than a minute.
What followed was a period of structured training through winter and spring, two amazing training camps in Lanzarote and The French Alps, and I arrived in Nuremberg feeling stronger and lighter than I've ever been…or so I hoped!
A condemned carbon frame and replacement from Specialized a week before the race, heightened the pre race anxiety but it all worked out, aided by Gareth Piggott lending me his identical Shiv for training, top bloke!
I decided to book a package with Raceforce, who deal with all the grief of a race that whilst iconic, is a logistical nightmare with Roth itself only having a hotel with 45 rooms.
From the moment Lizzie and I landed, everything was taken care of, the bike was picked up the previous Sunday and driven down by the resident bike mechanic Stevie, who is a legend, and not to be messed with!
We were staying around 10k out from Roth in a generic holiday Inn, which was comfortable, and well set up for the 90% of triathletes that had descended on it.
We were shipped down to the canal on Friday for a practice swim, the murmurings of a non wetsuit swim was causing nervousness everywhere. (Roth has never had a non wetsuit swim)
After a 1k practice set I was boiling, the temp was 25deg, 'boil in the bag syndrome!'
The organisers normally flush the canal thus dropping the temperature by opening a sluice, but this was faulty so it was touch and go until Saturday afternoon, when miraculously the temp dropped to 23.3, with the threshold being 23.4deg, call me a cynic…but…
Anyway, onto race day and the 3am alarm clock, followed by the infamous ritual of trying to eat drink and poo against your bodies wishes, we arrived at T1 two and half hours before my start time.
Then something strange happened, after cooking in 31deg heat the previous day, it rained, it was like being back at home. lovely!
Things were looking good.
Swim:
The swim started with the infamous canon fire, this goes off every 5 minutes, preceded with emotive music that makes you realise what you are about to take on, the Germans know how to create an atmosphere!
The swim itself was strangely aggressive, maybe I was just in a wave with some punchy guys, but it was all kicking off, the wave was 200 strong and whilst the canal wide it did get congested.
I only settled after the first 1k but then found some space and cracked on, there was a bit of current but the course is a one loop rectangle so sighting isn't an issue.
I got out 10mins up on 2 years ago and pleased that it was done.
Bike:
The bike course isn't flat (1600m elevation) but a fast course aided by an amazing road surface that is so smooth the K's tick by at a good rate, the first 90k loop went great I was on track, all 'geeky' data was on plan, then on the second loop the wind picked up, I can only compare it to riding in Lanzarote, grabby cross winds and 40k into a head wind meant power was going up and speed was going down.
The iconic Solar Hill however didn't disappoint with thousand of supporters funnelling out as you ascend, it makes the hairs on your neck stand up.
I finished slower than planned but still quicker than 2017…and as I handed my bike to one of the 7,500 volunteers I hoped I hadn't over cooked it into the wind.
Run:
After being spoilt by a personal helper dealing with my T2 needs I headed out on the run with a clear plan on pace and strategy,
The run course has aid stations every 1.5k which sounds great, but I knew too well that the temptation to walk through everyone and sample the multiple food and drink choices was hard to resist,
So I planned on carrying a bottle until 13k and resist the temptation, the original run course that had been reverted back too, consists of 25k up and out along the canal, over half into that head wind, I held good pace and hit 21k (halfway) in 1hr 48
My aim was a 3:45 marathon, and whilst during walking to shake some cramp out at 32k (the last 10k is undulating to say the least) I managed to come in bang on 3:45.
It wasn't pretty, some demons were buried but I did it!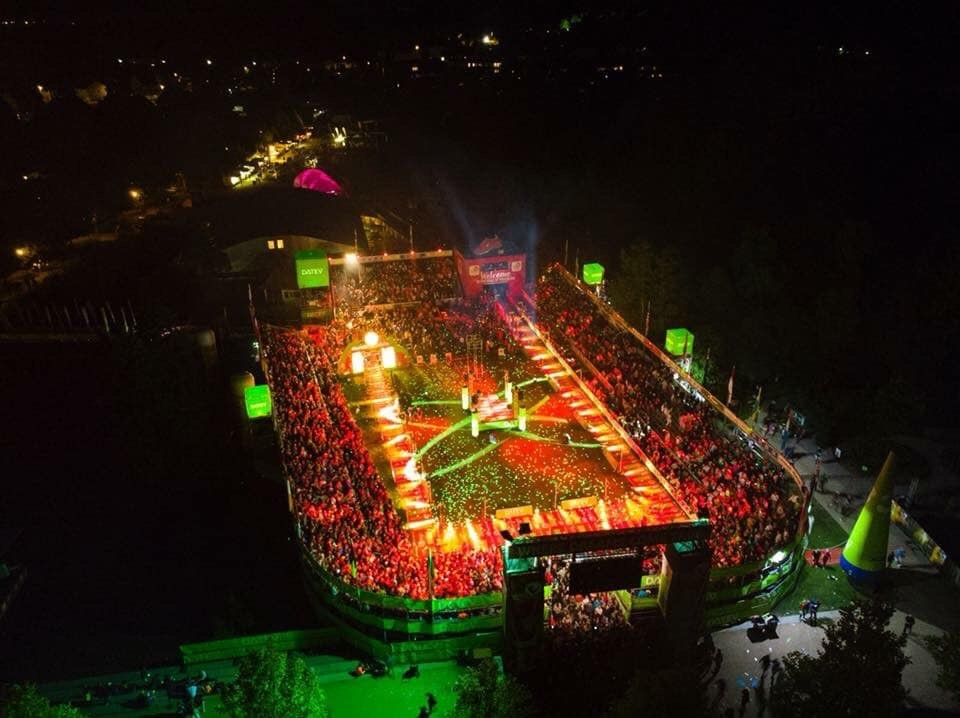 So the finish at Roth is amazing, a purpose built 10000 capacity stadium which you loop around before crossing the line, I promised myself I would sample this experience more than 2 years ago, but as I didn't know my overall time (deliberately) I pushed until the final straight then walked through, checking over my shoulder once I crossed the line I realised I had got in at 10hrs 56, my aim was a sub 11,
I was made up, shocked and emotional it was a great moment, and proof that the many 4am get-ups, 90min drives to find a lake that was open, countless times when I didn't want to go out and did, were all worth it.
This isn't an easy hobby, and the sacrifices are huge, I've lost count on the number of pints I've declined, times I've driven on social events, or not gone out at all- but that moment you realise your goal is priceless.
A race like Roth has to be experienced, 260000 spectators make it what it is, it's hard not to smile all the way round.
So a few weeks of recovery then onto the next full distance, with new targets and goals.
Stupid hobby this isn't it!??
Hobbsie